UP Experts: ECQ Effective But 'Physical' Classes May Increase COVID-19 Transmission; Senior Citizens Should Limit Movement
Opening all schools in August or September may hasten the spread of the coronavirus disease 2019 and take the government away from its goal of bringing the "reproductive number" closer to zero.
University of the Philippines experts have warned that reopening schools in Metro Manila, even if delayed to Aug. 24 or Sept.1, would increase the transmission of the coronavirus disease 2019 (COVID-19) as students might bring the virus home and infect the more vulnerable members of their families.
Physically opening all schools in Metro Manila may result in a situation where every single carrier of the virus infects an average of two other people, spreading the disease faster, the experts warn.
In scientific terms, this is referred to as a reproduction number of 2, according to the policy note dated May 7 and titled "Social Interactions and Post-ECQ School Opening and Mobility of Older People: Analysis and Recommendations."
ECQ refers to enhanced community quarantine, which is being implemented in Metro Manila and other areas until May 15 to contain the spread of COVID-19.
The Inter-Agency Task Force (IATF) for the Management of Emerging Infectious Diseases has approved the recommendation of the Department of Education (DepEd) to start face-to-face classroom classes on Aug. 24 this year until April 30, 2021, Malacañang said on Saturday, May 9.
Read more: 15 to 20 students in a class being studied as schools open on Aug. 24
The government's goal is to keep the spread of the disease to a reproduction number of "less than" one or closest to zero "until a vaccine is discovered."
As of April 10, UP reported a reproduction number of 0.6398, which meant that the ECQ "has been effective" at slowing down the spread of the disease.
The projection is based on the current testing detection rate of 10,000 tests per day and the opening of 90 percent of businesses on May 15, the currently scheduled end of the two-month-long ECQ in Metro Manila.
Scenarios in which the reproduction number may rise above one (every single COVID-19 case infects an average of one other person) are: when all schools are opened at the current detection rate, and when 50 percent of higher educational institutions as well as elementary and high schools are opened.
The reproduction number may be kept lower than one in the following scenarios: when all schools are opened while the number of tests are increased to 30,000 per day, and when 50 percent of higher educational institutions are opened but all elementary and high schools remain closed.
The reproduction number may be kept near zero if all schools continue to be physically closed by the end of 2020.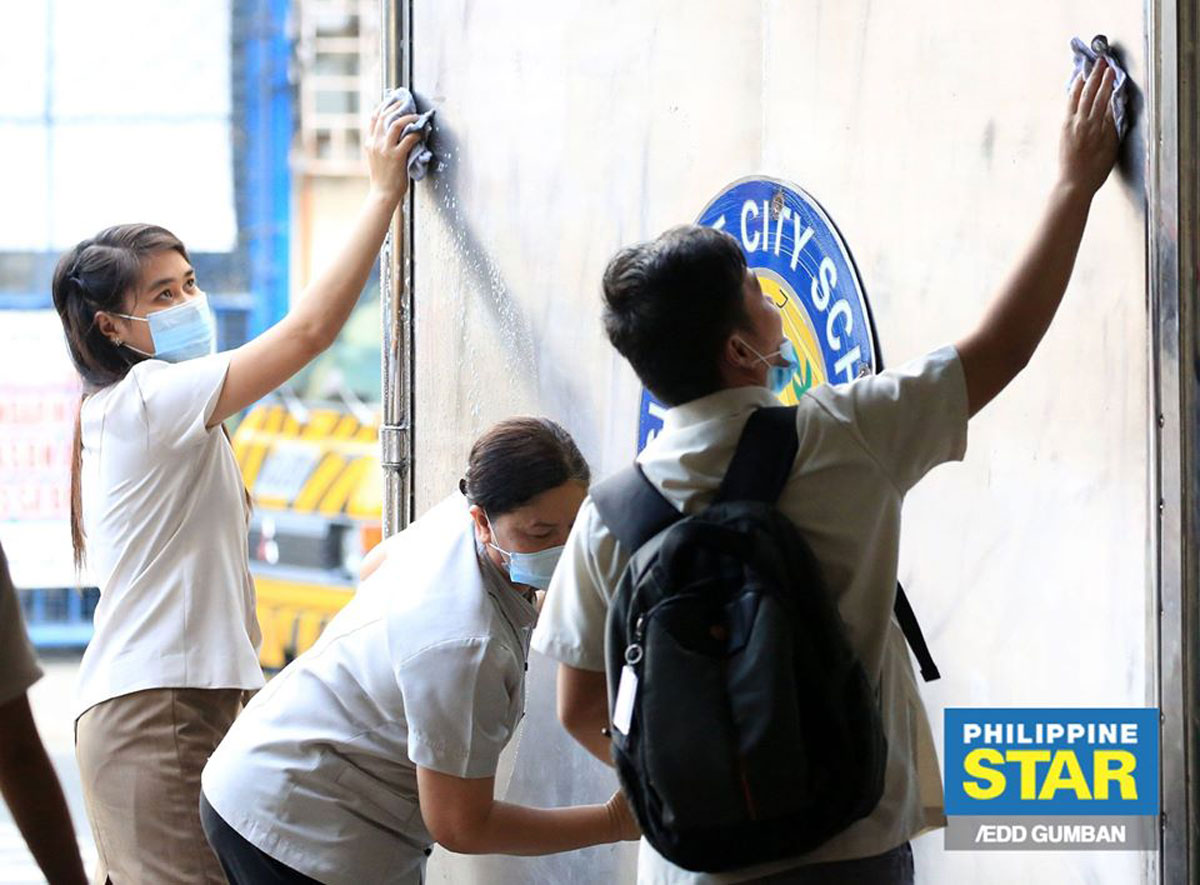 How young people spread COVID-19
The reason cited in increasing the spread of the disease should classes open early is because the young aged zero to 20 "have the most interactions with all age groups, and especially with the old."
Fifty-six percent of social interactions with people of all ages are done with those aged 20 and below, compared to only one percent among those aged 65 and above. Forty-nine percent of the elderly's interactions are with people younger than 20. The policy note pointed out that older Filipinos usually live with their children and grandchildren under one roof.
While young people interact a lot with the elderly, more than 97 percent of COVID-19 cases within the young age bracket actually did not display any symptoms, or had only mild symptoms, or had recovered. This meant the young people may be unknowingly spreading the disease to those they interact with, especially the elderly.
Thus, the young are seen to "have a high likelihood of bringing home the infection from school and from their other social contacts" because they tend to be "mostly asymptomatic or only showing mild symptoms," according to the policy note.
What should be done
"Now, more than ever, we need to adapt to a new normal of delivering learning with limited physical interaction," the policy note declared.
It stressed that schools in areas under ECQ should remain closed while areas under general community quarantine should consider "a flexible schedule that limits physical interaction of children."
"To ensure continuity, various forms of distance learning must be explored, and in areas where such is not possible, low-cost technologies (e.g. internet of things or IoT-based systems) can be put in place to facilitate connectivity," the paper stated.
The study also recommended that senior citizens "limit their mobility and do their part to help contain the spread of COVID-19." It noted that before the ECQ, senior citizens "had been highly transmissive," with a reproduction number greater than one, which the ECQ helped drive down.
The UP team's recommendations may be tough to carry out in a country notorious for having one of the slowest internet speeds in Southeast Asia.
The DepEd currently plans to begin school year 2020 to 2021 on Aug. 24, saying it had delayed the opening of classes "to ensure that our learners and teachers are given time and properly equipped to adjust to this new learning environment."
The DepEd clarified that this would not necessarily mean a return to the traditional classroom setup. "The choice and contextualization of the learning delivery modality of schools will depend on the local COVID-19 situation as well as access to certain learning platforms," it said.
It stressed that "online learning is only one of the options among all others in this new learning environment."
On the other hand, the Federation of Associations of Private School Administrators have opposed the delay in the opening of classes because of its economic impact on schools, which would be rendered unable to pay the salaries of teachers who were hardly included in the government's emergency subsidy programs.
Malacañang said private schools may start their school year earlier in June, but the IATF advises that the school management adopt online classes or other learning delivery options that would adhere to the social or physical distancing regulations set by the Department of Health.