No Vaccine, No Classes? School Opening In Limbo; Alternative Modes Of Learning Pushed
President Duterte declared he wanted a vaccine first for coronavirus disease 2019 before classes would resume in the country. His spokesperson and other officials said learning could continue through various means.
Government officials appear to have differing views on the specific circumstances that will allow the reopening of classes in the country.
The debates were heightened with President Duterte's pronouncement that it is useless to be talking about the resumption of classes without a vaccine for coronavirus disease 2019.
"I will not allow the opening of classes na magdikit-dikit iyang mga bata na 'yan (where children would go near each other) Bahala na hindi na makatapos (We would leave it to fate if they don't graduate). For this generation, wala na matapos na doktor pati engineer (no doctor or engineer will graduate)," the President said.
"Wala nang aral. Laro na lang (No more studying. Just play). Unless I am sure that they are really safe…That's what I meant. Para sa akin, bakuna muna. 'Pag nandiyan na ang bakuna, OK na (For me, there should be a vaccine first. Once there's a vaccine, it would be OK)," he added.
Duterte expressed hope that a vaccine would be developed by the end of the year.
"We will rely on the experts and the rich nations. They are feverishly working on it. Once it is developed, I will ask you to go out. If you refuse, I would drag you. Come on, let's stroll around once there is a vaccine," he quipped. "But without a vaccine, it's really (dangerous). It spells disaster."
Some parents agreed with Duterte, saying they were worried about sending their children to school amid the pandemic. This is despite the Department of Education (DepEd)'s announcement that only 15 to 20 students will be allowed to attend physical classes in schools.
There are also concerns about internet connection and lack of preparedness for home schooling or online learning for many students in the country.
Presidential spokesman Harry Roque, in his virtual press briefing on May 26, offered a different take on when classes can physically resume. In the absence of what he described as a new normal, he said the government would turn to flexible learning modes using television, radio and the internet.
" 'Yung anunsiyo ni Presidente tungkol sa pasok sa eskwelahan, ang face-to-face po ay kung meron na tayong new normal by Aug. 24," Roque said. "At kung wala naman tayong new normal, we will resort to flexible learning, gagamitin ang telebisyon, ang radyo at ang internet."
The new normal, according to Roque, means that the community quarantine protocols are already lifted.
While the President said that there should be a vaccine before classes can resume, Roque said being in a "new normal" is already enough to allow the school opening.
"Pero kapag dumating naman po ang veinte cuatro (ng) Agosto at nasa new normal tayo, pupuwede naman po. But kung hindi po talaga dumating ang new normal at hindi mai-lift ang mga community quarantines, hindi naman po ibig sabihin na hindi na mag-aaral ang ating mga kabataan (But if we are under new normal on Aug. 24, it can be done. But if we are not yet under new normal and the community quarantines are not yet lifted, it does not mean that our youth can no longer study)," he stressed. "The bottomline is, we will not compromise the health of our youth."
Roque said the President's statements also cover higher educational institutions and the post-graduate levels.
"I'm advising all types of schools to prepare for the new normal. The possibility really is we will have to be more creative. They will have to (adopt) more blended or flexible learning. The President was right when he said we are not safe until there is a vaccine," Roque said.
"Let's hope by the 24th (of August) or by September, at least we reach that point that we are in the new normal because more or less we would be able to manage the risks. That means we have slowed down significantly the doubling rate of (COVID-19) and we have enough critical care facilities," he added.
At a Senate hearing on Tuesday, May 26, Health Secretary Francisco Duque III said it is safe to reopen classes on Aug. 24 provided that minimum health standards are followed.
"Sa ngayon, tingin namin, ligtas naman po kung bubuksan natin ang klase by Aug. 24. Kinakailangan po dito, siguraduhin lamang na lahat ng ating minimum standards for health ay nakatalaga," Duque said.
Later, however, Duque supported calls to suspend face-to-face classes until a vaccine against COVID is available to the public.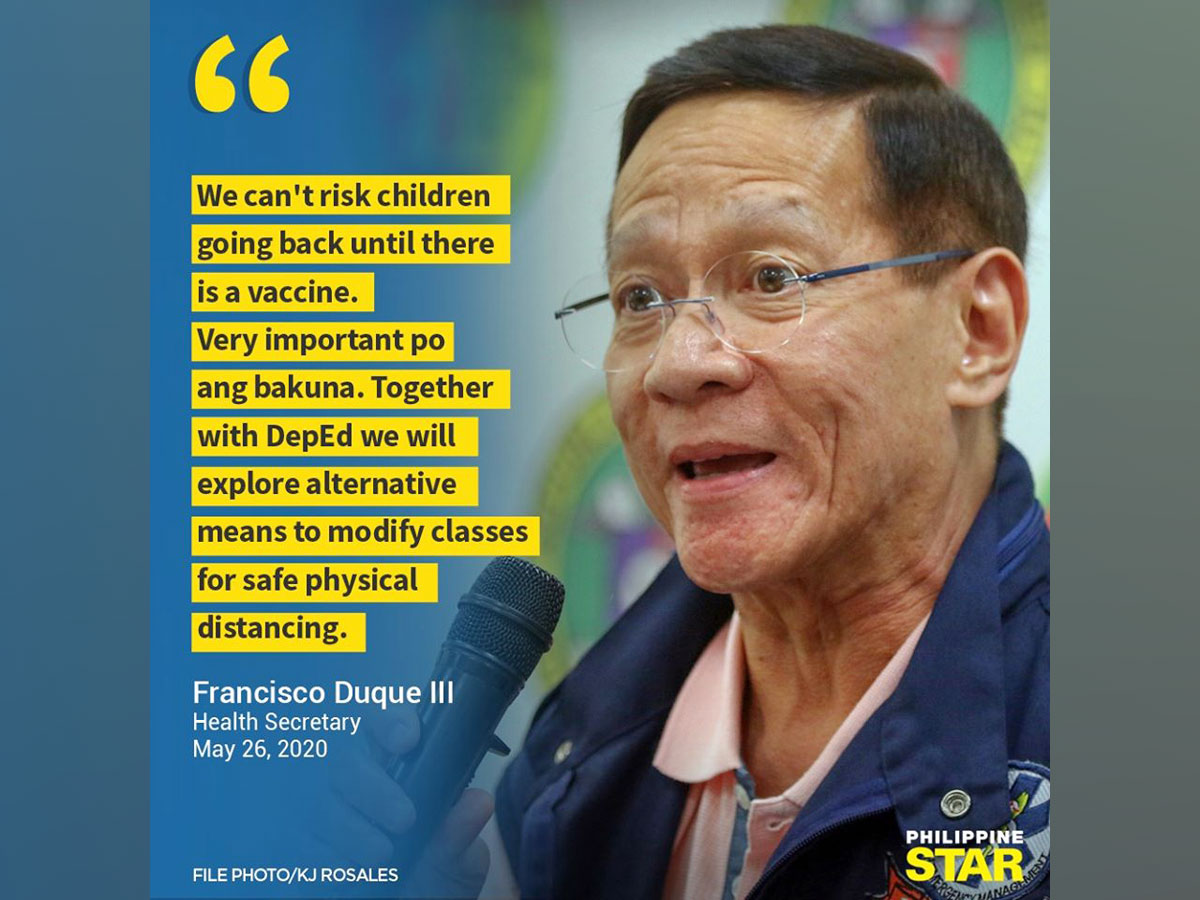 Blended learning
DepEd has yet to issue a statement on Duterte's "no vaccine, no classes" pronouncement.
In a statement on May 22, Education Secretary Leonor Briones had reiterated the department's commitment to prioritize the health and safety of students, teachers and other stakeholders.
DepEd Undersecretary Nepomuceno Malaluan said their preparations are based on the learning continuity plan and the school calendar, which set the opening of classes on Aug. 24.
On its social media accounts, the department released the different learning modalities that may be adopted depending on the existing quarantine protocols.
There is no mention of the requirement for a vaccine before classes can resume.
For areas under general or modified enhanced community quarantine, no face-to-face learning will be adopted.
Instead, education will be through home schooling or distance learning, such as online, use of modules or education through radio and TV.
Meanwhile, areas not under community quarantine restrictions may implement face-to-face classes with social or physical distancing and following minimum health standards.
Schools can also adopt blended learning, where face-to-face classes are combined with distance learning modalities.
DepEd also released a proposed classroom seating arrangement, which will limit the number of students to 15 up to 20 per class.
To address a possible shortage of classrooms in such a setup, officials said a staggered schedule could be implemented, wherein students would have to study at home on some days.
Regional and division offices will be allowed to select the most appropriate learning modality in their respective areas, according to DepEd.
At the college level, Commission on Higher Education (CHED) chairman J. Prospero De Vera III said he shared the concern of the President regarding the safety of students.
"That's why the position of CHED is that there will be a rolling opening of classes. Full online learning can open any time. Flexible learning by August and those that will still have significant face-to-face or in person should open later, based on the health conditions on the ground," he added.
He did not respond to a question on whether rules would be amended to require a vaccine before classes are allowed to resume, as stated by the President.
Mixed reactions
The President's pronouncement of a "no vaccine, no classes" policy drew mixed reactions from various education stakeholders.
The office of Vice President Leni Robredo said they shared the President's concern for the health and safety of our children.
"We hope, however, that if the schools are to remain closed, sufficient steps will be taken to ensure that every Filipino student will still get the education he or she is entitled to. Inclusive and effective systems for at-home schooling must be put in place," Robredo's spokesperson Barry Gutierrez said.
Eleazardo Kasilag, president of the Federation of Associations of Private Schools Administrators, said suspending the opening of classes would have an impact on the ongoing preparations of some schools to shift to online learning.
He explained that distance learning would not put students at risk as they would remain at home while they continue their education.
Pasig Mayor Vico Sotto posted on Facebook that whatever happens, the city would not let public school students' education be affected by the pandemic.
"We are already working with the (DepEd) for any possibility for our students," he said, adding the choices would be to open schools or hold virtual classes.
In case of virtual classes, Sotto said, "we are preparing better internet connections at the barangay level where students can download the modules."
He added that the city government could help DepEd develop modules and that they are identifying funds for personal learning devices for students, whether classes resume physically or virtually.
What about the parents?
Joseph Noel Estrada, managing director of the Coordinating Council of Private Educational Associations, said suspending classes indefinitely while the country is waiting for a vaccine would put more pressure on the already failing economy.
He said parents of the more than 27 million basic education students would have to stay home to take care of their children, affecting the economic abilities of families to support their daily needs.
Estrada also cited the impact of delaying the graduation of those in college, as well as the brain drain on the education system as teachers would be forced to leave the academe and work elsewhere.
"Health remains to be a top priority, but isn't it why we are all working on how to deliver education through other modes other than face to face? Education is an essential activity, and a critically affected sector," he said.
Estrada urged the government to allow experts from both the public and private sectors to find ways to deliver education without asking the students to physically go back to schools.
For its part, the Teachers' Dignity Coalition (TDC) welcomed the possibility of further suspension of classes, saying it would allow the DepEd to focus on its plans to deliver alternative modes of learning even without a formal declaration of class opening.
But TDC chairman Benjo Basas said the discovery of a vaccine should not be a prerequisite for schooling since there are several modes of delivering education services.
"A further delay would give us time to get ready – to train our teachers, prepare our parents as well and set up our school system for the new normal," he said.
"We are one with the DepEd secretary in the belief that education must continue even in the time of this pandemic. Thus, if given the necessary skills and infrastructure, our teachers will gladly comply," he said.
Addressing needs
The Alliance of Concerned Teachers (ACT), for its part, said "the 'no vaccine, no school opening' call is understandable coming from parents and even from education workers, as this is indicative of their lack of safety and security amid the government's unsuccessful attempts to combat COVID-19," but "it's a totally different matter to hear the same from President Duterte."
The group said Duterte sought and was granted emergency powers by Congress to address the pandemic, thus he should not imply that the government plans to passively wait for a vaccine instead of exhausting measures to address the health and socioeconomic crisis.
The government should use the time to increase resiliency of the education system by building safe schools, addressing shortages and filling the gaps in learning, ACT said.
It added that facilities and equipment must be significantly funded for schools to have basic sanitation and health necessities, such as clinics with sufficient supplies and equipment, functional lavatories, steady supply of water, proper ventilation in classrooms, and reliable infrastructure for various learning modalities.
ACT said the government should address shortages in schools and classrooms to accommodate millions of learners while allowing them to observe a two-meter-radius distancing when classes resume.
"More teachers and staff shall also be employed and provided commensurate salaries and benefits, while also ensuring a proper working and learning environment for education workers and students," it added.
With classes, ACT said support should be given to those who would be affected, especially those in the private sector.
The organization proposed the conduct of voluntary distance enrichment program to provide advanced or remedial classes depending on the needs of learners.
"This alternative mode will prevent leaving students behind if a formal school year is opened amid a pandemic. It will further be crucial in bridging gaps in learning, like the literacy crisis among students," it said.
The National Union of Students of the Philippines (NUSP) said focusing on the main problem, which is the pandemic, should precede discussions on the date of opening and the mode of learning.
NUSP president Raoul Manuel said the proposal to adopt flexible learning as an alternative to on-campus classes would be burdensome for Filipino families, especially the poor.
"This dilemma in the educational system underscores the need for long-overdue medical solutions that will guarantee the safe resumption of on-campus classes," he said.
"In the greater scheme of things, the problems we face should physical classes resume, like school congestion, are not new. These reveal how the education sector has been greatly neglected by the government for the longest time," he added.
Education can't be quarantined
Senators expressed support for alternative ways to ensure that students are able to continue their education despite the health restrictions and the lack of a vaccine for COVID-19.
They said public and private schools and universities should closely coordinate with each other, and resort to alternative means of learning for elementary, high school and college students.
Senate President Pro Tempore Ralph Recto said locked down schools "should not lead to education being put in quarantine" and the right mix should be found.
He urged educators to continue customizing the alternatives – distance learning, TV or radio-based instruction, home schooling, modular distance learning, online courses, Alternative Learning Systems or ALS, even radically reduced class sizes in zones with no COVID cases – into one blend that will meet a learner's socioeconomic profile.
"I have high confidence in the ability of the teachers of this land to adapt to the new normal, more so if they are empowered with the right tools to make a learner-centered adjustment," Recto said.
The government and the private sector must also work on the country's information and communications technology infrastructure to close the digital divide, he said as he emphasized the importance of telecommunications companies – including the third one – ramping up internet speed and penetration if lessons will be coursed via broadband.
Recto conceded that finding a system of instruction in which learning will not be hazardous to a child's health would be difficult. He expressed concern on how children in low-income households can cope with distance education or homeschooling.
"Our failure to work around the virus will spawn a lost generation that will hurt the future of this country. It will harm children of poor families who have embraced education as a ticket out of poverty. It will widen the gap between rich and poor," Recto said.
Sen. Francis Tolentino asked state universities and colleges to work together in harmonizing their subjects and schedules to allow students to continue their studies in SUCs closer or safer for them even if they are already enrolled in another.
'Move school opening'
The committee on basic education, chaired by Sen. Sherwin Gatchalian, is circulating for the signature of senators a committee report of a bill seeking to amend Republic Act No. 7977, which allows the opening of classes to take place "not later than the last day of August."
The bill, filed by Senate President Vicente Sotto III, seeks to authorize the President to set the start of the school year in the event of a declaration of a state of emergency, state of calamity or similar occurrence such as the COVID-19 pandemic.
RA 7977, which lengthened the school calendar from 200 days to 220 days, mandated the opening of school classes every year on the first Monday of June and not later than the last day of August.

In his bill, Sotto asked the public and private schools to adjust their opening of the 2020 to 2021 school year and move it to September this year to ensure the welfare of students nationwide.
Senate Minority Leader Franklin Drilon said he signed the report as the welfare and safety of the students should always be of primordial consideration.
"While the (DepEd's) online learning, virtual classes and hybrid classes are admirable for the continuous learning of the students, the reality is a majority of our population does not have access to internet," Drilon pointed out.
"The internet in the country remains the most expensive yet the slowest among Asian countries. I do not see how virtual classes being proposed by the DepEd can be effectively implemented across all sectors. The poor will be at a disadvantage here," he said.
Sen. Sonny Angara also expressed support for moving the school opening from Aug. 24 to a later date. – With Alexis Romero, Paolo Romero