Phl Now Second To China With More Than 85,000 COVID-19 Cases As UP Predicted; Palace 'Very Sad'
The government is expected to announce quarantine classifications for various areas in the country today, July 30 amid rising COVID-19 cases and health facilities entering the "danger zone."
With difference of only less than 2,000 cases, the Philippines is now second to China in terms of confirmed coronavirus disease (COVID-19) cases, data from the World Health Organization (WHO) and Department of Health (DOH) showed on Wednesday, July 29.
Based on DOH's bulletin for COVID-19 cases, there were 1,874 new cases recorded in the Philippines as of July 29, bringing the total cases to 85,486. This includes 1,962 deaths and 26,996 recoveries.
On the other hand, the Situation Report of WHO stated that as of July 28, China had a total of 87,245 cases, including 4,663 deaths. As of July 29, China reported 87,457 cases with 4,664 deaths.
This means that the Philippines is behind China by merely 1,759 cases of COVID-19 as of July 28. It was in Wuhan City in the Hubei province of China where COVID-19 first surfaced in 2019.
Based on WHO data, China had the most number of cases followed by the Philippines out of the 15 countries in the Western Pacific. Singapore came in third with 50,838 cases including 469 deaths, then Japan with 30,961 cases with 972 deaths, and Australia with 14,935 cases including 532 deaths.
Placing sixth is South Korea with 14,203 cases including 28 deaths, Malaysia with 8,904 cases including seven deaths, New Zealand with 1,207 cases with one death, Vietnam with 431 cases with 11 deaths, Mongolia with 288 cases with zero deaths and Cambodia with 226 cases with one death.
Brunei Darussalam is at the 12th place with 141 cases, Papua New Guinea with 62 cases, Fiji with 27 cases and Laos with 20 cases. They all had no deaths recorded.
Unlike all other countries in the region that are either having clustering or sporadic cases of COVID-19, only the Philippines is currently experiencing "community transmission of the virus."
This means that the source of infection in the Philippines could now hardly be established.
WHO data also showed that globally, there are already 16.3 million individuals who got infected with COVID-19 and 650,805 of them died.
Danger zone
Aside from hospitals, the DOH also reported on Tuesday that the five large-scale temporary treatment and monitoring facilities (TTMF) in Metro Manila are now in "danger zone."
In a press briefing, DOH Undersecretary Maria Rosario Vergeire said the five Mega LIGTAS COVID Centers have already reached more than 70 percent occupancy rate.
Because of this, these facilities – PhilSpors Arena (Ultra Stadium) in Pasig City, Quezon Institute in Quezon City, Rizal Memorial Coliseum in Manila, Philippine Area in Bulacan and Asean Convention Center in Pampanga – are now considered in danger zone.
The Mega LIGTAS COVID Centers are the large-scale versions of the Local Isolation and General Treatment Areas for COVID-19 cases (LIGTAS COVID) Centers that were set up in the communities. They are being run by the provincial local government units (LGUs).
On the other hand, the mega TTMFs are being managed by the Inter-Agency Task Force for the Management of Emerging Infectious Diseases.
According to Vergeire, the LIGTAS COVID Centers in five regions are also experiencing a surge in patients who are undergoing quarantine.
"The TTMF utilization (rates) in the National Capital Region and Regions 1, 7, 10 and 12 are 30 to 70 percent…they are in the warning zone," Vergeire declared.
In the past weeks, the government has been encouraging asymptomatic and mild patients to undergo their 14-day quarantine in TTMF and not in hospitals.
This is intended to reserve hospitals for critical and severely-ill patients and to prevent the hospitals from being overwhelmed.
As a protocol, even the confirmed COVID-19 patients who have recovered from the illness should undergo their step-down quarantine in TTMF.
Many of the patients, however, have refused to be transferred to TTMF as they opted to complete quarantine in hospitals.
On Tuesday, July 28, Vergeire also reported that occupancy rate in both public and private hospitals nationwide is nearing full capacity.
"From 16,388 COVID dedicated beds for suspected, probable and confirmed COVID cases , 8577 are now occupied or about 52.3 percent which means we are already in the warning zone level," Vergeire said in a televised press briefing.
"Ang ibig sabihin ay malapit na ma-overwhelm ang health system natin, napapagod na ang mga doctor and nurses," Vergeire added.
Citing DOH data, Vergeire disclosed utilization rate of beds in intensive care units (ICUs) has reached 53 percent while isolation beds has 51 percent occupancy rate. Wards' utilization rate climbed to 57 percent thus putting nationwide occupancy rate under "warning zone."
In the National Capital Region and Region 4-A or Calabarzon, Vergeire said hospital bed capacity reached more than 70 percent, thus already classified as "danger zone."
She said Central Luzon, Central Visayas, Eastern Visayas, Zamboanga Peninsula and Davao Region are under the warning zone classification.
To address the problem, Vergeire said the DOH is implementing the One Hospital Command Systsem to enhance coordination between public and private hospitals.
The rise in COVID-19 cases, Vergeire explained on Monday, July 27, could not be considered as "second wave" of the pandemic.
Vergeire said DOH is constantly conducting a study and will make proper declaration based on epidemiological analysis and data collated from laboratories and hospitals.
But Baguio Mayor Benjamin Magalong declared that his city is under "second wave" of COVID-19 infections after flattening the curve in June.
Quarantine classifications
President Duterte is expected to announce today, July 30, updated quarantine classifications of areas, a day after the number of COVID-19 cases breached 85,000 as predicted by experts.
Presidential spokesman Harry Roque said the IATF already has recommendations but some LGUs are still appealing their classification.
"So the recommendations are all preliminary subject to finalization on Thursday," Roque told CNN Philippines on Wednesday.
Roque previously said Metro Manila, which contributes a third of the country's gross domestic product, may be placed under stricter quarantine if the forecast of University of the Philippines experts that the Philippines would have 85,000 infections by the end of the month is realized.
The relatively low utilization rate of its health facilities allowed Metro Manila to dodge a more stringent lockdown and to remain under the lenient general community quarantine since June 1. Metro Manila, which is home to more than 12 million people, accounts for more than half or about 45,000 infections in the country.
But Roque admitted Wednesday that the critical health care capacity of the region has become a problem.
"Our case doubling rate is fine – we're now at 8.9 (days). We actually improved because the higher the case doubling rate is, the longer, the better. But as you mentioned, it's critical care capacity that's the problem because ICU beds, we have reached around 80 percent," the Palace spokesman said.
"But there are steps that can be done – rationalization of hospital beds, including ICU beds is a solution and if we have to, we will build more ICU beds really for as long as the case doubling rate is under control," he added.
Pressed about Metro Manila's chances of returning to the stricter modified enhanced community quarantine, Roque did not give a direct answer.
"Metro Manila will be a living experiment and it's an experiment that we believe we can be successful at, and it will be something that we can be proud of," he said, noting that the decision would be based on case doubling rate and critical care capacity.
No victory
There will be no declaration of victory for Malacañang this time as the Philippines did not beat a University of the Philippines' prediction that it would have 85,000 COVID-19 cases by the end of the month.
Last month, Roque was heavily criticized for saying that the Philippines had "won" because the number of COVID-19 cases in the Philippines did not reach 40,000 at the end of June as predicted by UP experts. The number of infections in the country was about 37,500 during that time. Roque later on clarified that he does not view UP as the enemy and that he was just emphasizing that ordinary people should do their part in fighting the pandemic.
Roque said critics of his remark already got what they wanted.
"Well, I'm sad to say, we're not. And to those who… made fun of my excitement, well, you got what you wanted. The forecast happened, and I see no reason why we should celebrate," Roque said.
"It's very sad, but as I have conferred with Professor Ranjit Rye, we should always aim to beat the forecast because we have the tools," he added.
Roque, nevertheless, maintained that the government's response to the pandemic was not an absolute failure.
"I think we've been rather successful because we've limited mortality rate, and in the end that's what matters – how many people perished because of the pandemic. I think that strides also in treating COVID, has contributed to this fact that mortality is still way below the world threshold," the Palace spokesman said.
"We can only look at our former colonial master and look at the mess that they're in, the United States…and even England. We're far shot from the crisis that they have in the US, in England and the rest of Europe," he added.
Roque reiterated that the number of infections in the Philippines would have reached 3.5 million if the government did not act on the virus.
"So, people, let's give ourselves credit because it's not just (the) government that succeeded; it's the Filipino people that succeeded to be where we are," he said.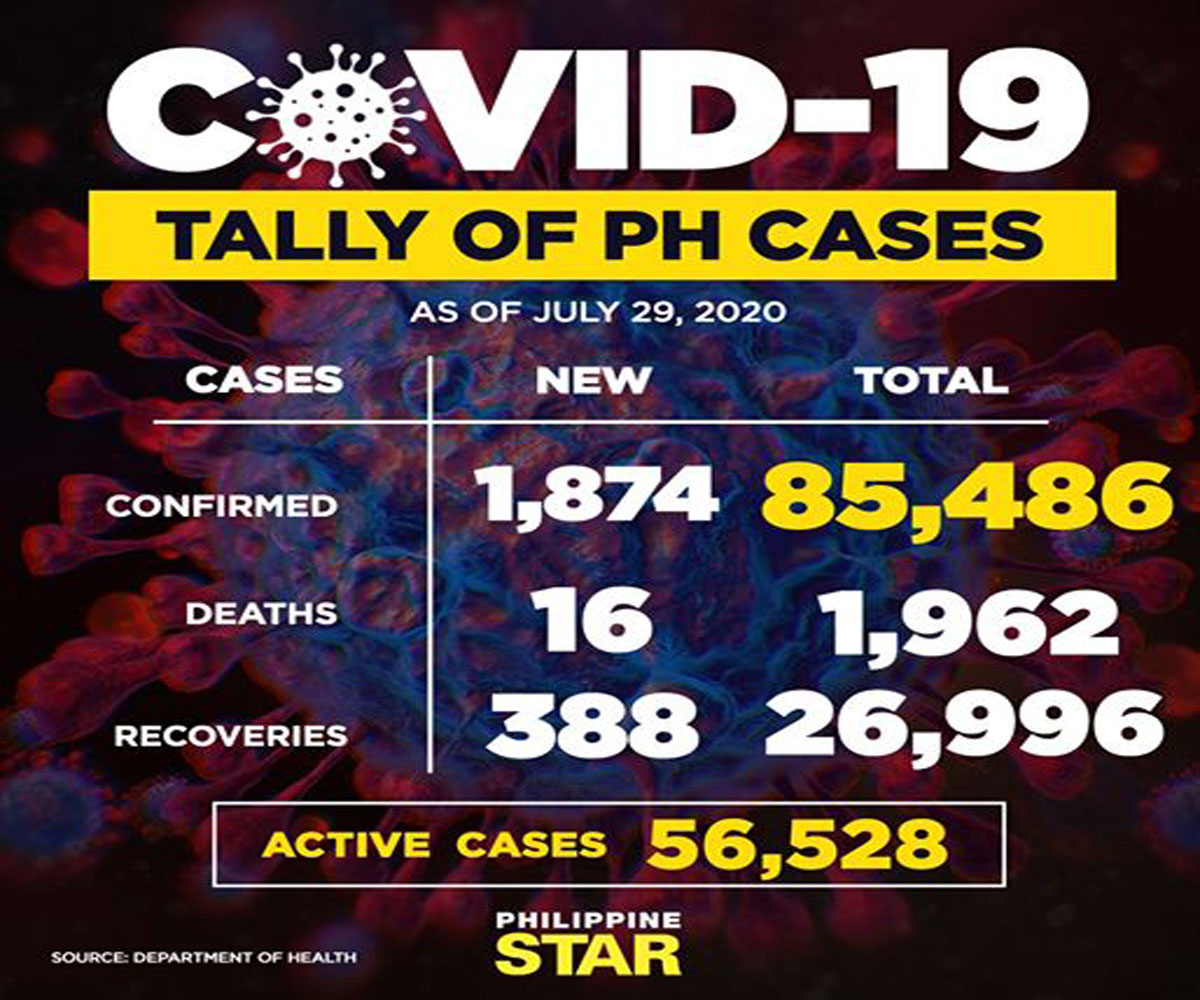 'Major changes'
Roque said the government's measures against the pandemic would be "invigorated" by further expanding testing efforts and building more isolation facilities.
"Things will not be the same, there will be major changes in our response to the pandemic," Roque stressed.
"The people will now see the difference in the response that we will have. It is now thoroughly invigorated and part of it is we build capacity and we now have the capacity to do what we wanted from the very beginning. The people will see that there will be expanded targeted testing, beyond numbers that they probably would not have imagined," he said.
According to Roque, the government aims to build "around a thousand isolation facilities" and is ready to book school dormitories if these quarantine centers are still not enough.
"We will actually attempt to isolate everyone who will turn out positive, because the experience of the other countries is it's only in this manner that they were able to control the spread of the disease," he said.
"Efforts will have to be done to reduce the numbers, and if possible, to do away completely with community transmission which can be done under these contemplated massive targeting testing and invigorated tracing, as well as expanded isolation facilities."
Roque also expects the number of tests conducted daily to increase as the government is eyeing pooled testing, wherein a testing kit can be used to test 10 to 20 persons.
"Right now, we have reached 30,000 more or less a day. But we are going to get more... The pool testing will expand our test, actual testing to at least times 10," he added.
"Definitely it's not going to be status quo. No, it's not going to be status quo. Nothing will be status quo from this classification," Roque said.
Roque maintained the government has improved its capability to conduct tests and contact tracing. The administration is also planning to build more isolation facilities, noting that infected persons with mild or no symptoms may no longer undergo home quarantine if they do not have their own bathrooms and bedrooms.
"So, it's not so much to the classification that will matter, but the responses, the new invigorated responses that we will have in this COVID-19 pandemic," Roque pointed out.
More businesses allowed to reopen
Despite the rising number of COVID-19 cases, the IATF has allowed more businesses to reopen as it seeks to revive the ailing economy while containing the virus.
Under IATF Resolution No. 59, some businesses from Category 4 have been placed under Category 3 to allow their limited operations in areas under general community quarantine (GCQ).
Businesses that are now allowed to operate partially in GCQ areas testing and tutorial centers, review centers, gyms, fitness centers and sport facilities, internet cafes, establishments offering personal grooming and aesthetic services, pet grooming, and drive-in cinemas. However, gyms for contact sports like boxing and karate are not covered by the decision.
"All of these recategorized business activities shall gradually resume operations at 30 percent operational capacity starting August 1," Roque said in a statement.
The IATF has also approved business activities under Category 4, which means that they can operate in areas under the most lenient modified GCQ. These businesses include full body massage; tattoo and body piercing; live events; entertainment industries; libraries, archives, museums and cultural centers; tourist destinations; language, driving, dance, acting, and voice schools.
The DOH and the Department of Trade and Industry are drawing mandatory health protocols for the businesses.
Cockfighting and the operation of cockpits, beerhouses and similar establishments serving alcoholic drinks, and kid amusement industries are still not allowed in any quarantine scenario. – With Mayen Jaymalin