Conducting 30,000 COVID-19 Tests Daily Not That Easy Despite Capacity – DOH
The Department of Health burst the bubble of presidential spokesman Harry Roque, who initially announced that the country exceeded the target of conducting 30,000 daily tests for coronavirus disease 2019.
The Department of Health (DOH) admitted on Monday, May 25, that it would not be easy to meet the target of conducting 30,000 tests for coronavirus disease (COVID-19) daily by May 30 due to various intervening factors.
This was after presidential spokesman Harry Roque announced during his virtual press briefing that "we have reached our target of 30,000 (real time reverse transcription) PCR (polymerase chain reaction) tests per day. Our original target is (30,000) by May 30, but on May 20, we reached 32,100 tests per day."
Citing data from the Test, Trace, Treat (T3) Coalition, Roque said the country's testing capacity has grown six times in just one month.
"We have exceeded our target. Our testing capacity increased six times, from 5,000 in April 15," he added.
Roque said the government could not do the testing alone, and expressed appreciation for the initiatives of the private sector under the T3 Coalition in reaching the initial target ahead of the deadline.
Data from the DOH, however, showed that the government conducted only 8,283 tests on May 23. The number of tests conducted exceeded 9,000 in some days but never reached 30,000.
People pointed this out on social media as the DOH had been releasing reports on the number of tests conducted on a daily basis. Netizens and various groups have also been calling for mass testing – a strategy to speed up tracing, isolation and treatment of those infected with COVID-19.
Read more: Targeted, not unlimited 'mass testing' begins; experts hope COVID-19 magnitude will be ascertained
Roque later clarified that he was referring to the country's testing capacity.
"This is to clarify that I was referring to our national testing capacity, which is now at 32,000 per day, when I earlier mentioned that we have already conducted and surpassed the 30,000 target last May 20. This is very clear though in the corresponding infographics on the national testing capacity, which was flashed on the screen during the briefing," Roque said in a statement.
According to DOH Undersecretary Maria Rosario Vergeire, the estimated maximum capacity of all licensed laboratories in the country is 32,000, "sans all other factors that may affect the operations" of these facilities.
"With all the many factors affecting our (laboratories), we are trying hard to attain the target that has been set… (So far), we only have 42 licensed laboratories – 34 (RT-PCR) and eight GeneXpert laboratories," she said in an interview.
She noted the estimate was done based on the number of machines, human resources and the operating hours per laboratory.
Based on the DOH's COVID-19 Situationer Report as of May 24, the number of actual tests conducted in a day is 8,000 to 9,000 while the daily testing capacity is 32,000.
Vergeire said the factors that may affect such operations include the availability of laboratory supplies in the market and health human resources, equipment and infrastructure issues.
On infrastructure issues, she cited the impact of Typhoon Ambo on the laboratory in Bicol and at the University of the Philippines National Institutes of Health "when the exhaust for their (laboratory) broke down."
In the case of the Philippine Red Cross, "some of their equipment was affected due to drips in the ceiling of the building" during the heavy rains.
But Vergeire assured the public that a system has been put in place to speed up the establishment of more laboratories, such as having specific teams to focus on the facilities, which are in Stages 3 and 4 of the licensing process.
"So we can guide them and expedite their licensing in the next two weeks. We have identified 17 (laboratories) which are possible to be licensed in the next two weeks," she said.
Aside from this, she stressed that in existing laboratories, the DOH provided automated extraction machines that can reduce the time for processing of samples by four hours per run.
"Also, we have added additional RT-PCR machines in some of the (laboratories)… Hopefully, with these efforts, we can be able to expand capacity and reach that target," Vergeire said.
In a Senate hearing on May 19, T3 czar and National Task Force on COVID-19 deputy chief implementer Vince Dizon disclosed that the administration's goal is to test at least two million Filipinos or two percent of the country's population for COVID-19 and reach an ideal testing capacity of 50,000 tests a day.
Dizon, who is also Bases Conversion and Development Authority president and chief executive officer, said more tests should be done in places with a high number of cases like the National Capital Region, epicenter of the pandemic in the country.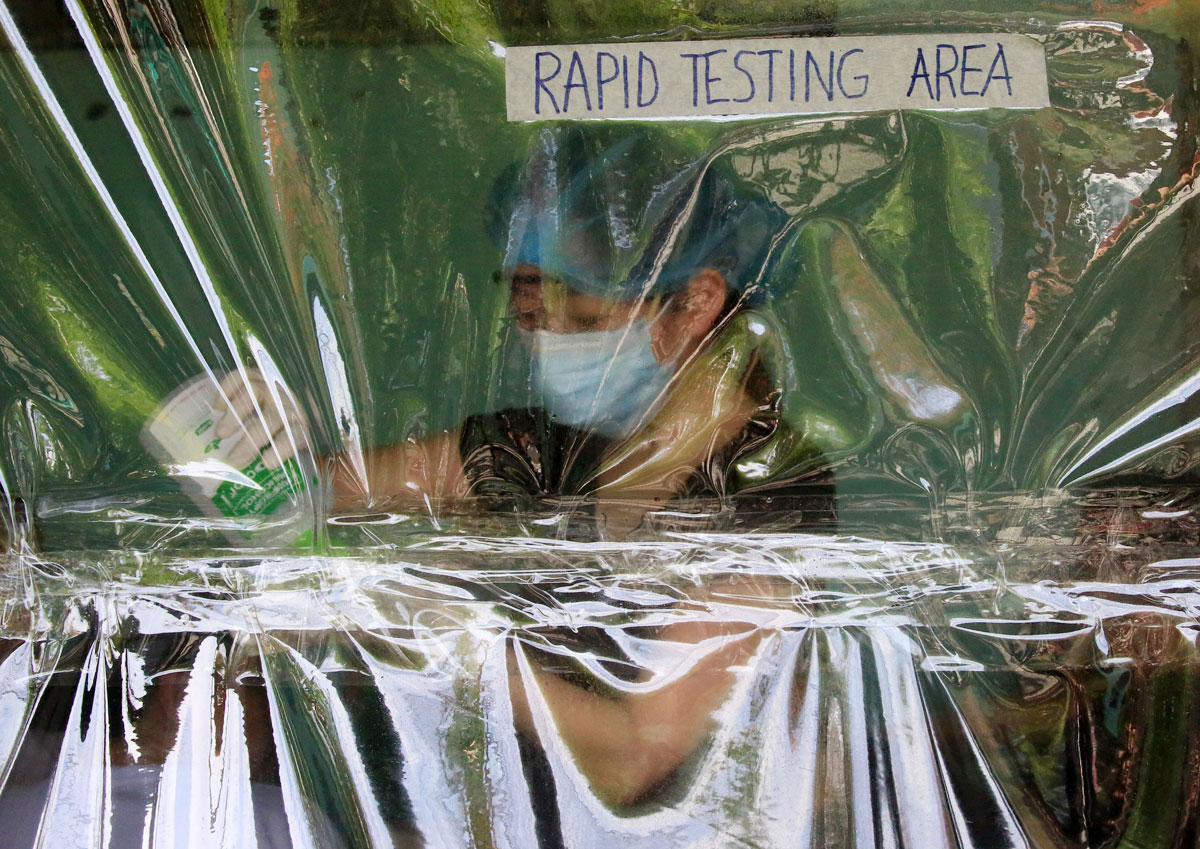 Last week, Roque came under fire for saying the government would not conduct mass testing but only expanded target testing. His concept of mass testing, however, was that all Filipinos would be tested, while people were only calling for larger coverage.
Roque maintained that the government would target only one to two percent of the population for COVID-19 testing, or 10 percent in Metro Manila and other areas with a high number of cases. He pointed out that this is a global benchmark.
There were also debates on the use of antibody rapid testing kits (RTKs) for COVID-19. Medical groups said RTKs do not accurately tell if an individual is infected with COVID-19 while others like its key proponent, Presidential Adviser for Entrepreneurship Joey Concepcion, believe that these can help the country expedite testing.
Medical groups recommend RT-PCR tests as the gold standard. This is done by taking nasal and throat swabs, so the sample can be sent to the laboratory to detect the presence of Severe Acute Respiratory Syndrome coronavirus 2 or SARS-CoV-2 that causes COVID-19 and measure its viral load.

Read more: Are we on our own? Furor over lack of mass testing for COVID-19
Medical groups reiterate opposition to rapid test kits for workers
Salita nang salita? Duterte's adviser apologizes after berating doctors opposed to rapid testing