Are We On Our Own? Furor Over Lack Of Mass Testing For COVID-19
There was an uproar over presidential spokesman Harry Roque's pronouncement that the Philippines would not have mass testing and that it would be up to the private sector to check if their workers have coronavirus disease 2019.
Presidential spokesman Harry Roque has insisted that the Philippine government cannot conduct "mass testing" the way countries like China have done, and said it would leave it up to private businesses to foot the bill should they want to check if their workers are asymptomatic carriers of the Severe Acute Respiratory Syndrome coronavirus 2 (SARS-CoV-2), the virus that causes coronavirus disease 2019 (COVID-19).
In a press briefing on Tuesday, May 19, Roque said the term "mass testing" – or the clamor for the testing of even possible carriers of the virus who may not be showing symptoms – was "mali (wrong)." He reasoned out: "Walang bansa sa mundo ang kayang mag-test ng lahat ng kanilang mamamayan (No country in the world can test all of its people)."
The government will target only one to two percent of the population for COVID-19 testing, or 10 percent in the case of the epicenters of the outbreak such as Metro Manila, Roque said. He pointed out that this is a global benchmark.
Countries such as Russia and Germany have been able to test around four percent of their respective populations and detect hundreds of thousands of cases.
Roque maintained that only the following would be required to go through the government's "expanded target testing": those showing symptoms of COVID-19, those who arrive in the country from abroad (such as overseas Filipino workers (OFWs) coming home), and those who were in close contact with confirmed COVID-19 cases.
This was despite Cebu City Mayor Edgardo Labella's disclosure on the same day that 95 percent of the 1,749 confirmed cases there were asymptomatic. Cebu City and neighboring Mandaue City are currently under the strictest enhanced community quarantine (ECQ).
Roque stressed: "We test those who need to be tested, dahil hindi lang iyong mga gustong magpa-test (not just because they want to be tested)."
If private sector entities want to have even their asymptomatic employees tested first before having them report back to work, Roque said this would be "voluntary" on their part.
However, the employers will have to shoulder the cost, because the Philippine Health Insurance Corp. will not pay for the testing of those who do not fall under the categories listed above: "Ang bayad sa test na hindi covered ng PhilHealth, dapat sagutin ng employers. Ibig sabihin iyong test po na rapid testing at iyong mga test sa asymptomatic na hindi sang-ayon sa DOH guidelines."
Roque noted that the country's daily testing capability finally reached 11,127 tests on May 15, allowing the government to include asymptomatic persons who fall under the following categories: close contacts of confirmed cases, or persons with a history of travel abroad like OFWs returning home.
"Now perhaps the better term is not mass testing but it should be targeted testing… because I think it's physically impossible to test 110 million, but we're aiming to test – also using statistics as a science – 1.5 to 2 percent of our population," the Palace spokesman said.
Roque said this would be enough to give the government "a very good picture of the extent of the infection."
Delayed
The country's ramping up of its testing capacity has been much delayed. Targeted testing began only on April 14 – a full month after President Duterte placed the entire Luzon under ECQ – with a daily capacity of 3,000.
Last Monday, Roque reported that the Philippines already has 30 testing facilities and 2,908 healing centers.
Bases Conversion and Development Authority president and chief executive officer Vince Dizon, who is also deputy chief implementer of the national policy on COVID-19, previously said the increasing number of laboratories raised the Philippines' testing capacity from 8,500 on May 2 to 14,500 on May 10. The 14,500 testing capacity, however, is still less than half of the 30,000 daily target set by the government.
The government had hoped to increase the figure to 8,000 by the end of April, but Duterte, in his report to Congress on May 18, disclosed that the average number of tests conducted daily from May 8 to 13 was only 7,809.
Meanwhile, there were no signs of the number of new confirmed cases going down. The daily increase exceeded 200 for the ninth straight day beginning May 11 – although this was not as bad as the peak figure of 538 on March 31, a time when it took only three days for the total number of cases to double.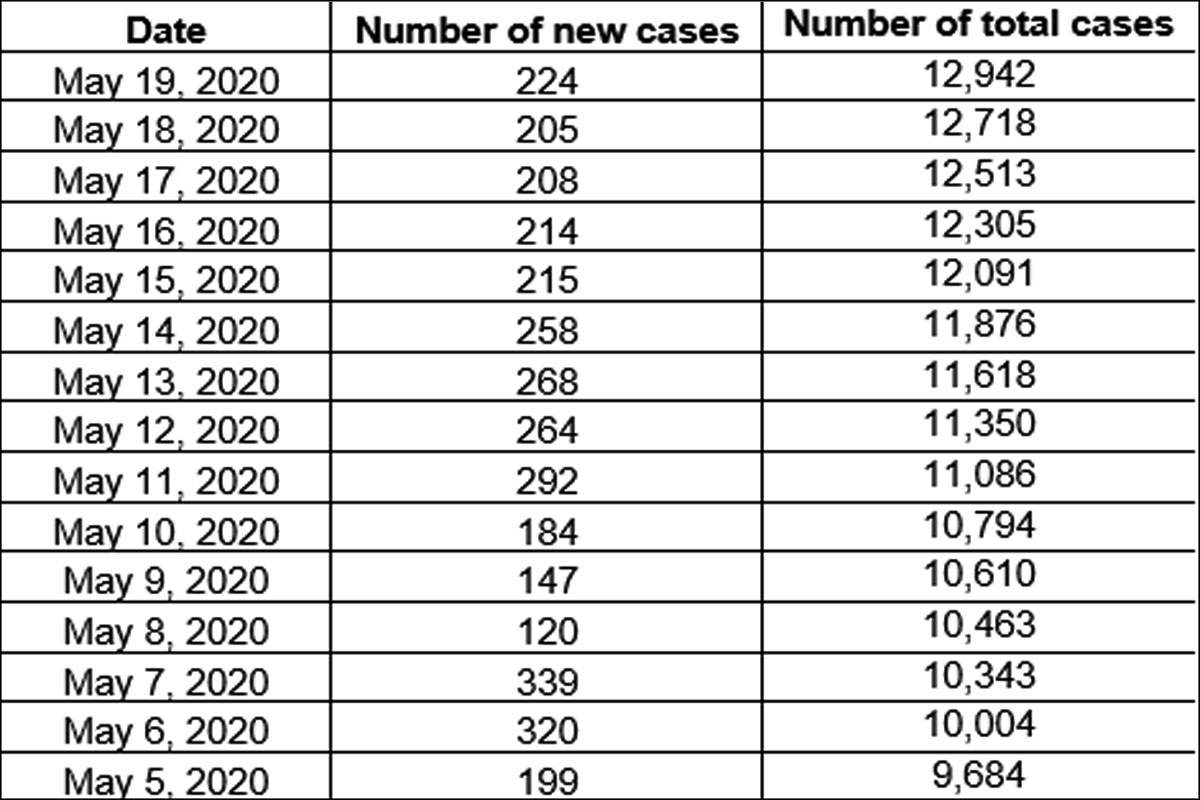 On our own?
Roque's statements on May 19 were in reaction to the outcry among Filipinos online who wondered if the lockdown for the past two months has been for naught and if they have been left to fend for themselves.
The uproar was provoked by his May 18 press briefing, in which he said: "Well, as much as possible po ano, mayroon tayong — ini-increase natin iyong capacity natin ng testing, kaya nga we're aiming na aabot tayo sa 30,000 (we are increasing our testing capacity and we are aiming to reach 30,000)."
He added, however, that the government could not conduct mass testing on the same scale as Wuhan City in China's Hubei province, where COVID-19 originated. Following reports of new COVID clusters emerging after its lockdown, Wuhan has started mass testing of all its 11 million inhabitants, to be completed within 10 days.
This was Roque's answer when asked about the absence of a government mass testing program.
Roque explained that Wuhan's example could not be followed because Chinese customs officials were blocking the exportation of rapid testing kits while the United States was buying up all that was available. "That is why we are giving recognition to the initiative of the private sector na sila na mismo ang bumili ng rapid test kits para ma-test ang kanilang mga empleyado (that they themselves should buy the rapid test kits to test their employees)," he said.
This did not sit well with Filipinos on social media. The hashtag #MassTestingNowPH again became a trending topic.
Dr. Anthony Leachon, special adviser to the Inter-Agency Task Force for the Management of Emerging Infectious Diseases, said the government cannot just shift its responsibility to curb the spread of COVID-19.
"The government mandate is to heal, to serve and to lead. We can't defer to the private sector the responsibility of caring for the people. We should partner with the private sector and find ways to make their lives better no matter how hard it is," Leachon said.
As Roque's remarks were made during the first working day in Metro Manila under the modified enhanced community quarantine, Sen. Risa Hontiveros said: "First day of back to work at bulag pa din tayo sa totoong kalagayan natin (and we are still blind to our real situation)."
"Hindi ito matatapos kung walang mass testing. Suportahan sana ng gobyerno. ('Wag) natin sayangin ang nine weeks na sakripisyo ng mga Pilipino (This will not end without mass testing. The government should support it. Let us not waste the nine weeks sacrificed by Filipinos)," Hontiveros said.
Detained Sen. Leila de Lima commented: "This is nothing more than a collective torture of the Filipino people. Sobra na (This is too much)!"
 "Lupaypay na nga ang mga negosyante sa kawalang produksyon at pagkalugi habang nasa lockdown, ipinapapasan pa sa kanila ang dagdag-gastos na ito. Ang lupit n'yo! (Our businessmen are already beaten to a pulp by the stoppage of production and economic losses under the lockdown, yet they are being made to shoulder this additional cost. You are cruel!)" De Lima said.
 She added: "Kung ang responsibilidad mo ay hindi mo magawa at ipinapasa mo sa iba, anong tawag sa 'yo? Inutil (If you cannot fulfill your responsibility and you pass it on to others, what are you called? Inutile)."

 A post by Facebook user Ryan Rojo, which had around 56,000 shares as of Tuesday night, declared: "Did I just spend 2 months distancing from friends and family, doing my best to not contract or spread this virus just to see the national government fail to conduct mass testing and contact tracing and now... now they're saying they won't do mass testing because of lack of capacity?"
 "Nangutang pa kayo na babayaran ng buwis ko at buwis ng mga anak at anak ng anak ko (You even took out loans that will have to be paid back using my taxes and the taxes of my children and the taxes of the children of my children)... and you show up with basically nothing??? Are you f***ing kidding me???" Rojo added.
 Twitter user Ria Fernandez said: "If the government is going to keep passing the buck to the private sector, they have no right to keep collecting taxes." Her post had 11,400 retweets and 37,700 likes.
 ABS-CBN actress Angel Locsin, who has been praised for her efforts to assist in the response of hospitals against COVID-19, even wondered if Roque was misquoted. "Hindi ako makapaniwalang hindi tayo nagpre-prepare for mass testing na kailangang-kailangan ngayon (I cannot believe we did not prepare for mass testing that we really need right now)," she posted on Twitter.
 TV Patrol Southern Tagalog anchor Val Balita said: "After two months, emergency powers and P275B(++), wala pa ring mass testing. Wala pa rin miski plano man lang na mag-mass testing (There is still no mass testing. There is not even any plan to do mass testing). Most of us, citizens, have done our part. Nakaka-g*go (We're being taken for idiots)."
 Bagong Alyansang Makabayan secretary general Renato Reyes Jr. said: "Ulitin natin: Ang panawagan po ay Bayanihan, hindi 'bahala kayo jan!' "
 Election lawyer Emil Marañon quipped: "Kaya pala 'Bayanihan to Heal as One Act,' kasi heal ka mag-isa mo (So that's why it's Bayanihan to Heal as One Act, because you're supposed to heal on your own)."
 Former Kabataan party-list Rep. Raymond Palatino said the Land Transportation Franchising and Regulatory Board was passing the burden to public utility vehicle drivers to get the contact details of passengers for contact tracing of those possibly exposed to COVID-19 cases.
 "Jeepney drivers, the best in the world. Nagmamaneho. Kumukuha ng bayad. Nag-aabot ng sukli. Naghahanap ng pasahero sa daan. Umiiwas sa trapik. Dumidiskarte sa kotong cops. Tuloy byahe kahit pinapa-phaseout. At ngayon ay contact tracer pa. Eh kulang na lang sila na mag-mass testing (They drive. They collect fare. They pass the change. They look for passengers in the streets. They avoid traffic. They make ways with cops who want bribes. They keep plying their routes even if they are being phased out. And now, they are contact tracers too. What is left for them to do is the mass testing, too)," Palatino said.
 Meme page Aesthetically Depressed Law Student said: "Dear government, we did our part and stayed at home. It's time you do your part too."
 Former senator Joseph Victor Ejercito lamented that "among the ASEAN, (it) seems the Philippines is the worst performing nation in fighting the pandemic."
 Incidentally, health maintenance organization Philhealthcare Inc. said on May 18 that a phone survey of 400 respondents from May 10 to 14 showed that 77 percent had concerns about their safety when leaving home to go to their workplaces. Nearly 60 percent were not comfortable to go back to work, it found. 
 Roque criticized an online report that quoted him as saying that the government still has no plan to carry out mass testing and that authorities would leave such efforts to the private sector.
 "If the private sector is volunteering to test their employees before they return to work, the government won't oppose that. It would even thank them for it. But that does not mean that there is no expanded target testing in our nation," he said.
 When a reporter reminded Roque of his previous statement, the Palace spokesman replied: "Very clearly, literally I compared the situation to Wuhan, where they seek to test all 11 million residents. We won't do that in the entire Philippines. We cannot even do that in Metro Manila. That's why we are conducting a systematic program of targeted testing."
 Roque said the government is taking testing seriously because "it's the only way we can identify where the enemy is."
 "Once we identify where the enemy is, then we can isolate and we can cure," he added.
 He said under the guidelines set by the health department, people who need to be tested are divided into four sub-groups. Sub-group A refers to critical or severe cases while sub-group B pertains to mild but vulnerable cases. Sub-group C pertains to mild and not vulnerable cases while sub-group D refers to those who have no symptoms, but who have close contact with persons who tested positive or those with a history of travel to countries with coronavirus cases.
 "If other countries only test sub-group C, we test A to C, all those who are symptomatic. The PCR is only accurate for those with symptoms," Roque said.
 Lashing out at reporter
 Roque, in a rare instance, acknowledged that reportage of his press briefing "caused public uproar."
 However, he used his public briefing to lash out at CNN Philippines reporter Triciah Terada, accusing her of getting his remarks wrong. He complained about how it appeared that the government has no programs at all.
 "It's really caused public uproar, 'no, at mali naman po kasi nga po (and it is wrong because) this has become a public-private partnership. It's not because of lack of funds, it's because everyone gives priority to testing," Roque said.
 A GMA 7 reporter disputed Roque's heaping of blame on Terada and reminded him of the statement he gave the day before that ruled out the Wuhan example.
 Later, University of the Philippines journalism professor Danilo Arao called out Roque for his "unprofessional" behavior and said he should have called Terada's attention immediately after the report was made.
 "I reviewed the tweet and the report and there seems to be no serious factual error. The only contentious issue is the use of the term 'mass testing' which Roque himself used," Arao noted. – With Alexis Romero