A Tale Of Two ECQ Violators: Mang Dodong Out Of Detention; Duterte Defends Debold Sinas
Fish vendor "Mang Dodong" had to stay in detention for 12 days for violating enhanced community quarantine rules. Meanwhile, police Maj. Gen. Debold Sinas received a major morale boost even as he faces probes over his birthday bash during the ECQ.
"Mang Dodong" was finally out of detention on Tuesday afternoon, May 19, after 12 days in detention for violation of the enhanced community quarantine (ECQ). He had to follow a tedious process to be free.
Read more: VIRAL: Detention of fish vendor for ECQ violation; Netizens decry double standard, inhumane law enforcement
On Tuesday night, President Duterte addressed the nation and defended National Capital Region Police Office (NCRPO) chief Maj. Gen. Debold Sinas, who was heavily criticized for apparently violating quarantine protocols during his birthday bash on May 8.
Read more: Enforce the law on yourself, NCRPO chief told after 'extraordinary birthday celebration'
* * *
Early in the morning of Monday, May 18, there were already a lot of people, mostly women, at the Metropolitan Trial Court (MTC) in Navotas lined up under the heat of the sun to post bail for relatives detained for ECQ or curfew violations, as shown in the photos below.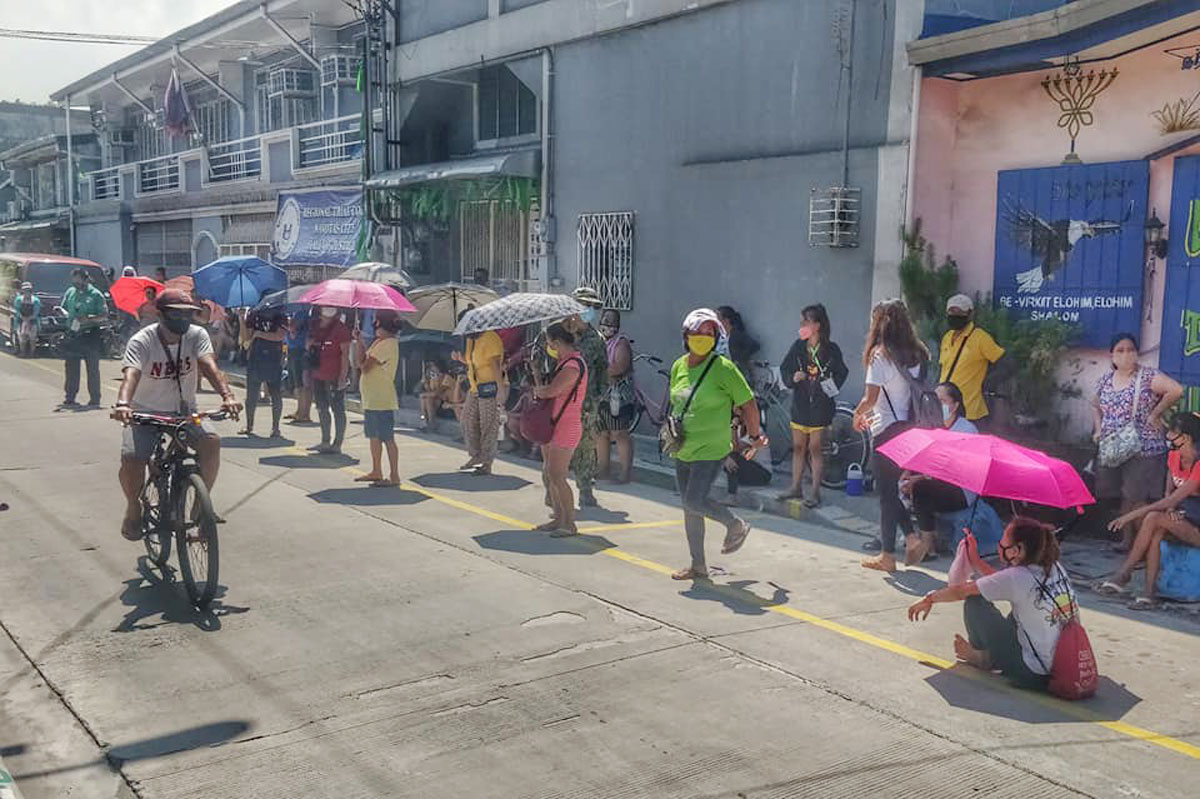 But Caloocan Bishop Pablo Virgilio David said 58-year-old Joseph Jimeda or "Mang Dodong" was not able to post bail because the fish vendor still had to go through online arraignment on Tuesday.
"The money for bail is already available," David said, adding that it was "donated by a kind heart." According to the bishop, there are around 500 others who are in detention for the same case – violation of ECQ rules – if people want to help.
Jimeda was arrested on the night of May 7 for violating the ECQ as he went to the Navotas fish port – his usual source for the fish that he sells in a talipapa or small public market in Caloocan City where he lives.
"He used to do this before, but this time he was detained," David said.
Aside from the online arraignment set at 1:30 p.m. on Tuesday, there was an error in the encoding of Jimeda's name when he was detained at the Navotas Sports Complex.
Jimeda pleaded guilty to the offense of simple disobedience, which carries a penalty of 10-day detention. His lawyer pointed out that Jimeda had already been detained for 12 days.
In posting bail, people must go to a Landbank branch in Barangay San Jose in Navotas that opens only from 9 a.m. to 12 noon every Monday, Wednesday and Friday.
The court does not allow inter-branch payments, mobile banking or ATM payments.
After nearly two grueling days of efforts to be set free, Jimeda finally made it home late Tuesday afternoon. Surprised neighbors in Barangay 31 happily welcomed him.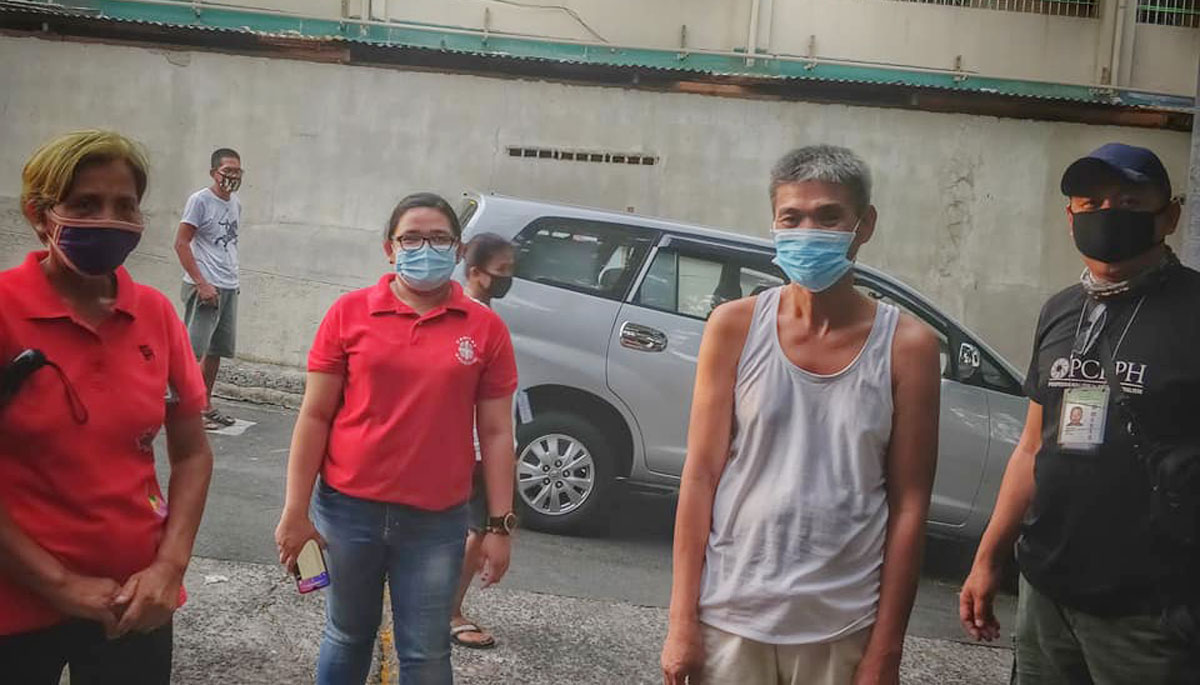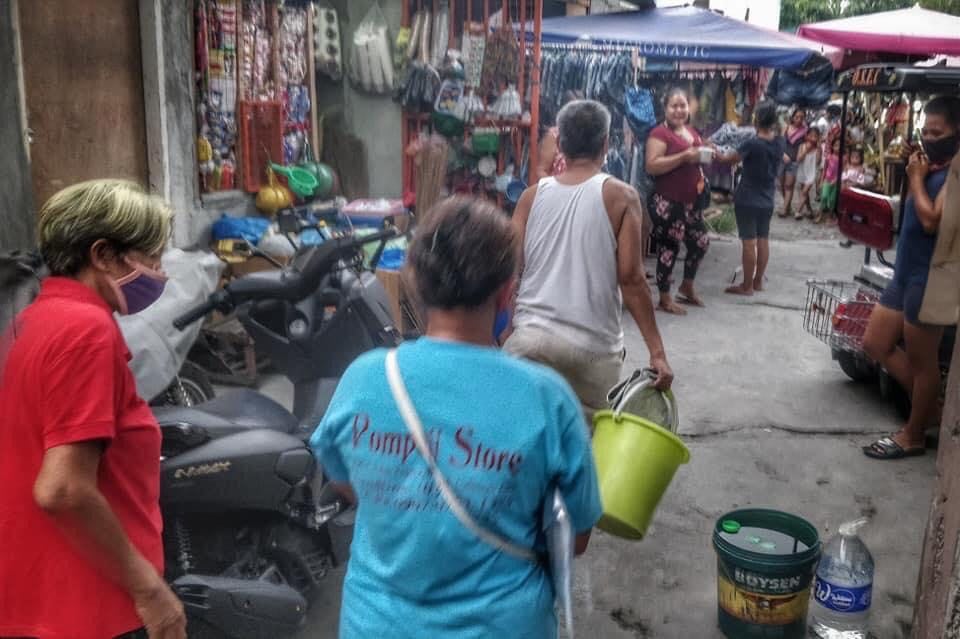 Jimeda, a quiet and soft-spoken man, admitted that he could not sleep at night while in detention – not because of how difficult it was – but because he worried about his sick wife and Jessica, their adopted daughter whom he loves very much. He does not have a mobile phone and could not contact his family during his detention.
His story is not uncommon. In many detention facilities across the country, inmates struggle to complete the required documents for their release and pay for them – P150 for mug shots and P100 for detainee information sheets, among others – aside from the bail. Jimeda's bail bond was set at P3,500.
The detainees must produce two government-issued IDs. Lawyers have to explain to the detainees what a waiver is, what offense they are charged with, how to plead during an arraignment, and what PAO means – Public Attorney's Office.
Some of the women who had lined up in front of the Navotas MTC said they were also there on Friday, May 15, when Typhoon Ambo hit Metro Manila, but they had no choice but to keep waiting even if they got drenched in the rain. They were back on Monday as they failed to get their relatives out of detention due to lack of requirements.
* * *
Duterte went on air Tuesday night until early Wednesday, May 20, and disclosed that it was he who did not want Sinas removed as NCRPO chief "just because kinantahan siya ng happy birthday."
"Hindi ako sang-ayon. Pinag-aralan ko 'yung merits and demerits. Kailangan ko 'yung tao (I don't approve of it. I studied the merits and demerits. I need the guy)," Duterte said.
Duterte described Sinas as "a good officer" and "an honest one," adding it was not the fault of the NCRPO chief that his fellow officers and subordinates gathered to greet him on his birthday with a serenade or mañanita on May 8.
Despite reminding the public to strictly adhere to health protocols amid the coronavirus disease 2019 pandemic, Duterte said he does not see anything wrong if the guests at Sinas' birthday were photographed not wearing face masks because it was just natural to remove them when eating.
"At kung 'yun namang sabi na nakikita hindi naka-mask, eh siyempre may mga meryenda 'yan, may pagkain. (Alangan) naman kainin nila pati 'yung mask. 'Di tanggalin talaga nila. Kainan iyon eh," Duterte said.
Photos posted by the NCRPO on its website showed the guests standing close together without masks as they got food from a table. Sinas was also shown blowing candles on a cake.
Sinas leads the police implementation of quarantine rules in Metro Manila, epicenter of the coronavirus disease 2019 pandemic in the country, to prevent the spread of COVID-19. His credibility as chief enforcer has been questioned after the mañanita, for which he has publicly apologized.
Duterte said he needed Sinas in the NCRPO to oversee the peace and order situation in Metro Manila amid the modified ECQ.
The President added that PNP officials are all competent in their jobs.
In Sinas' case, Duterte said he is following the seniority rule in the police. Sinas has one year left in the police service before he reaches the mandatory retirement age of 56.
"They are all competent. But you know seniority. It is his time to be there and I do not believe in just firing him because they sang him 'Happy birthday,' " Duterte said, even as he lamented that he himself did not have any celebration when he marked his 75th birthday on March 28 during the Luzon-wide ECQ.
Asked for comment, presidential spokesman Harry Roque said: "The President has already spoken on the status of Gen. Debold Sinas. As the President's spokesperson, I only articulate what are PRRD's thoughts on the matter. I cannot add or subtract from what the President has said."
At the height of calls for Sinas' resignation last week, Roque said the President knew that there was something wrong in the birthday feast. As such, Roque said the President has allowed the investigation to take its course.
After Duterte addressed the matter the other night, Roque said he would follow the Chief Executive's decision.
Not off the hook
The Internal Affairs Service (IAS) of the Philippine National Police (PNP) will not withdraw the cases filed against Sinas for violating community quarantine protocols even if Duterte defended him.
IAS Inspector General Alfegar Triambulo said yesterday they would proceed with the criminal and administrative cases they filed against Sinas last week.
Triambulo said he understood the President's decision to retain Sinas as commander of the 27,000-strong NCRPO as the country is in the middle of a public health crisis and the PNP needs all hands on deck. "Kukulangin ng tao kapag national emergency," he said.
He disclosed that even some police officers who were supposed to be suspended for minor offenses were ordered to report for work during the pandemic.
But Triambulo, quoting Duterte, stressed: "The law is the law. So ibig sabihin, let the law run its course."
The IAS filed cases against Sinas and 18 other police officers over his "extraordinary birthday celebration" amid the ECQ in Metro Manila where mass gatherings are banned.
The investigating body said Sinas and the police officials may be held liable for violation of Republic Act No. 11332 or the "Mandatory Reporting of Notifiable Diseases and Health Events of Public Health Concern Act" as well as Taguig City Ordinance No. 12-2020 mandating the wearing of face masks and the observance of physical distancing.
The police officials are also facing administrative cases for offenses of less grave neglect of duty as well as less grave misconduct over the birthday gathering.
Triambulo does not view Duterte's statements on Sinas as a sign for the IAS to go easy on the police official.
"Kapag sinabi niya hindi papalitan, may presumption of innocence habang gumugulong ang batas," Triambulo said. "Kung meron paglabag, so be it."
The PNP agrees with Triambulo that the cases against Sinas must continue.
PNP spokesman Brig. Gen. Bernard Banac said the investigation and the whole process must be pursued, even as the PNP bows to Duterte's decision not to remove Sinas from his post as the country is battling the COVID-19 outbreak.
"Tinatanggap po ng PNP ang pahayag ng Pangulo at mananatili po sa puwesto si Maj. Gen. Sinas habang nasa kalagitnaan pa rin tayo ng paglaban sa COVID-19," Banac said over dwIZ.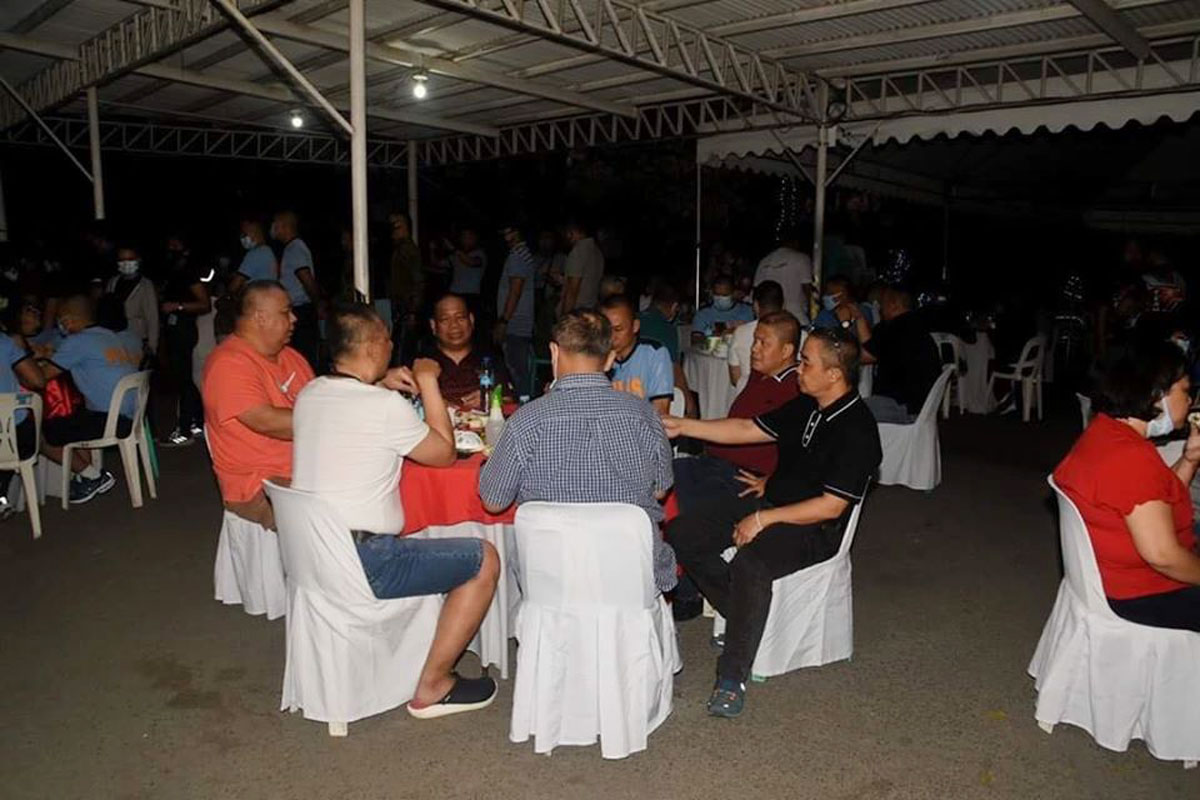 The National Bureau of Investigation (NBI) will also continue with its probe into the alleged quarantine breach of Sinas and other officials who attended his birthday fete.
NBI spokesperson Ferdinand Lavin said on Wednesday, May 20 that the probe would push through based on the evidence presented.
"We thank them in extending their cooperation in our investigation by sending a representative. So let's see what happens," Lavin said.
A lawyer from the NCRPO dropped by the NBI Anti-Graft Division to submit a letter from Sinas, complying with the deadline given by the NBI for the police official to give his reply to the allegations against him.
The lawyer refused interviews from the media. The NBI Anti-Graft Division withheld showing the letter to the media while an investigation is ongoing.
Asked if Sinas is off the hook since the President is keeping him in the NCRPO post, Lavin said the NBI "will proceed with our investigation."
The NBI probe was ordered by Justice Secretary Menardo Guevarra, Lavin said.
He said the results of the NBI investigation would be consolidated into the findings of the Taguig prosecutor's office, which also received a complaint from the PNP-IAS against Sinas and the 18 others, mostly one-star generals and colonels.
Sinas has apologized for causing the public "anxiety" in what he called a mañanita or serenade. PNP chief Gen. Archie Gamboa also declared that Sinas would stay in his post because it would be hard to replace the NCRPO chief in the middle of a pandemic.
The PNP, however, immediately relieved Capt. Peter Raul Sison as police chief of Sto. Tomas, Pangasinan after he was seen in a video handing a birthday cake to the town's Mayor Timoteo Villar III in another mañanita on May 6.
Banac said earlier that there would be no police reshuffle, and that Sinas and the other ranking police officials in the birthday gathering would remain in their posts.
Netizens have criticized the "double standard" in implementing the quarantine guidelines after photos of Sinas' birthday bash went viral on social media. – With Marc Jayson Cayabyab