VIRAL: Detention Of Fish Vendor For ECQ Violation; Netizens Decry Double Standard, Inhumane Law Enforcement
The birthday feast for police Maj. Gen. Debold Sinas amid the enhanced community quarantine drew outrage as people pointed out that officials must have the moral authority to enforce the law that ordinary citizens are made to follow.
"Mang Dodong" became the face of ordinary citizens who were punished at once for violating enhanced community quarantine rules as people expressed anger over the "extraordinary birthday celebration" of National Capital Region Police Office (NCRPO) chief Maj. Gen. Debold Sinas on May 8.
Sinas and his men were initially defended by Philippine National Police (PNP) chief Gen. Archie Gamboa. But Malacañang, the Department of the Interior and Local Government and Department of Justice said there must be an investigation.
On Friday, May 15, the PNP announced that Sinas and several others including five generals were slapped with criminal and administrative charges over the birthday "mañanita" or serenade amid a ban on mass gatherings as a precaution against the coronavirus disease 2019 (COVID-19) contagion.
The PNP said Sinas and the others who were charged violated protocols under the ECQ. On Sunday, May 17, however, PNP spokesman Brig. Gen. Bernard Banac said Sinas would keep his post despite the charges, and there would be no reshuffle in the NCRPO.
The fete drew outrage and condemnation from netizens who pointed out that officials must have the moral authority to enforce the law. They also said the law must be implemented fairly and uniformly.
Read more: Enforce the law on yourself, NCRPO chief told after 'extraordinary birthday celebration'
Despite conflicting statements, authorities vow no abuses in enforcing community quarantine
Also on May 15, the family of Joseph "Dodong" Jimeda tried to bail him out of detention at the Navotas Sports Complex after he was arrested for ECQ violation on May 7.
Jimeda, 58, is a fish vendor from Barangay 31 in Caloocan City trying to eke out an honest living to feed his wife and their adopted child amid the COVID-19 pandemic.
Early this month, he suddenly went missing.  Jimeda was last seen on the night of May 7. It turned out that he had been arrested for violation of the ECQ at the Navotas Fish Port where he buys fish to sell.
According to Jimeda, authorities cited him for lack of a valid quarantine pass in Navotas. What he had was his quarantine pass from Caloocan where he lives.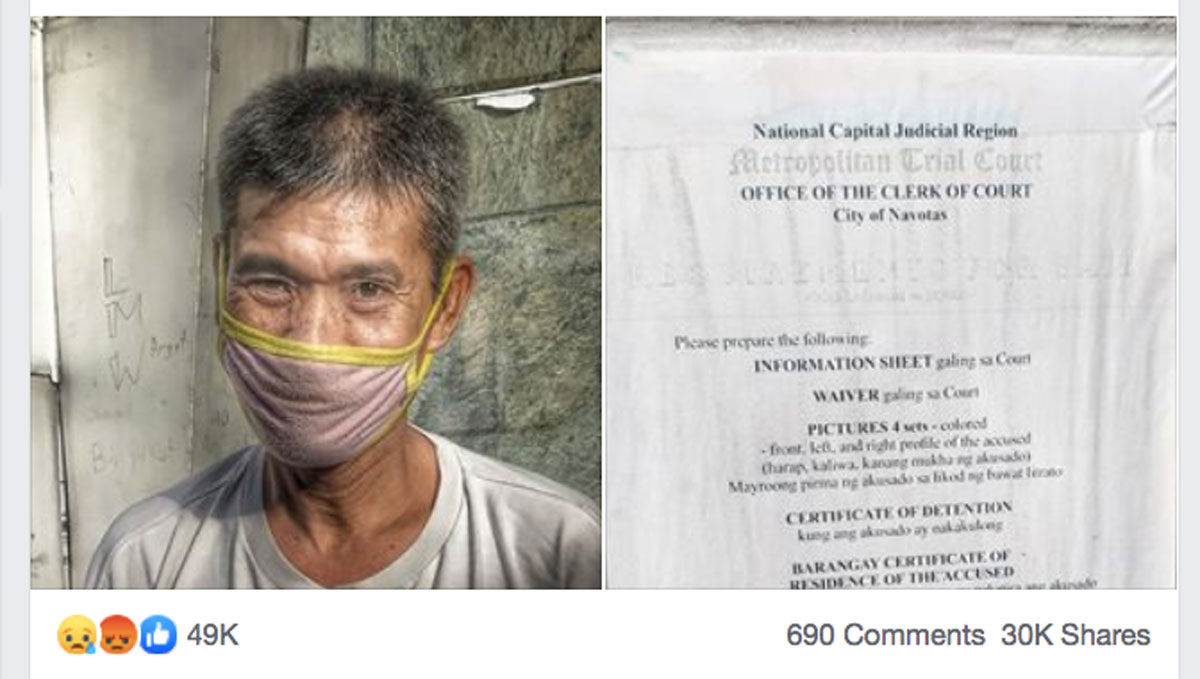 Caloocan Bishop Pablo Virgilio David asked me if it would be possible to help look for Jimeda since he was thought to be missing.
Nobody knew where he was. He did not own a cellular phone nor did his wife, Patring.
Since nobody knew what happened, there was also no one who could process his release.
It was already late in the afternoon of May 14 when we found out about his predicament. There was no more time to bail him out, and there were documents needed for this.
On May 15, his family tried to bail him out again and the bond was set at P3,500. But the Navotas prosecutor's office told them that they must a present a photo of their home, which they did not have.
It was already a week since he was detained at the Navotas Sports Complex at the time we found him.  Since it was a Friday, Jimeda must wait for two more days to be free. His release could not be processed on a weekend.
Jimeda's family felt sad but they were left with no other option since the office hours were also shorter – only until 2 p.m. – because of the ECQ.
There were already more than 500 of them detained at the enclosed facility for various ECQ violations, according to Jimeda. This is not an ideal number if physical distancing during this pandemic is to be followed to avoid COVID-19 contagion.
At the detention facility, Jimeda said he had no choice but to share food with others who took pity on him since nobody visited or brought him food to eat.
Jimeda told me that there are many others in the facility whose families have no knowledge of their detention.
* * *
Go's Facebook post on May 15, 2020 had been shared 30,000 times and garnered 49,000 reactions.
Many of the comments compared the situation of Jimeda to that of Sinas, Sen. Aquilino "Koko" Pimentel III and Overseas Workers Welfare Administration (OWWA) deputy administrator Mocha Uson who were also criticized for violating ECQ rules.
One of those who commented said those who have positions in government are accorded due process, including investigation and hearing, among others. "Pero ('pag) maralita mahihirap detained agad. NOW TELL ME ABOUT LAW IS LAW!" one comment read.
Others said the police must be able to assess the various situations of people, including a person like Jimeda who was supposed to be allowed to continue his business being a food vendor.
A Facebook user, Emzie Campillos, posted a photo of Jimeda's house and wrote that Jimeda sells fish in front of her "ukay ukay" or second hand shop in a market in Caloocan.
Campillos described Jimeda as hardworking and a loving father to their adopted child Jessica: "Masipag maghanap-buhay, kahit isang balde lang ang puhunan niyang isda pantawid lang sa panggastos nila. Nilalakad niya (mula) fishport hanggang Caloocan pag-uwi."
Campillos said the requirements for Jimeda's release had been completed with the help of David, the San Roque Cathedral in Caloocan, the Ministry of Restorative Justice of Caritas Caloocan and the author, Go.
She also posted that Jimeda had been given cash aid under the Social Amelioration Program with the help of Caloocan Mayor Oscar Malapitan and barangay chairman Jose Mercado.  Campillos disclosed that Jimeda's wife entrusted the cash aid to her and that she would give it to Jimeda upon his release that his relatives hope will be on Monday. "Para may puhunan siya ulit," Campillos wrote.
About the author
Vincent Go is a freelance photographer.