ABS-CBN Franchise Issue 'Not Yet Dead': People's Initiative Underway, Lawmakers Want All House Members To Decide
Volunteers have launched a campaign to gather at least seven million signatures to grant ABS-CBN with a franchise through people's initiative. Some lawmakers are also pushing for a plenary vote on the matter.
The franchise renewal of shuttered broadcast network ABS-CBN Corp. is an issue that is far from over as supporters vowed keep the fight alive through "multi-pronged" approaches.
On the ground, volunteers are now gathering signatures in an attempt to pass the proposed franchise law through a referendum. At the House of Representatives, several lawmakers insist on elevating the issue to the plenary so that all of its members can decide.
In a virtual briefing on Monday, Aug. 10, National Union of Journalists of the Philippines chairman Nonoy Espina said the people had been shut out of the House legislative franchise committee's proceedings that ended up in a 70-11 vote to deny ABS-CBN's renewal application.
"Sa buong proseso ng pagtalakay… ang nawawala sa dialogue 'yung taumbayan (Throughout the entire process of discussions, the people were missing from the dialogue)," he said, stressing the importance of getting ABS-CBN's free-to-air television and radio operations back, especially in far-flung areas that only its airwaves could reach.
"Anong taon na ba, 2020 na? May lugar pa rin tayong nababalot ng dilim dahil lang ipinasara ang isang network. Napakalaking anomalya niyan para sa isang bansa, lalo na sa isang bansa na mahilig magyabang na demokrasya tayo (What year is it, 2020? We still have places left in the dark just because a network was shut down. That is a huge anomaly for any country, especially one that brags about being a democracy)," Espina said.
The decision of the legislative franchises committee to adopt the technical working group report recommending the non-renewal of the network's franchise was seen to have dashed the media giant's hopes of getting back on air in the near future.
Having lost its mass audience and advertiser support in the process of shifting to cable and digital media, ABS-CBN was forced to shut down several of its crucial units and lay off thousands of workers effective Aug. 31.
People's initiative
As soon as the House committee rendered its judgment, several lawyers proposed restoring to a rarely used power reserved by the Constitution for Filipino citizens – a people's initiative.
Read More: Does ABS-CBN Still Have A Recourse Following The Denial Of Its Franchise Bid?
Enshrined in the 1987 Constitution, the people's initiative is a way for the people to directly enact a law without having it passed by Congress or bringing it to the President's desk.
For the petition for a proposed law to be submitted to a referendum, it must be signed by at least 10 percent of the country's registered voters.
Each of the country's 247 legislative districts must also be represented by at least three percent of the registered voters.
After the Commission on Elections (Comelec) verifies the signatures to be genuine, it will schedule a referendum through which the proposal becomes law if approved by the majority.
Within just 24 hours of the House committee vote, Herminio Bagro III – chief of staff of Sen. Francis Pangilinan and one of those who initially floated the idea – said around 10,000 volunteers had expressed willingness to sign and gather signatures for the initiative.
Two weeks later, on July 24, the volunteers launched Pirma Kapamilya.
Bagro said they were hoping to bank on the apparent popular support for ABS-CBN's franchise renewal application.
He cited the survey conducted by Social Weather Stations from July 3 to 6, which showed that 75 percent of 1,555 respondents agreed that Congress should renew ABS-CBN's franchise. Only 13 percent disagreed.
He also cited the July 12 to 25 survey of church-run Radio Veritas showing that 68 percent of 1,200 respondents would support a people's initiative, while only 30.5 percent were against it.
"Historic din ito kung kaya nating maibalik ang ABS-CBN sa pamamagitan ng people's initiative. Hindi kailangang dumaan sa mga pulitiko, hindi kailangan dumaan sa Mababang Kapulungan o Kongreso, sa Senado o kahit sa Pangulo (This is also historic if we can return ABS-CBN through a people's initiative. It does not have to go through the politicians, it does not need to go through the Lower House or Congress, the Senate, or even the President)," Bagro said.
"Ito ay batas na manggagaling sa tao, sa kanilang pagsasama-sama at pagtutulong-tulong (This is a law that will come from the people, with their unity and cooperation)," he added.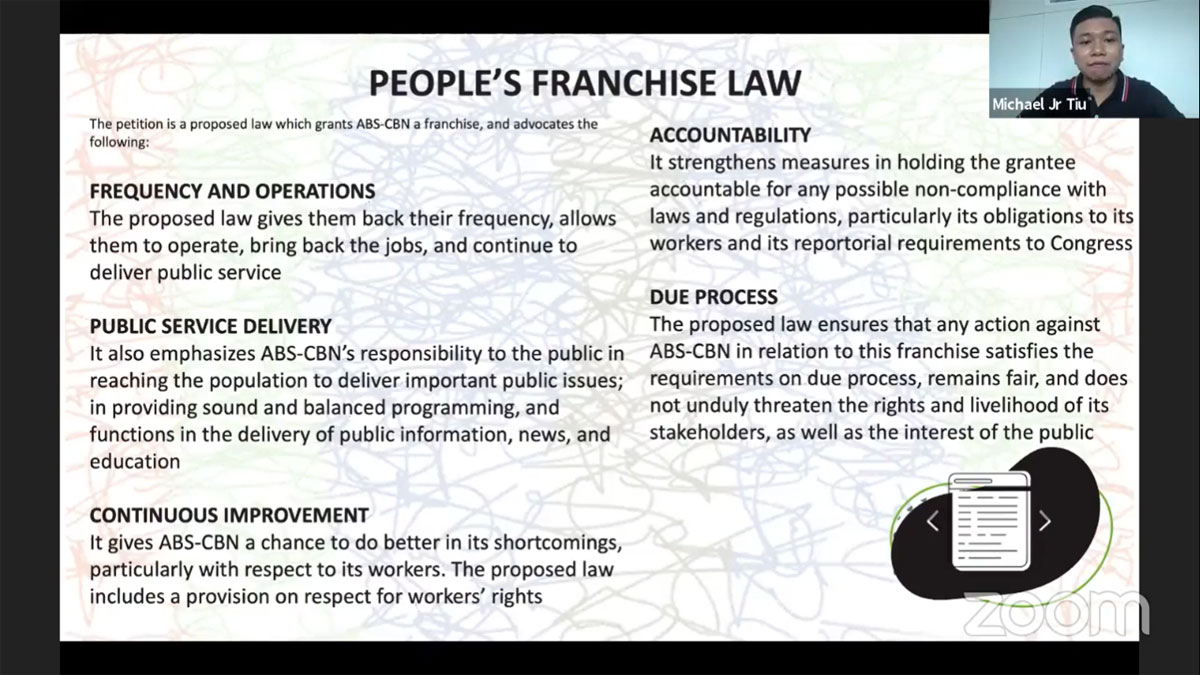 Another convenor, University of the Philippines College of Law lecturer Michael Tiu Jr., stressed that the issue is "so much more than ABS-CBN."
"Ang mga values na nai-implicate sa effort na ito… ay 'yung pagbigay ng kabuhayan… sa libu-libong workers ng ABS-CBN, ang value ng ABS-CBN as an institution of the press (The values implicated in this effort are the livelihoods of thousands of workers of ABS-CBN and the value of ABS-CBN as an institution of the press)," Tiu said.
Bagro pointed out that there has been no proven violation of the law by ABS-CBN to justify the denial of its franchise renewal application.
"Maaari rin siyang gawin sa ibang media at broadcasting institutions, kaya sinasabi nating napakalaking issue nito (This can also be done to other media and broadcasting institutions, so we say that this is a huge issue)," Tiu said of what has been regarded as a politically motivated shutdown.
Tiu explained that the proposed franchise law would address one of the biggest issues thrown against ABS-CBN – it is seeking to ensure respect for workers' rights by requiring their participation in the corporation's major decision-making processes.
The petition also proposes that 10 percent of advertising spots be allocated to the government for public needs and emergency announcements.
For now, volunteers aim to gather a total of seven million signatures, or a little above the 10-percent threshold counted from the estimated nationwide registered voter base of around 60 million.
Lawyer Eirene Jhone Aguila said they want to get signatures from at least five percent of each district's voters for the sake of creating a "buffer."
Bayan Muna party-list chairman Neri Colmenares said the people's initiative would ideally show the House that there is public clamor for it to reverse the committee vote.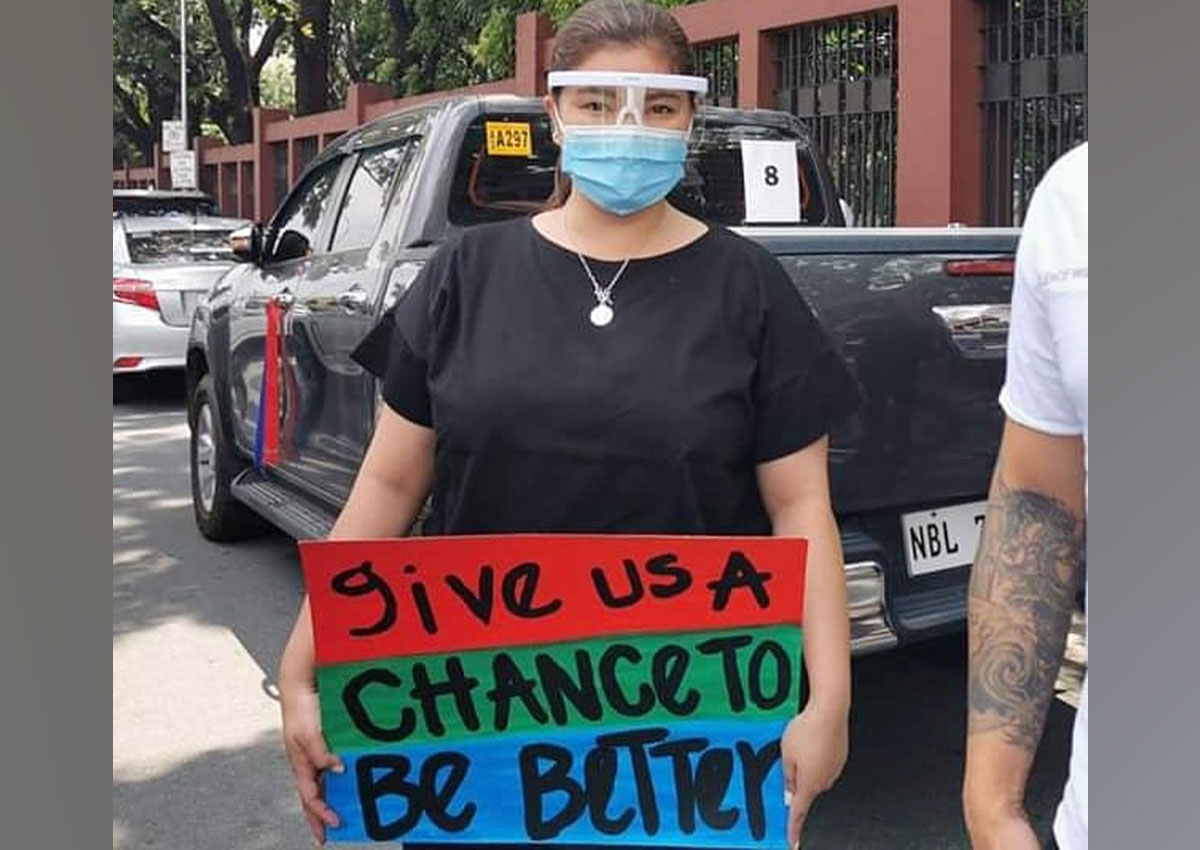 House plenary vote
For Colmenares, the struggle for social issues such as the ABS-CBN franchise renewal entails a fight in the "KKK": Kongreso (Congress), korte (court), kalsada (street).
Saying kalsada does not only refer to protesting in the streets and on the internet, but also entails participation through a people's initiative, the former lawmaker said.
"Very significant ang people's initiative because ang component niya ay ang people (The people's initiative is very significant because its component is the people)," he said.
"Sa pag-involve sa mamamayan, it keeps the issue alive. May battle pa not just in the court, may battle pa rin sa Kongreso (By getting the people involved, it keeps the issue alive. There is still a battle not just in the court, there is also a battle in Congress)," Colmenares said.
On the plenary vote, Bayan Muna party-list Rep. Carlos Isagani Zarate said nothing in the Rules of the House of Representatives provides that a bill voted down by the committee will effectively be killed.
"There's nothing in the rules na nagsabing patay na ito (that says it is dead)," Zarate said. "Kapag 'laid on the table,' isinasantabi muna (When it is 'laid on the table,' it is merely set aside)."
He pointed out the signatures of congressmen who support ABS-CBN are still being gathered to force the plenary to hold a vote involving all of the House's 300-odd members to vote on the technical working group report against ABS-CBN that the committee adopted.
"Napakaraming mga issues doon na hindi pwedeng hindi aksyunan o manatili lamang sa committee on legislative franchises (There are too many issues there that cannot be not acted upon or be left alone to the committee on legislative franchises)," Zarate said.
"Huwag hayaan 'yung 70 or so lang ang mag-decide. 'Yung 70 ay hindi naman umabot sa one-third ng House (Let us not allow just the 70 or so to decide. Those 70 are not even one-third of the House)," he added.