Duterte, Officials Insist Gov't Prepared For Typhoon Ulysses Amid 'Unexpected' Flooding
President Duterte and his officials maintain that preparations for Typhoon Ulysses were enough even if massive flooding occurred in different parts of the country. A lack of coordination even on the number of deaths was also observed.
From 12, to 14, to 26, and then 39 – these were the varying numbers of deaths given by government officials following the onslaught of Typhoon Ulysses on Wednesday, Nov. 11.
Within less than an hour on Friday, Nov. 13, the government's top officials gave different death tolls from Ulysses during a Cabinet-level meeting of the National Disaster Risk Reduction and Management Council (NDRRMC).
Presidential spokesman Harry Roque opened the briefing and said that there were 12 casualties reported. He was immediately followed by Interior Secretary Eduardo Año, who said there were actually 14 validated deaths.
Armed Forces of the Philippines chief Gen. Gilbert Gapay gave the highest number at 39, saying that combined data from law enforcement agencies showed that at least 33 cadavers had been recovered in Ulysses' wake.
Gapay added that they had tallied 40 persons injured and another 22 still missing.
As for Philippine National Police chief Gen. Debold Sinas, he said they counted 26 deaths.
As of Sunday, Nov. 15, the official death toll was at 69.
Why the disparity in the death count? Officials attributed it mostly to delays in information coordination on the ground.
Año said it takes time to validate deaths that were reported by law enforcement units and verify if these were related to the typhoon.
"Some might have been killed and (the deaths were) mixed with the typhoon victims. We have to validate if it is really related," he said in the briefing.
The NDRRMC echoed Año's explanation, saying it wanted to avoid including circumstances such as deaths due to criminal incidents in casualty counts from natural disasters.
Año noted that victims of calamities stand to receive financial assistance from local government units (LGUs).
The disparity in government figures due to delays is not uncommon.
On Wednesday night, the NDRRMC, which is supposed to be the main coordinating council for disasters, said it had verified only one death so far.
This was despite deaths being reported by 7 p.m. in Camarines Norte, Rizal and even Metro Manila, with the PNP saying it had tallied 13 fatalities in the National Capital Region, Cagayan Valley, Central Luzon, Calabarzon and Bicol.
On Saturday, Nov. 14, Duterte announced the creation of a task force composed of different government agencies' representatives for better coordination.

He said the task force was given a timeline for the rehabilitation efforts, thus red tape must be cut to ensure that assistance would reach those affected fast.


'Unexpected' widespread flooding
While the death count varied, what was clear was that Ulysses affected tens of thousands of residents, many of whom were stranded in widespread flooding.
Over 1.7 million people were directly affected, according to the NDRRMC.
Cagayan Valley recorded the highest number of fatalities out of the six regions in Luzon, according to NDRRMC executive director Ricardo Jalad.
Over 426,600 families or a total of 1.755 million people have been affected in 3,811 barangays, according to the latest NDRRMC situation report.
Of this number, 324,617 people or over 85,300 families are being housed in evacuation centers.
The NDRRMC said 2,991 evacuation centers have been activated and are serving the affected population.
Relief assistance has been extended to 44,000 people and medical services have been extended to 28,000 others.
Around P32 million worth of assistance was provided by the Department of Social Welfare and Development and LGUs.
Search, rescue and retrieval (SRR) operations by both the national and local governments have saved 83,667 people so far.
Sixty-two land assets, 30 water and nine air assets have been deployed by the NDRRMC for SRR operations to respond to Ulysses.
By the latest count, Ulysses destroyed or damaged 25,852 houses in different regions.
Jalad said Ulysses' damage to agriculture was estimated at P1.194 billion; infrastructure damage was at P469 million.
This is significantly lower than the P4.2-billion infrastructure damage reported last Thursday by Department of Public Works and Highways Secretary Mark Villar during initial assessment.
A total of 236 road sections and 98 bridges in the regions were affected by flooding, mudflow, landslide or soil collapse.
Of this number, 168 road sections and 87 bridges were deemed not passable.
A total of 312 cities and municipalities in the affected regions experienced power outages.
There were also 50 municipalities that experienced water supply interruption and another 51 that experienced communication network interruption.
For Cagayan Valley alone, about 342,00 people or 100,000 families were affected by the massive flooding.
Twenty-four deaths were reported in the region, 14 of which were due to landslides. Seven fatalities were reported due to flooding and another three from electrocution.
At least 4,779 personnel from different national government agencies have been deployed for search, rescue and retrieval operations, aside from similar efforts by 
 local government units.
The country has been battered by seven weather disturbances in a span of just two months, from Tropical Depression Ofel to Typhoon Ulysses.
Government satisfied with response
Even as certain quarters demanded accountability following Ulysses' onslaught, government officials commended their own response to the typhoon.
Defense Secretary Delfin Lorenzana said that all government forces were on alert and on standby before the typhoon hit.
Año also expressed satisfaction with the actions taken by LGUs, adding that they became even more prepared after Super Typhoon Rolly.
"Mas matindi nga ang paghahanda natin dito kesa sa Typhoon Rolly… 99 percent of our local chief executives were standing at the helm," Año pointed out.
He said all the 1,047 local chief executives in the affected areas were accounted for during Ulysses. Nine were out of office for reasons mostly related to the coronavirus response.
"Overall, the LGUs have performed their tasks using what resources are available to them despite the same being inadequate, but as always our LGUs always carried out their mandate of saving the lives and ensuring the safety of their constituents," Año stressed.
Just a punchline
On Sunday, Nov. 15, President Duterte dismissed as "political punchline" criticisms that the government has been slow in responding to Ulysses, as he assured typhoon-hit areas of immediate assistance.
Duterte said the government has prepositioned food and other resources in areas battered by the typhoon, which has so far left 69 persons dead.
"Where's the slow response? The food is there, the housing is there. They are ready to implement. I said we have the money. That's politics. That's a political punchline," the President told reporters in Camarines Sur.
Duterte explained officials who spend government funds without proper assessment would end up facing complaints. He said an agency could not go on a spending spree without knowing what it would be spent for.
"Istorya lang 'yan. Kailan pa ba tumakbo rin ang gobyerno na mabilis (That's a fabricated story. When did the government move fast?)?" he asked. "You go right away and spend money, you land there with the ombudsman. So give them time to make the proper assessment."
Duterte congratulated Jalad for "a job well done" and ordered agencies to provide the needs of affected communities immediately. He also called on the budget department to hasten the processing of the fund requests of local governments whose quick response funds have been depleted due to successive calamities.
Critics assailed the Duterte administration for allegedly failing to provide timely assistance to typhoon victims after calls for help by Cagayan Valley residents circulated online over the weekend.
Duterte parried criticism that local governments were not prepared for the typhoon.
"Don't believe in that. That's garbage. You know, everyone who is in charge of the preparations for emergency deployed people long before the typhoon arrived, including the machineries nearest the provinces that we suspect are prone to floods," Duterte said.
He emphasized that the government could still provide relief to typhoon-hit areas even if Congress has not passed a bill creating a separate disaster management department.
"We are having resistance within Congress itself. Others claim it would be a duplication of work," he said, referring to his push for the creation of the new department. "For me it's OK, I can do it in the meantime. What is important is that you have the machineries, and you have the equipment, and you have the money, and people are there deployed before the typhoon comes."
In a separate meeting with Cabinet members and local officials in Tuguegarao City, Duterte condoled with the families of those who died because of the typhoon and assured them of aid.
"I want to personally assure our fellowmen here that the government will continue its rescue operations until all families are saved, all casualties and missing persons have been accounted for, and all affected individuals and communities have received their needed relief and other assistance," Duterte said.
"To my countrymen here in Cagayan Valley, rest assured that we are working hard to rebuild your lives after these calamities. We know your anguish and we will respond with urgency. With the bayanihan spirit of the Filipino, I am confident that, together, we will brave all the challenges ahead and emerge stronger as a nation," he added.  "I also urge the LGUs to actively collaborate with the task force created to lead the rehabilitation efforts because your lives, including your good health, safety and improved welfare are the government's highest priority."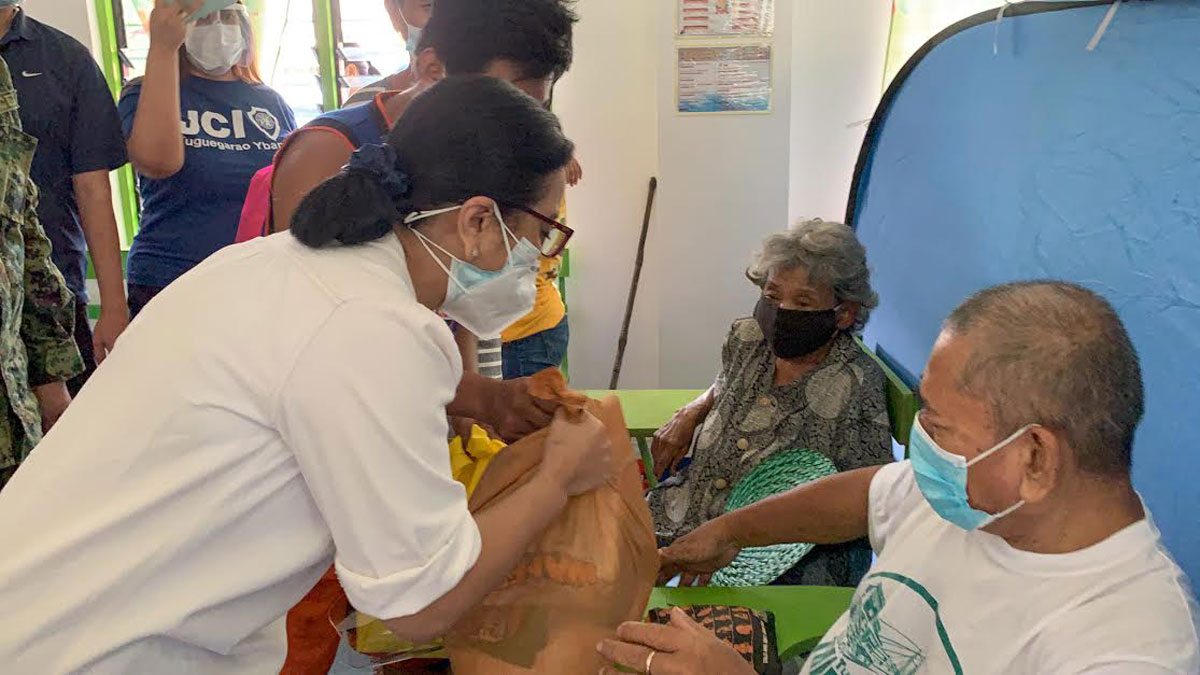 No competition
Vice President Leni Robredo also visited on Sunday residents displaced by the severe flooding in Cagayan and Isabela.
Robredo said her team immediately responded to the appeal of many residents for water and food.
Apart from relief packs and hot meals, the Office of the Vice President (OVP) also provided the evacuees mattresses.
In her Twitter account, Robredo described the situation in Cagayan, which she visited first, as "much better."
"We arrived (in) Cagayan this morning. Our team arrived a few hours earlier with supplies. Situation is so much better. Many areas still flooded but water receded already," the Vice President said.
She said the OVP team would continue its relief operations in Cagayan and Isabela in the coming days.
Robredo arrived in Cagayan hours ahead of Duterte, but she stressed there should be no issue about this.
The Vice President said it is important for government officials to personally see the situation of the people affected by calamities.
"This is not a race," Robredo replied when a journalist who commented that she arrived ahead of the President.
"It's good that we spread out, not just me and the President, but also the other government officials. I think our presence here boosts the morale of the people because it gives them hope. They are assured that they won't be neglected," she said in a mix of English and Filipino.
Robredo had also visited victims of massive flooding in Marikina and Rizal.
Not trivializing
Earlier, Roque said Duterte was not trivializing the plight of thousands of people who fled their homes or were stranded on roofs after Ulysses caused massive flooding.
Roque maintained that the 75-year-old President empathized with the victims when he said he wanted to go out and "swim" with them in the murky floods caused by the storm.
In parrying criticism of Duterte's remarks last Thursday, Nov. 12, Roque said only those who are not fond of the President are painting him as a person who is trivializing the hardship of Filipinos.
"The real message of the President is, he is one with the victims of the recent typhoon," Roque said in Filipino.
When he addressed the nation at the height of the storm last Wednesday, Duterte explained why he was unable to go around at once and check on the victims of the typhoon.
Apart from the inclement weather, Duterte said the was discouraged by the Presidential Security Group and his doctors, to ensure his safety and for health considerations.
Duterte told the nation that he would have wanted to go out and to "swim" among the people to let them know that the government was not abandoning them in times of disaster.
"Gusto ko. Kung sabihin mo lang as a concern for buhay o kapakanan, wala ako diyan. Gusto kong lumabas, gusto kong lumangoy. Matagal na ako hindi naligo eh. Kaya lang ayaw nitong mga sundalo. Sila ang ayaw, gustong maligo ibig sabihin," Duterte said.
"So ganoon ho ang sitwasyon. It's not that I am at a distance from you, na may distansya ako ngayon sa inyo. Gusto kong pumunta doon, makipaglangoy nga sa inyo. Ang problema pinipigilan ako kasi raw 'pag namatay ako, isa lang ang Presidente," he added.
Roque also said the #NasaanAngPangulo, which again became a trending topic at the height of Ulysses, must be stopped.
The Palace spokesman lashed out anew at the political opposition for making it appear that Duterte is always missing in action in times of disaster.
But Roque admitted that the government was not able to respond at once when the floodwaters rose rapidly. – With Christina Mendez