COVID-19 Travails: Theater, Band Performers See Light At The End Of The Tunnel
History is replete with horror stories of plagues and epidemics that failed to eradicate the performing arts. But how did the artists cope with the uncertainty?
The coronavirus disease 2019 pandemic has inflicted seemingly irreparable harm on the arts industry, with live shows canceled.
 Renowned theater actor Jamie Wilson confessed in a recent interview that he "spiraled into a deep depression" as he struggled with the uncertainty and the adjustments that had to be made in these times.
 "It felt like being under house arrest for a crime I did not commit," Wilson said.
 Wilson has been a professional theater actor and practitioner for the past 40 years, and is also a theater-based educator, conducting workshops and training programs for various industries, from artistic communities to corporate entities.
 Getting his start in Repertory Philippines, he has worked with Manila's leading theater companies over the years, and was most recently seen as Councilor Arturo Banlaoi in Resorts World's "Ang Huling El Bimbo The Musical."
 He is best known for his character roles, and has garnered much acclaim for his performances as Miss Agatha Trunchbull in "Matilda The Musical," Uncle Fester in "The Addams Family Musical," and as Dennis Dupree in "Rock Of Ages," all for Atlantis Theatrical Entertainment Group.
 When he is not on stage, he also works as a director and technical director, with his most recent endeavor being the major concert of Eraserheads' "Ely Buendia: A Night At The Theater," for Resorts World Manila.
 This writer and Wilson, also a music enthusiast, with an affinity for rock and blues, sing with The Blue Rats band in various venues around Manila.
 According to Wilson, he saw the lockdown coming and was fortunate enough to have been able to end the run of the show he was currently in (Repertory Philippines' "Stage Kiss") when the community quarantine was imposed to curb COVID-19 transmission.
 In his own words, here's how Wilson described the struggles that artists like him have to deal with in these times.
 My first reaction was fear. Fear of the unknown, fear of the virus, fear for my loved ones, and fear that the rest of my shows for the year would be canceled (they did). In the first two weeks, I am lucky that I was not alone. I had my dearest wife with me, who has always been a source of strength and incredible resilience. Together, we got through those darkest of days.
 Can you describe the life of a working freelance professional in the arts before the pandemic?
 What's the hustle like? Before the pandemic, it was already all about the hustle. It was challenging to get work, but thankfully the theater scene in Manila is vibrant and diverse that there were a lot of shows going on. I had gone from one or two shows a year to being booked in multiple shows a year in advance.
 But you do not really make a lot as a theater actor, so while you are hustling for shows, you still have to hustle to be able to afford to do your shows. You do a lot of jobs on the side, whether as a talent or as part of the production team. A lot of theater people do some television and advertising work, from on-cam talents to voice-over work. A lot of them also set up businesses of their own, just to be able to do their art.
 What does coming up with a show entail? Say, Ang Huling El Bimbo?
 Mounting a show is difficult but ultimately rewarding. Months of preproduction and rehearsals, countless hours of hard work by a whole team of very talented and dedicated artists and production specialists, along with the challenges of daily life, all coalesce into a show that you are not even sure will work. There are no guarantees that people will come to see it and enjoy it. But that is the risk we take, both artistically and financially: to do what we love doing.
 Are there paid local theater shows that have migrated online and if so, are they profitable?
 There have been a lot of online initiatives for theater since the lockdown was imposed. Most of these were for fundraisers, to help the thousands of displaced theater workers: actors, designers, production staff and crew.
Some shows were streamed, either for free or for a small fee. I cannot say for sure but I do not think online theater can be profitable, at least not for now. But our creative and resilient industry has the best and the brightest trying to come up with ways to keep theater, at least in some form, alive online.
What are your thoughts about theater culture in these times? How can it adapt?
Theater has been "dying" for the past 200 years! And someway, somehow, we are still here. Theater as an art form has survived pandemics, world wars, natural disasters and human revolutions. I think that is because theater speaks directly to the human condition. At the end of the day, we need our stories, our music, our magic.
What are the unique skills and talents of theater professionals that traditional businesses might benefit from? How are the artists you know leveraging online platforms and what might be helpful for them?
Theater skills have tremendous value that traditional businesses can benefit from. Dedication, commitment, work ethic, can-do attitude – all that has value. And let's not stop there. Let's throw in skills like public speaking, effective communication skills, thinking on your feet, being a team player, and understanding the importance of "the show must go on." I think that would be a valuable skill set, no matter what industry you land in.
There are a lot of artists shifting to online platforms that not only keep you in the public eye but also keep you financially afloat. Artists are booking online shows and concerts, creating talk shows, and recording their music from home. The learning curve is challenging now because we have to learn the technology, along with adjusting our art form for an online audience, but as I've said, artists are resilient, and are quick to adapt, under even the most extreme conditions.
We all need help, and I am thankful that I belong to a generous community of artists who, despite being in need of help themselves, are willing to give their time and talents to help others. Theater is now being recognized by the government as a part of the live events industry, and that is the first step towards a bigger stage. But just to keep it real, and on a simpler, smaller, more personal level, let me tell you how you can help local artists:
Support them online.
Subscribe to their channels and social media accounts.
Like and share their posts, and spread their work.
Watch their live streams and help promote their shows.
Much like how it was before the pandemic, we need each other. The artists need their audience and the audience needs their art. So let us keep supporting each other because that is the only way we can get through this crisis.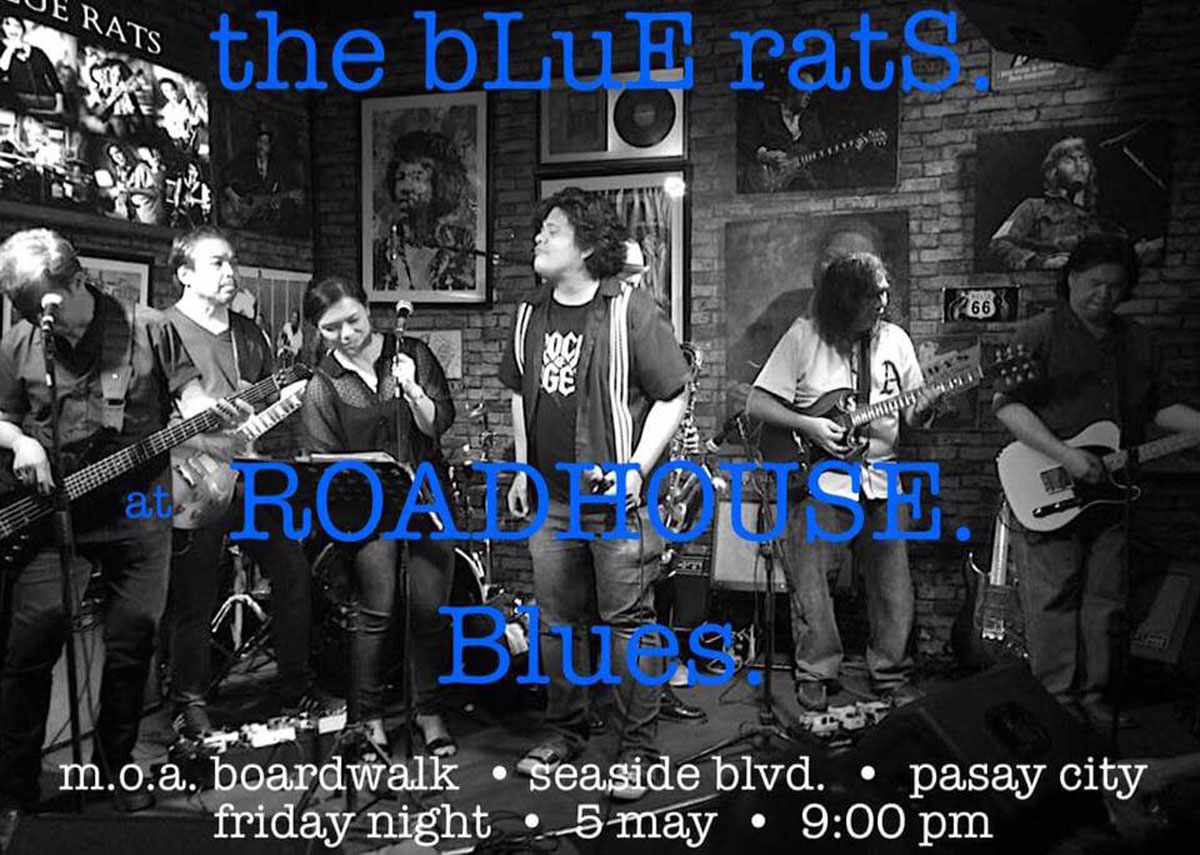 As for band performers like this writer, I would perform on weekends as a lead singer for The Blue Rats before the lockdown. I have been at it for 14 years. In that period, I got to know many local and foreign artists, musicians and theater actors.
When traffic was still tolerable, I would show up at my new friends' shows. I did many a fundraiser with them. Every encounter was a blast that nurtured a small but thriving Filipino artist community.
But in a split-second, we all had to hunker down, scheduled live shows be damned. The lockdown sounded the death knell for events and live performances – the lifeblood of the entertainment industry – hurting deeply not just the artists but the many unsung heroes who worked behind the scenes.
No gig means no cash, no matter how many original songs and albums you have streaming on Spotify.
Despite the discomfort of these times, I know this too shall pass. History is replete with horror stories of plagues and epidemics that failed to eradicate the performing arts. But how did the artists cope with the uncertainty? I decided to refer to the 1918 Spanish flu, which somewhat equals COVID-19's scale and impact.
The 1918 to 1919 influenza virus, which began its killing spree in March 1918, killed more people than World War 1 (1914 to 1918), which winded down in November of the same year. Around 20 to 40 million people died – one of the deadliest pandemics in world history  – because of mass troop deployment and frequent logistical movements demanded by the war.
 Public health officials concluded that the virus was airborne so preventing contact was immediately sought at all costs. They believed that good ventilation and fresh air were "the best of all general measures for prevention" and took up quarantine protocols that were used to control the contamination during the Bubonic plague.
 In the United States, the committee of the American Public Health Association held that "any type of gathering of people, with the mixing of bodies and sharing of breath in crowded rooms, was dangerous" and that "nonessential meetings were to be prohibited." In Britain, music hall performances were still permitted, but with a limit of three consecutive hours and a 30-minute intermission with fresh air between shows.
 Some notable live performances were held that were mostly in the classical realm. In September 1918, "The Planets" by Gustav Holst was performed for the first time at Queen's Hall in London to a private audience. Three months later, Giacomo Puccini's "Il trittico," a collection of three one-act operas, premiered at the Metropolitan Opera house in New York City. When Puccini was composing the third installment, "Gianni Schicchi," he was distracted by news from World War 1 and the flu pandemic, which killed his sister.
 There were also a number of London and New York theater productions throughout 1918, which could only have compromised public health safeguards at the time, at least in those two cities. A less rigid cordon sanitaire, as our experience today is teaching us, worsens the death toll. It is worth noting, however, that people at the time were reeling from a one-two punch from World War 1 and the influenza pandemic.
 Did artists and their fans flock to the theaters anyway despite the medical risk, just to escape? It seems plausible, at a time when going to the theater to watch a show instead of on TV or through an iPad was their only source of entertainment. They needed a break.
 The musicians and composers who did hunker down used their forced isolation to good use. Igor Stravinsky, for instance, penned the music for "L'histoire du soldat." It premiered in Switzerland at the height of the pandemic, which would be cut short by the virus' brazen attack on each member of his production team. He would be stricken by the flu a year later. His fellow Russian composer, Sergei Prokofiev, left the Bolshevik revolution in Moscow for a concert tour in America, which ended up being delayed due to the pandemic. While unexpectedly stuck in the US, he worked on his opera "The Love for Three Oranges."
 Similarly, Sergei Rachmaninoff fled the Russian Revolution and ventured into America, only to fall ill with influenza. After fully recovering, he went ahead with his planned concert performances and composed his take on "The Star-Spangled Banner."
 Playwrights in hiding were no different, but the wreckage of World War 1 seemed to have captivated their imagination more than the flu did. Eugene O'Neill, Tennessee Williams and Arthur Miller, all of whom had lived through the pandemic, did not write about it.
 While it is true for many artists that art saves through the comfort that its mere creation brings, artists are human beings first who need sustenance and shelter for survival. To afford that, artists need to make a living. If New York City did not close its theater doors to the theater-going public, actors and musicians were getting paid. If Rachmaninoff was permitted to play in concert halls all over the United States, he was getting paid. Not all artists had that privilege in the midst of a global health emergency. In fact, artists lost much of their income, similar to what artists today are experiencing.
 But as soon as flu cases went down and lockdown orders eased up, people visited the theater and music halls again for their entertainment fix. The performing arts survived the 1918 pandemic because people sought them out to compensate for the ravages of war and the flu.
 About the author
 Mai Mislang is a writer and musician. She is working on her first book on the future of work in developing nations.