Carpio: Duterte May Have Committed 'Grand Estafa'
Retired Supreme Court senior associate justice Antonio Carpio said "there is a term" for "making a false promise to get 16 million votes" – grand estafa or grand larceny.
Retired Supreme Court senior associate justice Antonio Carpio said on Tuesday, May 4, President Duterte may have committed "grand estafa or grand larceny" with his denial of having made a promise during the presidential campaign to retake the West Philippine (WPS) Sea from China.
"President Duterte cannot now say that he never discussed or mentioned the West Philippine Sea issue when he was campaigning for president. Otherwise, he would be admitting that he was fooling the Filipino people big time," Carpio said in a statement.
"There is a term for that – grand estafa or grand larceny. Making a false promise to get 16 million votes," he added.
On Monday night, May 3, President denied issuing a statement during the campaign that he would retake the WPS.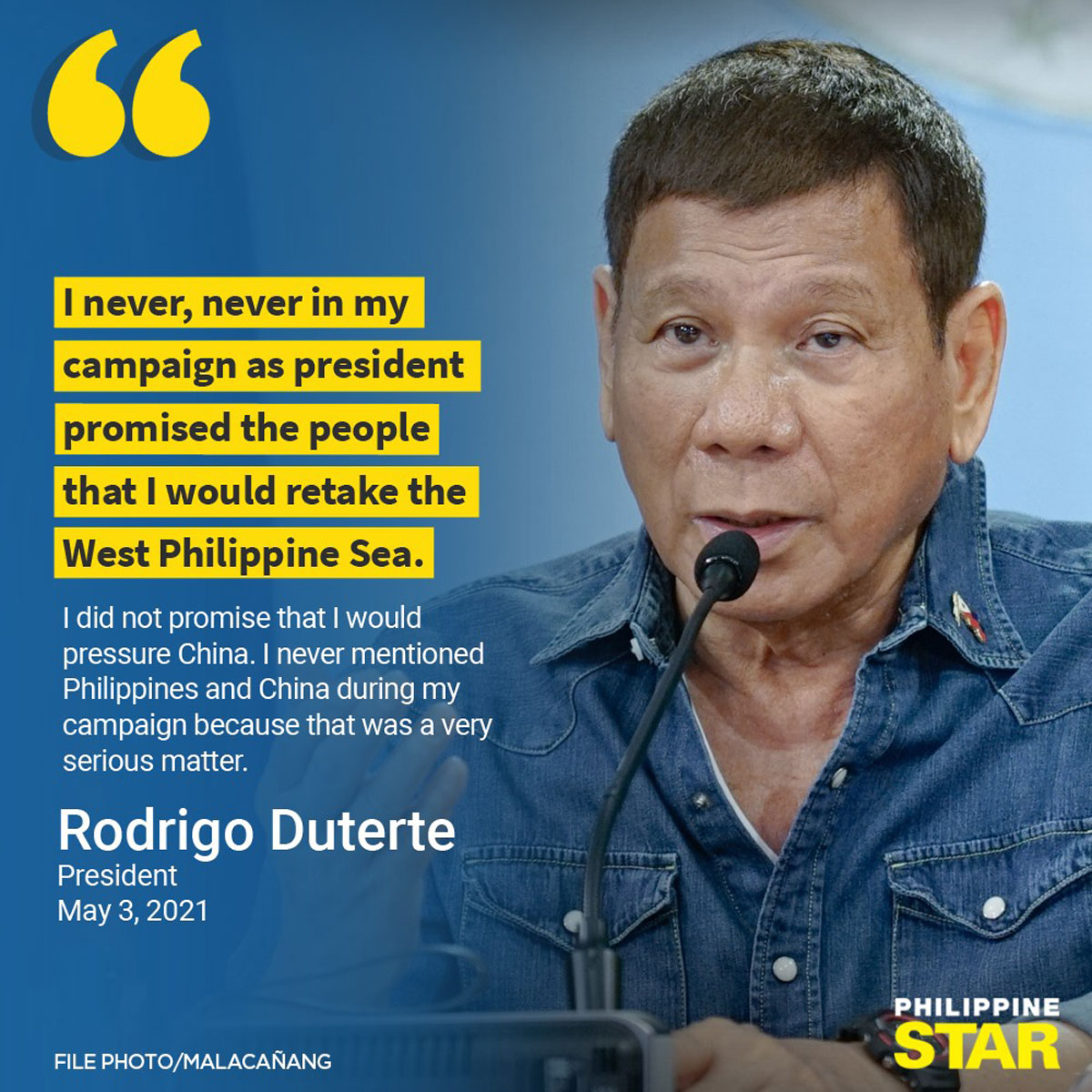 But the retired magistrate recalled that Duterte expressly made his position on the WPS issue known during a presidential debate during the 2016 elections.
At that time, Duterte, then the mayor of Davao City, said in Filipino, "I will go to China, and if they don't want it, then I will ask the Navy to bring me to the nearest boundary there in Spratlys, Scarborough. I will disembark, ride a jet ski holding a Filipino flag and go to their airport to plant it."
Duterte was further quoted as saying, "Then I would say, 'this is ours and do what you want with me. Bahala na kayo (It's up to you)."
Carpio also said Duterte's camp issued a statement expressing full support for the arbitration case against China.
"As a Filipino, Mayor Rodrigo Duterte fully supports the case now pending in The Hague questioning China's occupation of areas in the West Philippine Sea that the Philippines considers its territory," Carpio quoted Duterte's camp as saying. "He (Duterte) is hopeful for a favorable ruling for the Philippines."
Duterte has been lashing out at Carpio and former foreign affairs Albert del Rosario for criticizing his stance on the WPS and China.
But the two maintain that they did what they had to do to fight for the country's sovereignty when they filed and won the arbitration case against China in 2016
A political science professor said on Tuesday the Philippines should be smart when it comes to dealing with China in the disputed South China Sea.
Clarita Carlos, a professor at the University of the Philippines' Department of Political Science, also said Duterte was wrong to blame Del Rosario for the pullout of the country's ships from Scarborough (Panatag) Shoal during a standoff with China in 2012.
In an interview with dzMM TeleRadyo, Carlos explained the Philippines only complied with the US-mediated agreement with Beijing to jointly withdraw their ships at that time.
"The US mediated that. That means we are honorable people because we honored the agreement and China did not. Maybe we need to be more smart about it," she said.
Carlos, who had served as president of the National Defense College of the Philippines, also described the Duterte administration's "careful, calibrated, and calculated" foreign policy on China as "strategic ambiguity."
"From a certain perspective, 'fairly calibrated, calculated and careful' is correct... while you have yet to build your collective force," Carlos said.
"In the meantime that we don't know what to do yet, we can apply the strategic ambiguity, which is vagueness and strategic patience," she added.
Read more: Duterte: 'I Never Promised That I Would Retake The West Philippine Sea'
As this developed, Armed Forces of the Philippines (AFP) chief Gen. Cirilito Sobejana reassured Filipino fishermen of protection, especially from Philippine Navy vessels patrolling the WPS.
He said the military, particularly the Philippine Navy, is not intimidated by the presence of Chinese vessels in the area. The PCG and the Bureau of Fisheries and Aquatic Resources (BFAR) also regularly patrol the area. "We are not intimidated by the challenges," Sobejana said in a radio interview over dzBB.
"We also challenge them. We counter-challenge them too that the WPS is not theirs, that the WPS belongs to the Philippines," the AFP chief stressed.
Sobejana said the Philippine Navy deploys its naval assets in areas they are needed most or where Filipino fishermen ply their trade.
"Because of our presence, they are given protection and this gives them more confidence as they see naval assets from the Philippine Navy, the coast guard and BFAR," he explained.
He said the AFP is improving its facilities on Pag-asa Island so it can serve as supply and fuel depot as well as recreational area for soldiers and sailors involved in regular patrols in the WPS. - With Helen Flores