Cable Group's Allegation Of 'Violations' Complicates ABS-CBN Shutdown Issue
Alleged violations of ABS-CBN Corp. are being revived but the network maintains it has answered all of them, especially during the Senate inquiry.
The National Telecommunications Commission (NTC)'s cease and desist order against the continued operation of ABS-CBN Corp.'s television and radio stations only cited the expiration of its franchise and no other ground.
Yet, allegations of violations – specifically concerning ABS-CBN's use of its airwaves for free, niche digital channels to nine million homes – have been revived by some groups, complicating the issue.
Copy-pasted social media posts erroneously titled "Grounds why NTC closed ABS-CBN according to Mr. Efren" – one of which had more than 5,900 shares – featured the talking points of Federation of International Cable TV Associates of the Philippines president Estrellia Juliano-Tamano, whose group opposed the renewal of the franchise before Congress.
GMA Network Inc. interviewed Tamano on its news program 24 Oras on Tuesday night, during which she blamed ABS-CBN's TVplus black box for "killing the cable TV industry."
For a one-time payment that is more affordable than subscription models, the black box transmits digital channels exclusively airing cartoons, music videos, movies, Asian dramas and reruns of defunct ABS-CBN programs, as well as a pay-per-view service called Kapamilya Box Office (KBO).
Tamano argued that the airing of digital channels over TVplus lacked a franchise.
"One franchise, one channel – 'yun ang ABS-CBN franchise. Ang kaso po, nu'ng nag-apply sila nu'ng 2014… ang nangyari dinagdagan nila ng 's' 'yung 'channel' – 'channels' (That's the ABS-CBN franchise. However, when they applied in 2014, what happened was they added an 's' to the 'channel'—'channels')," she said.
She claimed that Congress did not act on ABS-CBN's application for the renewal of its franchise because "hindi nila inayos (they did not correct the problem)."
Franchise does not involve 'channels'
NTC Commissioner Edgardo Cabarios did not comment on The Philippine STAR's query regarding this issue.
Republic Act No. 7966, the 1995 law that granted ABS-CBN its franchise, does not use the word "channel" at all. Instead, the law assigns a "frequency," which can carry a single analog channel but also multiple digital channels in today's technology.
According to the Department of Information and Communications Technology Framework of the Digital Terrestrial Television Broadcasting Migration Plan, going digital paves the way for a "more efficient use of the frequency since the spectrum used for a single analog SDTV (standard definition television) channel can now accommodate multiple digital SDTV channels and a combination of services for several types of reception in one frequency channel."
The KBO service was indeed a legitimate issue for the NTC. The Office of the Solicitor General, in its quo warranto petition attacking ABS-CBN's now-expired franchise before the Supreme Court, questioned why it offered a pay-per-view service using airwaves that should be devoted to free-to-air channels.
The OSG said the KBO service was illegal, because the NTC in April 2015 told ABS-CBN to "refrain from offering any pay television service."
But in the Senate's Feb. 24 hearing, Justice Secretary Menardo Guevarra pointed out that the phrase "commercial purposes" in ABS-CBN's franchise law was "broad enough" to allow the pay-per-view feature.
NTC Commissioner Gamaliel Cordoba said in the same hearing that, at worst, ABS-CBN could be fined just P200 for introducing the KBO service without waiting for the agency's guidelines.
In the same hearing, ABS-CBN president and chief executive officer Carlo Katigbak said the corporation complied with the broad wording of the franchise, and secured the necessary approvals. He added that KBO was already overtaken by foreign-owned video-on-demand services – like YouTube and Netflix – which are not regulated by government agencies.
"The technology has moved faster than the regulatory environment. It has created capabilities that didn't use to exist before. But we feel that it is not a reason enough to take away a service that is important to the general public," Katigbak explained. "The goal was lower cost and innovation, and we think that in the example of KBO, we were able to deliver both."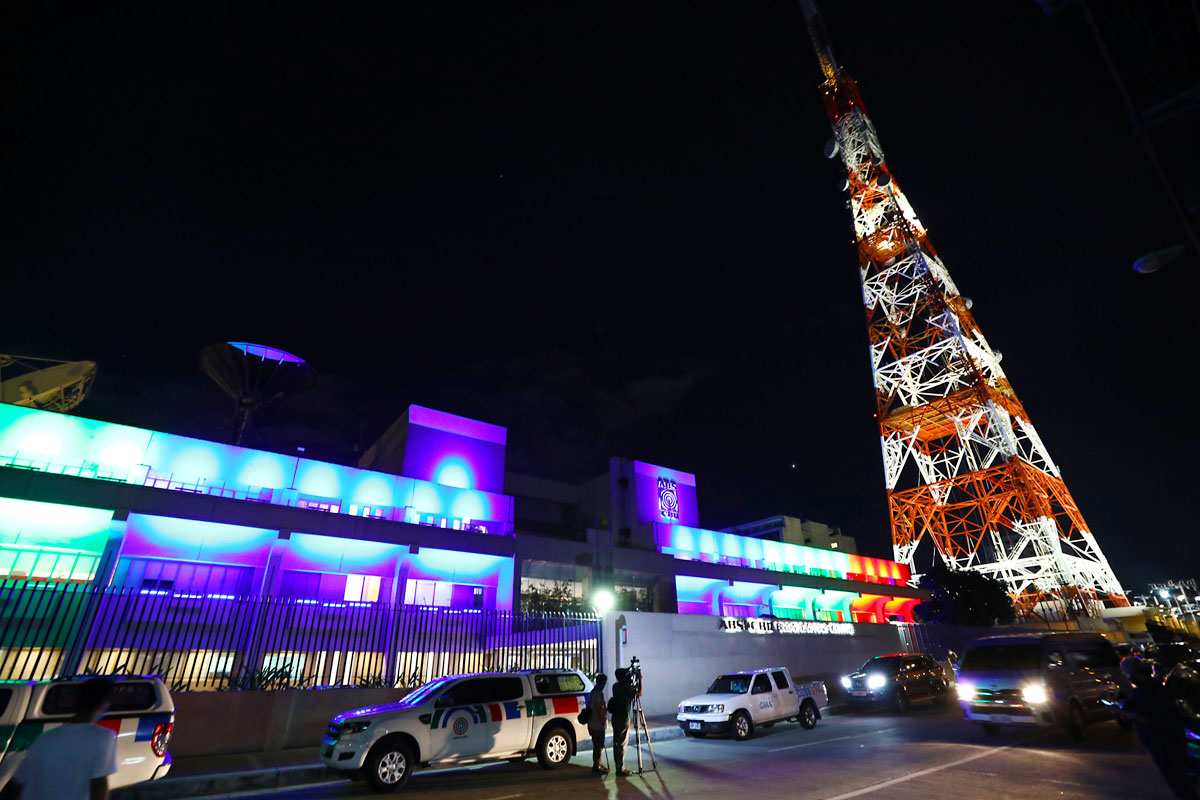 Why highlight the cable group's claim?
Some Twitter users were critical of GMA's decision to highlight this issue against its rival when it was forced to sign off for an issue that was not directly related – the expiration of ABS-CBN's franchise.
Media commentary account Editors of Manila noted that GMA let itself be "used" to "promote" wrong information regarding frequency – and exclaimed that "turds are now using (GMA's) interview with FICTAP" as ammunition against ABS-CBN. 
"Journalism demands that you fact check and correct… Unless you see na may pakinabang ang business (business can take advantage) with this misinformation," Editors of Manila said.
GMA Channel 7 celebrities and journalists, however, have also expressed support for ABS-CBN not just on May 5 when the NTC issued a cease and desist order, but ever since President Duterte threatened to shut down the network for what he considered as unfair practices during the 2016 election campaign.
The President said he had forgiven ABS-CBN after it issued an apology, and that it would be up to Congress to decide on its franchise.
Incidentally, GMA Network's common shares closed at P5.90 apiece on May 6, a 24-percent jump from the previous day's P4.77; its valuation surged to P16 billion, finally making it past ABS-CBN's P15 billion.
University of Santo Tomas Journalism Program head Felipe Salvosa II noted that "ultimately, FICTAP's beef is its cable business is being threatened by digital television" and saw it as a battle between protectionism and innovation.
Unlike FICTAP, the Philippine Cable and Telecommunications Association Inc. saw the value of ABS-CBN's dissemination of information especially as the coronavirus disease 2019 had kept much of the population under lockdown since March.
"The network has long been a valuable partner in the cable TV industry in bringing together the Filipino people for news, education and entertainment. We find it most unfortunate that the cease and desist order has come out during the greatest health crisis our nation has known and when information dissemination is most important," PCTA said in a statement.
Issues settled
Apart from the grievance of FICTAP, other allegations hurled against ABS-CBN had been addressed at the Senate hearing.
ABS-CBN has also been saying it has addressed all issues raised against the network.
Labor Secretary Silvestre Bello said ABS-CBN had settled its issues concerning violations of the prohibition against labor-only contracting, or the outsourcing of manpower to avoid regularization and cheat employees of benefits. "We discovered some violations and we asked them to comply. We issued compliance orders. And in fairness, they complied," Bello said at the Senate hearing.
Commissioner Ephyro Luis Amatong of the Securities and Exchange Commission also said that "we are not aware of any violation or any ongoing complaint or investigation involving ABS-CBN" regarding compliance with the constitutional prohibition against any foreign ownership of mass media.
"They are regularly filing and paying their taxes for the past number of years," Bureau of Internal Revenue Large Taxpayers Service unit head Simplicio Cabantac Jr. said, disclosing that ABS-CBN paid P14.398 billion from 2016 to 2019, exclusive of the income tax payments of artists, employees and talents.
Then, if ABS-CBN was not found to have committed any serious violation, why was it not granted a franchise?
Malacañang, the Office of the Solicitor General and the NTC are now pointing to the House of Representatives' inaction that led to closure of ABS-CBN as its legislative franchise lapsed on Monday, May 4.
Related story: Laglagan Na? Palace, OSG, NTC Say House Should Have Acted On ABS-CBN Franchise