Worse Than Ondoy: Typhoon Ulysses Triggers Massive Flooding In MM, Rizal, Other Areas; Residents Caught By Surprise
Tens of thousands of homes in low-lying areas in Metro Manila, Rizal, Bicol and other parts of the country were submerged by the floods, prompting residents to scramble onto rooftops, awaiting rescue.
Authorities struggled to rescue residents of Metro Manila, Rizal and other parts of the country on Thursday, Nov. 12, as tens of thousands of homes in low-lying suburbs were submerged by floods brought about by Typhoon Ulysses that hit the country on Wednesday night, Nov. 11.
The massive flooding prompted residents to scramble onto rooftops awaiting rescue. Some used plastic containers and other materials as floaters to evacuate to safety.
At least 12 casualties were reported as of Thursday night, Nov. 12.
Marikina Mayor Marcelino Teodoro cried for help from the national government and the private sector. He admitted there were lapses in the city's preparation for Ulysses as they did not expect the Marikina River to swell up to 22 meters as of 11 a.m. on Thursday.
Teodoro described Ulysses as different compared to other cyclones that hit the city, including Tropical Storm Ondoy in 2009. He noted that with Ulysses, water rose quickly even in areas not largely seen as flood-prone.
He said Marikina River's water level had previously reached a high of only 21.5 meters.
"The height of the flood exceeds the first floor of a house," he said in Filipino. "We haven't experienced this kind of flooding for so many months or years. That's why everyone was surprised."
Teodoro sought national government assistance for air rescue as local officials and residents were "overwhelmed" by the floods.
With over 40,000 houses inundated, Teodoro said the city's 50 rubber boats became insufficient to respond to calls for rescue. Some people were already suffering from hypothermia, or the condition of having a very low body temperature due to exposure to strong winds and rains for hours.
"Air rescue is needed because our residents are on their roofs now," Teodoro said in a radio interview. "We are lacking so much and our residents are terrified. Others have suffered hypothermia because of being soaked overnight."
City government figures provided by the mayor showed at least 30,000 houses in Barangay Nangka were flooded by the roofline; 8,000 in Barangay Tumana and 5,000 to 6,000 in Barangay Malanday.
The city was able to preemptively evacuate about 5,000 residents, but admitted it did not expect the river's water to reach more than 18 meters. Dozens of trees were also toppled by Ulysses' powerful winds.
"We are preparing for the worst case scenario," Teodoro said.
Aside from air rescue, the mayor appealed for more rescue boats and personnel.
"The circumstances escalated quickly," he said in a television interview, adding that local authorities forcibly evacuated city residents at 3 a.m. on Thursday.
By morning, all of the city's evacuation centers were full.
The mayor took accountability for delays that occurred in rescue operations for trapped residents.
"Admittedly, the local government had lapses. I admit our lapses in these circumstances and we would never be able to pride ourselves for this," Teodoro said even as he assured residents of continuous rescue operations.
Even the city hall of Marikina was inundated and its offices have been rendered unusable.
"We transferred other operations of city hall to other areas," Teodoro said in another television interview.
While floods in several communities reached the rooflines, they were from four to five feet deep in most villages.
The mayor said the city government took advantage of the absence of rainfall to undertake rescue operations as several residents remained stranded on their roofs or inside the second floor of their homes.
"There are still many, many more residents who are trapped," Teodoro said, adding that risks were doubled for communities where electrical wires had fallen into floodwaters.
"The local government cannot handle this," Teodoro said as he requested for motorized boats and airlifts.
Bound by the Sierra Madre mountain range, the low-lying city has been Metro Manila's catch basin.
In Pasig City, the local government became wary of the Marikina River's water level and conducted rescue operations in several villages prone to flooding.
Mayor Vico Sotto said the bulk of residents needing rescue were reported in the villages of Santolan, Maybunga and Sta. Lucia.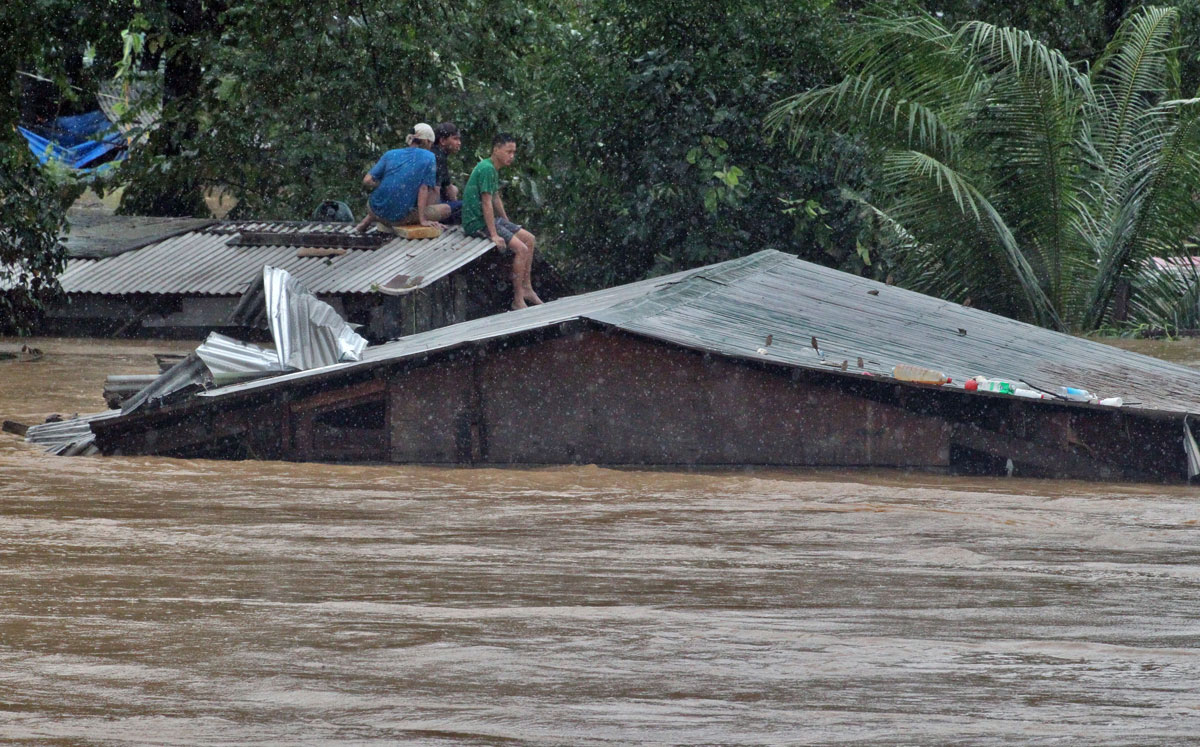 The cities of Mandaluyong, Pasay, Parañaque, San Juan and other areas in Metro Manila were also hit by massive floods along with Rodriquez, San Mateo and Cainta in Rizal, Cavite, Bulacan and Pampanga in Luzon, and Bicol, which was devastated by Rolly.
Residents of Rodriguez said in a radio interview that barangay officials failed to advice them that floodwaters could inundate the whole of their houses.
In various parts of the country, among those stranded were children, senior citizens and persons with disabilities.
Nearly three million households in and around the capital region were without power as people waded through floods, carrying valuables and pets.
Members of the Philippine Coast Guard had to swim in floodwaters as high as electricity poles, while rescue workers used rubber boats and makeshift floats to carry children and the elderly to safety.
Rainfall, dams
The Philippine Atmospheric Geophysical Astronomical Services Administration's (PAGASA) weather station in Tanay, Rizal recorded the peak rainfall volume of 356 millimeters (mm) during its 24-hour rainfall monitoring.
This was followed by Daet, Camarines Norte with 271 mm of rainfall.
PAGASA said this was lower compared to Ondoy, which recorded a peak of 455 mm of rainfall in 24 hours at the Science Garden weather station in Diliman, Quezon City.
However, the state bureau noted that it is possible that Rolly brought more rainfall in the mountains of Sierra Madre but there is no weather station there and that the Tanay station is the only one closest to it.
At least six dams that were in the path of Ulysses opened their gates and released water. These include the Angat, Ipo, La Mesa, Ambulao, Binga, San Roque and Magat dams.
The opening of these dams affected areas in Bulacan, Pangasinan, Camanava, Benguet and Isabela.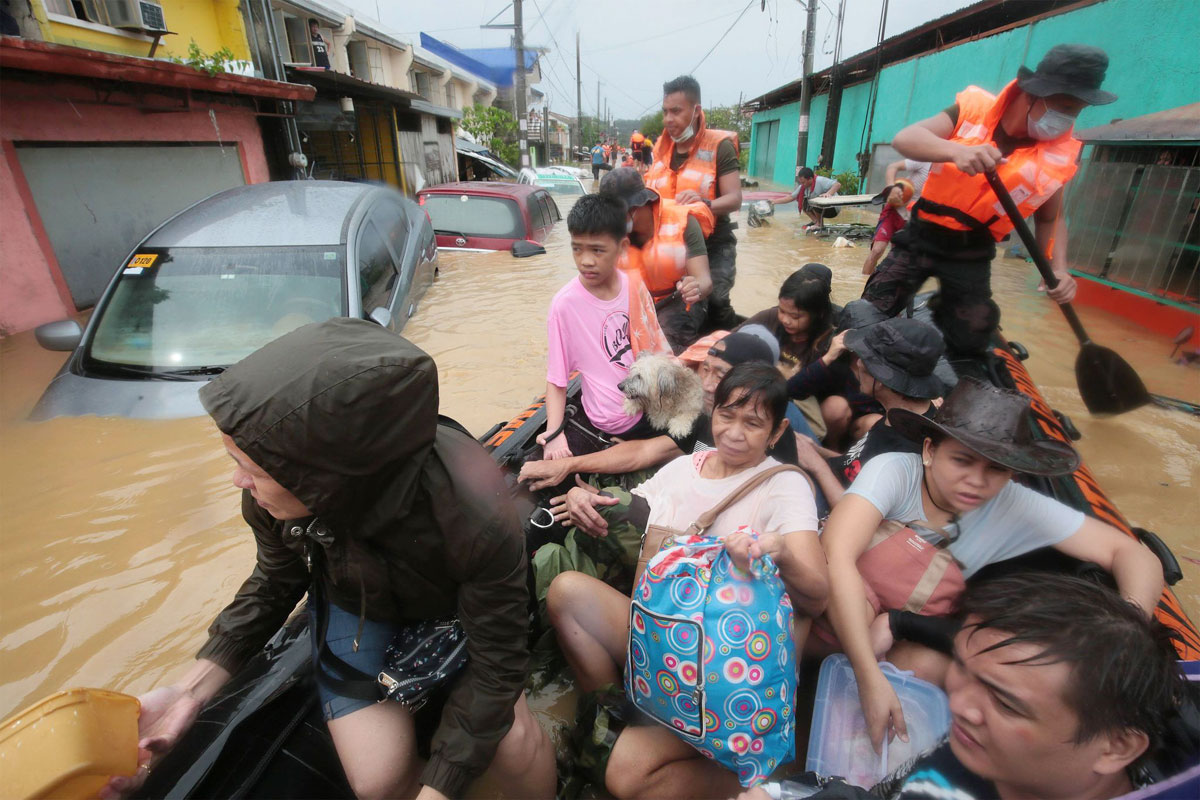 Assistance assured
President Duterte on Thursday ordered government agencies to rush aid to people affected by Ulysses, the 21st cyclone to hit the Philippines this year while the nation is still reeling from Super Typhoon Rolly, the world's most powerful tropical cyclone this year that killed 25 people and destroyed thousands of homes on Nov. 1.
Duterte took a break from an online summit of Southeast Asian leaders to fly by helicopter over the affected areas.
"Rest assured, the government will not leave anybody behind," Duterte said in a national address, pledging shelter, relief goods, financial aid and post-disaster counseling.
Ulysses struck as the Philippines grappled with coronavirus disease 2019 infections and a battered economy.
A tanker, pushed by big waves and strong winds in Manila Bay, hit and damaged a bridge.
Flights and mass transit in Manila were suspended while the coast guard stopped port operations. Government work was suspended and financial markets were shut.
Ulysses weakened, with sustained winds of 130 kilometers per hour and gusts of up to 160 kph, after exiting Luzon, home to half of the Philippines' 108 million people.
Mark Timbal, National Disaster Risk Reduction and Management Council spokesman, said 363 rescue teams were deployed, consisting of 1,000 rescuers with at least 40 rubber boats. The NDRRMC said 196,696 individuals or more than 53,700 families were preemptively evacuated before the typhoon hit.
The Philippine National Police, Armed Forces of the Philippines and the Bureau of Fire Protection also deployed rescue teams in various areas.
Caught flat-footed?
The Office of Civil Defense (OCD) said Thursday there is no need to engage in a blame game after what happened, even as an official noted that residents did not immediately heed evacuation advice.
Assistant Secretary Casiano Monilla, OCD deputy administrator for operations, said the national government is on top of the situation and was not caught off-guard by the typhoon even as agencies grappled with pleas for rescue and assistance amid the widespread flooding.
Monilla said some people did not listen to evacuation warnings and stayed home despite the typhoon.
"We were not caught flat-footed sa event na 'to. Kung minsan kasi 'pag nag-ikot ang mga local officials, hindi kaagad sumusunod ang mga kababayan natin. Mas nag-re-rely tayo kung ano ang nararamdaman, o prevailing na situation na nararamdaman, rather than the advice," he said.
Monilla said they held several disaster risk reduction and management (DRRM) meetings before the typhoon hit, but the information was coursed through local government units (LGUs).
He noted that the OCD and the NDRRMC did not want to micromanage the response at the local level.
"Ang amin, we directly connect with the different DRRM councils of regions down to the municipal and barangay. Ang paghahanda mas sa lugar na apektado," he said.
NDRRMC executive director Ricardo Jalad said they had mapped out evacuation plans with local and other national agencies even before the typhoon hit.
"Knowing our current handicap in communications because of the effect of Super Typhoon Rolly, we used the communication systems of the Philippine National Police, Armed Forces of the Philippines, and other agencies to ensure the information reached the community," Jalad told reporters.
Monilla noted that there might have also been limitations in forecasting, especially on the volume of rain that Ulysses would bring.
"It's not time to point fingers, but we are focusing now on rescue operations. I'm sorry to say that. Lets focus on search and rescue," he said.
The OCD says there may be a need to revisit disaster guidelines and compliance of LGUs, especially following the devastation from Ulysses. – With Christina Mendez, Cet Dematera, Robertzon Ramirez, Reuters, AP