PhilHealth Now Says It Will Not Collapse As Official Who Allegedly Tore Documents Resigns; Morales Staying Put
Amid congressional investigation into alleged anomalies in the Philippine Health Insurance Corp. where the state insurer supposedly lost up to P15 billion, one of its officials decided to quit.
Officials of the Philippine Health Insurance Corp. are now saying that the agency will not collapse by 2021 and fold up by 2022. PhilHealth has reserve funds, other sources of revenues and subsidy from the government, the officials say.
The revelation about PhilHealth's financial woes came as the agency was rocked by corruption allegations made by a resigned official and a current board member.
On Thursday, Aug. 6, PhilHealth president and chief executive officer Ricardo Morales disclosed that the agency's senior vice president for operations, retired military officer Augustus de Villa, had submitted his irrevocable resignation.
Thorrsson Montes Keith, a lawyer who resigned as anti-fraud officer of PhilHealth, revealed during a Senate investigation on Tuesday, Aug. 4 into the alleged corrupt activities in the agency that he had discussed with De Villa the alleged anomalous information and communications technology (ICT) purchases of the state insurer. Keith testified that in front of him, De Villa tore up the documents.
De Villa, however, told the Senate committee that he did not tear up the documents. He said he was trying to recall where they are, prompting Senate President Vicente Sotto III to subpoena the documents, upon the recommendation of Sen. Panfilo Lacson.
Keith and Alejandro Cabading, a member of the PhilHealth board, both blew the whistle on the alleged overprice totaling P2.1 billion in the acquisition of ICT equipment, among other irregularities in the agency.
Cabading alleged that Morales approved the purchases of the ICT equipment and software, which were not yet cleared by the Department of Information of Communications Technology, and were the same devices purchased by PhilHealth in 2018 and 2019.
Cabading said he had raised the matter before the PhilHealth board, but he was frustrated as "the management seems to be tolerating such fraudulent acts."
Morales stressed that "it's not easy to be running" PhilHealth because "this is not an ordinary time."
In his letter to Morales, De Villa said he was resigning effective immediately and that the PhilHealth chief "knows fully well" the reason for the move.
"He explained the reason for his resignation – he said he wanted to spend time with his family," Morales said in a virtual press conference.
Although he has resigned, De Villa gave assurance that he will continue to cooperate in the ongoing investigation into the alleged anomalies in the agency.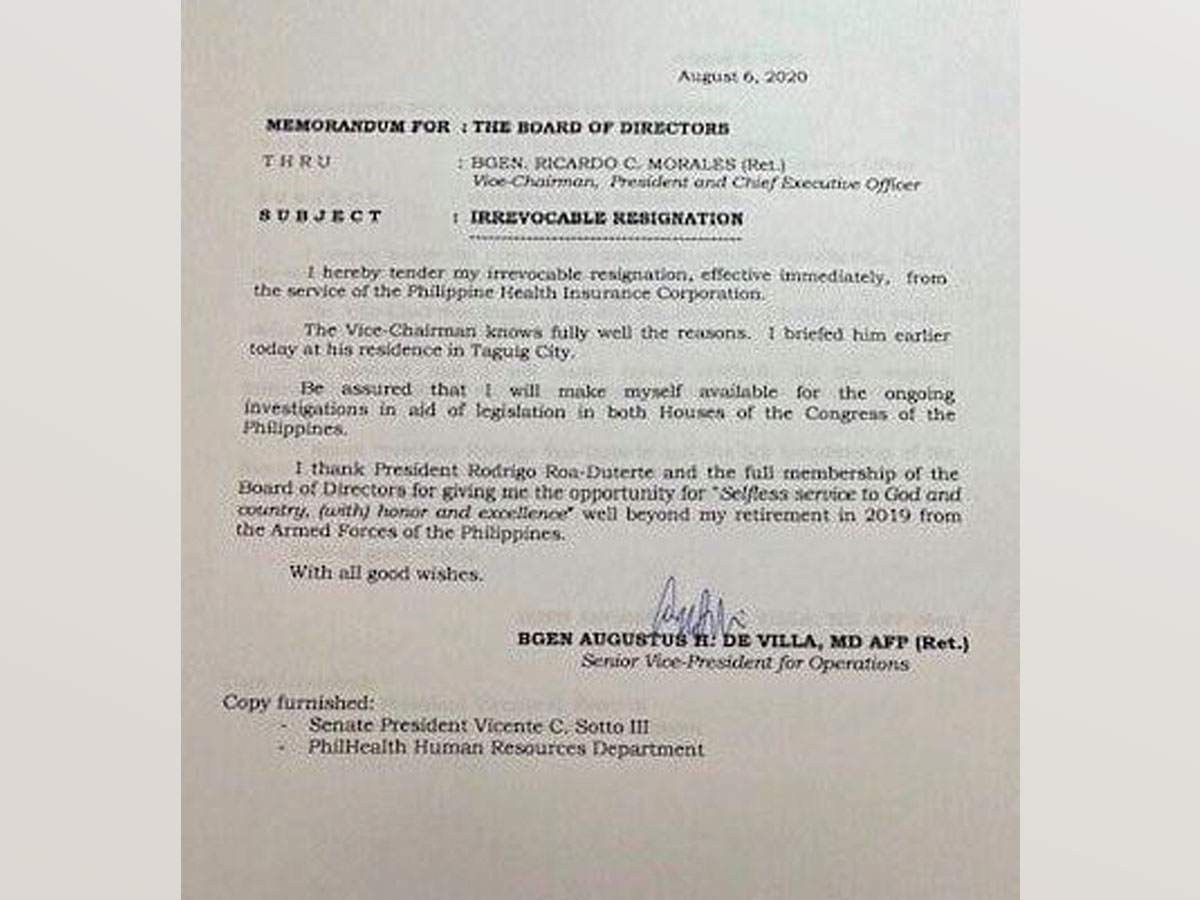 Morales won't quit
Morales admitted that fraud exists in PhilHealth. He vowed to continue efforts to significantly reduce irregularities.
According to Morales, investigation and reports of irregularities in PhilHealth have become an annual cycle.
Unlike De Villa, Morales said he would rather stay in his position until he is no longer needed in the state corporation.
Morales said his family has been begging him to step down, but he believes his resignation could disrupt the operations of PhilHealth in this critical time as the country is battling a pandemic.
"There is nothing I would want, but as a good soldier, I am sticking it out. My family is begging me, but there are still things to be done," Morales said on the possibility of his resignation.
Morales said he was already retired but his friend, President Duterte, had asked him to take on the challenge of ridding PhilHealth of corruption.
He said his mission would take a long time to accomplish.
PhilHealth won't collapse
PhilHealth officials allayed fears that the agency is on the brink of bankruptcy.
This was contrary to PhilHealth acting senior vice president Nerissa Santiago's admission before the Senate on Tuesday that the state corporation could go bankrupt by next year.
Santiago told the Senate Committee of the Whole that the agency – which has about P221 billion in funds – may no longer be able to sustain operations due to the decreased collections and increased payouts for health expenses of members due to COVID-19 cases.
Upon questioning by Senate Minority Leader Franklin Drilon, Santiago said prior to the COVID-19 crisis, the actuarial life of PhilHealth was 10 years, but when the pandemic struck, its lifespan was drastically shortened to just one year.
"Because of the decreased contributions and increased COVID-19 payouts, we are expecting that by 2021, we will be in the red," Santiago said. "We can only survive with additional contributions coming from the government."
Visibly shocked, Drilon asked: "Are you saying in 2022, there will be no PhilHealth?"
Santiago said yes. She explained that the agency projects net operating losses at P90 billion for 2020 and if the pandemic persists by 2021, operating losses would total P147 billion. She said the PhilHealth system would "collapse" by then.
She warned that if COVID-19 continues to spread and no vaccine is developed soon, the agency can no longer operate unless all its obligations will be shouldered by the national government.
But on Thursday, Morales said PhilHealth has sufficient funds to pay for the benefits of members even with the ongoing pandemic.
"We have P200 billion available funds and even before that (bankruptcy) happens, we expect the national government to intervene," Morales explained.
Morales clarified that the report on PhilHealth's possible bankruptcy was based merely on actuarial study and assumptions that there would be no fresh funds coming in.
He said the projection did not depend on "hard facts" that could be modified.
Morales noted that PhilHealth projected an increase in benefits payments, but it did not happen because many members are avoiding going to hospitals to seek treatment for fear of contracting COVID-19.
Renato Limsiaco Jr., PhilHealth senior vice president for fund management sector, said that as of June 30 this year, the agency had P216 billion in available funds, which could be used by its members.
For this reason, Limsiaco said PhilHealth members have no reason to worry amid the pandemic.
Limsiaco said alleged financial report manipulation by the corporation is highly unlikely, with the Commission on Audit yet to come out with its 2019 annual report.
The financial report of PhilHealth, Limsiaco said, showed that both premium income as well as benefits expense of the corporation in 2019 increased by some P24 billion compared to the previous year.
PhilHealth vice president for corporate affairs Shirley Domingo also said the state insurance agency has different sources of funds, including billions of collectibles from the national government.
"The national government will not allow that (PhilHealth collapse) and (it will) provide us with additional funds. Dapat naman because they are paying us less than what they are supposed to," Domingo said in interview with One News/TV 5's "The Chiefs" on Wednesday, Aug. 5.
Aside from contributions from direct members, Domingo said PhilHealth also sources its funds from investment earnings as well as subsidy from the national government to pay for the indirect members who are incapable of paying contributions.
Domingo said PhilHealtth pays the benefits of members from collected premiums. Annually, unspent contributions are set aside as "reserve funds" of the agency.
"When we started this year, we had P130 billion in reserves coming from contributions. We don't touch that reserve fund. However, this year, because of the pandemic, many members for economic reasons were unable to pay their premiums," she noted.
This year, Domingo said, the national government is supposed to pay PhilHealth P636 billion for the subsidy of indirect members. The government has so far paid only P71 billion of the amount.
"Reserve funds will run out based on assumptions of what is happening now, but if the epidemic will recede and the economy will improve, more members will be able to pay their premiums," Domingo pointed out.
"We are also in constant meeting with the Department of Finance and Department of Budget concerning indirect members. If they give us fresh funds, the assumption (of possible bankruptcy) will change," she said.
Domingo also dismissed allegations that PhilHealth's all case rate system is driving the agency into bankruptcy.
The case rate system, she said, is more efficient compared to the previous "fee for service" payment to health providers.
Domingo also debunked allegations of irregularity in the purchase of ICT equipment as claimed by Cabading, saying that no purchase has been made and the supposed IT project mentioned by Cabading is still in the planning stage.
On Tuesday, presidential spokesman Harry Roque said the government can provide funds to prevent the collapse of PhilHealth.
Roque said he and other authors of the Universal Health Care Law were aware that PhilHealth would not be able to provide free treatment and medicine if it relied solely on premiums.
"As author of the Universal Health Care, we never, even for one minute, considered that the survival of PhilHealth will solely be by reason of premiums," Roque said.
"If PhilHealth runs out of money, the government can provide funds. That's why it is called universal health care, not medical insurance," he added.
Roque said Malacañang, through Undersecretary Jesus Melchor Quitain, is "quietly" conducting its own investigation into the alleged anomalies in PhilHealth.
"We are confident... that the truth will come out," Roque said. – With Alexis Romero