ECQ May Prompt Review Of Work-From-Home Arrangements In Phl
Even before the Telecommuting Act is fully implemented, its guidelines may have to be revisited due to issues that surfaced when people were forced to work from home as part of measures to prevent coronavirus disease 2019 transmission.
Until the outbreak of the coronavirus disease 2019 (COVID-19) pandemic prompted the government to place the entire Luzon under enhanced community quarantine (ECQ), bank manager Joyce thought working from home was not feasible.
Joyce, who asked that her full name be withheld for this article, said she always preferred to work in the office, where internet connection is more stable and she can meet face to face with clients to personally discuss their bank transactions.
"Our line of work relies greatly on documentation and discussion with clients so I really prefer office work," Joyce noted.
She admitted that when the pandemic left their company with no choice but to implement a work-from-home or WFH arrangement, they were ill-prepared and did not have the required infrastructure for the employees to function effectively.
"I had had to find my own ways to do the deliverables required of me even with the unstable internet service," Joyce said.
Even before the pandemic, her company has had a work-from-home option for one day a week, but Joyce said she never tried it.
Since she started telecommuting, Joyce said she has had to work for more than eight hours at times, unlike in the office, and had to deal with distractions.
But she considers these "manageable problems" as she notes that working from home has its benefits, such as saving time and money for commuting to and from work.
When working from home, Joyce says she gets to attend to chores, including personally looking after her octogenarian mother.
"After the ECQ, I think I will probably try working from home, now that I know it's possible," she said.
As of April 24, Department of Labor and Employment (DOLE) Assistant Secretary Dominique Tutay said a total of 2,662 establishments employing 70,649 workers have adopted telecommuting and WFH arrangements.
She explained that WFH arrangements are practiced more by independent contractors or freelancers for different companies, while telecommuting is more of a formal arrangement as provided under Republic Act No. 11165 or An Act Institutionalizing Telecommuting as an Alternative Work Arrangement for Employees in the Private Sector.
In the Philippines, Tutay does not see a surge in companies adopting WFH arrangement or telecommuting due to the inadequacy of the necessary infrastructure, particularly a reliable internet and telecommunications system.
"In our case, we experience disruptions in these services," Tutay said.
A majority of government employees were required to work from home following the imposition of ECQ on March 17.
On the other hand, the Trade Union Congress of the Philippines (TUCP) reported that most of the estimated 3,6000 business process outsourcing (BPO) workers in Clark City and Ortigas Center want to work form home, but only 80 percent of them were allowed to do so.
"In our observation, work-from-home is the new normal," TUCP spokesman Alan Tanjusay said.
He pointed out that the COVID-19 pandemic has forced both workers and employers to upskill toward seamless digitalization. Those who are unable to adopt will lag behind and lose in the competition, he said.
Tanjusay believes a specific law is needed to exploit the benefits of WFH arrangement for economic development. A new law, he says, is also essential to improve the quality and affordability of internet service.
"Those working from home are happy because of a freer environment, they don't see their boss around and they can do house errands. They also have no stress in commuting and can avoid exposure to viruses," Tanjusay noted.
Workers, however, complain of erratic internet connection, with their gadgets also bogging down. They are also not given any hazard pay.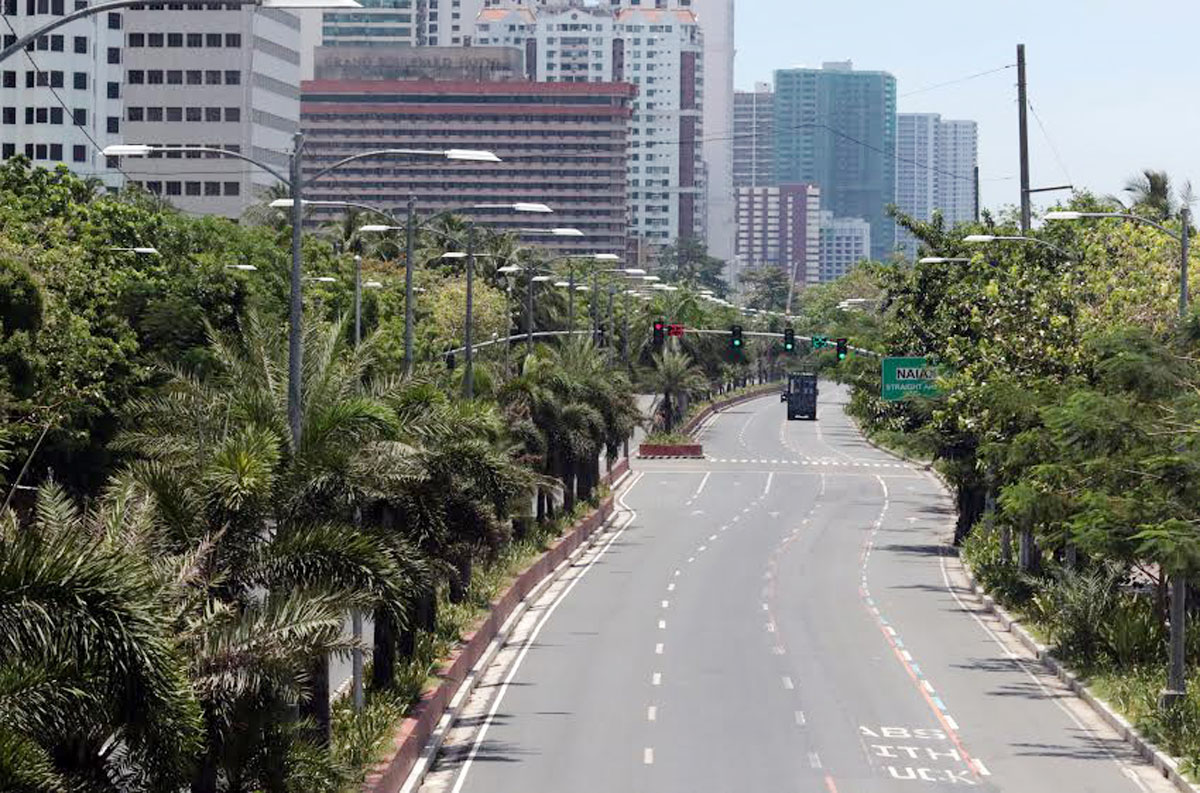 RA 11165 was signed in December 2018 with the intent to protect the rights of workers and promote their welfare amid the technological developments that have opened up new and alternative ways for employees to carry out their duties.
The law defines telecommuting as a work arrangement that allows an employee in the private sector to work from an alternative workplace with the use of telecommunication or computer technologies.
DOLE Assistant Secretary Teresita Cucueco said the law allows employers and workers to enter into telecommuting work arrangements on a voluntary basis or as a result of collective bargaining.
"There are no changes done in the law so telecommuting as a policy is still voluntary. But even if you say it is voluntary, with the condition now and the proclamation of ECQ, work-from-home has become mandatory in a way and is now the new norm," Cucueco said. "There is no more need to mandate it because the condition right now and the physical distancing policy do not allow many of us to go to our offices."
Cucueco also said the law is there to guide employers and workers on the proper adoption of WFH arrangements.
Federation of Free Workers vice president Julius Cainglet said a new issuance may be needed as WFH becomes the new norm.
"We have received reports that working from home is more taxing and stressful, with working hours longer in some instances. We need to ensure that labor standards continue to be respected even with ECQ," Cainglet stated.
The implementing rules and regulations (IRR) of the Telecommuting Law provides that working conditions shall not be less than the minimum labor standards, which include compensable work hours, overtime, rest days, entitlement to leave benefits as well as social welfare benefits.
The rules state that workers are entitled to receive regular pay, including overtime and night shift differential and other similar monetary benefits not lower than those provided by law and stipulated in collective bargaining agreements or CBA.
Under the law and implementing rules, workers have the right to rest days and regular holiday pay.
Cucueco conceded that DOLE may have to come out with labor advisories to address the new issues that have cropped up with the implementation of the ECQ.
"Now that more companies are adopting the arrangement because of the ECQ, we are seeing new issues, and these are things we will bring up in consultation with stakeholders for the issuance of an advisory," Cucueco said.
While both workers and employers are maximizing the benefits of work-from-home arrangements, Cucueco cited challenges that have surfaced and must be addressed.
"The situation is really going to be different, but we still have to ensure the safety and health of workers. We also have to create a system to ensure that work remains fluid," she said.
Remote working
In other countries, new research showed most employees or 87 percent feel at least somewhat ready to make the shift to working from home if required, while a majority or 77 percent expect companies to be more accepting of WFH policies after the pandemic is over.
Based on research released on April 23 by Lenovo, a multinational technology company, telecommuting or WFH arrangement addresses physical distancing required in a pandemic, traffic woes and rising gig economy.
The research conducted in March showed that employees and businesses in the United States, China, Japan, Germany and Italy are adapting to WFH arrangements, with smart technologies having already enabled the rise of a global workforce that stays connected in a "work-from-anywhere" world. These countries also have to deal with the COVID-19 pandemic and lockdowns that have been imposed to prevent contagion.
"Our survey suggests that the employee experience was already changing before the pandemic hit," Michael Ngan, president and general manager of Lenovo Philippines, said.
"For example, in the past 15 years, the number of those regularly working from home has grown 159 (percent) in the US and the same increase is happening in other markets. While our current situation is extraordinary, we are seeing a real willingness from workers to adapt and adopt flexible work arrangements. This confirms that corporate technology investments are paying off, as most people now feel productive at home and believe that the workforce will move more in this direction once the crisis has passed," Ngan said.
The Lenovo study, which looked at employee attitudes toward WFH arrangement, found that most employees in the countries surveyed had already been either encouraged (46 percent) or required (26 percent) to work from home as part of COVID-19 mitigation measures.
Even when the quarantine is lifted, the Philippine government is expecting reduced economic activity as a result of the public's hesitation to engage. In addition, WFH has been raised as one of the solutions to traffic woes, particularly in Metro Manila.
The move to telecommuting is also a welcome development to the nation's rising gig economy, which thrives on hiring employees on a flexible and freelance setup through online platforms, Lenovo said.
The Philippines currently ranks sixth in the world and is the fastest-growing market for the gig industry, revealing a 35 percent year-on-year growth in freelance earnings as reported in financial services company Payoneer's 2019 Global Gig-Economy Index.
With the freedom to work anywhere, flexible schedules, the opportunity to prioritize work according to personal schedules, plus the ongoing pandemic, the gig economy in the Philippines is expected to see tremendous growth this year.
Worldwide, the rapid adoption of WFH policies has been made possible by the increasing sophistication and affordability of smart mobile technology, which has enabled many employees to work when away from their desk. Changing workforce demographics play a part, too.
"The millennials and Generation Z employees who make up nearly 60 (percent) of the workforce today grew up with video on demand, networked video games, and video communication platforms. These digital natives are driving the development and adoption of technology for remote working and collaboration," Lenovo said.
"The 'race for talent' has also put organizations under significant pressure to rethink their workspace, technology and culture to attract and retain the best people," it added.
Lenovo cited a 2018 Harvard Business School global study of 6,500 business leaders, which found that over 60 percent predicted that employee expectations for flexible working will significantly affect the future of work.
A human resources consulting firm recently revealed that a majority of employers are still hiring talent, despite the anticipated business impact from the COVID-19 outbreak. In late February 2020, 44 percent of respondents said that they already offer remote working as an employee benefit to either all of their staff or select employees and functions.
"At a time when all companies need to navigate uncertainty and keep their business running, technology enables them to keep moving forward. Companies need to adjust now and ensure their employees have the video tools, technology and training required to succeed today and in a future where more remote working may be the norm," Ngan said.
Based on Lenovo's survey, companies in the countries surveyed provided support to their employees working from home through technology or tools needed, team communication software, assistance in adjusting workloads, training materials, scheduling extra meetings, removing or relaxing limits on vacation or sick days, and extra expense accounts.
The study revealed that those who are against WFH arrangement gave the following reasons: distractions such as phones, people and TV at home; work-life separation; better personal interaction at work; difficulty in keeping boundaries on time spent working; lack of access to needed technology, and the desire to be around co-workers.
The research showed that productivity and the companies' ability to operate normally are not affected even when a majority of the employees work from home.