A Generation Scarred: New Report Bares Impact Of Drug War On Children Left Behind
Four years into the government's deadly war against illegal drugs, families of those who were killed continue to search for justice. A new report of the Human Rights Watch bares the impact of the drug war on Filipino children.
Years have gone by, but Jennifer continues to have nightmares about the day her father was killed by police in December 2016.
"I was confused because I didn't understand why. Why my Papa? Of all the people outside, why did they pick my father?" she says in a new 48-page report titled " 'Our Happy Family Is Gone': Impact of the 'War on Drugs' on Children in the Philippines," released by Human Rights Watch (HRW) on Wednesday, May 27.
"I was angry at the policemen because my father was begging for mercy, but they didn't listen to him. That's why I was so angry," she adds.
Jennifer was 12 at the time when police officers entered their home in Payatas, Quezon City and ordered all children outside.
She clung to her father as they begged for mercy, Jennifer recounted, hugging him tight so that "they don't harm him."
After she was wrestled away from her father and flung to the ground outside, she relayed to HRW, shots immediately rang out.
 Her father was dead.
 On the same month in Mandaluyong City, three children witnessed the killing of their father while he was at the wake of an aunt who had been shot three days earlier.
 His children describe how the incident changed their lives.
 Robert, the eldest, says he had to find work after his father died, forcing himself to do so for the benefit of his siblings. He was 15 at the time of the incident.
 He says his younger brother John, who was wounded in the incident, had it worse: "Ever since my father died, I don't see him happy anymore. If I see him smile, it's forced. He's still looking for our father because he was my father's favorite. He easily gets angry now and he has lost trust in people."
 The youngest, Karla, states: "Our happy family is gone. We don't have anyone to call father now. We want to be with him, but we can't anymore."
 'Scarred for life'
 According to HRW, the effects of the drug war have been profound on children who have witnessed violence against their loved ones, resulting in psychological distress, bullying and stigmatization.
 HRW Philippines researcher Carlos Conde, who wrote the report, said the increased poverty and trauma have led many children to leave school or compelled them to earn a living.  Some have been forced to live in the streets.
 "This drug war has created a generation of Filipino children who have been scarred – probably forever – by the violence. I can only imagine how this must impact their lives in five, 10 years from now," Conde said in a virtual press briefing on May 27. "I can't even begin to imagine what they would feel five or 10 years from now and how this madness will affect their lives."
 The report documents the impact of the killings on 23 families who lost a loved one in the so-called war against illegal drugs.
 It is but a fraction of the thousands of killings in the Philippines since 2016.
 Data from the Philippine Drug Enforcement Agency showed that over 5,600 drug suspects died in police operations from July 1, 2016 to Jan. 31, 2020, known as nanlaban, or cases wherein the suspects resisted authorities.
 Thousands of others were killed by unidentified gunmen.
 Citing children's rights advocates, HRW said 101 children were extrajudicially executed or killed as bystanders during anti-drug operations.
 Among them was Kian Loyd delos Santos, a 17-year-old who was killed by police officers in Caloocan in August 2017.
 The case remains the only one that has resulted in trial and conviction, according to HRW, attributing it to video evidence showing the incident.
 "The overwhelming majority of these killings have not been properly investigated. According to the Philippine Department of Justice in January 2019, just 76 deaths have led to investigations," the report stated.
 "Even then, only 33 resulted in court cases and five were pending before the Office of the Prosecutor, while the prosecutor dismissed half – 38 cases," it added.
 Bullying, poverty
 In addition to psychological distress, the HRW also documented cases of bullying of children whose relatives were killed in drug-related incidents.
 Maila, 13, dropped out of school after being "harassed and taunted all the time in school because her father was killed, because he was a user," her grandmother said.
 A sibling of 15-year-old Jasper, who was killed in 2016, dropped out after suffering from taunting by friends. One of them, according to his grandmother, told him it was "a good thing (his) brother died."
 According to HRW, the killing of a parent or guardian often results in deepening poverty for those left behind.
 "Economic impacts of this loss include inability to pay for food, school supplies, and public transport to school. The new dire economic circumstances of the family have compelled some of the children to work to help make ends meet," read the report.
 "Other children have had to leave the family to go live with relatives who could take better care of them. And some of the children have been forced by these new circumstances to stop going to school altogether," it added.
 The group noted the failure of the government to provide adequate assistance to children of those who were killed, further violating their fundamental rights.
 HRW said no specific program has been created to address the special needs of those affected by the drug war.
 Support, most of the time, comes from civil society organizations or religious groups that have mobilized in response to the impact of the drug war.
 "This is the sort of thing that no country wants to happen to children, but this is happening as a result of a state policy connected to the drug war," Phil Robertson, HRW deputy director for Asia, noted.
 "The fact that the government has nothing to help these children, aside from perhaps the fact of some grant of money for burial expenses for their loved one, is negligent to the extreme," he  said.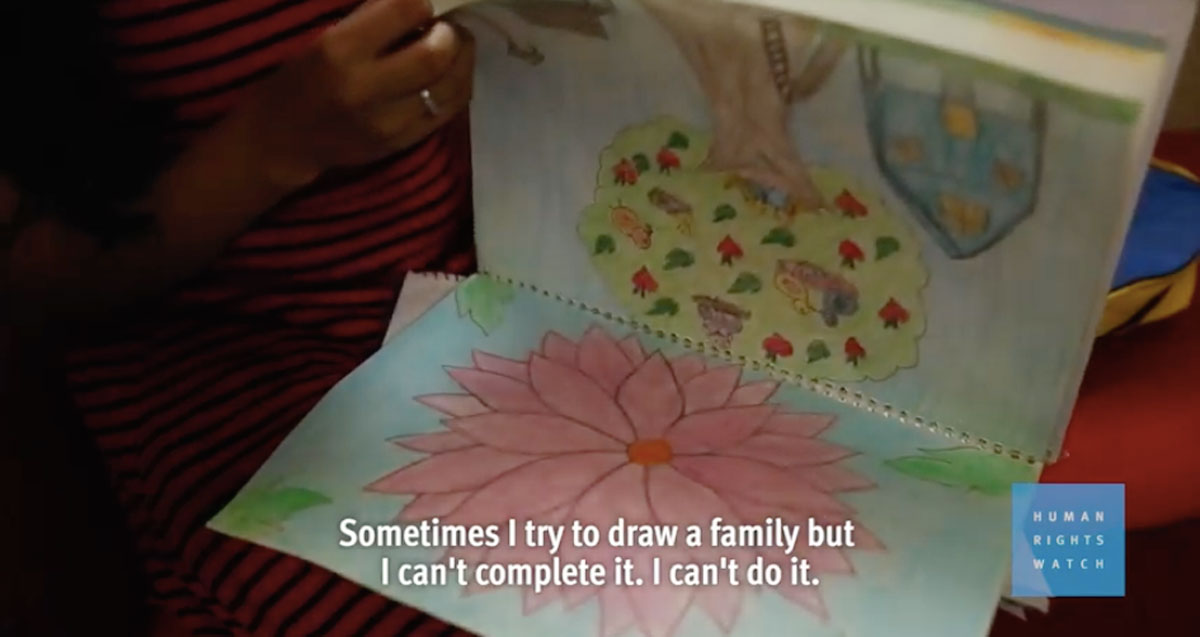 Challenge to government
 The HRW has laid out its recommendations to the Philippine government, including the issuance of a presidential proclamation to officially end the drug war.
 It is also pushing for the investigation and prosecution of law enforcement personnel, as well as cooperation with the Commission on Human Rights in its investigation of the killings.
 The group also urged the government to "promptly and fairly compensate the families of victims of unlawful killings by government officials and their agents."
 The Department of Social and Development (DSWD), it said, should be directed to provide material assistance and targeted financial support programs to parents, appointed relatives or legal guardians of children adversely affected by the anti-drug campaign.
 It said the DSWD should also protect adversely affected children from economic exploitation and from performing any work that is likely to be hazardous or to interfere with their education.
 The Department of Education (DepEd), meanwhile, should ensue that all children enjoy their constitutionally guaranteed right to free and compulsory primary education.
 "(DepEd should also) enforce anti-bullying and anti-discrimination policies, notably with respect to children adversely affected by the anti-drug campaign, inform students how they can confidentially report incidents of bullying, and specify measures to hold accountable students found responsible for bullying," read the report.
 "Ensure school officials and teachers are trained and equipped to handle cases of bullying among students, and ensure school administrators ensure all staff and students abide by the government's anti-bullying policy," it added.
 HRW said the Department of Health should also assist in providing mental and psychosocial health services to children of families affected by the anti-drug campaign.
 "Filipino children have suffered horribly from President Duterte's decision to unleash the police and their hit men against suspected drug users," Conde stressed. "The government needs to stop this endless violence that is upending children's lives and direct assistance to the children harmed."