'Sagot For Sale' Scheme: Two Women Reveal How They Get Paid For Answering Students' Modules
Some students and their families resort to "sagot for sale" scheme as they find it hard to cope with the demands of blended learning.
A mother of five in Albay, who declined to be identified, said a Grade 12 Accountancy, Business and Management (ABM) student in their province approached her in November last year asking for help in writing an essay as part of the student's activities under blended learning being implemented by the Department of Education (DepEd).
The source said she was not asking for anything in return but her client decided to give her "mobile load" as token for the service she rendered.
"Noong una, free lang muna since isang essay lang. Kaso habang tumatagal lalong dumadami (ang) pinapagawa sa kanila since graduating sila (At first, my service was free of charge since I had to do just one essay. But over time, they were given multiple tasks since they are graduating students)," the mother told The Philippine STAR in an interview.
Because of this, the source said the student insisted to pay her cash for working on his learning modules. For a 200-word essay she would write, she would receive P150 as payment. She would give back the module two days after it was sent to her by the student.
The source bared there was an instance when she had to work on 10 modules until 1 a.m. because the reflection papers the student had to do already piled up.
"Kasi ang module ay (ibinibigay sa estudyante) nang sabay sabay. May mga subject teacher na bigla nalang magdadagdag nang gagawin  (The modules are given to students simultaneously. Some subject teachers will even give an additional activity all of a sudden)," she said.
Eventually, she received one more client who asked her to do the same service. This time, a Technical-Vocational-Livelihood student from the same school.
After three months of doing the scheme, she already received a total of P6,800 from her two "clients." In November, she got paid an amount of P1,700 while P2,300 in December and P2,800 in January.
The source admitted that this scheme served as one of her sources of income from November  until January of this year as she was jobless. She explained that she had to stop selling sticky rice delicacies in their village after two strong typhoons hit the Bicol region.
In November 2020, Super Typhoon Rolly made landfall in the Bicol region on Nov. 1, followed by Typhoon Ulysses in less than two weeks, causing massive floods, landslides that damaged crops and properties.
On March 8, Sen. Sherwin Gatchalian, chairman of the Senate committee on basic education, arts and culture called on the DepEd to immediately investigate reports of what of the "sagot for sale" scheme, where parents hire someone else to answer their children's self-learning modules.
The lawmaker also warned parents that by engaging in this practice, their children will bear the brunt since their learning and development will be compromised no matter what time frame.
Gatchalian referred to an earlier report by the Teachers' Dignity Coalition which divulged how struggling parents hire someone else – some of whom they find online or on social media – to answer their children's modules.
Too stressful?
According to the mother in Albay, the ABM student and two other classmates collapsed in the last week of February this year due to the "stress" brought about by the modules. She said the ABM student would sleep late often because of school work.
"Nung nag-collapse itong si ABM student, na-confine siya (sa ospital) ng three days. And hindi lang siya, tatlo daw sila na magkakaklase sabay sabay (When the ABM student collapsed, he was confined in the hospital for three days. And he's not the only one, they were three classmates who were also hospitalized at the same time)," the source said.
"Itong si ABM student madalas daw kasi natutulog siya ng 12 a.m.," she added.
The mother explained that the student has to download the school requirement first and then have these printed before starting to work on them. After that, the student would have to submit the finished tasks to the school.
"Stressful kasi masyado ang ibang modules dahil (kadalasan) pinapagawa kung kailan malapit nang ipasa (Some of the modules were stressful because it is usually given when the deadline of submission is near)," she said.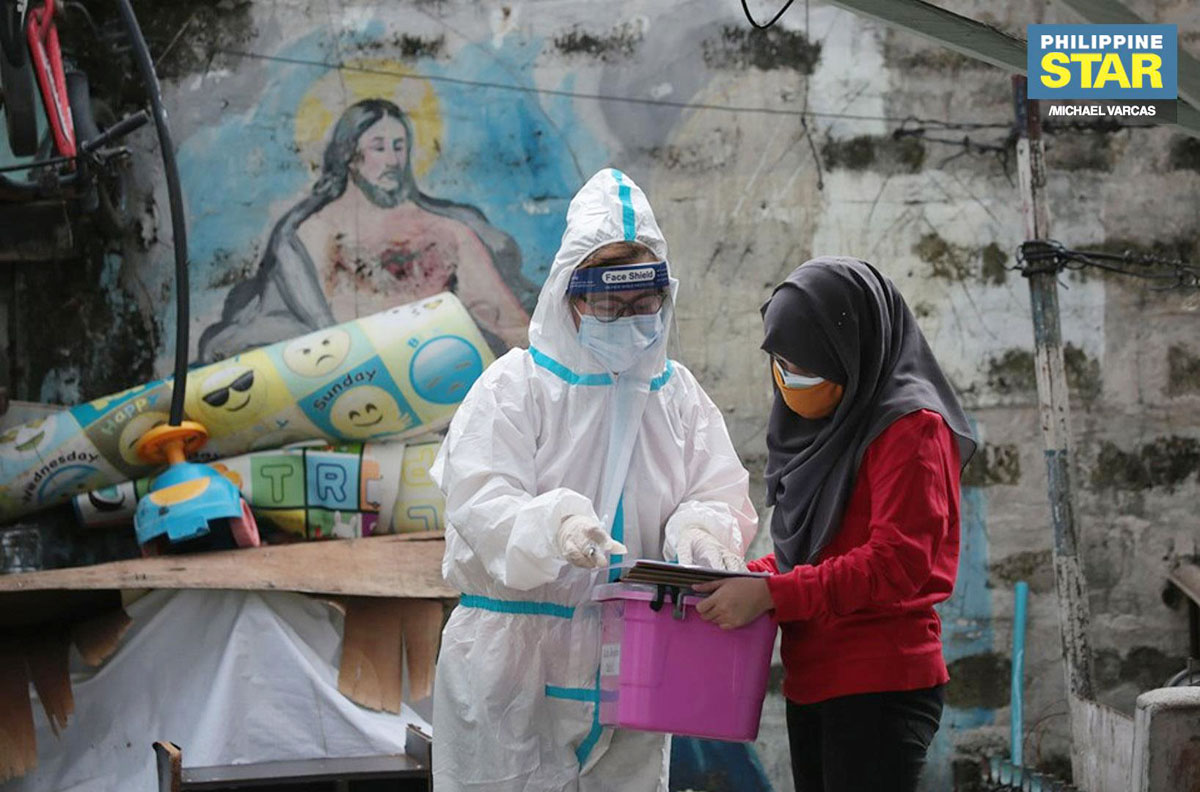 Tutorial turns into 'sagot for sale' scheme
Another person who engages in the "sagot for sale scheme" is a tutor who lost her job in the middle of the quarantine imposed since last year due to the coronavirus pandemic.
The tutor, who also refused to be named, said she had to look for other opportunities to support the needs of her family.
Her job hunting ended when she met a family in their town in Bulacan and asked her to tutor their seven-year-old daughter in October.
The girl is in Grade 1 and enrolled in a public school in the province.
Being part of a broken family, the daughter was raised by her father and grandparents after the mother left them, according to the source.
"May work ang tatay niya so walang ibang tututok sa pag-aaral niya kundi ang mga lola niya. Pero since masyado ng broad ang curriculum, we do not expect na kaya siyang turuan ng mga lola niya (Her father is working so no one is available to look after the kid while studying except for her grandmothers. But since the curriculum has become broader, we do not expect her grandmothers to be able to teach her)," she said.
With this situation, the tutor from Bulacan confessed the supposed tutorial turned out to be a "sagot for sale" scheme.
"Ang ending just to comply 'yung requirements ng school ako na nagsasagot ng mga hindi niya natapos (sa modules) (In the end, I would be the one answering what she was not able to finish just to comply with her school requirements)," she lamented.
The source said she would have to spend four days a week to complete five to seven modules to comply with the deadline of submission every Friday morning.
From the time she involved herself in this kind of work in October, the source disclosed she already got paid by the family a total of P10,000.
"Hindi ko makita na effective ang modular learning dahil ang nangyayari ay nagko-comply lang 'yung mga bata for the sake na pumasa sila pero in reality natuto ba sila? (I can't see modular learning as an effective system because what happens is that students only comply for the sake of passing the subjects but in reality, did they learn?)," she asked.
DepEd's appeal
DepEd Undersecretary Diosdado San Antonio appealed to parents and students not to patronize the supposed scheme.
San Antonio told "Sa Totoo Lang" on One PH on March 10 that the reports were saddening and that scheme was "not acceptable." He said even parents are discouraged from working on the modules of their children as this would not help them.
He said the DepEd could be more "considerate" but "we also need to make our children believe that if they do something, they could move forward" even if it is not the "best performance that we want."