Phl's E-waste Problem: Over 24 M Phones Discarded Yearly by 2021
The Philippines has to deal with its own garbage problem and obviously, trash shipments from other countries are too much for its waste management system. Recently, the government had to ship back e-wastes from Hongkong.
The country's garbage problem goes beyond the tons of plastic products in many areas, clogging rivers and other waterways, and polluting the seas.
A study conducted by engineers from the University of the Philippines revealed that Filipinos discard millions of mobile phones every year, underlining the need for a nationwide policy to handle electronic waste or e-waste.
The lack of data on the amount of e-waste generated from discarded mobile phones in the country prompted Florencio Ballesteros Jr. and Mark Gino Galang of the UP Department of Environmental Engineering to conduct research on the matter, the results of which were published last year on the Global NEST Journal.
Using a data processing technique called neural networks method, the researchers tried to determine the estimated number of mobile phones discarded in the country between 2010 and 2021.
After a period of stabilization and baseline data build-up, the process revealed a stable figure on the estimated number of mobile phone waste in the Philippines: a staggering 22 million units in 2016.
The number continued to increase in the succeeding years, with over 24.9 million units of discarded phones predicted by 2021.
Citing a separate survey that they conducted, the researchers noted that a majority of their respondents said they replaced their phones after one to two years.
Analysis also showed a high disposal and/or replacement cycle for feature phones due to their cheap prices.
Worse, the study found that 95 percent or almost all of the respondents have no knowledge on proper waste disposal of mobile phones.
The estimates, the researchers wrote, "may be used by policy makers as basis for strategy formulation and as guideline and baseline data for establishing a proper management system" for mobile phone waste.
What are e-wastes?
Mobile phones, however, only represent one aspect of the entire e-waste problem worldwide.
The 2017 Global E-Waste Monitor, published by the International Telecommunications Union, the United Nations University and the International Solid Waste Association, classified e-waste into six categories.
Mobile phones, along with routers, personal computers, pocket calculators and the like, belong to the small information technology (IT) and telecommunications equipment category.
Others include temperature exchange equipment such as air conditioners; screens and monitors such as television and tablets; lamps such as fluorescent and LED lights; large equipment such as washing machines, electric stoves and ovens; and small equipment such as microwave, vacuum cleaners and other small appliances.
E-waste, when treated inadequately, poses serious health issues as it contains hazardous components that could contaminate air, water and soil, the report said, noting that harmful chemicals such as lead and mercury could work themselves through the food chain.
Further reading: E-waste: An electrifying problem
"Dismantling processes that do not utilize adequate means, facilities, and trained people pose additional threats to people and the planet," it added.
An estimated 44.7 million metric tons of e-waste were generated in 2016, with the figure expected to rise to 52.2 million metric tons by 2021.
The Philippines, according to the report, generated 290 million kilos of e-waste in 2016 — an estimated 280 kilos per person.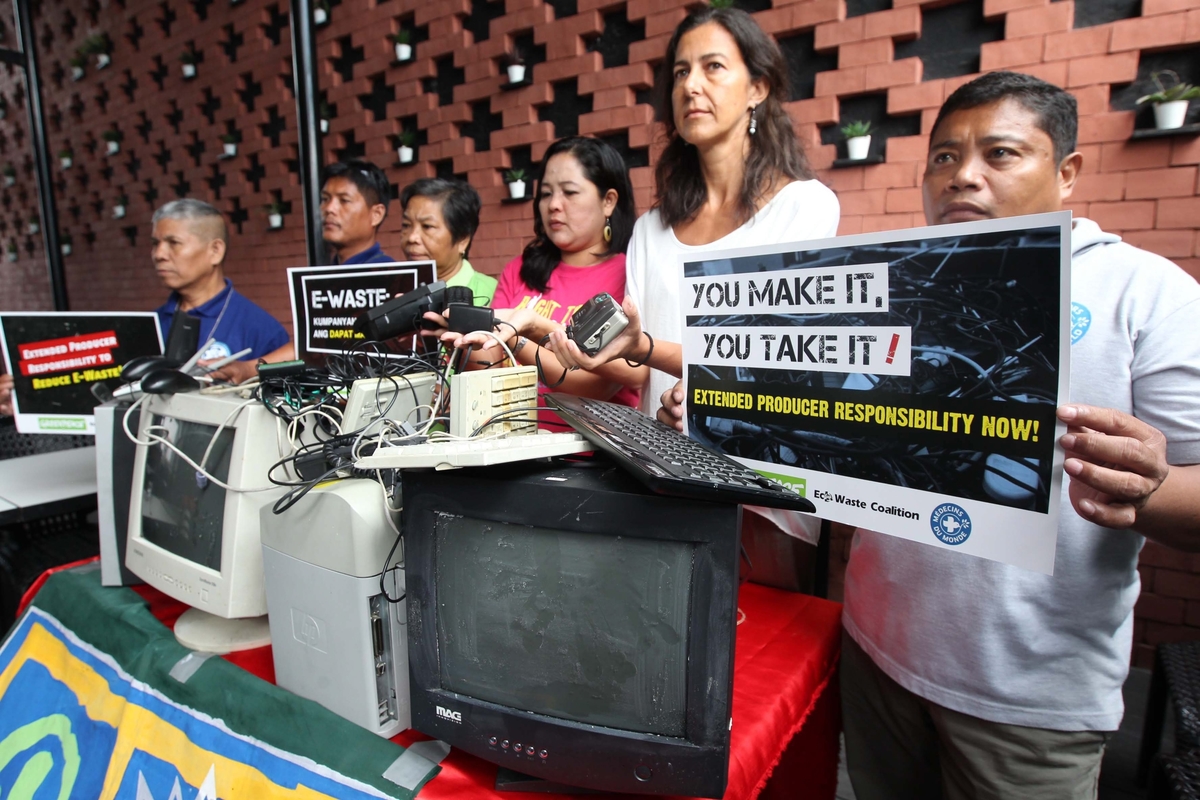 Environment and health advocates from the EcoWaste Coalition, Greenpeace and Medecins du Monde call for extended producer responsibility to make manufacturers responsible for their e-wastes, during a press conference on Nov. 6, 2015. Photo by Boy Santos, The Philippine STAR
More recently, concerns were also raised over e-waste shipment that arrived in the country from Hong Kong.
There was nothing new about it. A 2010 report by the Department of Environment and Natural Resources (DENR) showed that the country has been issuing import clearance for used consumer electronics since 2005.
Yet the 2017 Global E-Waste Monitor said the Philippines has no national regulation in force as regards e-waste as of January 2017.
Republic Act 9003 or the Ecological Solid Waste Management Act of 2000 classifies consumer electronics such as radios, stereos and television sets as special wastes.
Republic Act 6969 or the Toxic Substances and Hazardous and Nuclear Waste Control Act of 1990 also provides guidelines on managing toxic substances, including those contained in some electronic products.
Despite this, however, environmental group EcoWaste Coalition noted that e-wastes continue to be improperly disposed of and are often found mixed with other trash in the country.
Various bills have been filed in the previous Congress to specifically address the e-waste problem, including a bill mandating the recycling of mobile phones filed by former senator Antonio Trillanes IV. Unfortunately, however, none was approved.
Initiatives
It's not as if nothing is being done to address the problem.
In 2017, the DENR Environmental Management Bureau said it had launched a $35-million project designed to support the disposal of e-waste containing highly toxic chemicals.
Last year, the United Nations Industrial Development Organization (UNIDO) also tapped Laguna-based Integrated Recycling Industries (IRI) for the implementation of safe e-waste management program.
Private-led initiatives, such as the E-Waste Project and the E-Waste Recycling Program of E-Waste Philippines, have also been promoting proper disposal of consumer electronics.
Earlier this year, a collaborative partnership between the DENR, UNIDO and the EcoWaste Coalition was also launched for the establishment of an e-waste treatment, storage and disposal facility in Caloocan City.
Once completed, the facility will tap local informal recyclers to help manage the collected e-waste before these are turned over to the IRI facility in Laguna.
But with more e-waste expected to be generated in the next few years, it seems the country has a lot more catching up to do.