People Chip In To Help Pizza Delivery Guy Buy Bread; Award Now P100,000
Netizens are now sponsoring the pieces of bread that delivery rider Raymond Papellero gives away to homeless people so he won't need to spend his own money or "tips" from customers.
Some people who admired the kindness and generosity of pizza delivery rider Raymond Papellero did not stop at commenting on the posts about him that have gone viral on social media – they are now chipping in to help him buy the pieces of bread that he hands out to the homeless that he meets during his trips.
According to Raina Ominga, the bakeshop owner who introduced Papellero to the Filipinos on Easter Sunday, April 12, a flood of messages came in after she uploaded the photo of the kindhearted "delivery guy," which garnered 312,000 reactions and 83,000 shares as of Monday, April 20.

"Opo sinagot ko silang lahat (three) days straight. Nung nag-viral po 'yan nung Sunday, 4 a.m. na ako ng Monday nakatulog kaka-reply. Hahaha!" Ominga told The Philippine STAR in an interview on April 18.

Ominga said she made sure to reply to everyone because he wanted Papellero to continue to be an instrument to help and inspire people.

"Masakit na kamay ko sa pagre-reply. Pero okay lang. Let us all be a blessing to others!" she posted on Facebook on April 15.

"Spread the love and hope," Ominga stressed in her message to The STAR.

According to Ominga, people asked her how they could be of help to Papellero and she gave them his contact details. She said the assistance came in the form of " donations" for the assorted breads that he buys, so he could keep the tips he received: "Para 'di na po niya daw gastusin mga tips niya at maiuwi na lang niya."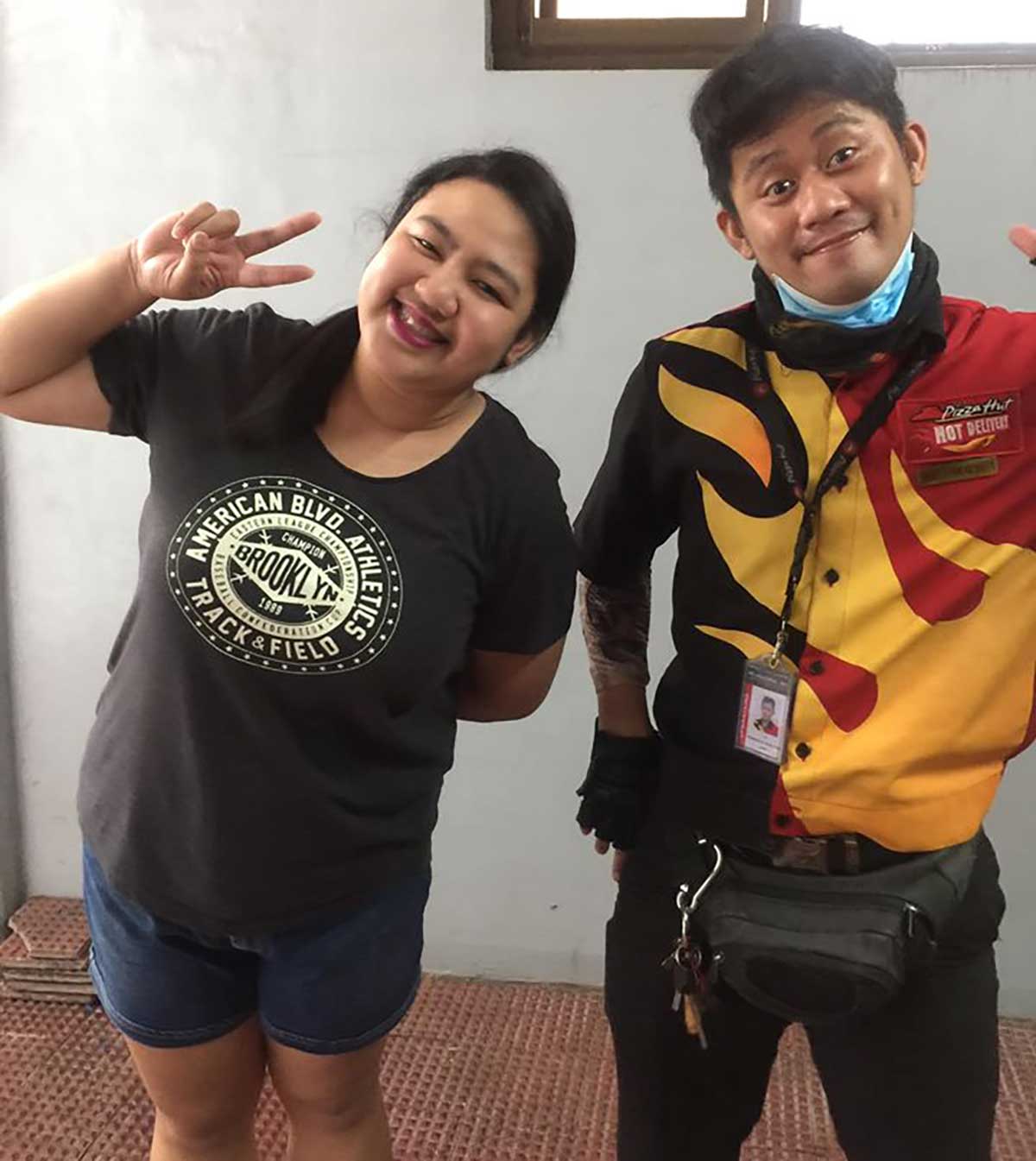 Ominga admitted that they were surprised by the outcome of their decision to praise Papellero on social media.

On April 16, Ominga disclosed on Facebook that "o𝙪𝙧 𝙫𝙞𝙧𝙖𝙡 𝙥𝙞𝙯𝙯𝙖 𝙙𝙚𝙡𝙞𝙫𝙚𝙧𝙮 𝙜𝙪𝙮, 𝙆𝙪𝙮𝙖 𝙍𝙖𝙮𝙢𝙤𝙣𝙙," was 𝙤𝙣 𝙝𝙞𝙨 sixth 𝙙𝙖𝙮 𝙤𝙛  "𝙗u𝙮𝙞𝙣𝙜 𝙖𝙨𝙨𝙤𝙧𝙩𝙚𝙙 𝙗𝙧𝙚𝙖𝙙𝙨" adding: 𝙏𝙝𝙖𝙣𝙠 𝙮𝙤𝙪 𝙩𝙤 𝙤𝙪𝙧 𝙙𝙤𝙣𝙤𝙧 𝙛𝙤𝙧 𝙩𝙤𝙙𝙖𝙮 𝙬𝙝𝙤 𝙤𝙥𝙩𝙨 𝙩𝙤 𝙧𝙚𝙢𝙖𝙞𝙣 𝙖𝙣𝙤𝙣𝙮𝙢𝙤𝙪𝙨. 𝙏𝙧𝙪𝙡𝙮, 𝙝𝙚𝙧𝙤𝙚𝙨 𝙡𝙞𝙫𝙚 𝙖𝙢𝙤𝙣𝙜 𝙪𝙨. 𝙉𝙤 𝙨𝙪𝙥𝙚𝙧𝙝𝙚𝙧𝙤 𝙘𝙖𝙥𝙚𝙨 𝙣𝙚𝙚𝙙ed."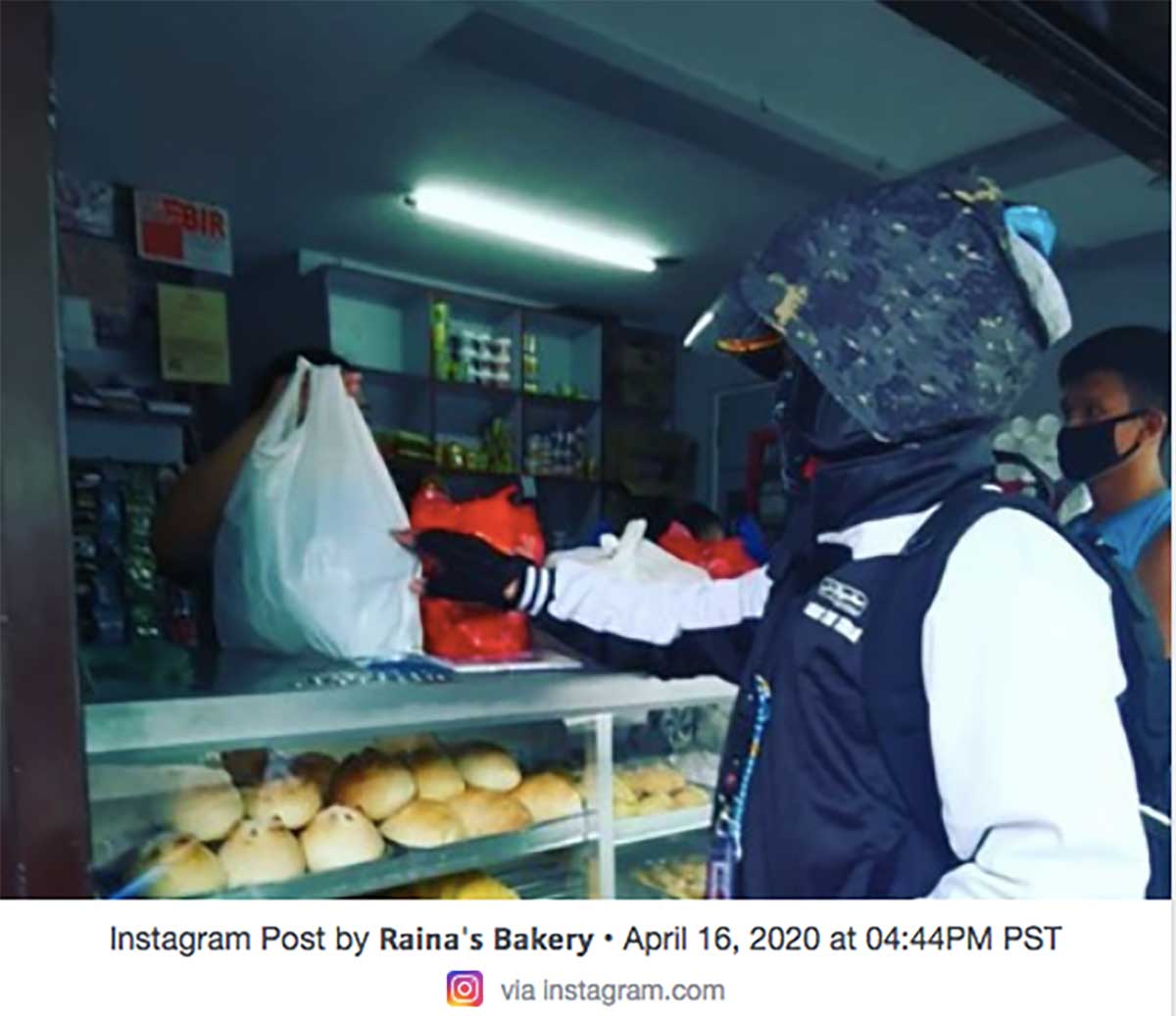 How did it all begin?

Ominga's bakeshop called "Raina's Bakery" has been operating in West Crame, San Juan City since 1995, and has itself been noticed by customers because of what she has been doing for Papellero.

It started when on April 12, she posted on her personal Facebook account about "this pizza guy" who has "been buying bulk assorted breads from our bakery for the past few days."

"So our inner curiosity ends up us asking him kung pinapamigay ba ng Pizza Hut 'yung breads. Sabi ni Kuya, lahat daw ng nakukuha niyang tip everytime nagde-deliver sya, iniipon niya pambibili niya ng bread. Then pinapamigay niya sa mga taong nakikita niya sa kalsada along the way," Ominga's viral post read.

"We were stunned! And that, my friend, is how we encounter Christ this Easter Sunday. Glory to God in the Highest," she added with the hashtag #biyayanihan.

She assured those who want to help and donate that  "I'll try my very best to get back to all of you through messenger."

On April 13, Papellero was back buying assorted breads from her again and that was when she finally able to know his name and his contact details.

On the fourth day, Ominga wrote that "our Kuya Pizza Rider" ordered 60 pieces of assorted breads because he received a lot of blessings the day before.

"Our hero's heart is so full today. Very humble kausap. Medyo kabado pero i think he's just overwhelmed sa biglang turn of events ng life niya," Ominga said.

Upon learning about his good deeds, Pizza Hut announced that the company handed Papellero a P10,000 cash award as it shared the story of the 34-year-old delivery guy.

According to Pizza Hut, Papellero knew what hunger feels like because when he was young, he said his family would sometime spend the day without food in their stomachs. That is why when he saw some people on the street begging for food, he vowed to help.

On Monday, April 20, the Araneta Group of Companies announced that it had given P100,000 in cash to Papellero for being a Good Samaritan to the people he encounters along his delivery routes. The cash bonanza was given on Friday, April 17, in  a simple recognition  ceremony at the company's head offices in Araneta  City.

"Mr. Papellero's generosity is very much in line with the Araneta Group's commitment to give back to the community, and this cash award is a sincere appreciation of his  benevolence," Chacha Junio, chief operating officer of Philippine Pizza, Inc., said.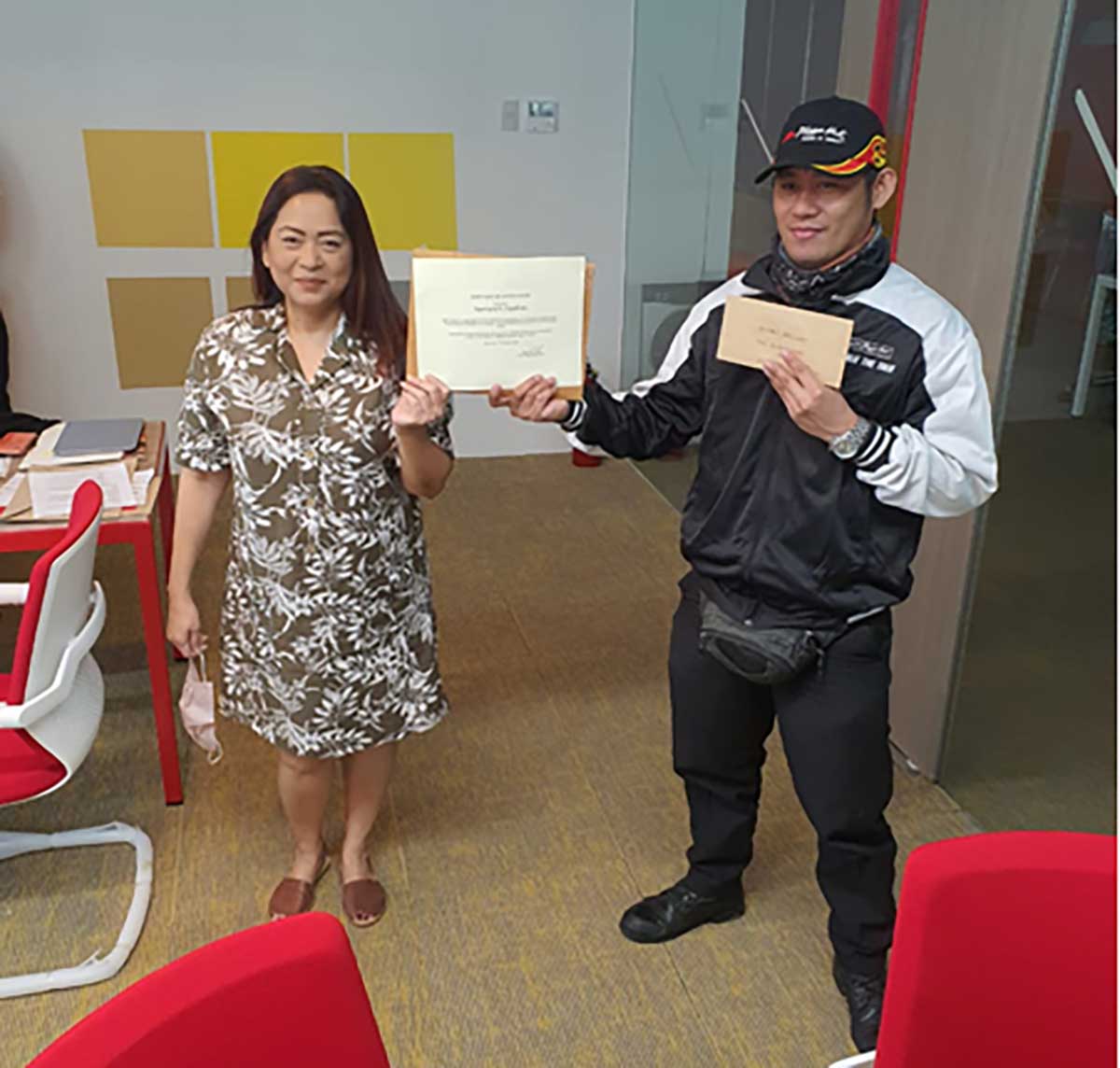 Papellero said there are many people in the streets begging for food nowadays. He said he hopes  there are others who will help  them in any way they can. "I hope what I'm doing will inspire other people to also share their blessings with the poor,  especially during these difficult times," Papellero said.

He vowed to continue buying and handing out bread to people in need that he encounters on the streets. "For as long as I'm able to, I will keep on doing this every day," Papellero said.

Papellero is a father of three, living with his wife in Mandaluyong City. Like many families during this crisis, he constantly grapples with the uncertainty brought about by the coronavirus disease 2019 pandemic, but he still tries to provide for his family as best as he can. He even tries to send money to his mother in Cebu.  Amid all this, he still manages to set aside some money for buying bread to share with the needy.

Read more: Pizza delivery guy goes viral, gets P10,000 cash award

The J. Amado Araneta Foundation also honored Papellero, a pizza delivery guy for the past 11 years, as an everyday hero.

"Growing up in Cebu, there was also a time in Raymond's life when food was scarce," the foundation stated. It quoted Papellero as saying, "Sa dami ng homeless, alam ko pong hindi sapat. Pero kahit papaano, maka-survive man lang 'yung madaanan ko at makabawas sa gutom nang kahit ilang oras."

But as "a living hero among us, Raymond, hopes that more people will respond to the call for help in this time of crisis, especially the need for food. He wishes that his story will inspire more people to give."

"As Pope John Paul II said, 'Nobody is so poor he has nothing to give…'" the foundation added.