Modified ECQ Versus GCQ: Why ECQ In NCR, Laguna, Cebu City Cannot Be Lifted
The government has to consider recommendations to lift the enhanced community quarantine gradually or in a phased manner to avoid resurgence of the coronavirus disease 2019.
While presidential spokesman Harry Roque had said that some parts of Metro Manila could be eased into a general community quarantine (GCQ) due to indications that the coronavirus disease 2019 curve was flattening, it was announced on Tuesday, May 12 that a modified enhanced community quarantine (ECQ) would be imposed over the National Capital Region, Laguna and Cebu City until May 31.
According to the Department of Health (DOH), the case doubling time for COVID-19 and the "critical care utilization" were among the health factors taken into consideration by the Inter-Agency Task Force (IATF) sub-Technical Working Group on Data Analytics in making the recommendation.
In a virtual press briefing, DOH Undersecretary Maria Rosario Vergeire said that aside from health, the IATF also looked into security, social and economic aspects when they made the decision concerning the ECQ.
The IATF also said it considered the recommendations of the World Health Organization to lift the ECQ gradually or in a phased manner to avoid resurgence of the disease.
What's the difference between a modified ECQ and GCQ? According to Roque, the movement of people under a modified ECQ will still be limited, and those who are allowed go out may only do so for essential services and to go to work.
Workers of "indispensable" businesses will be given exemptions or be mandated to present their certificates of employment to ensure that they can go to an GCQ area from an ECQ area and vice-versa.
"The difference: we will resume the economy little by little… we will have operations in select manufacturing and processing plants up to a maximum of 50 percent," Roque explained.
The IATF is still finalizing the list of enterprises that may resume operations under the modified ECQ.
There will be limited transportation for essential goods and services. Physical classes will remain suspended.
For the resumption of commercial flights, Roque said the relevant agencies would be coming up with a guidelines by May 16.
The resumption of services in places of worship will be the subject of IATF guidelines, but minimum health standards on social or physical distancing, body temperature checks as well as proper hygiene will be strictly enforced.  The same stringent guidelines are enforced in other sectors.
Since work will also resume in these areas, Roque says public mass transport will also reopen, but on a limited capacity.  The same goes for the firms engaged in trade and manufacture of essential goods and services.
"It is not ECQ as we know it… not GCQ as we know it, but it is a transition,"  Roque pointed out.
In coming up with the decision, Roque said the recommendation of the Metro Manila mayors was also considered: to maintain the current strict quarantine regulations while allowing some firms to partially operate to boost trade and commerce.
Under the GCQ, people's movement is also limited to availing themselves of essential services and going to work.
But government offices and industries allowed to operate may have a maximum of only 75 percent of the workforce.
"The exemption will be on the industries which may need big manpower as well as amusement (centers) which cater to the youth," Roque said.
Transportation services are limited to supporting government and private operations. Schools may engage in flexible learning arrangements and operate at limited capacities.
For those under the modified GCQ, socioeconomic activities can resume with minimum public health standards.
Under IATF Resolution  No. 35, Roque said the government would also declare "zoning" guidelines that are based on the number of COVID-19 positive cases and rate of transmission in the affected areas.
NCR, Laguna and Cebu City are under the red or critical zone, with more than 20 cases per 100,000 population. The orange or containment zone has one to 19 cases while the yellow or buffer zone has no cases but contiguous to areas with cases. The green or outside of buffer zone has no confirmed cases.
In all categories, Roque underscored the need to wear face masks and observe social or physical distancing.
According to the IATF, provinces, highly urbanized cities or HUCs and independent component cities or ICCs characterized as low, moderate, and high-risk may appeal their classifications to the IATF Screening and Validation Committee with the concurrence of the regional IATF not later than Wednesday, May 13.
For areas placed under modified ECQ, the IATF adopted the recommendations of the National Task Force Against COVID-19 in relation to proposed zoning concepts and its phased response or intervention.
Local government units (LGUs) shall be allowed to declare the classification of barangays based on risk thresholds to be confirmed by the regional IATF.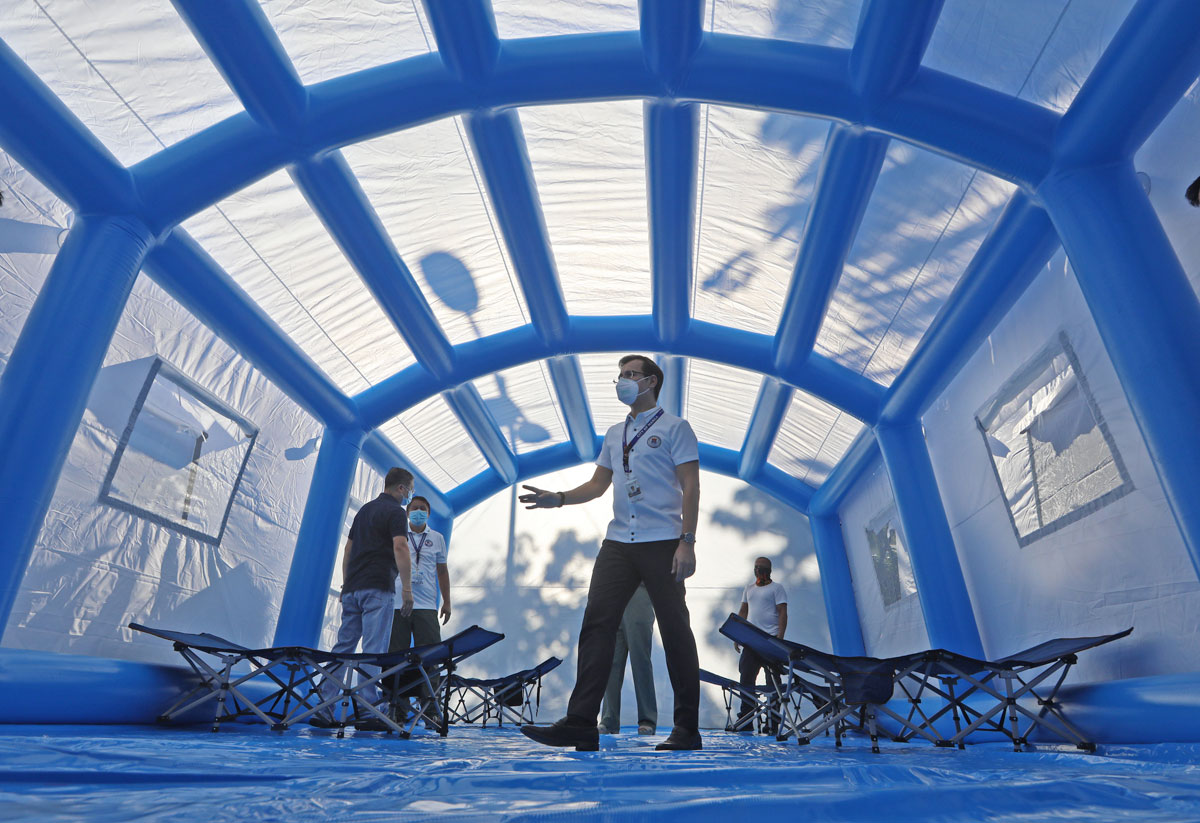 LGUs' evaluation
According to Vergeire, the IATF had evaluated the LGUs' "epidemic response frameworks" or preparedness along with the case doubling time and critical care utilization rate.
"Case doubling time pertains to the period of time wherein the number of cases in a place doubles. If the case double time gets shorter, that is not a good indication for a community," Vergeire explained.
The IATF also looked at the critical care facilities and equipment that have been used and remain available in a community.
Vergeire said "it is not a good sign" if the utilization rate of the COVID-19 wards, intensive care unit beds, isolation beds and mechanical ventilators is higher than the available ones.
"These are different epidemiological measures that we have looked into (when we) came up with the decision that was (submitted) to the IATF," she noted.
Epidemic curve
In a presentation, epidemiologist and IATF Data Analytics Expert Group member John Wong said on April 22 that the epidemic curve for COVID-19 in Metro Manila had started to flatten and "has continued to the present."
"The rise in the number of cases at the national level after that time was contributed mainly from Visayas particularly in Cebu City. If you look at the curves for Luzon outside NCR and Mindanao, they are actually at very, very low levels – hardly contributing to the outbreak," he pointed out.
Currently, however, he said the IATF is seeing "an outbreak that has equal number of cases – new cases coming from NCR and Visayas… So although NCR is still the epicenter, the Visayas is becoming a hotspot."
Wong stressed that the small outbreaks in Cebu – two in Cebu City and one in Mandaue City – were the reasons for the recent uptick in cases in the Visayas.
As regards critical care utilization, Wong underscored that most of the regions are in the "safe zone" while four or five regions are in the "warning zone." However, no region is in the "danger zone."
"Low utilization is better, meaning we have higher reserve capacity," he said. "Because of the ECQ, we have been able to buy time for the health system as we continue to build health system capacity."
Duterte approved the recommendation of the IATF that identified the regions and provinces to be placed under modified ECQ, GCQ as well as those that would graduate from community quarantine category.
In its resolution, the IATF said it came up with the recommendation after analyzing current scientific data and the parameters to determine the appropriate community quarantine or physical distancing measures that should be implemented in the different provinces, HUCs and ICCs.
They also noted the number of confirmed COVID-19 cases, which passed the 11,000 mark as of Monday, May 11.
"We are still under community quarantine. Everything still remains in our hands. Life will not be back to normal as long as there is still no vaccine," Roque stressed.
Despite the effectiveness of the ECQ in slowing down the spread of the virus, Roque noted that the country's gross domestic product contracted to 0.2 percent due to the ECQ in Luzon and other areas, based on the first quarter report of the National Economic and Development Authority.
He said the government has limited resources to sustain efforts to counter the disease and provide cash assistance to millions of impoverished Filipinos and those rendered jobless by the ECQ.
During Monday's meeting, Roque said the long-drawn fight against the disease has placed the government in a bind, balancing the health and economic impacts.
"In the future, if no economic interventions are applied, the consequence would be more damaging than the effect of COVID-19," he said.
Here's the list of moderate-risk or areas under the yellow zone that will be under GCQ from May 16 to May 31, based on the IATF resolution, without prejudice to the declaration of localized ECQ in critical areas:
LUZON
• Cordillera Autonomous Region – Abra, Apayao, Benguet, Ifugao, Kalinga, Mountain Province, Baguio City
• Region 2 – Batanes, Cagayan, Isabela, Nueva Vizcaya, Quirino, Santiago City
• Region 3 – Aurora, Bataan, Bulacan, Nueva Ecija, Pampanga, Tarlac,  Zambales, Angeles City, Olongapo City
• Region 4-A – Cavite, Quezon, Rizal, Batangas City and Lucena City
VISAYAS
• Region 7 – Bohol, Cebu, Negros Oriental, Siquijor, Mandaue City,  Lapu-Lapu City
MINDANAO
• Region 8 – Zamboanga del Norte, Zamboanga del Sur, Zamboanga Sibugay, Zamboanga City, Isabela City
• Region 11 – Davao City, Davao de Oro, Davao del Norte, Davao del Sur, Davao Occidental, Davao Oriental
• Region 13 –  Agusan del Norte, Agusan del Sur, Dinagat Islands, Surigao del Norte, Surigao del Sur,  Butuan City
Low-risk areas or green zone where community quarantine is lifted
(The government clarified on Wednesday, May 13, that these areas will remain under modified GCQ. But in the absence of guidelines for MGCQ, these are were placed under GCQ along with the entire country on May 14, except Metro Manila, Laguna and Cebu City.
On Saturday, May 16, the cities of Cebu and Mandaue were reverted back to ECQ by the IATF based on its Resolution No. 37 dated May 15 while Metro Manila, Laguna, Bataan, Bulacan, Nueva Ecija, Zambales, Pampanga and Angeles City were placed under modified ECQ.)
LUZON
• Region 1 – Ilocos Norte, Ilocos Sur, La Union, Pangasinan, Dagupan City
• Region 4-B – Marinduque, Occidental Mindoro, Oriental Mindoro, Romblon, Palawan, Puerto Princesa City
• Region 5 – Albay, Camarines Norte, Camarines Sur, Catanduanes, Masbate, Sorsogon, Legazpi City, Naga City
VISAYAS
• Region 6 – Aklan, Antique, Capiz, Guimaras, Iloilo, Negros Occidental, Iloilo City, Bacolod City
 • Region 8 – Biliran, Eastern Samar, Leyte, Northern Samar, Western Samar, Southern Leyte, Ormoc City, Tacloban City
 MINDANAO
• Region 10 – Bukidnon, Camiguin, Lanao del Norte, Misamis Occidental, Misamis Oriental, Cagayan de Oro City
• Region 12 – North Cotabato, South Cotabato, Sarangani, Sultan Kudarat, General Santos City.
• Bangsamoro Autonomous Region in Muslim Mindanao or BARMM – Basilan,  Lanao del Sur, Maguindanao, Sulu, Tawi-Tawi and  Cotabato City
According to Duterte, the Philippines cannot afford a second or third wave of COVID-19. He warned the public that being complacent could cost lives even in areas where quarantine measures have been eased.
"We will (ease the restrictions) gradually so we won't fall... because we cannot afford a second or third wave. This would happen if people, many people catch the virus because there are rules that were not followed," the President said in a televised address aired on Tuesday morning.