Enrollment Plunges By 7 Million; Some Schools To Close; Limited Face-To-Face Classes Proposed
As of July 16, data from the Department of Education showed that only 20.7 million have expressed their intent to enroll in kindergarten, elementary and high school. This represents 74.6 percent of the over 27.7 million students in public and private
The number of out-of-school youth in the country may rise in the next few months as millions of parents decide to forgo the education of their children due to the coronavirus disease 2019 (COVID-19) pandemic.
Some seven million students did not sign up during the 45-day enrollment period that ended on July 15, data from the Department of Education (DepEd) showed.
As of July 16, DepEd data showed that only 20.7 million have expressed their intent to enroll in kindergarten, elementary and high school.
This represents 74.6 percent of the over 27.7 million students in public and private schools last year.
More than 1.4 million have enrolled in kindergarten, 10.2 million in elementary, 6.5 million in junior high school and 2.2 million in senior high school.
There are also over 51,000 learners with disabilities and 271,000 alternative learning system (ALS) students who signed up for the upcoming school year.
According to DepEd, the bulk of those who signed up – over 19.6 million – intend to enroll in public schools. This represents 86.9 percent of the enrollment last year.
Meanwhile, only a little over a million have enrolled in private schools – a meager 25.3 percent of the enrollment last year.
Drop expected
Education officials said the drop in enrollment is expected due to the ongoing pandemic that has devastated the economy and raised safety concerns.
During the "Laging Handa" public briefing on July 16, DepEd Undersecretary Revsee Escobedo noted their earlier projections that some 20 percent of the student population last year may not enroll this year.
Read more: 20 Percent Drop In Elementary And Secondary Schools' Enrollment Projected; Registration Extended Until July 15
"Ilan sa ating mga kababayan ang nawalan ng trabaho and in fact, dun sa record natin sa private schools, marami pa ang hindi talaga nakapag-re-enroll at malaking bilang nito ay nag transfer na sa public school," Escobedo said. "Yung nawalan ng oportunidad, nawalan ng trabaho ay malaking factor."
Data showed that 328,862 students so far have transferred to public schools.
Escobedo also cited the concerns of parents regarding the safety of students during the pandemic, apparently due to confusion on whether or not face-to-face classes would be conducted.
He said DepEd would ensure the safety of students in the implementation of the blended learning mode next school year.
Even with the end of the enrollment period, DepEd said schools may still accept late enrollees based on the basic education enrollment policy.
Under the guidelines issued in 2018, late enrollees may be accepted provided that the students are able to meet 80 percent of the prescribed number of school years.
With the opening of classes set on Aug. 24, this means late enrollees may be accepted until the last week of September.
Escobedo said they would also reach out to those who would not be able to enroll and sign them up in the ALS, which caters to those who are unable to join the formal education system.
The National Union of Students of the Philippines (NUSP) expressed concern over the drop in enrollment.
"The projected… dropouts in basic education should not fall into mere statistics," NUSP deputy secretary general for campaigns and advocacies Jandeil Roperos said.
"Every Filipino who cannot have access to the right to education should hold Duterte and his officials accountable, as they are fine with millions of students getting left behind," she added.
School closure
Meanwhile, the Commission on Higher Education (CHED) confirmed that some schools have already notified them of their plan to shut down next school year due to the low number of enrollees as well as the safety and security concerns of the parents amid the pandemic.
During the televised meeting with President Duterte aired on July 15, CHED chairman J. Prospero De Vera III discussed the concerns of private schools and local government units in areas without internet connectivity.
De Vera said they are crafting a policy on school closures, noting that the current situation has not happened in a long time.
CHED has yet to release the data on the number of private schools that have notified the commission of plans to stop operations.
Last week, Cavite Gov. Jonvic Remulla said around 100 private schools in the province would not reopen next school year.
Eleazardo Kasilag, president of the Federation of Associations of Private Schools Administrators, said last month that some of their members were considering temporary closure until face-to-face classes could resume.
The Alliance of Concerned Teachers also expressed concern over the low enrollment figures in private elementary and high schools, saying it could result in the closure of small education institutions or massive layoffs.
Limited face-to-face
During the meeting, officials discussed proposals to allow limited face-to-face classes in areas classified as low-risk or those under modified general community quarantine.
DepEd Secretary Leonor Briones and De Vera discussed how this may be implemented, such as ensuring that there are hygiene facilities and social distancing measures would be followed.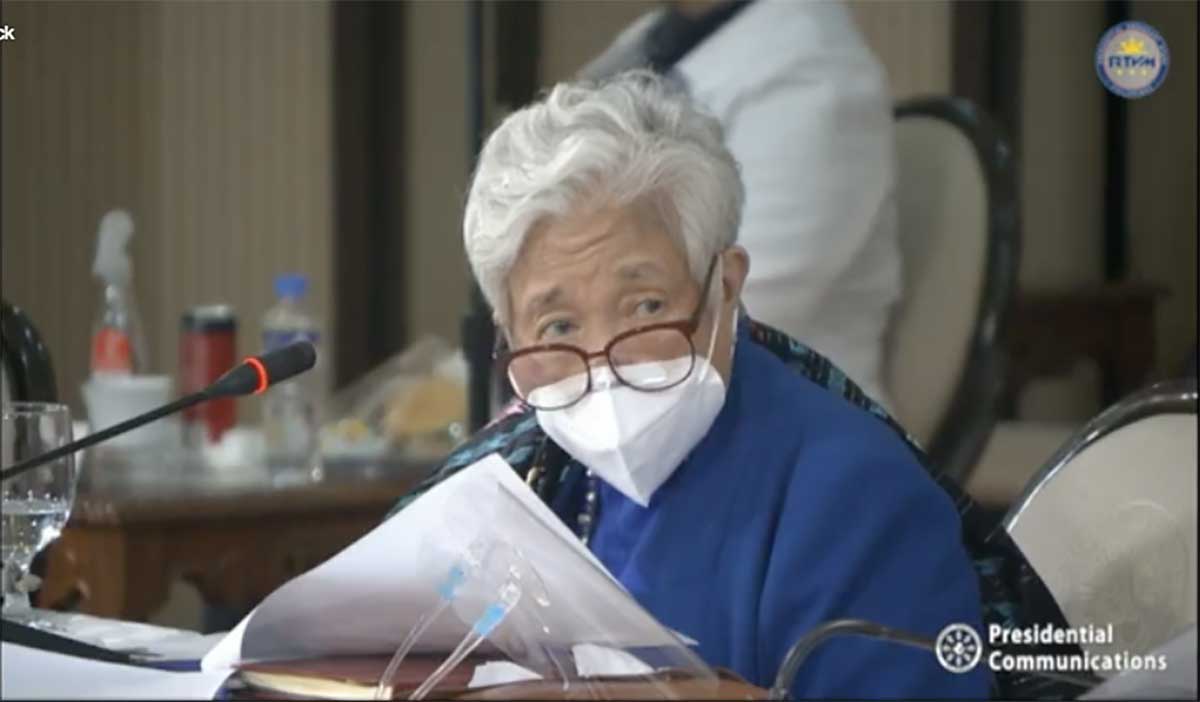 The number of students, for instance, will be limited to 10 per classroom, in line with the minimum health standards of the Department of Health.
De Vera said subjects that require physical presence like laboratory courses and internship may be moved to the next semester.
"Only classes that can be conducted through lectures, the theoretical, they can be taught in the first (semester)," De Vera explained. "So the options will be from the more open, limited face-to-face in low-risk MGCQ areas to the most conservative do it in the second semester."
Briones said DepEd is ready to start classes on Aug. 24 even if it means distributing learning modules in areas with internet connectivity problems. She said the school opening should push through "whatever form it is."
"It can be done online or offline, it can be done through radio, television, and if all these are not available, we can tap IBM or 'it's better manual.' We will distribute at the school level learning resources. The local governments will distribute them from house to house and we will recruit what we call parateachers because not all parents can teach," Briones said.
"So in summary, many are asking for what they call a limited face-to-face (learning session)," she added.
Briones said other countries in Southeast Asia have adopted blended learning with limited face-to-face interactions. She said schools should be ready to adjust to ensure that the education of students would continue despite the pandemic.
"As early as this month, we have been training schools for parents, schools for teachers, so they will be ready for whatever arrangement," Briones said.
De Vera said the Philippines can adopt the example of Thailand, where students are separated using plastic sheets. He said a one-meter distance can be observed to prevent the spread of the virus.  
Health Secretary Francisco Duque III said they "strongly endorse" the proposal to allow limited face-to-face classes, saying areas classified as low-risk are those that have no cases in the past 28 days.
Presidential Adviser on the Peace Process Carlito Galvez, who heads the national task force to beat COVID-19, also supported the proposal to allow limited face-to-face classes in low-risk areas.
But he said it would be implemented slowly, with schools undergoing inspection before being allowed to hold physical classes.
"There should be no playground," Galvez said, explaining that this would encourage close contact among children and result in possible transmission of the disease. He said there must be social distancing.
"Secondly, 'yung mga canteen na mayroong mga parang buffet na normally very vulnerable po tayo," he said.
During the "Laging Handa" press briefing, Briones stressed that limited face-to-face classes, if approved, would not be automatic in low-risk areas.
"Hindi ibig sabihin na lahat ng may low-risk assessment ay pwede. Kailangan, as I said, ang facilities ay makaka-accommodate ng requirements for social distancing, washing of hands, adequate medicine," she said.
Under the proposal, Briones said face-to-face classes would be held in batches, with students only coming to schools once or twice a week. The rest would be spent studying at home.
Duterte earlier rejected the conduct of face-to-face classes in the absence of a vaccine for COVID-19.
Read More: No Vaccine, No Classes? School Opening In Limbo; Alternative Modes Of Learning Pushed
"Nire-recognize natin na makatutulong ang face-to-face relationship ng mga bata sa kapwa bata, sa kanilang teachers, administrators para naman maging maganda ang environment ng pag-aaral nila," she noted. – With Alexis Romero