#DefendUP: DND Scraps Deal Prohibiting Uncoordinated Entry Of Military, Police In Campuses; Outraged Community To Fight Move
"Given our experience of martial law, we must reject any form or semblance of militarization on our campuses, which will have a chilling effect deleterious to academic freedom," UP president Danilo Concepcion said.
Saying law enforcers should be viewed with trust and not fear, Defense Secretary Delfin Lorenzana has unilaterally terminated a 1989 agreement meant to protect the students and faculty of the University of the Philippines from abuses by prohibiting the entry of policemen and soldiers in most instances and requiring notice to officials before conducting arrests and operations in its campuses.
Lorenzana's one-sided abrogation, which came without consultation, was met with concern by UP president Danilo Concepcion and other high-ranking officials of the university along with alumni and other groups.
In ending the 1989 Ramos-Abueva Accord meant to safeguard the UP community against any forms of abuse by authorities, Lorenzana said they want those from UP to see their Armed Forces of the Philippines (AFP) and the Philippine National Police (PNP) "as protectors worthy of trust, not fear."
What the agreement was about
The agreement, signed on June 30, 1989 by then defense secretary Fidel Ramos and then UP president Jose Abueva, prohibited police and military officers and members of the Citizen Armed Force Geographical Unit from entering the premises of any of UP's campuses or regional units.
Legitimate police and military operations were exempted from this rule:
Hot pursuit cases, or when the law enforcer has personal knowledge that the suspect committed a crime and is running after him.
When assistance is requested in writing from the head of the concerned police or military unit to maintain security – with the requirement that the personnel deployed must be uniformed and have proper identification unless the request specified otherwise.
The agreement also required that prior notification be given to the UP president, the chancellor of the concerned constituent university, or the dean of the concerned regional unit for the following actions:
 Conduct of military and police operations
 Service of arrest and search warrants, as well as "invitations" for questioning –  which must be done in the company of UP police or security and in the presence of at least two designated faculty members.
 Subjecting a student, faculty member or employee to custodial investigation –which must be done in the presence of a counsel of choice or appointed by UP officials.
 Police and military officers and members were prohibited from interfering with "peaceful protest actions" by UP constituents within UP premises.
 UP and the Department of National Defense or DND also agreed to constitute a Joint Monitoring Group. Its last paragraph stated that "nothing herein shall be construed as a prohibition against the enforcement of the laws of the land."
 There was no termination clause in the agreement and there was no end date to its effectivity, prompting questions of how the government could scrap it outside the courts.
 These legal questions and the abrogation of the agreement without consulting UP took its administration and its community by surprise.
 Issue of trust
 In a two-page letter dated Jan. 15 and made public by UP Diliman's official student publication, the Philippine Collegian, Lorenzana said the 1989 agreement was a "hindrance in providing effective security, safety and welfare of the students, faculty, and employees of UP."
 He did not cite any instances when the prior notice requirement hampered legitimate police or military operations or caused dangerous suspects to evade the law.
 Lorenzana claimed that "recent events undeniably show that a number of UP students have been identified as members" of the Communist Party of the Philippines (CPP) and the New People's Army (NPA), which the Anti-Terrorism Council designated as a terrorist organization on Dec. 9 for the purpose of freezing related assets.
 He also said there was "indeed an ongoing clandestine recruitment inside UP campuses nationwide for membership in the CPP/NPA." He added that the 1989 accord "is being used by the CPP/NPA recruiters as a shield or propaganda so that government law enforcers are barred from conducting operations against the CPP/NPA."
 Lorenzana added abrogating the agreement was meant to help the DND "perform our legal mandate of protecting our youth against CPP/NPA recruitment." He stressed that "we do not intend to station military or police inside UP campuses nor do we wish to suppress activist groups, academic freedom and freedom of expression."
 He even acknowledged that suppression "will only alienate [the DND] further from the people." However, he said the AFP and the PNP will "provide them with another perspective on our nation and society."
 Lorenzana argued that the agreement could be terminated because of the clause "nothing herein shall be construed as a prohibition against the enforcement of the laws of the land."
 He interpreted this to mean that the agreement recognized "the primary responsibility of the law enforcement agencies in implementing the laws without hindrance as long as it is within the prescribed procedures mandated by the law."
 Lorenzana's act came days before the 50th anniversary of the Diliman Commune – an uprising by students, faculty members and residents of the UP community who barricaded the campus from Feb. 1 to 9, 1971 in response to the Marcos regime's approval of a three-centavo oil price hike and the military's intrusion.
 UP officials aghast
 In a statement on Tuesday, Jan. 19, Concepcion asked Lorenzana to "reconsider and revoke your abrogation" and requested further discussion about the concerns he raised "in the shared spirit of peace, justice, and the pursuit of excellence."
 He pointed out that the 1989 agreement was based on "mutual respect" and that it "never stood in the way of police and security forces conducting lawful operations within our campuses." He said law enforcers were always permitted entry whenever necessary and within their duties.
 "Instead of instilling confidence in our police and military, your decision can only sow more confusion and mistrust, given that you have not specified what it is that you exactly aim to do or put in place in lieu of the protections and courtesies afforded by the agreement," Concepcion argued.
 Concepcion said the UP community "does not and cannot fear the fair and speedy enforcement of the law" and "do[es] not condone sedition, armed insurrection, or the use of violence for political ends."
 He explained that the accord was only meant to "protect the climate of academic freedom – guaranteed by the Constitution – that makes intellectual inquiry and human and social advancement possible." He added that the parties to the 1989 agreement saw the need to "maintain UP as a safe haven for all beliefs and forms of democratic expression."
 "Given our experience of martial law, we must reject any form or semblance of militarization on our campuses, which will have a chilling effect deleterious to academic freedom. This abrogation endangers the goodwill necessary for both of us to achieve our mission as responsible members of the same national family," Concepcion emphasized.
 Concepcion did not address Lorenzana's allegations of CPP-NPA recruitment activities, but instead said that UP "bred rebels and nonconformists – as well as it has bred presidents, senators, congressmen, and business, civic, and even military leaders."
 "By and large, intellectual and political dissidents in UP have always been in the minority, but it is a critical minority that has historically been vital to the maintenance of a healthy democracy," he noted.
 Meanwhile, UP Los Baños Chancellor Jose Camacho Jr. stressed that UP "is hallowed ground for activism and dissent, not rebellion."
 He echoed Concepcion's point that nothing prevented the military from enforcing the laws in any UP campus, and even noted that the university assisted police personnel and National Bureau of Investigation agents in "discreetly enforcing court issued writs such as warrants of arrest on campus."
 Camacho noted that Lorenzana would not even have known about the alleged recruitment activities if law enforcers were really hampered from conducting intelligence operations.
 Since there was no stopping law enforcers from performing their duties, Camacho viewed the rescission of the accord as "an assault against the freedom of UP as an institution."
 "The 1989 Agreement is supposed to embody the shared aspirations for peace and democracy between the DND and the UP administration and was signed in good faith. As such, it can never be a hindrance to the achievement of these aspirations," Camacho said.
 "Unless, a party to it views the other with contempt," he added.
 Taking to Twitter, Lorenzana likened the situation to the South Korean drama Crash Landing on You and compared UP to the Demilitarized Zone that divides the Korean peninsula.
 "What makes UP so special? Nasa Korean border ba kayo? CLOY is life na ba (Is CLOY life already)?" he asked. "We are not your enemies. We are here to protect our people, especially our youth."
 Presidential spokesman Harry Roque, a former UP College of Law faculty member, said "the President supports the decision of Secretary Lorenzana," noting that he is an "alter ego of the President."
 Roque said the side of UP will be heard after that the deed has already been done, but placed the burden on Concepcion to explain "kung ano iyong mga dahilan kung bakit dapat ma-reconsider 'yan (what the reasons are to reconsider that)."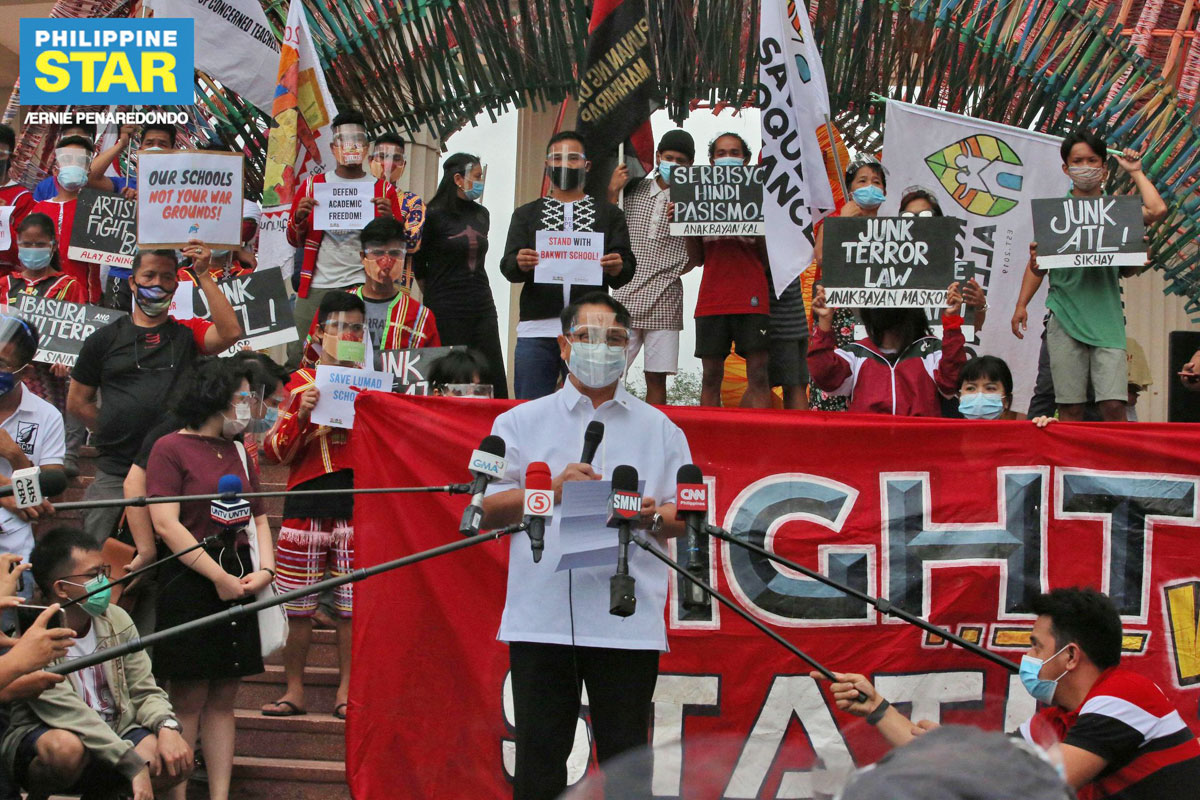 Historical context
 UP College of Mass Communication professor Danilo Arao, a student and a news writer for the Diliman unit's official student publication Philippine Collegian at the time, recalled that the accord was reached following the abduction and torture of their staff Donato Continente.
 When he was released from the New Bilibid Prisons in 2005, Continente told The Philippine STAR that he was "a victim of abduction and torture, forced to admit" to the killing of US Army Col. James Nicholas Row on April 21, 1989. He said investigators used the "water cure" treatment on him, a torture method also employed by the Japanese occupation forces.
 In a series of Twitter posts, Arao recounted that Continente was abducted on the night of June 16, 1989 at Vinzons Hall," the building that housed the Collegian office. He said this was "why the UP-DND accord was signed 14 days later" on June 30, 1989.
 "The signing of the UP-DND accord is meant to stop the military and police from abducting UP constituents like Donato Continente who was then our staff at the Philippine Collegian. To terminate the accord is to legalize the deplorable," he emphasized.
 Arao warned that Lorenzana's letter to the UP president stating the termination of the 1989 accord is a go signal to intensify and legalize military operations on campus. "Make no mistake about it: The military wants to terminate an agreement it has so wantonly violated in the past."
 The Philippine Collegian Alumni also issued a statement recalling the Continente affair – tellingly titled "Raise High the Barricades," which was also the title of the editorial on the Diliman Commune published in its Feb. 4, 1971 issue.
 "The UP-DND Accord is material evidence that state forces recognize the grave abuses they have committed and are willing to make reparations to the University and its constituents. It underlines the imperative that the University remain a safe haven. Our freedom, whether as an atmosphere or practice, is sacrosanct," read the statement. "It is this very history that is being threatened today."
 The statement said Lorenzana "opens the gates for further harassment and suppression," "sends a chilling message to other campuses and institutions that serve as hotbeds of independent and critical thinking," and "creates another uproar that divides national attention, diverting our focus and energies from key issues."
 "We must read between the lines. We must see through the smokescreens. And in times like these when democracy is darkest, we must pool our courage and continue to pursue truth and justice," the alumni statement read.
 The 1989 agreement came on the heels of the 1982 Soto-Enrile accord, struck by student leader Sonia Soto and then-defense minister Juan Ponce Enrile. This agreement prohibits members of the police or military from entering UP campuses "except in cases of hot pursuit and similar occasions of emergency."
 Is unilateral termination legal?
 UP College of Law professorial lecturer Antonio La Viña said the DND's actions were "just but a part of the government's long standing crusade to silence anyone who is opposed to its views."
 From a legal standpoint, La Viña said the DND "had no right to unilaterally terminate the agreement" because it lacked an exit clause. This meant both the DND and UP "should agree to terminate this mutual pact."
 He added Lorenzana "failed to show any overriding public interest to interfere with UP's academic freedom" and "did not show any clear and present danger which can limit a student or a professor's civil liberty to freely think and express his or her view."
 "The letter just red-tagged students who are fearlessly standing up for what they believe in. Therefore, there is no legal basis to terminate the 1989 Accord," La Viña said.
 La Viña explained that if the government's goal was to present alternative perspectives to the youth, it should trust them to "learn from free flowing intellectual discourse and eventually, for them to discover the right path to walk in for our beloved country's future."
 "If such is the case, why cancel the 1989 Accord? Why trample on UP's academic freedom and institutional autonomy?" he asked.
 Free Legal Assistance Group chair Jose Manuel Diokno pointed out that Article 1308 of the Civil Code does not allow contracts to be terminated by one side only.
 "Contracts 'bind both contracting parties, its validity or compliance cannot be left to the will of one of them,'" Diokno posted on Twitter.
 "Sana imbis ng manggipit ng mga estudyante, sumunod sa batas ang DND. Hindi nila pwede basta i-terminate ang UP-DND Accord (I hope that instead of suppressing the students, the DND follows the law. They cannot just terminate the UP-DND Accord)," he added.
 The Association of College of Law Organizations, including the Law Student Government, also highlighted numerous issues with Lorenzana's act.
 The law students' organizations pointed out that Lorenzana failed to even cite any law that was being violated, when he justified his unilateral termination on the ground that Paragraph 8 of the agreement prohibits it from being construed against existing laws.
 Like Diokno, they cited the Civil Code provision binding all parties to a contract. "By sending this letter, Secretary Lorenzana violated the basic mutuality principle of all contracts and agreements," the statement read.
 The DND's act also "undermines the academic freedom and institutional autonomy of the University" as guaranteed by its Charter, according to the statement.
 "The University of the Philippines enjoys lawful protection in order to ensure that its members may move freely in all aspects of academic learning and development. The Agreement is one such privilege that shall not be diminished; and UP must protect its rights at all costs," the law students' organizations said.
 The law students' organizations demanded that Concepcion "employ all means necessary to disregard the termination," stressing that the accord "ultimately seeks to protect a fundamental element of democracy – and that is freedom."
 Their statement said it was an "affront to the students of the University" for the DND to claim that it sought to protect the youth while it "blatantly red-tags the UP community."
 Meanwhile, UP College of Law professor and FLAG regional coordinator Theodore Te called on the university administration to "protest the unilateral abrogation of the Soto-Enrile Accord in the strongest terms without prejudice to availing of legal remedies."
 Te also called on UP alumni in the Senate and the House of Representatives to "institutionalize" the accord by inserting it as an amendment to Republic Act No. 9500, or the University of the Philippines Charter of 2008. "There is no middle ground if you're a UP alum," he said in his Twitter posts.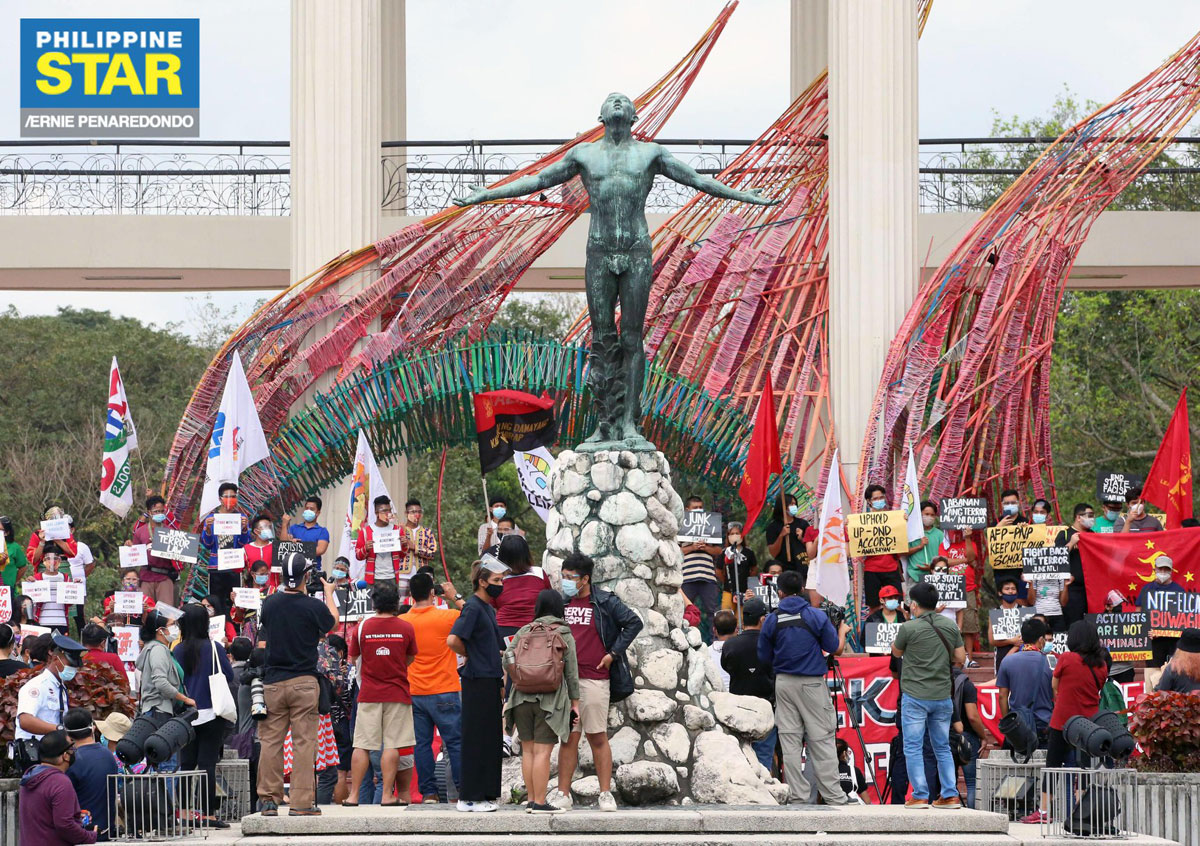 UP officials join the protest
 Beyond legal issues, it was apparent that the community unanimously viewed the development in the context of the enactment of the Anti-Terrorism Act, the numerous killings of activists nationwide, and a perceived shrinkage in the space for critical thought.
 Students and faculty immediately held a "quick response mobilization" on Tuesday, Jan. 19, within sight of the Oblation at the steps of Quezon Hall.
 This was joined by Concepcion himself, as well as UP Diliman chancellor Fidel Nemenzo, UP College of Law associate dean Jay Batongbacal, UP Diliman vice chancellor for student affairs Louise Jashil Sonido, Kabataan party-list Rep. Sarah Jane Elago, and ACT Teachers party-list Rep. France Castro.
 Nemenzo said they would "employ all forms of defense," including looking at the legality of the one-sided termination of the agreement.
 In an interview, Nemenzo said they will look at the legal aspect of the unilateral abrogation of an agreement made by two parties.
 "We will do our best. Every time they enter, we will tell them 'we do not need you.' We have our own police and community forces to police our grounds," he added in a mix of English and Filipino.
 UP Visayas chancellor Clement Camposano also denounced the DND move, saying the university will remain a bastion of academic freedom.
 "This is not something anyone can abrogate. We will stand firm against any and all attempts to deprive us of our democratic rights," he said.
 Incoming student regent Renee Louise Co said the UP Board of Regents, the highest-policymaking body of the university, should act on the matter in its upcoming meeting later this month.
 "We're alarmed by this development. The termination of the UP-DND Accord will only aggravate matters. We hope to conduct action on it as soon as possible so that the community can continue with their lives without having this fear hovering above their heads," she said.
 UP Diliman University Student Council vice chairperson Richard Pagaduan, and members of Congress of Teachers/Educators for Nationalism and Democracy UP, the Philippine Collegian, Anakbayan UP Diliman, National Network of Agrarian Reform Advocates–Youth, Save Our Schools Network, Kalipunan ng Damayang Mahihirap and Kilusang Mayo Uno also issued statements during the protest.
 Meanwhile, the UP Office of the Student Regent condemned the move as "an attempt to encroach on our academic freedoms and remove safe spaces from our campuses!"
 The UP Diliman University Student Council said: "Direktang katunggali ng kalayaang akademiko, karapatang sibil at pantao ang tangkang paglusaw sa UP-DND Accord na nagtakda sa Unibersidad ng Pilipinas bilang isang demokratikong espasyo at balwarte ng paglaban (The attempted rescission of the UP-DND Accord that reserved the University of the Philippines as a safe space and a bastion of struggle is directly contrary to academic freedom, civil and human rights)."
 With this and the enactment of the Anti-Terrorism Act, the USC said Duterte effectively implemented a "de facto martial law" and vowed: "Tuluyan nitong itinakda ang nagbabadyang pagbagsak ng kanyang rehimen (It has finally set in stone the imminent downfall of his regime)."
 The UP Diliman University Freshie Council said this was "clear proof that the state will continue to intensify their red-tagging operations and abuse towards students who practice their right to dissent."
 Other UP Diliman student councils that have issued statements condemning the DND's act were those of College of Engineering, College of Social Sciences and Philosophy, College of Arts and Letters, College of Mass Communication, College of Fine Arts, College of Home Economics, College of Social Work and Community Development, and School of Library and Information Studies.
 Rise for Education – UP Diliman said the termination of the accord would further empower the Duterte administration to "attack the community," especially given the powers granted under the widely-assailed Anti-Terrorism Act enacted last July.
 "They conflate dissent to instigating threats against national security and equate harassment to 'protecting our youth.' Inasmuch as they claim to protect peace and order in campus premises, these 'youth' are those at the end of the barrel of their guns, experiencing continuous red-tagging and harassment," the coalition said. "Consequently, the danger of being red-tagged does not end with arrests; for some, it had even cost them their lives."
 "We must rise and fight to remind this fascist regime that to dissent is not a crime, for a crime is to repress, terrorize, and attack the community during a pandemic," it added.
 CONTEND UP said the abrogation of the 1989 accord means "the University now ceases to be a safe sanctuary and a peaceful campus."
 "Its portals have been ripped violently wide open for the fascist barbarians to march and arrest with impunity suspected enemies of the state and critiques of Duterte's tyrannical rule as well as monitor all activities on campus deemed inimical to the state," CONTEND UP said.
 "To dissent is not a crime. To stand for academic freedom is not terrorism as Sec. Lorenzana would like the public to believe. Without the freedom to criticize, without the right to dissent, and denied the right to express freely our criticisms against the fascist state, UP will be reduced to nothing but an extension and puppet of Malacañang. UP will cease to be a space for debates and ideological turmoil. It will just be another replica of bogus market freedom being peddled by Duterte and his military junta," it added.
 Alumni side with UP
 The hashtag #DefendUP trended on social media as UP alumni and various groups also assailed the decision of Lorenzana.
 Prominent UP alumni in the government also lambasted Lorenzana's move. Vice President Leni Robredo noted that the agreement was forged in the context of a time "when the atrocities inflicted by the Marcos dictatorship and its armed agents on members of the University community – students, teachers, and residents alike – still burned vividly in the memories of many."
 "Its aim was not to exempt UP or its community from any law, but to send the clear message that in a democracy, even a fledgling one, law enforcement was conducted following clear rules, within defined limits. That in a democracy, there was no place for relentless war waged across all borders, without oversight or accountability, against any person those in power had decided to brand 'an enemy,'" Robredo said.
 In her statement, Robredo said the one-sided termination of the agreement "sends the opposite message: that under this administration, anyone, anywhere, at anytime, is fair game."
 She stressed that all that was asked of authorities was to give notice to university officials. "This is neither a difficult nor onerous rule, and five Presidents since 1989 have managed to protect both the UP community and the Republic without breaking it," she said.
 "Clearly, then, this is not a practical gesture, but a symbolic one. One designed to sow fear. One designed to discourage dissent. One designed to silence criticism," Robredo said. "It is now up to us to decide whether we will give in. Or whether, at long last, we will stand our ground and speak out."
 Her predecessor, former vice president Jejomar Binay, said the Duterte administration "is using rhetoric from the 1960s, when government conducted a witch hunt against student activists."
 "As someone who witnessed and experienced this witch hunt, I can say that this move is a step backward. It does not protect students. It exposes them to greater danger. It does not protect academic freedom and democracy. It undermines them," said Binay, who represented political prisoners during the Marcos regime as a member of the Movement of Attorneys for Brotherhood, Integrity and Nationalism.
 Binay wondered if the Duterte administration was red-tagging UP as a prelude to a "purge," since many of its alumni are now government officials, scientists, artists, and business leaders.
 "To say that UP only produces communists is like saying UP graduates in the Cabinet and in government are trojan horses. Will they now say that communists have infiltrated government to justify a purge?" Binay said.
 "Kung takot sa malayang pag-iisip, kung takot sa malayang diskusyon, kung takot sa estudyante, alam na (If you are afraid of free thought, if you are afraid of free discussion, if you are afraid of students, you know)," he added.
 In the Senate, Minority Leader Franklin Drilon said he knew Lorenzana to be a "very reasonable person" and would ask him to review his decision.
 "We are not saying that UP should be beyond the law.  If there are issues of violations of the law, a search warrant is a remedy available to the authorities not only in other places but also in UP," Drilon said, according to his office's transcript of an interview with CNN Philippines. "This unnecessarily increases the tension between the UP community and the authorities."
 Sen. Juan Edgardo Angara expressed concern and said academic freedom "played no small part" in helping UP produce "some of the best and brightest minds in our country's history."
 "We appeal to our good Defense Secretary Delfin Lorenzana to reconsider his decision and sit down with the officials of UP to come up with solutions to ensuring peace and security in our nation, which I am sure is an aspiration shared by both sides," Angara said in a statement.
 Sen. Francis Pangilinan, who chaired the UP Diliman University Student Council in 1986, filed a resolution proposing that the Senate as a body oppose the termination of the 1989 Ramos-Abueva Accord and urge the DND and UP to "commence a dialogue and find common ground that promotes peace and security, and protects academic freedom, and the pursuit of excellence."
 In a separate statement, Pangilinan, author of the UP Charter that Te said could have taken the accord into account, said: "Dialogues, not suppression, win hearts and minds. And with the 'woke' among the youth, lalong pinipigil, lalong nanggigigil (when you suppress them, they will fight back all the more)."  – With Janvic Mateo, Helen Flores