Can't Be Complacent: Calabarzon, Central Luzon Emerging Hotspots; Phl Best In COVID-19 Testing In Asia?
Metro Manila and Cebu are "stable" for now, isolation of COVID-19 patients is slowing down transmission and more than three million Filipinos have been tested for the disease, but President Duterte himself says cases are still on the rise.
While the number of coronavirus disease 2019 cases in Metro Manila and Cebu is becoming stable, a research group from the University of the Philippines is seeing the regions of Calabarzon and Central Luzon as "emerging" COVID-19 hotspots.
In an interview with One News/TV 5's "The Chiefs" on Monday night, Sept.14, professor Guido David of the UP OCTA Research team said the National Capital Region (NCR) is so far "holding out" with a reproduction number or R naught of less than one. "R naught" is a mathematical term that indicates how contagious an infectious disease is.
However, he noted that there are emerging COVID-19 hotspots, especially in Calabarzon and Central Luzon, the two regions adjacent to the NCR.
"In Calabarzon, we are seeing it in Cavite, Rizal and Batangas particularly. In Central Luzon, we are seeing it in Bulacan and in a lesser magnitude in Bataan, Zambales, Tarlac and Nueva Ecija," David said.
Up north, the group is observing many cases in Pangasinan, La Union, Isabela and Cagayan.
David said nationally, the reproduction number is almost at one because it is "balanced" by the lower number in NCR and other major areas like Cebu, which is also below one.
He added that some of the previous hotspots have seen a decrease in cases, such as Bacolod, Iloilo and Capiz.
However, the gains in these areas are being counteracted by the increase in cases in Calabarzon, Bulacan, Bataan and Zambales, which now have a reproduction rate of greater than one.
"Those are definitely crossing the overall bridge to go up. NCR and Cebu have stable numbers… but we are seeing increase in Calabarzon and Central Luzon and some northern provinces in Region 1 and Region 2," David disclosed.
According to Fr. Nicanor Austriatico of the University of Sto. Tomas, who is also part of OCTA Research, what is happening in Calabarzon and Central Luzon will affect NCR because "people are moving back and forth."
He underscored the need for local government units in these two regions to double their efforts to make sure that the cases there will not spill over into Metro Manila.
Otherwise, Austriatico warned that the NCR could see another surge in cases.
"We are basically saying that things are good, but we have to be particularly careful with these hotspots to make sure that it (will not spread) into Metro Manila," he said.
Cases still increasing
On Monday night, Sept. 14, President Duterte reiterated his appeal to private hospitals to increase the number of beds dedicated to COVID-19 patients, during his meeting with the members of the Inter-Agency Task Force (IATF) for the Management of Emerging Infectious Diseases.
"Madagdagan lang ho sana ninyo because still the numbers are increasing. The infections vary," the President said.
Duterte echoed the statement of Health Secretary Francisco Duque III, pointing out that the recovery rates in provinces vary.
Some have recorded a speedy recovery rate while others are lagging behind, the President noted. He attributed the quick recovery rate to the early detection of COVID-infected individuals, which results in early isolation and treatment.
"So some are lagging behind. Maybe you can help the country. I am appealing this for the country and for the people. You know that we are not only the ones hit so your help will go a long way," Duterte said.
"Everybody will remember someday that there was this great epidemic that passed by our lives and we were able to deal with it with a lot of mutual help and the help of our fellow countrymen. Thank you," he added.
In the same meeting, National Task Force Against COVID-19 chief implementer Carlito Galvez Jr. said the NTF is working to increase bed capacities at hospitals.
Galvez thanked the President for signing the Bayanihan to Recover As One Act or Bayanihan 2, which allocates P4.5 billion for the construction of isolation centers, securing hotel rooms for isolation and providing additional hospital beds.
Galvez said the government has a total of 79 hotels in its inventory, with 7,114 beds intended for isolating those who contract the virus.
He said an additional 1,006 COVID-dedicated hospital beds are also expected in new facilities that would be ready by November.
According to Galvez, businessman Manuel V. Pangilinan has donated P47 million to provide 250 dedicated beds to COVID-19 patients at the East Avenue Medical Center in Quezon City.  It will be added to the existing 25 intensive care unit (ICU) beds at EAMC.
Galvez reported that there are 200 beds at the Rizal Medical Center and similar efforts are being done at the UP-Philippine General Hospital and Batangas Medical Center.
Meanwhile, Department of the Interior and Local Government Secretary Eduardo Año said the DILG would hire 50,000 contact tracers throughout the country, to be funded by a P5-billion allocation under Bayanihan 2.
"Ang pinakamataas po na binigyan natin dahil sa kanilang pangangailangan ay ang National Capital Region na mayroong 9,600, ang Region 3 po na mayroong 5,992 at ang Calabarzon na may 5,810," Año said.
Best in testing?
Six months into the quarantine protocols imposed to curb COVID-19 transmission, presidential spokesman Harry Roque boasted that the Philippines now has the best testing policy in the entire Asia and perhaps in the world, even as cases in the country ballooned to 269,407 as of Tuesday, Sept. 15.
"We clearly have the best testing policy in the whole of Asia and probably in the whole world because we have exceeded three million, and as a percentage of total population, that is beyond the mandated three percent of the population which needs to be tested," Roque said in a virtual press briefing.
He gave the Philippine government's efforts to beat COVID-19 a grade of 85 percent, noting that the situation has not reached the projected infection of three million of the over 100 million population, contrary to the prediction of health experts.
Roque likewise pointed out the country's low COVID mortality rate of 1.7 percent.
"That is most important in a pandemic. We need to protect the lives of our people," he said.
Roque also stressed that the health system is not overwhelmed.
"We have 50 percent available capacity for the ICU beds in the ICU wards while hospital rooms at 76 percent… and (we have) 74 percent available ventilators," he said. "So all in all, I think we deserve a very good grade. I would give it a grade of 85 percent."
According to Roque, the Philippines has been aggressive in testing not just suspected carriers of the coronavirus but also those who need tests prior to returning to their jobs. As such, he said testing numbers are expected to further increase in the next few months.
"I think we will have the highest number of testing, one of the highest in the whole world.  So that's clearly our biggest strength," he claimed.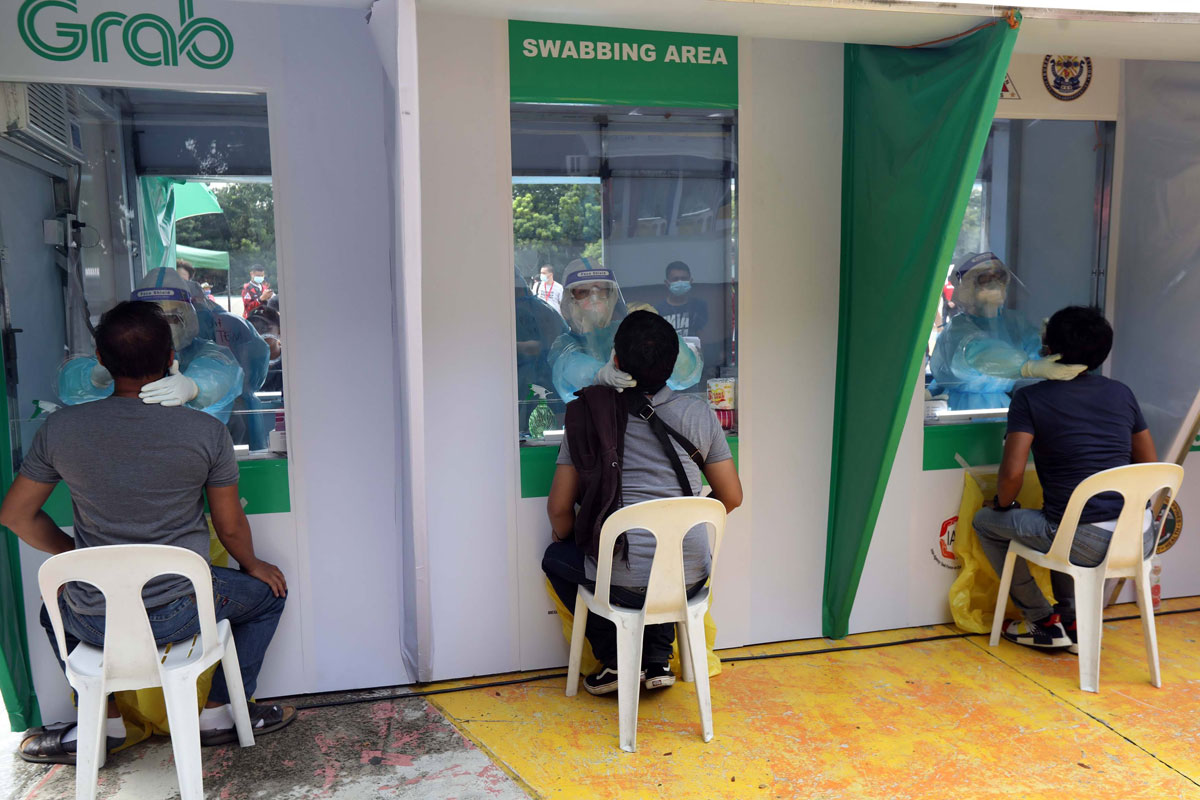 Roque was asked to discuss the strength of the government in terms of handling the COVID-19 pandemic as the country marks the sixth month of the imposition of quarantine protocols to slow down the pandemic.
"We need to brush up on our tracing, at ngayong na-approve na po ang Bayanihan 2… we will have P5 billion allotted for additional tracers. So I think we will have major inroads and successes," Roque said, adding that the government was using the formula of Baguio City Mayor Benjamin Magalong, who was appointed as tracing czar, in tracking down those who may have been infected by the disease.
He also cited the need to further increase the isolation capacity should there be stricter regulation in terms of treating or monitoring mild and asymptomatic cases.
Roque said the healthcare capacity must be continuously improved even if some drugs are proven effective in treating COVID-19 patients.
Isolation working?
Although the IATF has yet to act on the request to ban home quarantine even for mild and asymptomatic COVID cases, Galvez expressed belief that the government's efforts to strictly enforce isolation resulted in the slowdown of coronavirus transmission.
Galvez reported that there are 24,538 patients who have been placed in various quarantine facilities since August.
He said there were 88,109 actives cases recorded as of Aug. 14. This decreased to 53,754 within a month, or as of Sept. 14.
"Ibig sabihin p,o napababa po ng 34,355. So kung titingnan po natin, napakalaki po ang naitulong po na nai-isolate natin iyong 24,538," Galvez  said.
 "Kung hindi po natin na-isolate iyan, baka may dagdag po tayo na 100,000 na new cases and it will be compounded, exponentially increase. So napakalaking tulong po talaga ng Oplan Kalinga," he added.
Galvez said the government is also looking at the handling of non-COVID cases in hospitals to make sure that other patients' welfare is not compromised.
"Kasi sa ating istratehiya at sa ating plano, tinitignan din natin ang ating tinatawag na non-COVID patients," he said, citing the recommendation of experts to balance the strategy for COVID and non-COVID cases.
The Department of Health has noted that communicable diseases such as tuberculosis and afflictions such as heart disease, hypertension, diabetes and cancer  remain as major causes of death in the country.
Like Duterte, Galvez also asked local government units to designate COVID-dedicated hospitals in their respective areas.
There are 122 hospitals in the country with the capability to conduct surgical operations and have space for intensive care units.
Noting the country's ballooning population, Galvez said the country has only around 108,000 hospital beds as of 2019, or one for every 1,000 population.
"Sa average ay nakikita po natin na talagang tayo po ay naiiwan, so meaning mayroon po tayong dapat na 54,000 additional beds," he said.