'We Have No Other House': Millions Of Filipinos May Be Affected By Rolly; COVID Patients Evacuated
Diane Joco, a Quezon resident, yelled suddenly as she spoke, saying a part of the tin roof of her neighbor's house was nearly ripped off by a frightening gust.
On the shores of Calauag town in Quezon province, Diane Joco scrambled with her husband, parents, siblings and cousin out of their flimsy houses on stilts when the wind began to lash their wooden homes as Super Typhoon Rolly slammed the Philippines on Sunday, Nov. 1.
Rolly was forecast to hit parts of Quezon Sunday afternoon.
Like many villagers, Joco and her relatives decided not to evacuate. Instead they stayed in a neighbor's sturdier house close to the coast to watch over their home.
"We should be nearby to be able to repair any damage to our house quickly. Otherwise it will fall apart and be blown away. We have no other house," Joco told The Associated Press by phone.
She yelled suddenly as she spoke, saying a part of the tin roof of her neighbor's house was nearly ripped off by a frightening gust.
Joco's experience is a common story whenever natural disasters hit the country.
Quezon Gov. Danilo Suarez said power supply was cut in 10 towns as Rolly toppled trees and electric posts. Storm surges also hit parts of the province.
Photos posted on social media showed murky floodwater several feet deep inundating farmlands especially in Catanduanes, with only the top parts of trees poking out. The thatched-roofed homes were destroyed.
The typhoon also triggered lahar and mud flows that breached dikes and buried houses halfway to their roofs in the barangays of Travesia and San Francisco in Guinobatan, Albay, as shown in pictures shared by Albay 3rd District Rep. Fernando Cabredo. Photos by Marychris Olavario-Cuachin showed an unidentified person being buried in the mud.
The Philippine STAR photographer Edd Gumban reported that Binitayan Bridge, which connects the barangays of Alcala and Kilicao in Daraga, Albay, was destroyed by the swollen Yawa River.
Aside from volcanic mudflows, massive flooding as well as electricity supply and communication service outages were reported in Bicol.
Hundreds of coronavirus disease 2019 patients were moved to hospitals and hotels from tent quarantine centers, National Disaster Risk Reduction and Management Council (NDRRMC) executive director Ricardo Jalad said.
The typhoon response will further strain government resources, which have been drained by months of coronavirus lockdowns. The Philippines has the second-largest number of confirmed COVID infections in Southeast Asia after Indonesia.
The Civil Aviation Authority of the Philippines (CAAP) said the ceiling boards of the Legazpi Airport passenger terminal in Albay were blown away, although these could be quickly installed again when the weather improves. But the CAAP could not contact the Virac Airport in Catanduanes as of last night.
The Ninoy Aquino International Airport was ordered shut down for 24 hours from Sunday to Monday, Nov. 2, and airlines canceled dozens of international and domestic flights. Train services were also suspended.
Rolly weakened after barreling across the southern part of Luzon on Sunday, causing at least seven deaths, power supply outages, infrastructure damage and flash floods. It is expected to exit from the Philippines on Monday morning.
Late Sunday night, the Office of Civil Defense said the number of casualties reported rose to 10.
The NDRRMC disclosed that 19.8 million to 31.1 million people, or about a third of the country's population, lived in the areas directly along the 120-kilometer radius of Rolly's track.
Of this number, about 2.4 million are considered to belong to the poor sector. Approximately 221,000 households live in dwellings made of light materials.
As of Sunday noon, around 96,000 families or more than 346,000 people were in evacuation centers in the Bicol region. On Saturday, Oct. 31, Jalad said about a million people were evacuated due to the coming super typhoon.
Rolly (international name Goni) – the world's strongest tropical cyclone so far this year – pounded Southern Luzon with ferocious winds and intense rains.
As it plowed through parts of Luzon, Tropical Storm Siony (Atsani) entered the Philippine area of responsibility, but state weather experts said it is unlikely to affect the country in the next two to three days.
Metro Manila experienced light to moderate with occasional heavy rains and strong winds as the eye of Rolly passed near the capital region.
Rolly made its fourth landfall over Lobo, Batangas at 5:30 p.m. on Sunday, bringing destructive winds and intense rainfall.
Earlier in the day, Rolly made landfalls over Bato, Catanduanes; Tiwi, Albay, and San Narciso, Quezon.
Rolly was forecast to be 70 kilometers south of Metro Manila between 5 p.m. and 7 p.m.
It was expected to exit Luzon and move toward the West Philippine Sea on Sunday night.
With peak winds reaching 225 kilometers per hour (kph), the Philippine Atmospheric, Geophysical and Astronomical Services Administration (PAGASA) said Rolly is the strongest cyclone to hit the Philippines since Super Typhoon Lawin in 2015.
But the US Joint Typhoon Warning Center (JTWC) estimated Rolly's maximum sustained winds to be 195 miles per hour or 315 kph, matching the peak wind speed of Super Typhoon Yolanda in November 2013 that killed about 6,300 people in Eastern Visayas. PAGASA said Yolanda had maximum sustained winds of 235 kph.
PAGASA and the JTWC use different standards in classifying cyclones. The JTWC uses one-minute average readings for a cyclone's wind speed, while PAGASA has lower figures as it uses 10-minute reading.
Signal No. 5 – the highest tropical cyclone wind signal – was raised over parts of the Bicol region early Sunday morning.
Rolly's maximum sustained winds weakened to 165 kph as of 4 p.m.
As of 5 p.m., Signal No. 3 was hoisted over the southern portion of Zambales, Bataan, the southern portion of Pampanga, the southern portion of Bulacan, Rizal, Quezon including Polillo islands, Metro Manila, Cavite, Laguna, Batangas, Marinduque, the northwestern portion of Occidental Mindoro including Lubang island, and the northern portion of Oriental Mindoro.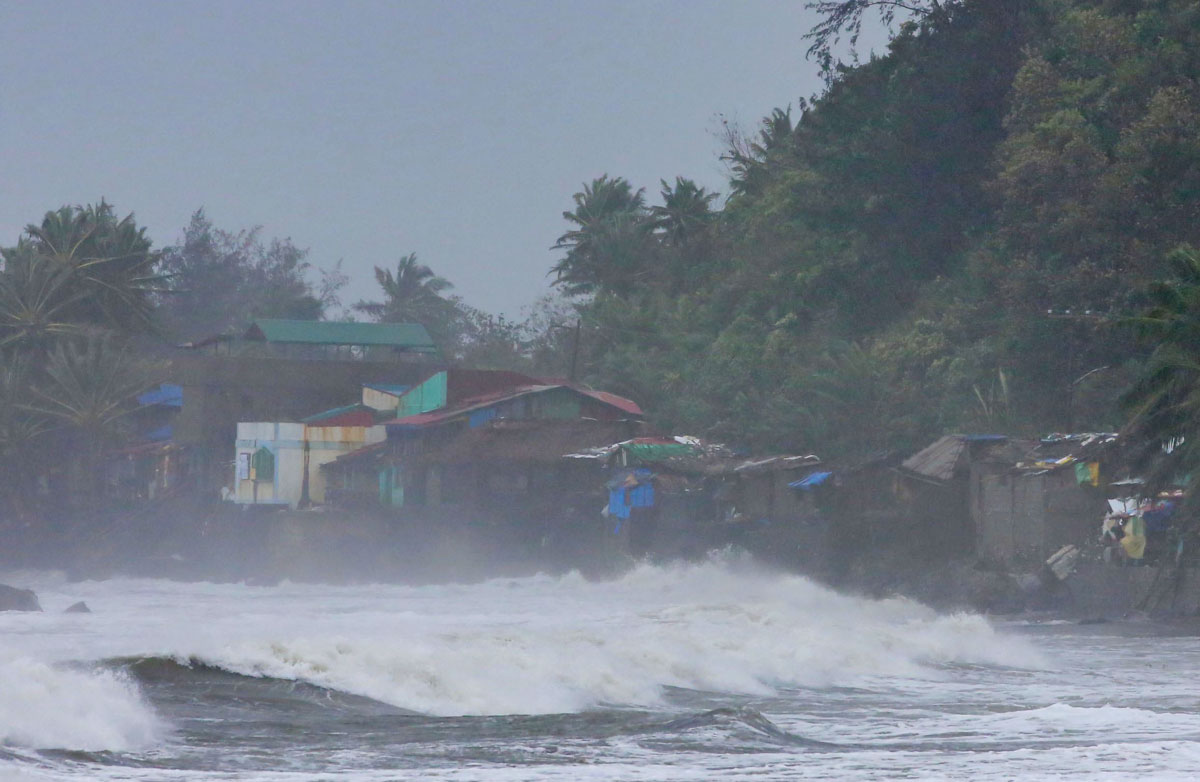 Signal No. 2 was raised over the rest of Zambales, the rest of Pampanga, the rest of Bulacan, the southern portion of Tarlac, the rest of Occidental Mindoro, the rest of Oriental Mindoro and the southern portion of Nueva Ecija.
Signal No. 1 was up in mainland Cagayan, Isabela, Apayao, Kalinga, Mountain Province, Ifugao, Abra, Ilocos Norte, Ilocos Sur, La Union, Benguet, Nueva Vizcaya, Quirino, the rest of Aurora, the rest of Nueva Ecija, the rest of Tarlac, Camarines Sur, Camarines Norte, Burias Island, Romblon and Calamian Islands.
As of 4 p.m., the eye of Rolly was located at 50 km south-southwest of Tayabas, Quezon, packing winds of 165 kph near the center and gustiness of up to 230 kph.
It was forecast to move west at 25 kph.
Rolly was forecast to exit the Philippine area of responsibility on Tuesday, Nov. 3.
Meanwhile, PAGASA weather forecaster Chris Perez said Siony was expected to remain over the Philippine Sea in the next 24 to 48 hours.
As of 3 p.m., the center of Siony was spotted 1,140 km east of Central Luzon, packing winds of 75 kph and gustiness of up to 90 kph.
It is forecast to move west-northwest at 30 kph.
The Philippines is lashed by about 20 typhoons and storms a year. It is also located within the so-called Pacific Ring of Fire, where earthquakes and volcanic eruptions are common, making the country one of the world's most disaster-prone. – With Associated Press, Reuters, Evelyn Macairan