Moms Of Children With Epilepsy Risk All For Medical Marijuana
The Philippines still has a long way to go in terms of legalization of cannabis as a compassionate alternative means of medical treatment, and some mothers admit they can no longer wait because of their sick kids.
Mae, not her real name, lays down two jars on the table to administer a medicine that she believes helps alleviate her son's seizures from epilepsy. One jar contains cannabidiol (CBD), the cannabis derivative she got from California.
It is illegal to possess this substance in the Philippines. Mae can face a possible jail time if she gets caught, but she is unfazed, convinced that it is saving her son's life. For some children with epilepsy, the cannabis oil derived from marijuana is being used to treat their episodes of seizures.
Mae wants to correct misconceptions among the public, who judges the plant for its recreational use while discounting its medical benefits. She allows her son to take CBD like a food supplement; mothers do not let their kids smoke it like a joint.
She has demonstrated to The Philippine STAR how she gives the concoction to her son. Mae mixes it with virgin coconut oil, which she drips under his tongue, like a food supplement. She gives her son a teaspoon of cannabis as his dosage for the day.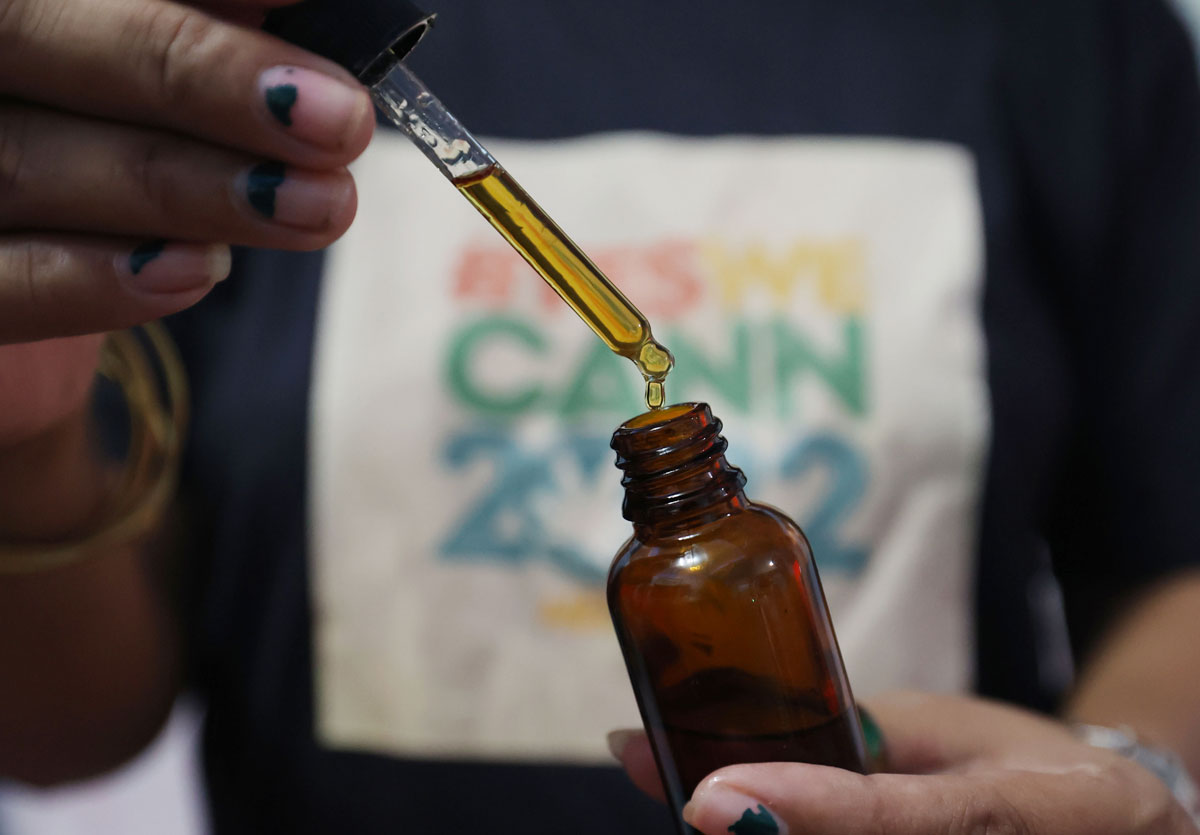 The mother recognizes the risks attached to letting her son take a drug unregulated by authorities. But she trusts that CBD is relieving her son's symptoms, such as uncontrollable seizures, which cause him to lose his breath or fall down and hurt himself. "My son is living proof that it works," Mae says.
Jane, another advocate for cannabis as a compassionate alternative means of medical treatment, does the same as she shows three transparent capsules of cannabis oil. She says she pierces the translucent pill before placing it on her daughter's tongue, allowing the liquid to seep through her taste buds.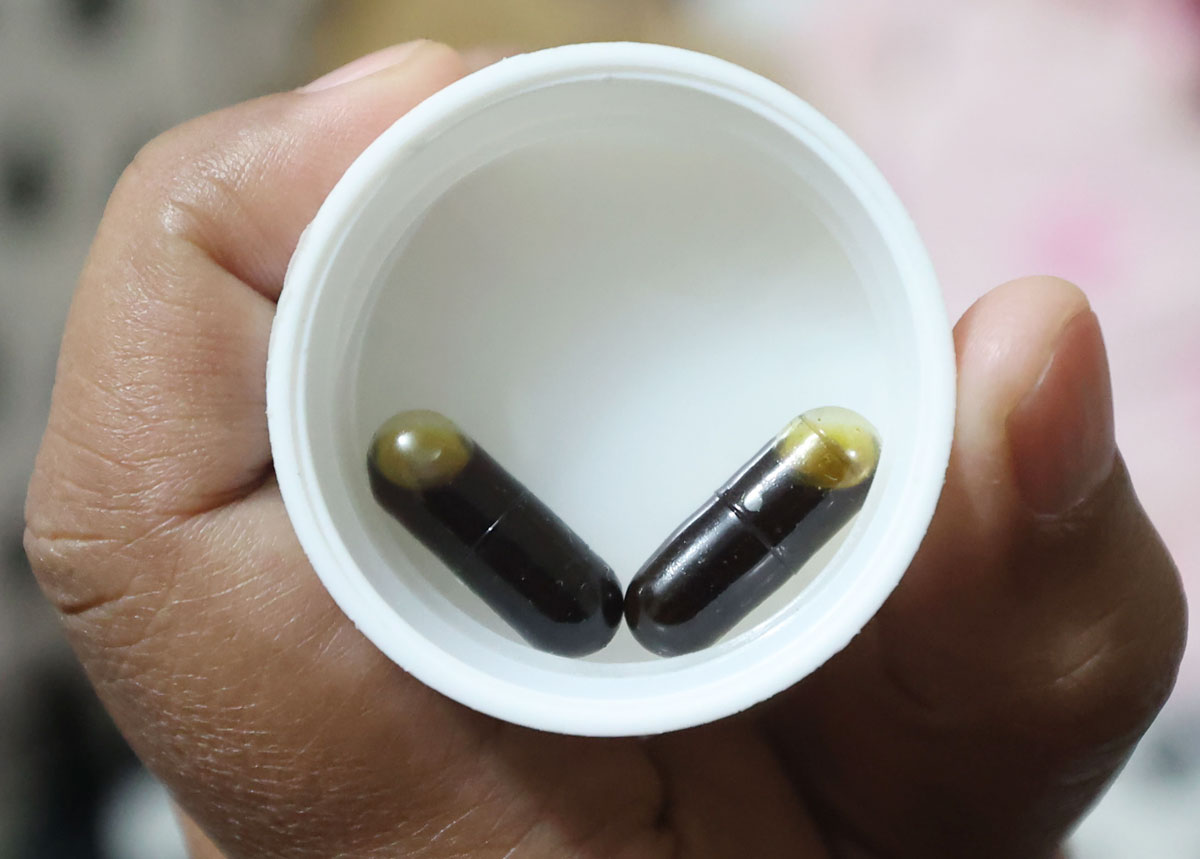 She also attributes her daughter's improving condition from epilepsy to her cannabis intake, which Jane got from a concerned marijuana breeder. Her daughter used to have dozens of epileptic episodes in a day and just minutes apart.
But when Jane started giving the marijuana extract, the attacks became fewer, and if there were, there was a long interval in between, as if her daughters' seizures had slowed down.
Jane, whose identity is also withheld, says she did her own research about medical marijuana with the help of online parent groups, and calculated the right dosage of cannabis oil corresponding to her daughter's weight. Though bedridden, her daughter now laughs and has brought back her "bungisngis" or toothy smile.
Mae and Jane both shunned the pharmaceutical antiepileptic drugs prescribed for their kids, saying it had caused them to lose their hair, or be lethargic, like in a vegetative state. They attribute their children's improving condition to their cannabis treatment.
The two mothers are among several advocates in the Philippines, who resort to the underground market to get access to medical marijuana, which has been legalized in many parts of the world but remains prohibited in the Philippines.
Possession of CBD could land them in jail for life, under the stringent Republic Act No. 9165 or the Comprehensive Dangerous Drugs Act, which lists marijuana and its resin oil among the country's "dangerous substances." Even just administering the cannabis oil is punishable under the law.
But these mothers are undaunted. Their children's lives are at stake. "We just have to be brave for our kids," Jane says. "We do this because my daughter needs it. We don't have any other choice."
Doctors from the University of the Philippines (UP) Manila have cautioned mothers against using their anecdotal experiences as evidence that medical marijuana is effective.
"We are aware of the unlicensed utilization of cannabis products to treat various conditions in the country. We are not blind to these various positive patient experiences," UP doctors said in a December 2022 statement.
"However, these anecdotes do not constitute sufficient scientific evidence for efficacy," they added, noting that only pharmaceutical grade CBD products should be used to treat epileptic syndromes.
Mothers experimenting with their kids should not be blamed for trusting marijuana over prescription drugs, according to Dr. Gem Mutia, founding president of the Philippine Society of Cannabinoid Medicine, who has done research on the medicinal benefits of cannabis.
Mutia said there are dangers in administering their own mixes of cannabis, which could have impurities. But for some mothers, the risks outweigh the pharmaceutical drugs' adverse effects. This underscores the need to allow research for the legalization of medical marijuana.
In explaining how cannabis helps a patient, he said the CBD substance in marijuana is the non-psychoactive component that studies have shown to be effective in easing the symptoms of epilepsy.
"Our brain is active with wires that communicate with each other with electricity. During seizures, the brain becomes active with this electricity. CBD serves to ease the electrically charged brain, like a circuit breaker," Mutia said.
The internal medicine specialist also scored the Philippine Medical Association and other doctors' groups for turning a blind eye on medical marijuana's scientific breakthroughs.
These doctors contribute to the "ignorance and disinformation" about marijuana, worsening the "prejudice" and "stigma" attributed to the plant, he said. "Our mothers have cried and shed a thousand tears for years, but these doctors have become numb and insensitive to their plight."
No compassionate access
Accessing medical marijuana is possible by securing a document from the Food and Drug Administration called "compassionate special permit" (CSP).
This document is often cited by authorities as reason enough to thumb down moves to legalize marijuana, saying it is possible to get access to it as long as they undergo the CSP application process.
But parents need to go through the eye of the needle just to get one, submitting documents like medical abstracts and a prescription from a neurologist licensed to recommend marijuana, said Dr. Donnabel Cunanan, spokesperson for the Philippine Cannabis Compassion Society or Cannahopefuls.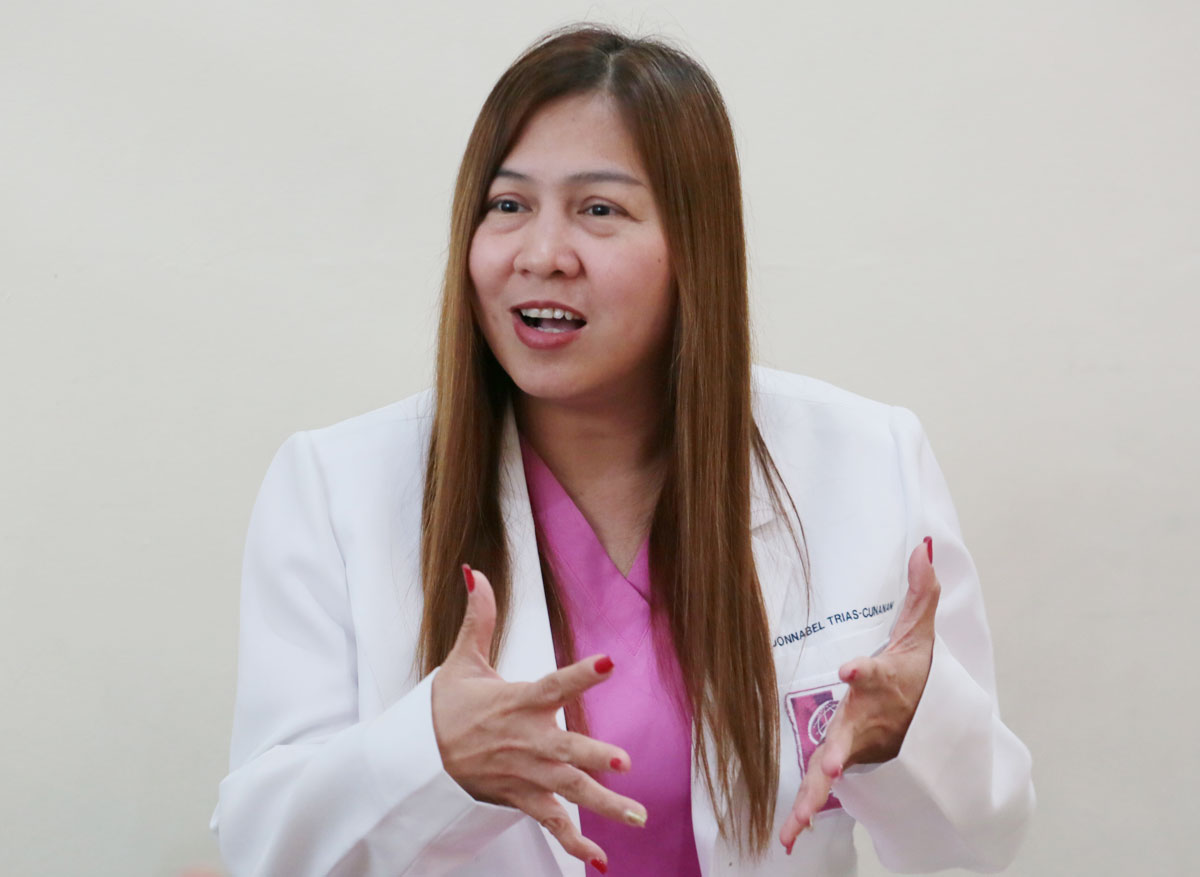 In 2017, Dr. Cunanan tried to get CSP, hoping to get her hands on a marijuana strain called "Charlotte's Web." It is high on CBD, but low on tetrahydrocannabinol (THC) – marijuana's high-inducing, psychoactive component.
The strain was a result of crossbreeding by the Stanley brothers who own a marijuana plantation in Colorado. It was named after Charlotte Figi, the girl who used CBD to treat her epilepsy and was later on credited for inspiring the marijuana movement in the US.
Charlotte and Dr. Cunanan's daughter Julia both have Dravet syndrome, an "intractable" type of epilepsy; meaning, it resists most pharmaceutical drugs. Dr. Cunanan was rejected outright because Charlotte's Web is considered a food supplement, not a medicine.
It was only in 2020 when the Dangerous Drugs Board (DDB) allowed compassionate permit access to CBD products that have 0.1 percent THC.
But she was dismayed to find out that the brand that fits the criteria, Epidiolex – an approved pharmaceutical grade CBD in the US – would cost her $32,000 a month, or P1.78 million a year, just to import the medicine from abroad.
"There is nothing compassionate about the compassionate special permit," Dr. Cunanan said.
"The price alone is very uncompassionate. The entire process (is) tedious. The government agencies involved do not have very clear guidelines, which is why they are not really knowledgeable about the application process," she added.
Dr. Cunanan said she now has to contend with Julia's prescribed antiepileptic medicine, which she cut down to one because of its adverse effects on her child, like organ failure. "I want legal access to medical marijuana for my daughter," she said. "But I don't want to be imprisoned."
Raquel Pilapil, mother to 13-year-old Gab, shared similar frustrations when she asked the DDB for instructions on how to apply for CSP. She was passed from one office to another because no one knew how to explain the process when she visited the agency in Quezon City.
An official even quizzed her about her reasons for getting access to an "illegal" drug. "'Why do you need medical marijuana? Don't you know marijuana is illegal here in the Philippines?'" Pilapil recalled the official as saying. "It really was just disappointing," she said.
Advocates noted the difficulty in accessing medical marijuana through CSP only adds to the "stigma" attributed to the marijuana plant and hinders the mothers' access to its medical benefits.
It also does not help that securing medical marijuana is heavily supervised by the country's top anti-illegal drug government agencies, the DDB and the Philippine Drug Enforcement Agency (PDEA).
For DDB Chairperson Secretary Catalino Cuy, it is not the lack of compassion for mothers wishing to access medical marijuana that is the problem. Even when a parent gets the permit, shipping the medicine from abroad is sure to be expensive.
"The process is not the problem," Cuy said in an interview in his office at the DDB. "It's the price. The price tag discourages them from finishing the process."
For the former police director turned anti-drug Cabinet secretary, Cuy does not think the Philippines is ready for legal access to marijuana, citing the experience of Thailand, which saw unregulated increase in cannabis products following its legalization.
The DDB had already eased its policy in accordance with a 2020 decision by the UN Commission on Narcotic Drugs to reclassify cannabis and recognize its medicinal value, Cuy said.
But since these policies at the DDB were implemented, no patient has been granted compassionate access to the medicine, Cuy admitted, citing his agency's records. He said cannabis advocates are using mothers with epileptic kids as an "appeal to emotion."
"Their purpose really is to allow the manufacture of marijuana here. Vested interests are using the parents who are appealing to our emotions," according to the DDB chief.
But as to arresting them for possession of marijuana oil, Cuy said: "Let the mothers be," aware of the potential public backlash in going after mothers with sick kids.
Road to legalization
Fixing the application process for compassionate access is not enough if importing the drug would be too expensive, Dr. Cunanan said. This is why, for her, the Philippines should pass a law to make medical marijuana legal.
Dr. Cunanan thanked their "champions" in Congress for helping them remove the stigma from a "misunderstood" plant like marijuana.
Among the lawmakers who filed "compassionate cannabis" bills are Sen. Robinhood Padilla in the Senate, and former Speakers Pantaleon Alvarez and Gloria Macapagal-Arroyo in the House of Representatives.
But Henrie Enaje, lawyer and founder of CannaLegalPH, said current proposals fall short at actually decriminalizing marijuana, which he said should be the first step to legalizing access. His organization extends legal assistance to Filipino cannabis users.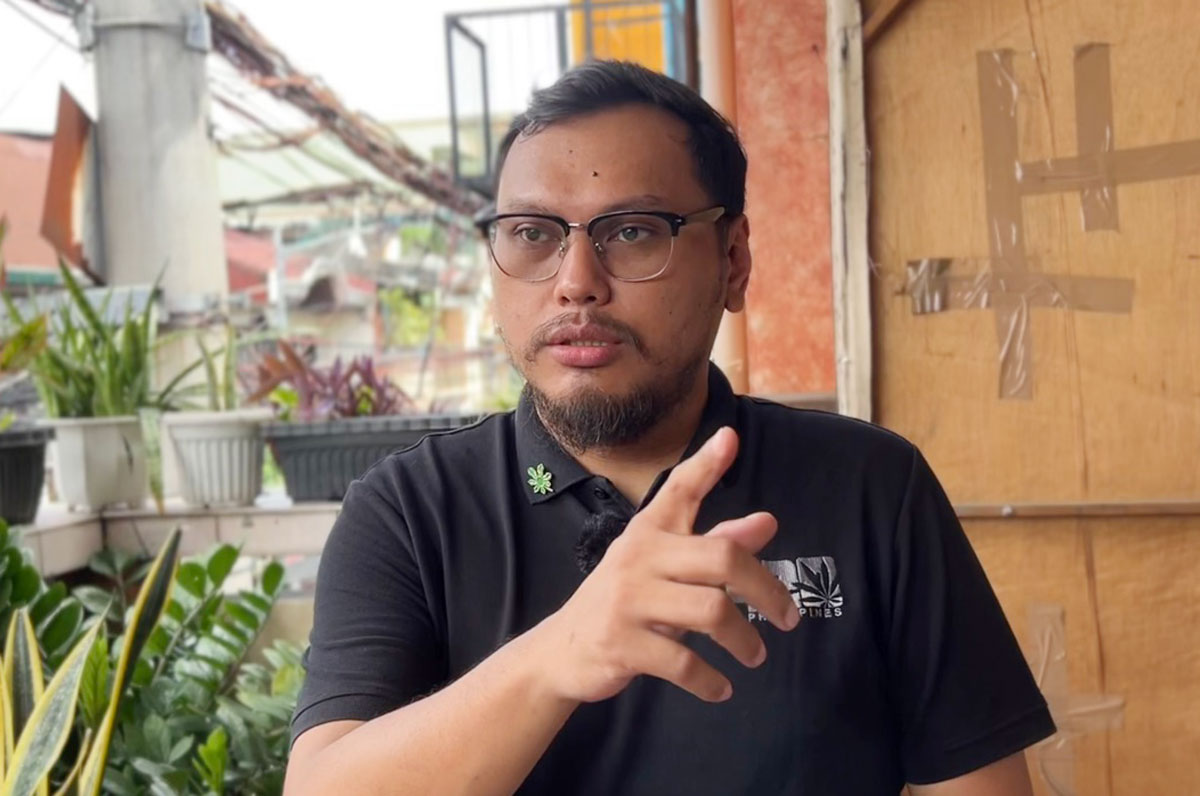 Only Alvarez's bill decriminalizes possession of marijuana, Enaje said. The former speaker's bill removed marijuana and its oil from among the dangerous substances punishable under RA 9165, in effect allowing both its medical and recreational use.
Meanwhile, Padilla and Arroyo's measures seek to limit legalization to medical marijuana. Their proposed laws allow "compassionate" access to the plant as treatment option for debilitating illnesses and establish cannabis dispensaries to be called "medical cannabis compassionate centers."
But their bills still penalize non-medical uses of cannabis, such as recreationally smoking marijuana.
Decriminalizing marijuana can have long term benefits, because it would lead to regulation of the medicine by establishing research institutions and cannabis dispensaries, Enaje said.
No one would be jailed for possessing a plant, and mothers need not go to the underground market and experiment with their kids, the lawyer added.
"We have to shift the public view about marijuana: To normalize and humanize its use. We want to decriminalize first because what is urgent is that no one should be jailed for it. Marijuana is medicine," Enaje said.
With more research into the plant and a bountiful supply of marijuana, the Philippines can develop its own strain, which would definitely be cheaper for mothers who need it for their kids, added Dr. Mutia.
Enaje said mothers have been fighting for close to a decade to legalize marijuana. Those who had access through the underground market should also be aware of their rights against warrantless searches and arrests.
While recreational users have rallied behind the mothers in their shared cause for legalization, they should take the backseat and let medical marijuana get the green light first, he noted.
"The Philippine cannabis movement was borne out of the desperation and persistence of Filipino mothers," Enaje said. "They have been on the forefront for years."
Dr. Cunanan agreed. Although she doesn't mind that recreational users have a personal agenda, she said they should understand that medical marijuana is a more urgent matter.
"Let the patients be the first. We mothers and our children need it more," Dr. Cunanan appealed.
This story was written with the support of the Drug Reform Policy Initiative, which promotes harm reduction and a person-first approach in writing about drug use.