'Huwag Kang Bastos': Senatorial Bet Luke Espiritu Goes Viral After Tirades Against Larry Gadon, Harry Roque
Senatorial candidate Luke Espiritu captured the attention of netizens after shooting down fellow bets and lawyers Larry Gadon and Harry Roque for trying to defend the Marcoses during the SMNI debate on Wednesday night.
Senatorial bet Luke Espiritu went viral on social media following his heated exchanges with fellow candidates for the upper chamber – suspended lawyer Larry Gadon and former presidential spokesman Harry Roque Jr. – over issues involving the Marcoses during a debate hosted by SMNI on Wednesday, March 2.
Espiritu, also a lawyer like Gadon and Roque, made headlines after he shut down both Gadon and Roque in the SMNI debate. During the event, all senatorial candidates were asked about the juvenile justice and welfare act, to which Gadon blasted the Catholic Church for criticizing martial law.
The Partido Lakas ng Masa (PLM) senatorial bet, during his turn, refuted Gadon and cited Amnesty International data of the atrocities committed during the Marcos regime. But as Gadon tried to interrupting Espiritu while talking, the labor lawyer had to tell Gadon "it's still my time" and at one point said, "Huwag kang bastos (Don't be rude)."
Espiritu's impassioned statements and delivery were praised by netizens who were against the Marcoses.
Espiritu also schooled Roque after he defended the dictator's son, highlighting that he used to criticize the Marcoses and fight for human rights until he joined the senatorial slate of presidential candidate Ferdinand "Bongbong" Marcos Jr. along with Gadon.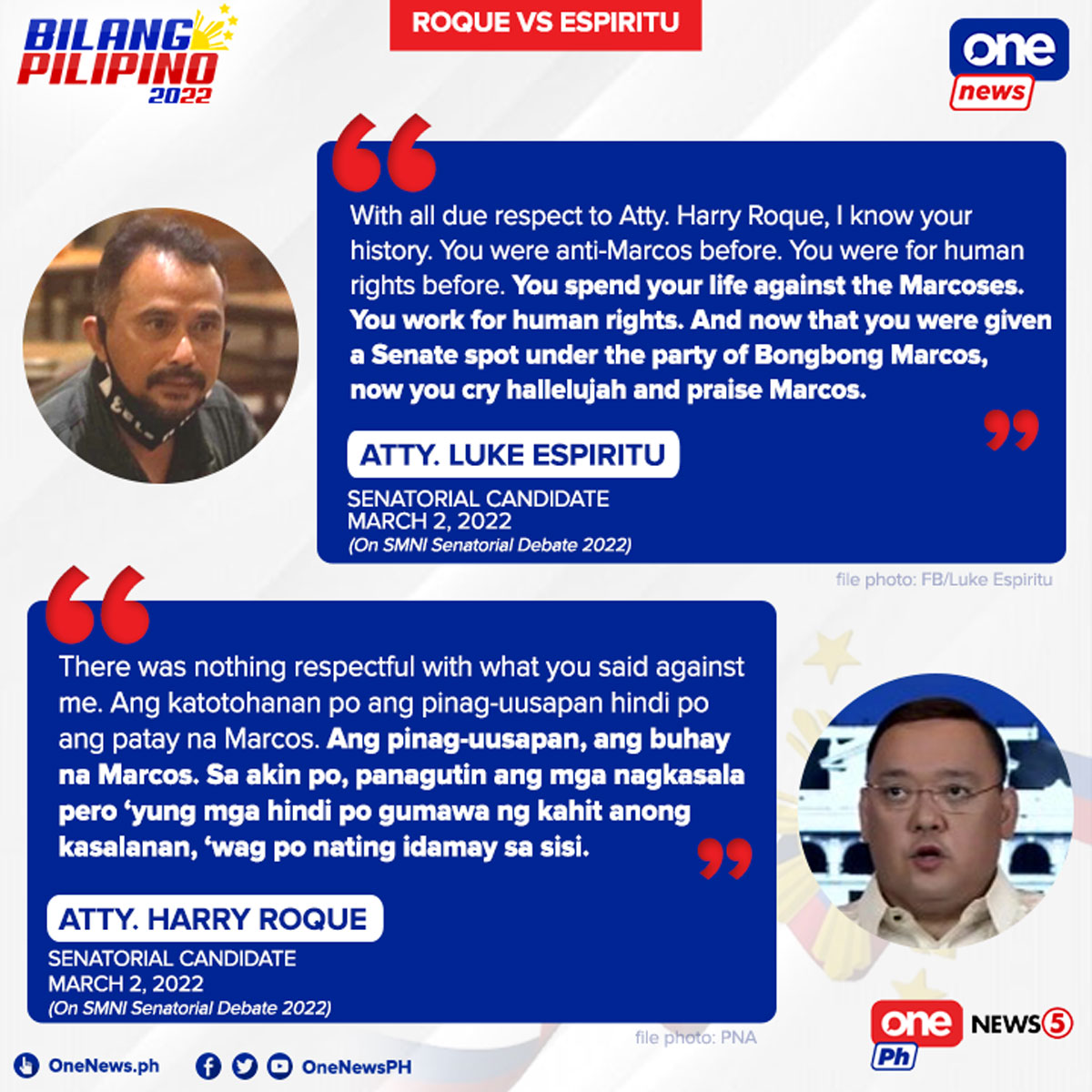 The labor leader told "Sa Totoo Lang" on One PH on Thursday, March 3, that he was surprised that he became the talk of the town because of what happened, but nevertheless welcomed the people's reactions.
"I was not expecting that actually pero I welcome it kasi mabibigyan naman ng spotlight 'yung mga pinaglalaban natin. Mabibigyan ng spotlight 'yung issues ng mangggagawa, isyu ng masang Pilipino (I welcome it because it puts the spotlight on what we are fighting for… to the issues of the workers, the issues of the Filipino masses)," he said.
He also admitted that the senatorial debate was "too short," adding that he didn't want to be known that being anti-Marcos was his only motive to run for the Senate.
"That in itself, it should be a subject of a different debate because the question is very important. Hindi lang tayo dapat personality politics. Dapat we go into the root of the matter eh kaya ito, medyo nabibitin (We shouldn't be focused on personality politics. We should go into the root of the matter, but we lack time)," he said about martial law.
Mental dishonesty
During his interview with Sa Totoo Lang, Espiritu said Roque's claim that Marcos Jr. has no human rights violations is considered "mental dishonesty."
"Una, mental dishonesty 'yun dahil ang pinaguusapan nga natin Marcos regime. So gagawa ka ng isang bagay na sa tingin mo may lusot ka kasi walang kaso. Secondly, it is fraudulent (First that's mental dishonesty because we are talking about the Marcos regime, so you're going to do something that you think you'll get away with. Second, it is fraudulent)," Espiritu said.
"When we talk about human rights violations, it does not involve only the father, because we're talking about the entire machinery," he added.
Espiritu noted that the Marcos family was found to have civil liability in the United States and ruled that martial law victims be compensated. In April 2019, a federal judge in New York affirmed a settlement agreement where $13.75 million of the retrieved Marcoses' ill-gotten wealth would be paid to the human rights victims.
Espiritu said Roque, a former human rights lawyer who used to blast the Marcoses, "should know that."
"Bongbong Marcos was very much part of the Marcos regime, he was governor of Ilocos Norte, he was part and partial of that machinery that produced all of these problems in our country," he added.
'Para sa manggagawa'
Espiritu declared that his platform is not solely anti-Marcos, but rather focuses on labor issues that Filipinos face.
"First, I explained during the debate that workers should be regularized because that's the solution to poverty. Seventy percent of our workers are contractual, they do not have hope in life no matter how hard they work," Espiritu said in a mix of English and Filipino.
Espiritu added that should he win a Senate seat, he will push for higher daily wages for all workers.
"If I will explain my platform, it's just about protecting those in the lowest class," he said, citing the law on security of tenure in pushing for the regularization of workers. He said manpower agencies should be removed and the daily minimum wage should be raised to P750.