Despite Conflicting Statements, Authorities Vow No Abuses In Enforcing Community Quarantine
Officials assure the people that the actions of the soldiers and the police are meant to protect them from the coronavirus disease 2019 and not to enforce martial law in the country.
There have been conflicting pronouncements from authorities that have caused confusion since President Duterte announced on March 12 that Metro Manila would be placed under community quarantine.
But officials assured the public that there would be no abuses or human rights violations as the community quarantine from March 15 to April 14 is enforced.
On Sunday, March 15, Interior Secretary Eduardo Año said that frontline police personnel would follow all laws and regulations and that any abuse should be reported to the Department of the Interior and Local Government (DILG) for proper action.
He stressed that a one-strike policy would be in place in punishing abusive law enforcers.
"Mayroon po tayong protocol na sinusunod at magalang po kayong kakausapin ng ating mga kapulisan kung saan kayo papunta, ano ang inyong pakay, at iba pa," Año said.
Año, a former chief of staff of the Armed Forces of the Philippines (AFP), allayed fears that the quarantine is a precursor to martial law, saying these are "baseless and uncalled for."
"This is a global public health emergency not martial law," he said in a statement.
Maj. Gen. Debold Sinas, National Capital Region Police Office (NCRPO) director, said there will be no road closures, only checkpoints, for the initial implementation of the community quarantine.
According to Sinas, they will implement checkpoints at 56 identified major thoroughfares going in and out of the Metro Manila as part of the stringent measures against COVID-19.
Sinas said that they are currently on "warning mode" or motorists and the public in general will be advised of the community quarantine being implemented instead of strictly implementing the travel ban at once.
"Bago pa lang naman, when the time comes higpitan natin. Ngayon OK pa naman," he said in a press briefing.
Still, the public has been advised to brace for heavy traffic and long queues at checkpoints, as those working in Metro Manila are set to go back from the province today, March 16.
Sinas noted that they were given guidance not to implement drastic measures at the onset, hence the more lenient implementation of the community quarantine.
The NCRPO chief said they are ready to change strategies if the need arises to enhance the quarantine effectively.
The police were only able to release its advisory of checkpoints hours after the community quarantine had already been implemented on Sunday midnight.
Sinas explained that they needed the approval of higher authorities before they released the official advisory.
The NCRPO had been proposing a stricter implementation of the community quarantine than what was approved.
The NCRPO has deployed a total of 1,600 personnel from its mobile force battalion to enforce the checkpoints at the boundaries of Metro Manila.
The deployment would be on 12-hour shifts, with teams composed of 20 to 30 members each on a shifting schedule.
It would be up to local police units to conduct mobile checkpoints to implement curfew hours with the cities, if there is already an ordinance imposing it, Sinas said.
No arrests
Police have started conducting checkpoint operations at the boundaries of Metro Manila as part of the community quarantine.
Año has advised the public to exercise patience as checkpoints are expected to result in horrendous traffic on Monday, March 16.
Prior to this, Justice Secretary Menardo Guevarra had to give an assurance on Saturday, March 14, that there would be no arrests during the implementation of the community quarantine and Metro Manila is not in a state of martial law.
Guevarra said the Philippine National Police (PNP) and the AFP could only physically stop non-residents from entering and leaving Metro Manila, unless one is covered by the exceptions or on highly justifiable grounds.
He issued the statement after human rights lawyer Chel Diokno said the PNP could not just arrest anyone who would violate the health emergency measure implemented by the government.
National Capital Region Police Office (NCRPO) director Maj. Gen. Debold Sinas on Friday warned uncooperative or unruly people of possible arrest and prosecution should they defy the community quarantine guidelines.
Guevarra, however, explained that PNP and AFP personnel could implement a warrantless arrest only if they are attacked physically or shown disrespect while implementing the community quarantine.
"If the person assaults the law enforcement agents, or slanders him, or bribes him, then that's a cause for a warrantless arrest," Guevarra said.
Officials pointed out that people would only be sent home and not necessarily punished if they refuse to abide by the community quarantine and social measures that go with it.
Communication crisis
Pronouncements made by authorities can be clarified. But on the ground, mistakes in the implementation of policies will be harder to turn around.
When Duterte announced the enforcement of the community quarantine after a Code Red Sub-Level 2 was raised over the country, he himself became the source of confusion on whether it was a lockdown when he said on the night of Thursday, March 12: "Ayaw naming gamitin 'yan kasi takot sa lockdown, but it's a lockdown. There is no struggle of power here, it is a matter of protecting and defending you from COVID-19."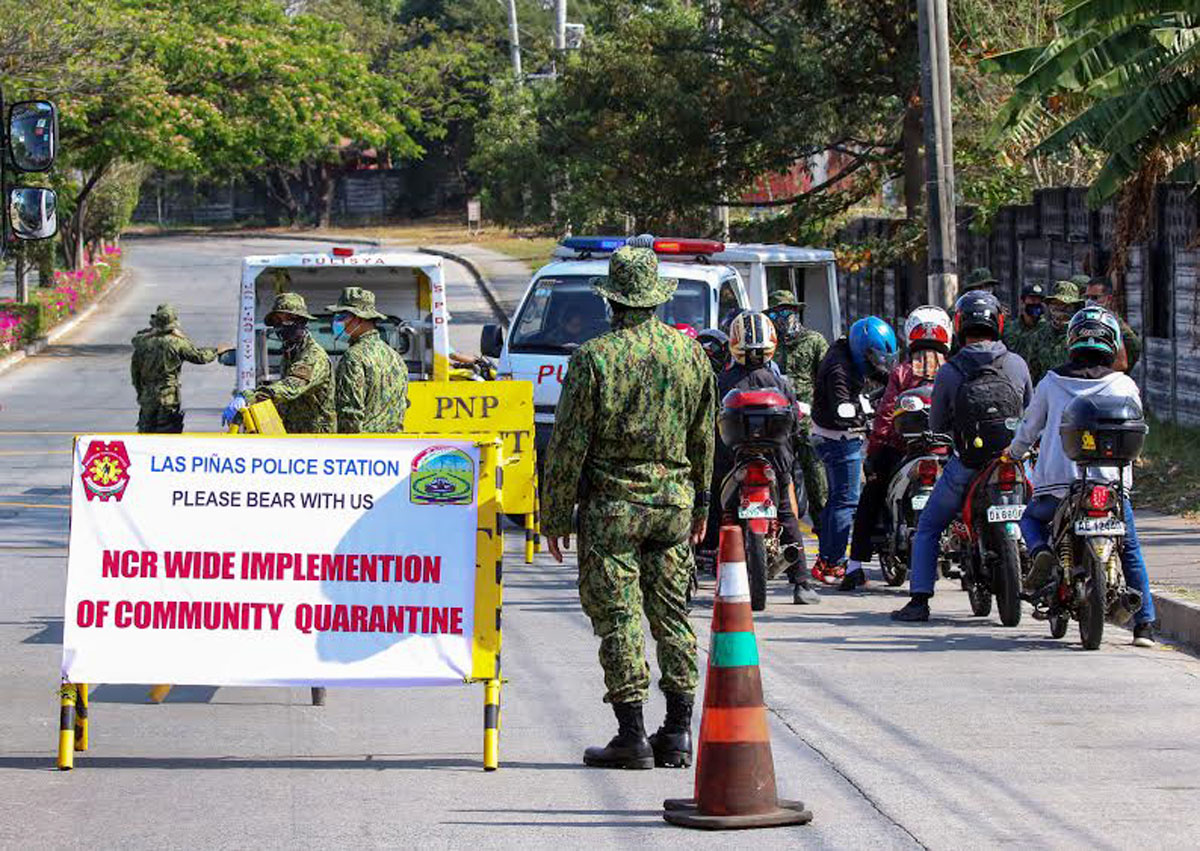 But his officials later emphasized that community quarantine was the proper term to use because the word "lockdown" has a different connotation and "there's a lot that can be interpreted from it."
"When you say it, it means there's no more cargo and food supply in the Metro. That's why people are panicking," Cabinet Secretary Karlo Nograles noted on Friday, March 13.
On Saturday, some sectors again criticized the government as Metro Manila Development Authority (MMDA) general manager Jojo Garcia told reporters that all Metro Manila mayors had agreed to issue a resolution implementing a curfew from March 15 to April 14, from 8 p.m. to 5 a.m. The DILG and Malacañang later clarified that the imposition of a curfew would depend on the ordinances to be passed by each local government.
Despite the confusion over the remarks of some officials on the community quarantine, presidential spokesman Salvador Panelo said the government is not experiencing a communication crisis and there was no contradiction in the previous statements released by agencies.
He said the confusion arose because people were not listening carefully to the announcements of officials.
"The MMDA said the recommendation came from them. They did not say that a resolution has been completed. (Presidential Communications) Secretary Martin (Andanar) said there is no resolution yet. First, there is no ordinance yet. If there is no ordinance, there is no approval from the President," Panelo said. "Where is the contradiction? There is none."
He said the only mistake of the MMDA was its failure to immediately clarify that its recommendation cannot be enforced immediately – that an ordinance is needed or the President should give his imprimatur.
Panelo said in a state of public health emergency, Duterte could overrule city ordinances, and has yet to decide on the proposal to impose a curfew in Metro Manila.
"He said he is still studying it," Panelo said. "In whatever form, it doesn't matter. What is important is whether he would approve the recommendation. Second, whether each city in favor of (the curfew) would issue ordinances."