QUARANTINE ROUNDUP: Grocery Shopping Rules, Travel Authority, Other Guidelines Issued As Gov't Braces For GCQ Shift In NCR
Here's the list of guidelines issued for the shift of Metro Manila and other areas to general community quarantine starting today, June 1 until June 15 as the country continues the battle against coronavirus disease 2019.
With quarantine restrictions eased beginning today, June 1 until June 15, 2020 nationwide, Malacañang reminded the public on Sunday, May 31, to cooperate with authorities as it assured the nation that measures are in place to contain the coronavirus disease 2019 or COVID-19.
The Philippine National Police also assured the public on Sunday that all security measures are in place to ensure everyone's safety as the National Capital Region (NCR) shifts to general community quarantine or GCQ. The PNP declared it is ready to enforce the quarantine rules even if it would be challenging as more people are now allowed to go out of their homes.
Aside from NCR or Metro Manila, other areas that are placed under GCQ are Region 2 (Cagayan Valley),  Region 3 (Central Luzon),  Region 4-A (Calabarzon), Pangasinan, Albay, Region 7 (Central Visayas, including the cities of Cebu and Mandaue), Zamboanga City and Davao City.
The rest of the country will be under modified GCQ.
Since President Duterte announced the new quarantine classifications on Thursday night, May 28, new guidelines were issued in line with the shift, in addition to those that have been in effect since mid-March to prevent the spread of COVID-19.
Here are some of them:
• People authorized to leave their homes are no longer required to carry a quarantine pass once Metro Manila transitions to GCQ but local government units can still impose this requirement under localized or barangay lockdowns.
• Employees going back to work will not be required to obtain travel authority and should be allowed through checkpoints with only their company identification cards under GCQ.
According to the Department of the Interior and Local Government (DILG), indispensable travels relating to medical and family emergencies do not require travel authority from the Joint Task Force (JTF) COVID Shield under GCQ if the travel is within the province and within Metro Manila.
However, travel passes will still be needed when crossing provincial borders once the GCQ takes effect.
The requirements for the issuance of the travel authority are as follows:
1. Certification from the barangay captain that the person who wants to travel has not developed any COVID-19 symptoms at least 14 days before the travel request. The certification from the barangay captain will serve as an endorsement to the city or municipal health office to conduct medical examination
2. Medical clearance certificate from the city or municipal health office
There are two options available in asking for travel authority once the medical clearance certificate is secured:
1. The medical clearance certificate can be submitted to the barangay captain, who in turn will facilitate the processing, which includes coordination with the local government unit (LGU) of destination; or
2. The medical clearance certificate can be submitted to the help desk of the municipal or city police station. Personnel of the help desk, under the authority of the chief of police, will be in charge of the processing, which includes coordination with the LGU of destination through the local police station.
Once the travel authority is approved, the police personnel manning the help desk will notify the person to pick up the hard copy of the travel authority, or it can be sent via e-mail or any messaging app such as Facebook messenger or Viber.
For more information about the issuance of travel authority, the public can contact the JTF COVID Shield on these hotlines: 0998-849-0013 for Smart users and 0917-538-2495 for Globe users, or through the newly launched PNP Helpline 16677.
The JTF COViD Shield can also be reached through its email address: ncovmonitoring@gmail.com.
The processes for the issuance of the travel authority mentioned are exactly the same processes being done for locally stranded individuals (LSIs) who wish to go back to their hometowns.
"While the quarantine rules are still strict under GCQ, we also operate under the concept of compassion – even before. This is the reason why we are finding ways to make it easier for people to travel if that travel is really essential, especially if it involves a family emergency," DILG Secretary Eduardo Año said.
JTF COVID Shield commander Lt. Gen. Guillermo Eleazar explained that unlike before when those who wanted to travel had to go to specific police offices depending on their travel destination, help desks have now been set up in every police station to assist LSIs.
• Checkpoints and curfews will still be enforced while the country waits for the development of a vaccine or cure for COVID-19.
• If people want to buy food and other basic needs for their families, it is highly encouraged that the purchases be done in stores located within their communities.
"In this way, you are not only helping the economy in your community but also protecting yourself from the risk of coronavirus infection. So we appeal to the Filipino people to continue avoiding unnecessary travels," Año said.
Año stressed that since the first day of the quarantine measures, the national government has made sure that all the basic commodities are available in every locality – the reason why cargo and delivery trucks of food and other essential products have been given unhampered access on major thoroughfares across the country.
The DILG chief warned that unnecessary travels that include buying of food in other areas when the same products are available in their communities are still deemed violations of the quarantine protocols under GCQ.
Eleazar reminded the public that the lifting of some quarantine restrictions was approved mainly to reopen the economy and not for leisure travel.
"Lagi po nating tatandaan na ang GCQ ay inaprubahan para po sa ating ekonomiya, hindi po para tayo ay mag-lakwatsa," Eleazar said.
• Trains, taxis, transport network vehicle service, shuttle services and point-to-point buses will be allowed to operate with limited passenger capacity.
According to the Department of Transportation (DOTr), the Philippine National Railways will operate at 25 to 30 percent capacity while Metro Rail Transit-3 as well as Light Rail Transits 1 and 2 will have a limited capacity of between 12 and 14 percent.
The number of trains servicing MRT-3, however, will increase to 19 from the normal 14 or 15, with the addition of China-made Dalian trains.
• Jeepneys are still not allowed to ferry commuters.
Read more: LIST: NCR, Other Areas Under GCQ; Fate Of Cebu And Mandaue Cities Unclear; Rest Of Country Under MGCQ
On the inadequate public transportation services, DOTr Assistant Secretary Mark de Leon said: "Definitely there will be a discrepancy. That is why what we are telling the public is if you are not a person allowed to travel, do not travel. We should really expect that our public transportation will be limited."
• Under GCQ, barbershops and salons are allowed to operate at 30 percent capacity by June 7 and then increase to 50 percent after two weeks. Under MGCQ, they can open at 50 percent capacity and then 100 percent after three weeks.
However, presidential spokesman Harry Roque stressed that the services would be limited to simple haircutting. Pedicure and manicure as well as body massage, eyebrow waxing and other personal services are still not allowed under GCQ.
Read more: Barbershops, Salons, Dine-in Services And Other Sectors May Operate At 50 Percent Capacity Under MGCQ
 Zamboanga City, Central Visayas Also Under GCQ By June 1; Guidelines For Barbershops And Salons Under GCQ, MGCQ Released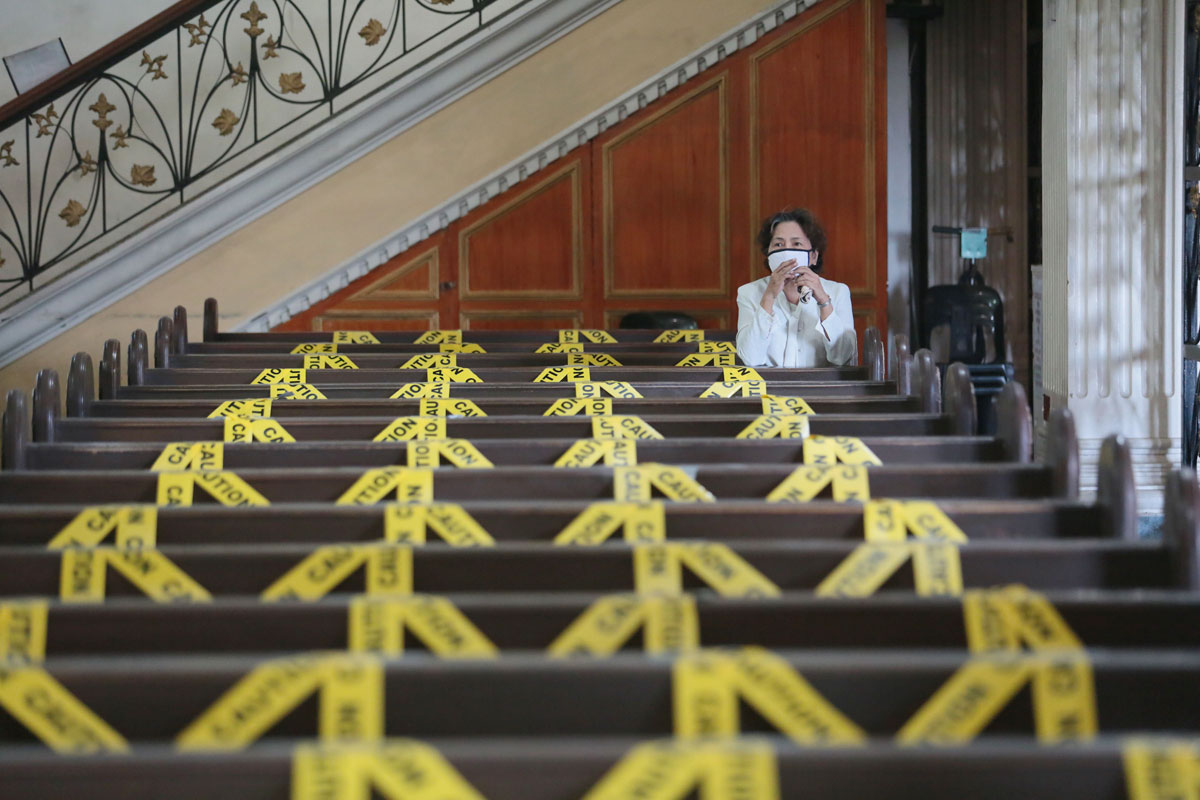 • Religious gatherings will be allowed up to 50 percent of the capacity of the church or venue in MGCQ areas by June 1.
 However, Justice Menardo Guevarra said on Saturday, May 30, that for areas under GCQ, the Inter-Agency Task Force for the Management of Emerging Infectious Diseases will host a dialogue between the religious sector and representatives of local government units on Monday, June 1. "The IATF will make a final resolution on the same day," Guevarra added.
 In a statement issued on Sunday, Roque said the Duterte administration has adopted a "whole-of-nation approach" in addressing the pandemic and has implemented interventions to comply with minimum health standards and ensure the safety of Filipinos.
 "The government cannot fight COVID-19 alone. We need the concerted effort of everyone. The sacrifices of our people in the past seventy or so days are laudable and we must not put these to naught. It maybe difficult for some, especially those who will physically report, but we live in extraordinary times and situation," Roque stated.
 "As more sectors and industries begin to operate, let us continue cooperating with authorities in enforcing quarantine protocols," he said.
 Roque added that the government has issued guidelines on workplaces, employers and workers to prevent the further spread of COVID-19, which has so far infected more than 16,000 people in the Philippines.
 "The coronavirus disease 2019, as we have said in numerous occasions, is an invisible enemy, and the world, including the Philippines, has witnessed its adverse impacts across all sectors, as there is still no miracle cure or vaccine for this dreadful virus," he stressed.