New Normal: Even The Design Of Your Favorite Café May Have To Change
The government says a one-meter distance between public transportation passengers must be enforced. According to interior designers, people's behavior under the new normal can be encouraged through so-called visual nudges.
"New normal" is the buzzphrase amid the coronavirus disease 2019 (COVID-19) pandemic and the measures that have to be implemented to prevent its transmission, including physical distancing.
According to the Philippine Institute of Interior Designers (PIID), the recalibration of public spaces, especially environments aimed at mass gatherings, has now, more than ever, become an important interior design undertaking, as private and public spaces evolve with health, hygiene and safety considerations.
"One of the hallmarks of design is its power to encourage favorable human behavior.  And in the light of the pandemic, our habits and behavior have to change, for the wellbeing and survival of everyone," PIID said in a statement.
The group stressed that human interaction is inevitable despite the enforced guidelines for physical distancing, during and after the enhanced community quarantine (ECQ) and general community quarantine (GCQ).
"People still need to come together in shared spaces, be it to get supplies from the supermarket, to dine in a restaurant, or to queue up at a medical facility," it said.
Aside from creating costly partitions or barriers and sanitation bays as well as increasing furniture distances in public interior spaces, is there a simple yet affordable way to instill safety and hygiene in people's minds?
"The visual nudge (visual/graphic cues) may be the answer," PIID stated.
A nudge is any aspect of the choice architecture that alters people's behavior in a predictable way without forbidding any options or significantly changing their economic incentives.  According to an article on the Behavorial Science and Policy Association website, to count as a mere nudge, the intervention must be easy and cheap to avoid. "Nudges are not mandates. Putting fruit at eye level counts as a nudge. Banning junk food does not," it said.
The PIID said an example of an effective way of changing behavior through the use of visual nudges is to encourage the habit of handwashing among school children.
"Visual nudges can be beneficial regardless of age, as its application can influence current and post-pandemic human behavior, particularly in two key areas: social/physical distancing and handwashing.  Being a non-verbal form of communication, the visual nudge must attract people's attention, to prod them toward a desired behavior. And with repetition, these behaviors will eventually become second nature," the group explained.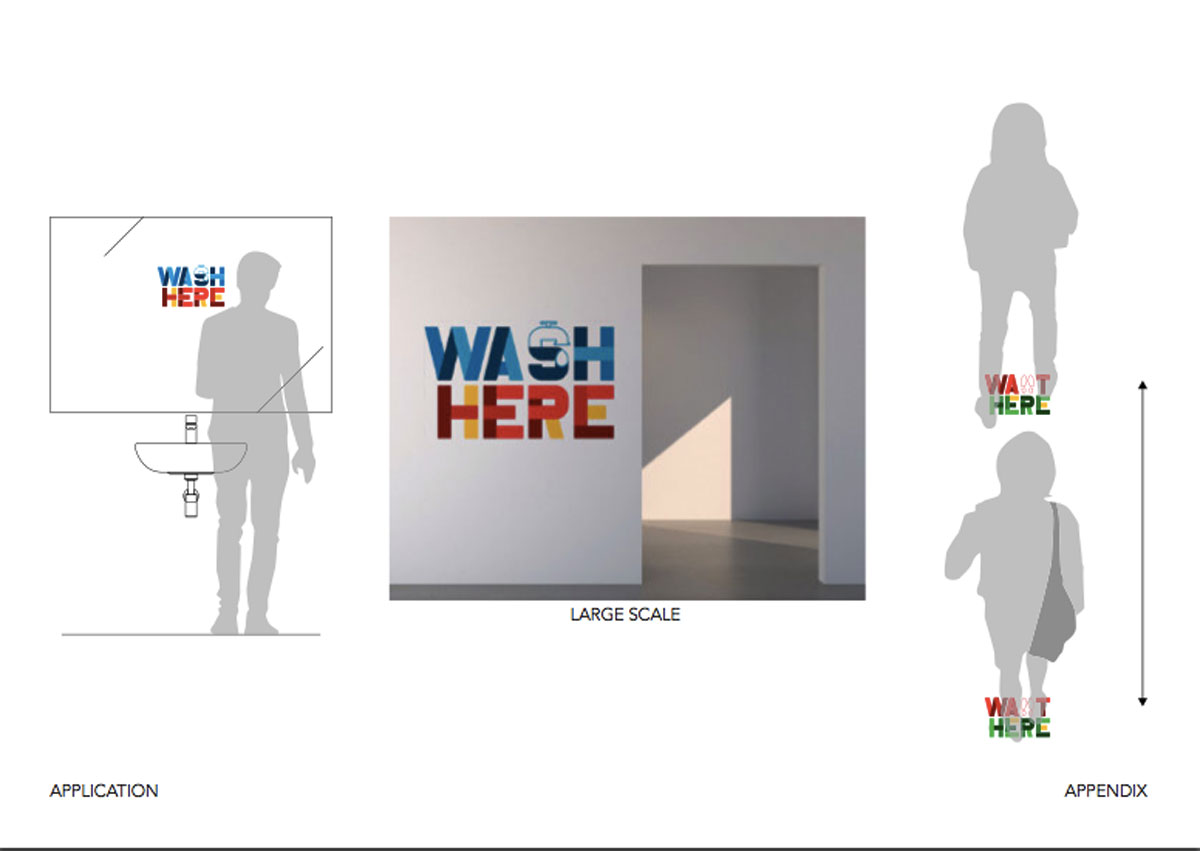 For visual nudges to be effective, the PIID noted that the design must be aesthetically stimulating, encouraging and theme-appropriate.
"Also, the visual nudge must have the right placement and the right path in the given space, for maximum efficiency. Usually made of vinyl sticker or hard-wearing paint, visual nudges are a cost-effective way of imparting safety habits and considerate behavior, for the benefit of all, in the context of the 'new normal,' " it said.
Public transportation rules
A one-meter distance between public transportation passengers will be strictly implemented in areas under GCQ or relaxed quarantine measures, Malacañang said yesterday.
Mass transportation remains suspended in high-risk areas or those that will remain under ECQ until May 15.
Read more: FINAL LIST: Areas under ECQ, businesses allowed to operate, guidelines for ECQ, GCQ implementation
 Presidential spokesman Harry Roque said mass transportation can resume operations but at a reduced capacity in places that are under GCQ starting today, May 1.
The requirement is part of the omnibus guidelines on the implementation of GCQ recommended by the Inter-Agency Task Force (IATF) for the Management of Emerging Infectious Diseases on Wednesday, April 29 and approved by President Duterte.
"The road, rail, maritime and aviation sectors of public transportation shall operate at a reduced capacity in accordance with guidelines issued by the DOTr (Department of Transportation). Provided, that in all public transports, a strict one-meter distance between passengers shall be observed and appropriate engineering controls (put) in place," Roque said during a virtual press briefing on Thursday, April 30.
Interior Secretary Eduardo Año said additional precautionary measures would be implemented in mass transportation including thermal scanning for passengers and hand sanitation. He said jeepneys could not resume operations yet because of difficulties in observing physical distancing.
"Jeepneys are not yet allowed because if you look at the configuration of the jeepney, passengers face each other," Año noted.
He said the DOTr would release guidelines on the operation of other public utility vehicles including taxis. He urged the public to help agencies ensure the proper implementation of protocols on public transportation especially on physical distancing.
In the same briefing, Roque said airline and aircraft maintenance employees including pilots and crew as well as ship captains and crew can now work even in areas under ECQ subject to the guidelines to be issued by the DOTr.
"There should be social distancing of one meter. In the airplane, it won't be just one seat apart because one meter will clearly be every two seats if I'm not mistaken," Roque said.
The guidelines for the "new normal" practices are contained in the AITF's Resolution No. 30 released by Malacañang also on Thursday.
Based on the guidelines, all persons are mandated to wear face masks, earloop masks, indigenous masks, reusable do-it-yourself masks or face shields, handkerchiefs, or such other protective equipment or any combination, which can effectively lessen the transmission of COVID-19, whenever they go out of their homes, pursuant to existing guidelines issued by the national government.
In areas under ECQ and GCQ, people who are 60 years old and above must stay home even if the government is relaxing the protocols in some areas.
The same rule applies for those below 21 years old during the duration of the ECQ and GCQ.
But Roque said special exemptions are given to senior citizens, especially members of the Duterte Cabinet and others who need to leave their homes to work or do essential activities such as buying necessities.
"Ito po, napakadaming lola na tumawag at ang sabi ay kukurutin daw ang singit ko dahil kinukulong ang mga senior citizens. Well, mga lolo, lola, hindi naman po totoo iyan dahil ang ating Presidente at karamihan ng Cabinet ay senior citizen," Roque quipped.
The IATF retained the prohibition on senior citizens and people below 21 despite opposition from some groups and even lawmakers.
All photos here are courtesy of the Philippine Institute of Interior Designers.
Download your FREE ready-to-print visual nudge sticker designs via:
www.piid.org.ph/visualnudge.php. The sample designs are being made available as a public service initiative of the PIID.
The downloadable visual nudges are original designs by PIID members, who are winners of the PIID Visual Nudge Design Competition awarded on April 22, 2020. These downloadable winning visual nudge designs are courtesy of the following interior designers: Katherine Anne Lantin, Cedric Allan Paul Tagle, Joseph Neil Valderrama, Nasstasha Cara Figueras and Danes Ganancial.