More Than 55,000 OFWs Back In Phl; Retraining, Reskilling Abroad Suggested Instead Of Going Home
A study says the government and its diplomatic posts can try to organize and negotiate with host governments on how to retrain and reskill overseas Filipino workers instead of sending them home.
Since the onset of the coronavirus disease 2019 or COVID-19 pandemic, many overseas Filipino workers (OFW) have been left with no choice but to return to the country after losing their jobs abroad temporarily or permanently.
As of June 7, a total of 55,859 Filipinos from different countries had returned to the Philippines – 17,419 of whom were land-based while 38,440 were sea-based. Of these figures, 43,143 have been released from facility quarantine (1,094 land-based and 32,049 sea-based).
A total of 1,376 (1,047 land-based and 329 sea-based) returning Filipinos were confirmed to have been infected with COVID-19. Out of this number, 623 are currently admitted (434 land-based and 189 sea-based), 267 have recovered and one died.
These figures were reported in the Department of Health (DOH)'s COVID-19 Situationer No. 41 issued on June 8.
A total of 42,298 OFWs have been sent home after undergoing quarantine as of June 8, data from the Overseas Workers Welfare Administration (OWWA) showed.
Considering that these OFWs have no more jobs to return to or it may take a while to find new work abroad, the Department of Labor and Employment (DOLE) and other concerned government agencies have been preparing alternative sources of livelihood for them.
Acting National Reintegration Center for OFWs (NRCO) director Roel Martin said the government is implementing reintegration and livelihood programs for both documented and undocumented OFWs.
According to Martin, the NRCO has a P30-million budget for the implementation of the livelihood programs for undocumented OFWs this year.
"NRCO is targeting to provide alternative livelihoods to about 3,000 returning undocumented OFWs this year, but due to the pandemic, we hope to provide to as many OFWs affected by COVID-19 as possible," Martin said in an interview.
To be able to cover more displaced OFWs, Martin said the NRCO sought additional funding as part of the government's post-pandemic recovery plan.
Martin said the NRCO's 2020 budget remains intact as the center has yet to receive applications. This is mainly due to quarantine restrictions that have prevented returning OFWs from going out.
Under the Balik Pinas! Balik Hanapbuhay! Program, Martin said the NRCO would provide a financial grant of P10,000 to enable returning undocumented OFWs to put up their own business.
The OFWs can choose from a wide range of businesses and the NRCO will provide the necessary training. After undergoing the training, the OFWs will receive the financial grant.
"They can put up a rice trading business or retail. It really depends on the preference of the OFWs and the types of businesses suitable in their provinces," Martin stressed.
The NRCO may also refer to the Technical Education and Skills Development Authority (TESDA) OFWs who want to undergo retooling and upgrading of skills.
There is still no available data on how many of the returning OFWs are undocumented. Thousands more OFWs displaced by the pandemic are set to return until the end of the month.
Martin said documented OFWs could avail themselves of livelihood programs through the OWWA.
OFWs may also acquire business capital under the Enterprise Development and Loan Program. Formerly known as the OFW-Reintegration Program (ORP), the EDLP is an enterprise development intervention and loan facility of OWWA, in partnership with Land Bank of the Philippines and Development Bank of the Philippines.
Individual loan borrowers can get from P100,000 to P2 million while group borrowers (partnerships, corporations or cooperatives) can obtain from P100,000 up to P5 million to put up businesses.
According to Martin, they expect applications for the livelihood program to surge when all the stranded OFWs have returned and settled in their home provinces.
OWWA chief Hans Cacdac says they have an initial funding of P700 million for the implementation of the livelihood programs for displaced OFWs. Documented OFWs will be provided cash assistance of P20,000 each to set up businesses.
The OWWA's funds from the contributions of OFWs will be used for the livelihood programs.
DOLE noted that many of the displaced OFWs were crewmembers of foreign cruise ships, which are not expected to resume operations until next year.
Since the imposition of the community quarantines or lockdowns, Cacdac said OWWA had assisted about 30,000 OFWs who were provided accommodation, food and transportation for their return home.
OWWA also provided P10,000 in financial assistance to each displaced OFW who returned home.
A majority of those who have returned home are cruise ship personnel as well as hotel and industry sector workers. Cacdac said construction workers may also be affected.
Retraining, reskilling
In a policy paper titled "Overseas Remittances: Saving the 'Resilient' Owners of this Philippine Lifeline," professors Jeremaiah Opiniano and Alvin Ang wrote that the pandemic would not spare OFWs.
"Hence, resiliency that overseas migrants developed in the past will not work in the current situation since workers in every part of the world are boxed in by lockdowns," Opiniano and Ang said in their paper.
Opiniano is an assistant journalism professor at the University of Santo Tomas and executive director of the Institute for Migration and Development Issues.  Ang is director of the Ateneo Center for Economic Research and Development and an economics professor at the Ateneo de Manila University.
The paper stated the need for the government and its foreign diplomatic posts to try to organize and negotiate with host governments on how to retrain and reskill OFWs instead of sending them home.
If needed, the government should also negotiate for reduced salaries, which is a better option than laying off workers, the paper read.
It said the government could call on sending countries and approach the International Labor Organization and International Organization for Migration to work on a global arrangement to help manage the situation of migrant workers.
These events are not challenges that are unique to the Philippines, the academicians stressed.
Opiniano and Ang said for those already repatriated, a careful assessment of the skills and resources of OFWs may have to be made by the OWWA and POEA.
This way, appropriate re-tooling can be done for returnees' immediate redeployment or for their reintegration in the country through employment, especially in the infrastructure sector where skilled workers are lacking.
According to Ang and Opiniano, the government should not make the mistake of luring repatriates into livelihood programs immediately. The OFWs themselves should be given the opportunity to assess their capacities to engage in business and livelihood or to reskill themselves for local work or for eventual redeployment abroad.
"Sensitivity from the remittances-dependent homeland, its families and national authorities is one form of comfort these gritty overseas Filipinos will appreciate in these trying times," Ang and Opiniano said. "That may help in overseas Filipinos' efforts to remain resilient beside overseas migration, and alongside the 'new normal' that the prevailing COVID- 19 pandemic is giving the world."
Related story: Economic Saviors No More: OFW Deployment Dips; 95,000 Seek To Go Home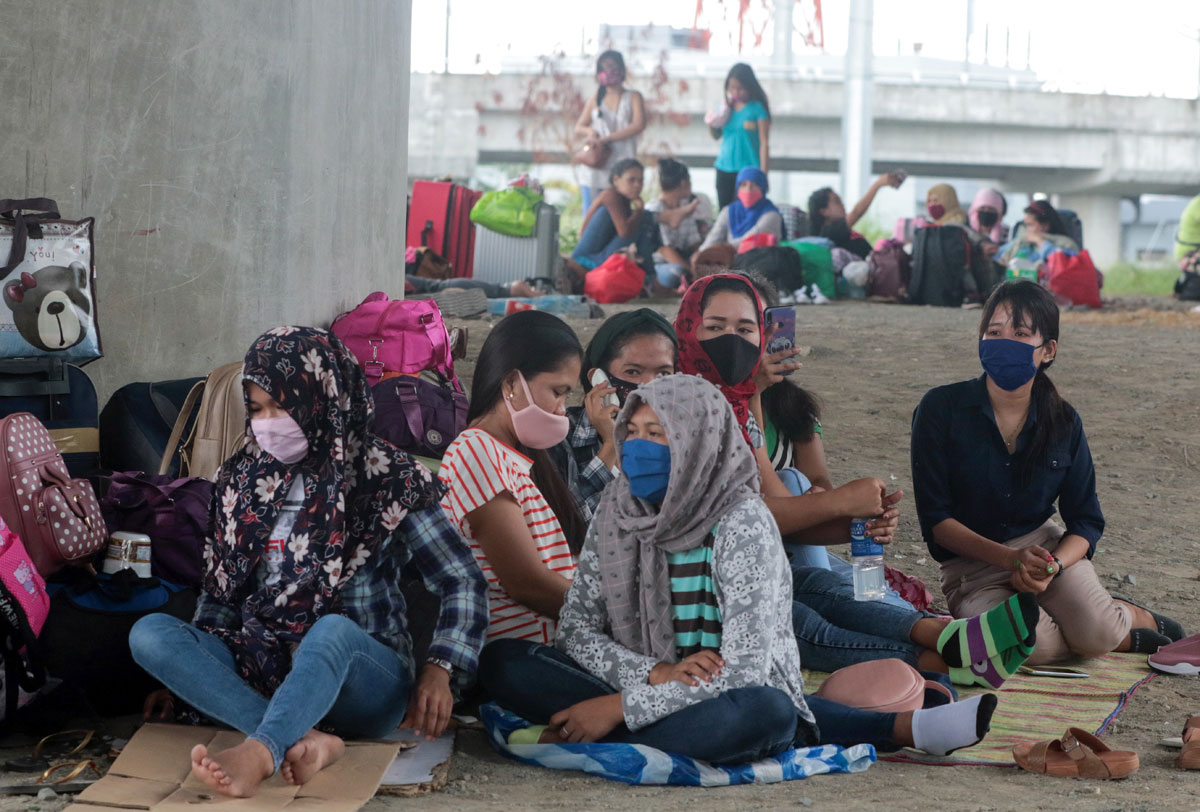 Stranded in Metro Manila
Long after they were repatriated, over 24,000 OFWs remain stranded in various quarantine facilities due to the delay in the release of their laboratory test results.  Returning OFWs are barred from going home to their families until they have completed the 14-day quarantine and obtained negative test results for COVID-19.
The DOH attributed the delay in the release of laboratory test results to the lack of encoders at the Philippine Red Cross, which handles all the laboratory tests for returning OFWs.
Labor Secretary Silvestre Bello III said thousands of OFWs were unable to return home immediately due to various factors beyond their control. One of the reasons, he said, is the lack of available transport. Some local government units have also refused to accept returning OFWs who do not have COVID-free certification.
The Sub-Task Force Group for the Repatriation of OFWs has announced that starting June 1, all returning OFWs will simply undergo home quarantine after their swab test has been administered at the airport.
But POEA chief Bernard Olalia said returning OFWs would be swabbed upon arrival at the airport and then brought to a quarantine facility to wait for the results. If the result comes out negative, they will be allowed to go on home quarantine.
Bello says he has sought the assistance of the Department of Transportation to be able to bring home the OFWs. He has also asked the Department of Tourism and other concerned agencies for help in providing accommodations as well as COVID-19 tests for the OFWs who are coming home.
Cash assistance
DOLE says it has spent P1.5 billion for the distribution of $200 cash assistance each to 145,000 displaced OFWs, including those who have returned home.
Under the Abot Kamay ang Pagtulong (AKAP) program, DOLE initially estimated that 150,000 displaced OFWs could be provided with cash grants. But the number of applicants has more than doubled.
"We have received a total of 450,000 applications for AKAP, thus we sought additional funding, although as of now, the approval rate is 30 to 40 percent of the total applications," Bello said.
Some of the applicants failed to qualify because they are already permanent residents abroad and no longer considered OFWs. Others who applied lost their jobs before the pandemic.
Jobs for OFWs
DOLE Assistant Secretary Dominique Tutay said two companies – Optum Global Solutions and EMS Group of Companies – have 8,000 positions for OFWs who lost their jobs as a result of the pandemic.
"They reached out to DOLE's Bureau of Local Employment to find repatriated OFWs seeking employment locally," Tutay said.
There are 4,000 jobs available for nurse case management specialists (US-registered nurses), clinical operations specialists (Philippine registered nurses) and customer service specialists (voice) at Optum Global Solutions.
Tutay said the company is willing to accept career shifters and graduates of any four-year course, including fresh ones.
Interested applicants can join a virtual open house until June 12 through https://uhg.hr/8qwu2 where they will be taken to a virtual lobby to learn more about the company and the positions available. Applications can also be sent to joshua.iway@optum.com.
The EMS Group of Companies, on the other hand, needs 4,000 workers for its plants at Technopark in Batangas and Laguna Technopark in Biñan.  The company is eyeing repatriated OFWs to fill positions for production operators and assembly workers. Applicants must be at least 18 years old and a high school graduate. Experience in electronics is not required as training will be provided. Applicants can send their resumes to cayc@ems.com.ph or recruitment@espi.com.ph and PhilJobNet.gov.ph.
"We welcome these initiatives from the private sector to engage our network and resources to provide solutions to the problems we face during this pandemic," Tutay said.