Medical Doctor With COVID-19 Prays For Recovery While Another One Dies; Cases Now 552
A doctor, PH194, never thought she would get infected with coronavirus disease 2019 and was in denial in the beginning. But she and the loved ones of those who succumbed to the disease point out how it is a taking a toll on many aspects.
She was PH194 based on the list of confirmed coronavirus disease 2019 (COVID-19) cases released by the Department of Health. Their identities could not be revealed to avoid violation of privacy laws.
But 42-year-old Dr. Grace Caras-Torres, an obstetrics-gynecologist and active consultant at St. Luke's Medical Center, confirmed in a Facebook post on Sunday, March 22 that she tested positive for COVID-19, further exposing the risks being faced by frontliners in the battle against the virus.
Torres admitted being scared about her condition, having a four-year-old child and elderly parents who could have been exposed to the virus because of her.
"I want this to come directly from me, not from gossips.  I did not expect that I will be infected," she said in Filipino.
Based on the tracker of the DOH, Torres was confirmed to have been infected last March 18. She is from Quezon City and had history of travel to Japan.
At first, Torres thought she was infected with chikungunya as she was manifesting on and off  high grade fever, headache,  body pains and loss of appetite.
However, she suspected it could be COVID-19 when some colleagues that she was with during a surgery also manifested symptoms.
"My God.  I immediately thought about my family — my four-year-old son and my parents who are both seniors.  I could have exposed them so I cried very hard.  It's OK if it's me, but not them," she confessed.
Torres  isolated herself in a room and thought she was already getting well until she had diarrhea. She heard that positive cases in Wuhan City in China developed gastro-intestinal symptoms before they deteriorated.
The doctor admitted she got "really scared and cried very hard" over this.
"Hindi pa ako handang mamatay. Masamang damo ako, di ba? Kelangan pa ko ng anak ko. Sasabak pa ko sa gyera...Hindi lang pala virus ang kalaban ko, pati katinuan ng pag-iisip," Torres wrote.
Torres lamented she became a victim when the "war" against COVID-19 was just starting. She spent her 42nd birthday under quarantine and with a disease that she described as "deadly."
Torres has appealed to everyone to always check the condition of those they knew who are infected or undergoing quarantine, including their families, to boost their morale.
"Buti pala umabot pa ako ng 42. Wala akong choice kundi libangin ang sarili ko sa pagbabasa ng (social media)," she said, adding her colleagues were intubated.
"Sana matapos na ito. Sana gumaling na kami. Sana wala nang mamatay. Miss na miss ko na ang anak ko. Ngunit salamat pa din sa lahat ng taong tumulong at nangamusta. Too many to mention. Mahal ko kayo. At (Diyos) ko, maraming salamat po at buhay pa ako at (OK) ang pamilya ko."
As of Tuesday afternoon, March 24, the number of confirmed COVID-19 cases in the country exceeded 500. The Department of Health said 90 new cases were documented or a total of 552. There were two patients who recovered, bringing the total number to 20. The death toll rose to 35 following the demise of two patients, the DOH reported.
Another hero falls
The medical community, however, lost another doctor to COVID-19 that claimed the lives of four other physicians last week.
Tributes have also poured in for the doctors who died on the frontlines with other health workers to save lives despite the risks.
In an interview, Philippine Medical Association (PMA) president Jose Santiago Jr. confirmed the death of cardiologist Raul Diaz Jara, former president of the Philippine Heart Association (PHA) on March 24.
"This is a sad day for us as we lost another colleague, Dr. Raul Jara.  Our deep condolences to his family," he said.
In a statement, the PHA announced Jara's demise, noting that the "Philippine cardiology will not be the same without" him.
"It is with profound sadness that we announce the loss of one of the great pillars of cardiology, PHA past president Dr. Raul Diaz Jara. He was a great father, teacher, mentor, poet, author, singer, colleague, friend," the group stated.
PHA described Jara as "one who has spent his life teaching" and "never got tired to impart knowledge and wisdom."
The group said Jara was also "one who made you sweat as he bombards you with questions but would suddenly make you feel at ease as he breaks into a smile."
"Rest in peace Dr. Jara as we remember you in our hearts and the teachings you have imparted to us. We deeply mourn for your loss but we want this more to be a celebration of your life," PHA added.
A breadwinner, a Good Samaritan, a doting father
 The four doctors who died last week were also remembered fondly by the people knew them.
Israel Bactol, a cardiologist at the Philippine Heart Center (PHC), finished his studies through a scholarship based on post by Cristina Banal Grajo on the Facebook page of PHC.
Bactol passed away on March 21, Grajo said, despite showing some signs that he was recovering. 
"Nakakalungkot at nakakapanlumo," Grajo wrote about Bactol's passing, noting that he was only 34 and a family breadwinner.
"Makikita mo sa itsura na gusto pa nya lumaban pero ang katawan sumusuko na," Grajo recounted.
She also said Bactol was trying to speak with his fellow doctors even if intubated and was able to write. "…gusto nya malaman kung anung status nya…Nakakahanga ang katapangang ipinakita, salamat sa iyong kabaitan doc hero."
 News about the death of Romeo Gregorio Macasaet, an anesthesiologist from Manila Doctors Hospital, went viral after a post about him appealing for assistance for his special child that he would leave behind in case he dies.
 A post by clinical professor Jun David on the UP Medical Alumni Society in America showed that Macasaet died on March 22
 "Greg, as I had known him, was also an avid photographer. His specialty was in (anesthesia) and he married our fellow classmate, Evalyn Talens MD who is also in Anesthesiology…They have a special child, Raymond," David wrote.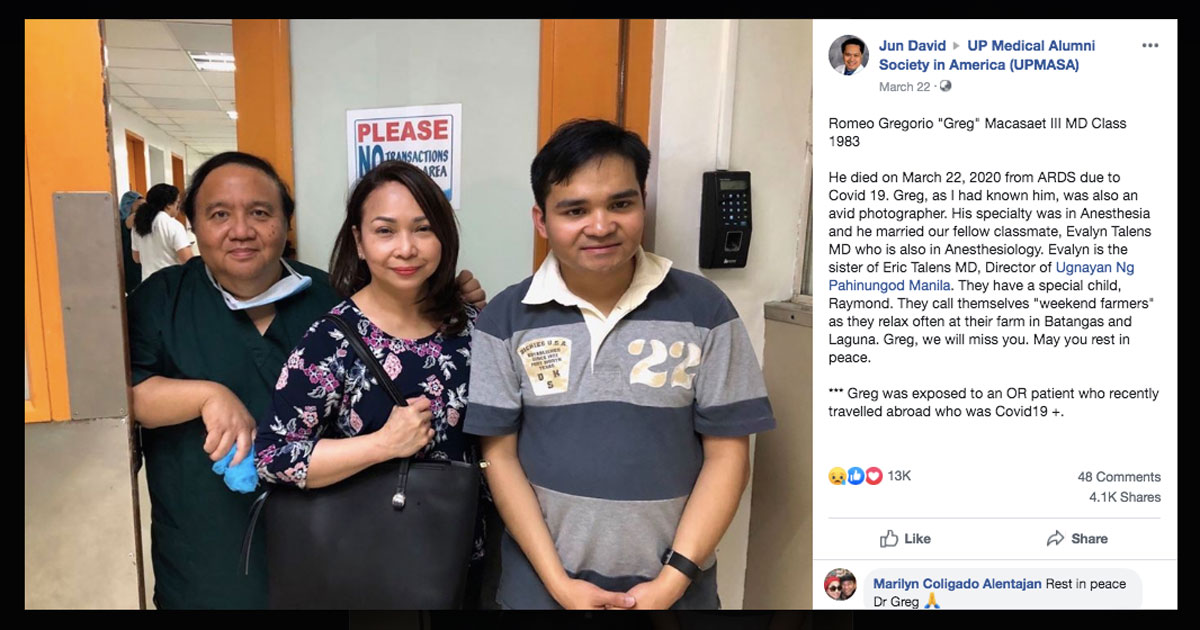 The Manila Doctors Hospital honored Macasaet in a Facebook post on March 22, calling him a brave man who had much impact on the lives of his patients, fellow doctors and nurses.
 Rose Pulido, a medical oncologist at the San Juan De Dios Hospital, was a Good Samaritan. Her sister Jeanie, a lawyer, said Rose touched many lives.
 One of them was Dr. Charmaine Javier-Linao, who said she would not have become a general surgeon without the help of Rose, who studied at the University of Santo Tomas and was part of the student publication, The Varsitarian.
 She then studied medicine at De La Salle University where she met Linao, who stated that Rose allowed her to stay in her dormitory when they had financial problems, "shared her food and coffee, made me borrow her books…even gave me money to pay for my school fees."
 Another friend of Rose, Irene Cordero, said "I had just lost a friend to (COVID-19). One doesn't realize the devastating effect of this virus until one loses someone they know to it."
 When traveling together, Cordero noted that Rose "would patiently wait for the seniors in our group, even carry their stuff," "unlike me who would wisp on ahead of everyone just to make sure I was right behind the tour leader."
 "That just goes to show what type of person she is…I thank you for having been given the opportunity to know you. You will be missed. Rest in peace dear Rose, a name so fitting of you. Such a selfless, beautiful soul," Cordero posted.
 The other fatality was a doctor from Pangasinan, according to the PMA. 
 Nurses cry for help too
 As this developed, Ang Nars president Lea Paquiz also expressed "deep concern" over the welfare of nurses who are serving on the frontlines without adequate protection.
 According to Paquiz, many nurses are now undergoing quarantine after developing symptoms due their exposure to infected patients.
 She disclosed that nurses, along with other frontline workers, are at high risk for contracting COVID-19 because the supplies of personal protective equipment are in adequate.
 Paquiz also underscored that many nurses have been working long hours a day, compromising their health and welfare.
 "Nurses are worried not only for their safety but also for their family whom they expose to infection when they come home.   I hope we can do something about this soon before our frontline workers get sick," she added. – With Aurea Calica