Distance Learning, Pre-Opening Activities By Aug. 3 Among Highlights Of The Upcoming School Year
The Department of Education has released the academic calendar for the upcoming school year. Here are some of the salient points, including adjustments due to the coronavirus disease 2019 pandemic.
The Department of Education (DepEd) is bracing for an "extraordinarily challenging school year" due to the outbreak of the coronavirus disease 2019 (COVID-19) pandemic.
On May 5, Education Secretary Leonor Briones announced that classes in public elementary and high schools would begin on Aug. 24, almost three months late from the original schedule on June 1.
According to DepEd, the pushback in the school opening is intended to afford the agency enough time to undertake the necessary preparations for the upcoming school year.
On Wednesday night, May 13, the education agency released the updated school calendar to take into account the measures that would be put in place in light of the public health emergency.
The school calendar applies to public elementary and high schools, although it also contains requirements for private schools that intend to open classes before Aug. 24.
Here are some of the salient points and new features in the recently issued school calendar:
Pre-opening activities
While formal school opening is on Aug. 24, DepEd said there would be "pre-opening" activities that would be conducted as early as Aug. 3.
From Aug. 3 to 15, students will be given assignments to explore foundational topics, as well as receive orientation on the utilization of alternative modes of education and the use of learner materials.
The following week, from Aug. 17 to 22, homeroom activities focusing on mental health and psychosocial activities will be conducted.
There will also be discussions on the characteristics and effects of the pandemic; orientation on precautionary and preventive measures such as water, sanitation and hygiene, and other topics related to COVID-19.
The pre-opening activities are counted in the 203 class days that will constitute the upcoming school year.
There will also be a general assembly of stakeholders before the school opening to orient and generate proposals from parents, guardians, students, teachers and other stakeholders regarding the upcoming academic year.
This shall be conducted through the most appropriate mechanism as determined by the school, such as teleconferencing or face-to-face activity.
Distance learning
A major feature in the upcoming school year is the use of alternative learning modalities, especially when classes resume in areas where physical opening of schools is not possible.
Briones said the opening of the school year would not necessarily mean face-to-face learning in the classroom.
Read more: UP experts: ECQ effective but 'physical' classes may increase COVID-19 transmission; Senior citizens should limit movement
Movement
According to Briones, the physical opening of schools will depend on the risk severity grading or classification of a locality, pursuant to guidelines of the Department of Health (DOH), the Inter-Agency Task Force for the Management of Emerging Infectious Diseases or the Office of the President.
"Even in areas where schools are allowed to open, physical distancing will still be required, which will necessitate schools to combine face-to-face learning with distance learning," she said.
This means that only a maximum of 15 to 20 learners will be allowed in each class, in compliance with the social or physical distancing measures set by the DOH.
To complement this, distance learning options may be adopted by the schools based on what is best for their students, teachers and other stakeholders.
Options include the use of online platforms, television and radio to deliver educational content, as well as the use of modules containing reading materials and tasks that students can work on in their homes.
In cases where limited face-to-face interaction is allowed, schools may consider a structured schedule or staggered class sizes to limit the number of students in schools at any given time.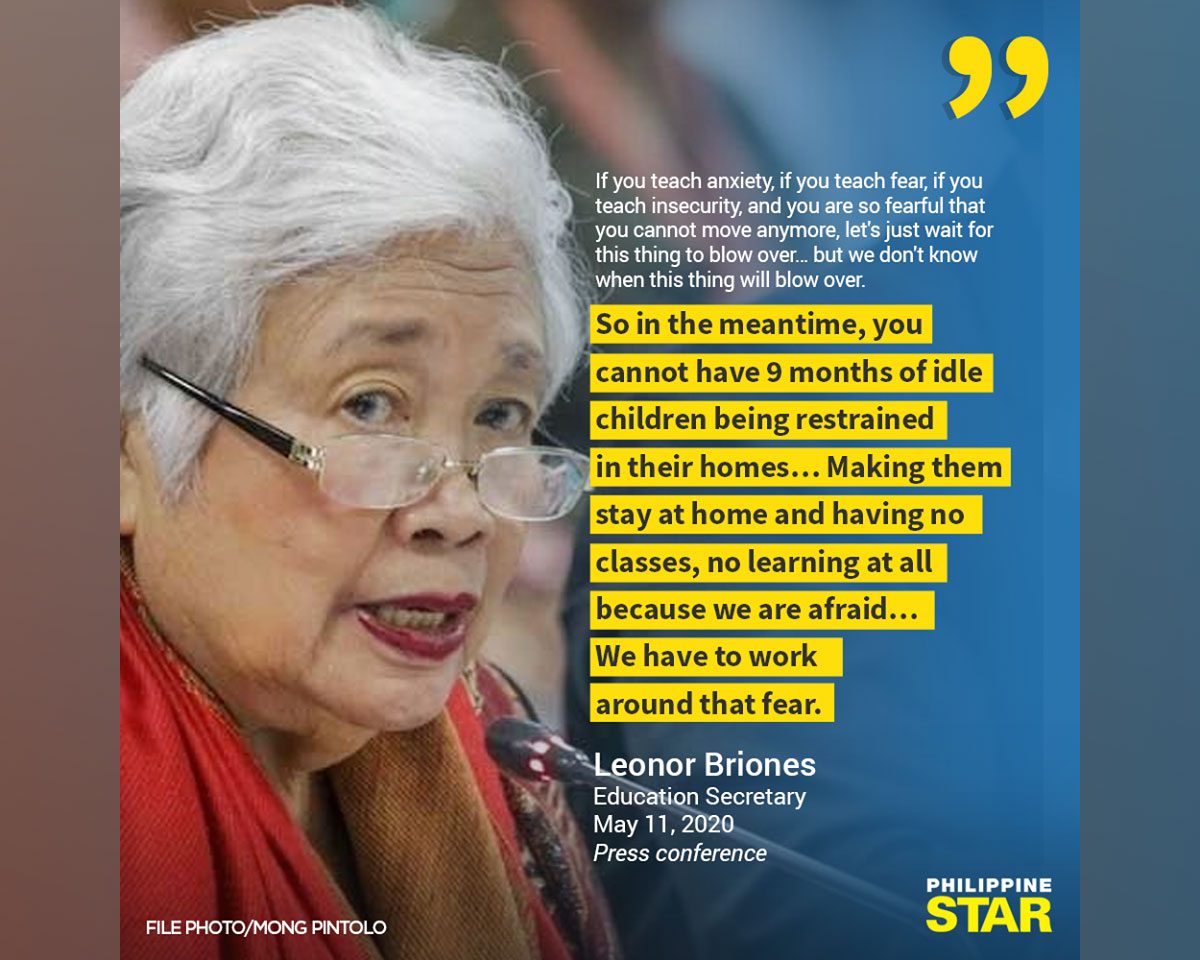 Enrolment period
To help schools determine the best learning delivery modality to adopt in their context, parents or guardians will be asked to answer an enrolment form that contains questions on household capacity and access to distance learning.
It requires information on access to devices that the students can use for learning, such as radio, television, smartphones, laptop and desktop computers.
The survey includes questions on internet access, as well as the parents' or guardians' preferred modality of learning for the students (online, television, radio, modules, and others).
The form will also allow parents to explain the challenges that may affect their child's learning process through distance education, including lack of available gadgets, insufficient load or data allowance, unstable internet connection, existing health conditions, difficulty in independent learning and distractions, among others.
"The enrolment and survey form is intended to collect important information to consider for the adoption of the relevant learning delivery strategies and modalities and to further provide support to learners for the school year," DepEd said.
The survey will be distributed during the enrolment period from June 1 to 30. It would include those who already enrolled during the early registration period earlier this year.
Read more: 15 To 20 students in a class being studied as schools open on Aug. 24
Saturday classes
Formal teaching and learning activities will begin on Aug. 24.
But as stated by the DepEd earlier, face-to-face classes may not necessarily happen as schools may adopt distance learning modalities to minimize physical interaction among the students.
Because of the compressed school year, Briones authorized the holding of Saturday classes, but only through the conduct of distance learning activities to be undertaken by learners.
"Should religious considerations prohibit these Saturday activities, they shall be undertaken on Sundays. However, teachers will not be required to report for work and engage in teaching activities on Saturdays and Sundays," the guidelines stated.
DepEd said schools should strictly devote eight weeks of each academic quarter to teaching and learning activities.
"Learners must be made aware of their responsibility to engage actively in the learning process and participate according to the requirements in each learning area," it added.
National assessments such as the National Achievement Test, National Career Assessment Examination, and Early Language Literacy and Numeracy Assessment shall still be conducted.
Parent-teacher conferences and distribution of report cards should strictly follow social distancing measures if these cannot be conducted online.
Holidays, breaks
Schools are still expected to comply with national holidays and other observances mandated by law.
Christmas break will be from Dec. 19 to Jan. 3 next year, while the end of the academic year will be on April 30, 2021.
Classes will be canceled only on Maundy Thursday and Good Friday, April 1 and 2, during the 2021 Holy Week. 
Final examinations are scheduled between April 15 and 23, while end of school year activities such as graduation rites will be from April 26 to 30.
Summer classes will be from May 3 to June 11, 2021.
 Canceled events
 Due to the pandemic, the conduct of curricular and co-curricular activities that involve gathering large numbers of learners are canceled, unless these can be conducted online.
These include science fairs, showcase of portfolios, trade fairs, school sports, campus journalism, festival of talents, job fairs, career orientation and other similar activities.
However, the school calendar noted that the National Schools Press Conference and the National Festival of Talents might be conducted online.
According to DepEd, career guidance activities shall be conducted between September 2020 and January 2021 to guide Grades 9 and 10 learners in making informed choices on their preferred senior high school track.
But college and middle level skills fairs, job fairs, businesses, senior high school summits and entrepreneurship expos shall be canceled.
Enhancement activities
With the major changes that will be implemented, DepEd admits that some students may be left behind, given the differing circumstances and capacities of learners and households to cope with the new modalities of learning.
 Briones said efforts to provide remediation and enhancement activities shall also be given more attention.
She earlier stressed that implementing the learning continuity plan would greatly depend on family and community support. 
"We need to prepare not only the schools, learners, administrators, and teaching and non-teaching personnel, but also the parents or guardians of the learners," Briones noted. "There will be orientations and capacity building for parents and guardians to prepare them for the new role and responsibilities that they will do."
Briones said DepEd needs the support and partnership of local government units to maximize and align their special education fund, as well as strong engagement with national government agencies, private organizations and other stakeholders in contributing to educational needs.
"The implementation of the basic education learning continuity plan will be difficult. It is not a perfect plan. It is not possible to have a perfect plan with so many unknowns and imponderables. Operational complications can be expected along the way," Briones pointed out.
"Thus, we seek the understanding, support and solidarity of our DepEd family and all our stakeholders, in the true spirit of unity and bayanihan or mutual help," she said.