#The2010s: A Decade Impacted By Climate Change
From Super Typhoon Yolanda to the 2016 Kidapawan protest, the 2010s were marked by increasing severe weather events caused by climate change, which adversely impacted the lives of millions of Filipinos.
A family in Capiz huddled underneath a small portion of roofing, shivering and drenched atop their home because of Typhoon Ursula's wrath throughout the Visayas.
The image isn't new; it's a familiar scene that we've seen countless of times this past decade due to the adverse effects of climate change. In an HSBC Global Research survey in 2018, the Philippines ranked third among the countries most vulnerable to climate change.
We could say it's the new normal: stronger, more devastating typhoons; flooding of greater frequency and scale; hotter, drier and longer dry seasons; supply shortages; conflicts brought about by severe weather events.
We've been forewarned. Typhoon Ondoy (international name Ketsana) in September 2009 was an indication of climate change's growing impact on our nation of over 7,100 islands.
Despite being a relatively weak typhoon, Ondoy unleashed over a month's worth of rain in Metro Manila and nearby areas in just a matter of 24 hours. It left over 600 people dead and P11 billion worth of damage to agriculture and infrastructure.
Ondoy should have served as a lesson to the rest of the country on the need for climate change resiliency. But over the past 10 years, many communities have remained vulnerable while the death toll and economic cost from severe weather events continued to rise.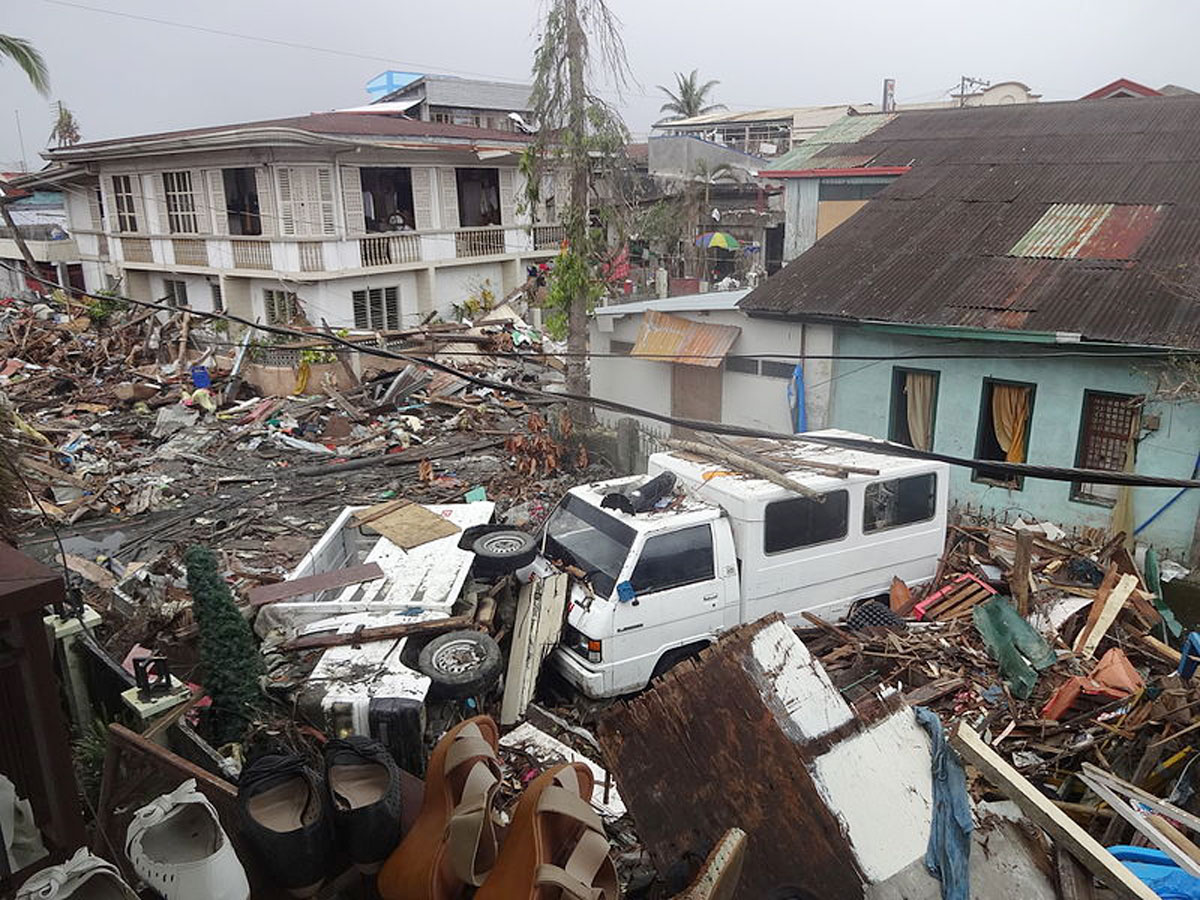 As the greater part of the decade was under the administration of Benigno Aquino III, it bore much of the brunt of these severe weather events.
The strongest cyclone to ever make landfall in Philippine history, Super Typhoon Yolanda (Haiyan), caught the government unprepared for the massive scale and extent of the damage in November 2013. Yolanda heightened Filipinos' awareness of a new threat brought about by more powerful cyclones: storm surge.
Filipinos first became aware of storm surges in 2011. Typhoon Pedring (Nesat) hit Metro Manila in September, generating a storm surge in Manila Bay with waves up to 20 feet high that smashed into the bayfront area from Manila to Pasay, destroying the Spiral restaurant in Sofitel hotel as well as the glass walls of the US embassy chancery. Severe flooding hit the bayfront area, reaching all the way to Taft Avenue.
Of the 6,300 fatalities from Yolanda, most were killed by storm surges that measured as high as six meters, according to the Philippine Atmospheric, Geophysical and Astronomical Services Administration (PAGASA).
At the time, people in Samar and Tacloban were unaware of what a storm surge was, with many opting to remain in their coastal communities even as the government issued storm warnings on Yolanda.
The government lacked the resources to respond to the impact of a typhoon of such magnitude. But the international community pitched in, assisting in rescue and emergency relief, and pouring billions in financial and material aid to the affected areas. Rehabilitation from the massive devastation, however, was slow.
The Duterte administration has been spared so far from such an extreme weather disturbance. The lessons from severe weather events during the previous administration have also made local communities more vigilant and prepared for natural disasters.
In September 2016, when Super Typhoon Ferdie (Meranti) struck Batanes, the province, which was placed by PAGASA under Signal No. 4, had no casualty. Still, the typhoon damaged agriculture and infrastructure worth P700 million including heritage houses.
In other severe weather events that affected a wider area, however, casualties were still unavoidable, although on a lesser scale than those that struck during the Aquino administration.
In October 2016, Super Typhoon Lawin (Haima) and Typhoon Karen (Sarika) made landfall in Luzon just two days apart. The two typhoons left 24 people dead and damaged P3 billion worth of agriculture and infrastructure in northern and central Luzon.
The same area was also in the path of Super Typhoon Ompong (Mangkhut) in September 2018. It left the region with 127 fatalities and P33 billion worth of damage to agriculture and infrastructure before it moved toward southern China where it devastated Hong Kong, Macau and Guangzhou.
Even in President Duterte's turf of Mindanao, people remain unprepared for severe weather events. Mindanao has increasingly felt the wrath of severe weather events, such as in December 2017 when Tropical Storm Vinta (Tembin) caused massive flooding in Lanao del Norte, Lanao del Sur and other parts of northern and central Mindanao, killing 266 people.
In December 2011, northern Mindanao was also in the path of Storm Sendong (Washi), which was relatively weak but still spawned widespread flashfloods that inundated coastal communities in Cagayan de Oro City and Iligan, killing 1,472 people.
Likewise, in December 2012, Typhoon Pablo (Bopha) devastated the eastern coast of the Davao and Caraga regions in Mindanao, leaving 1,067 people dead and damaging P37 billion worth of agriculture and infrastructure.
Apart from tropical cyclones, climate change has also caused prolonged dry spells that have adversely affected Filipinos in the past decade.
An El Niño event from 2014 to 2016 caused water shortages and rationing in Metro Manila as water levels in Angat Dam fell, leaving many residents within the service areas of concessionaires Maynilad and Manila Water without water.
The impact of that dry spell was greater in Central Mindanao, with thousands of farmers affected.
Encouraged by elements from the New People's Army, some 3,000 farmers from the towns of Arakan, Antipas, Magpet, Makilala and Tulunan marched and massed in Kidapawan City, where they blocked the Davao-Cotabato Road. They demanded that North Cotabato Gov. Emmylou Taliño-Mendoza release 15,000 sacks of rice stored in the provincial government's warehouse, which was being reserved for resident farmers of the province.
The standoff between the protesting farmers and local police led to a violent dispersal in which three people were killed and hundreds from both sides were injured.
The dispersal, which reminded people of similar deadly confrontations between state forces and protesting farmers such as in Mendiola near Malacañang and Hacienda Luisita in Tarlac, further tarnished the Aquino administration's reputation in Mindanao during an election year.
While the decade was marked by the worsening impact of climate change on the country, there was also progress in terms of climate change resiliency, on the part of both the government and the private sector.
The creation of the Climate Change Commission is perhaps the most crucial achievement in climate change resilience in the country. Established in July 2009 through Republic Act No. 10174, the commission set the framework and policies on how the government should respond adequately to the adverse impact of climate change.
With this framework, disaster preparedness, mitigation and risk reduction were institutionalized in all levels of government, enabling them to allocate funding and create programs that better protect their communities from severe weather events brought about by climate change.
In 2012, in the aftermath of Tropical Storm Sendong, the Department of Science and Technology (DOST) launched Project Nationwide Operational Assessment of Hazards, also known as Project NOAH, which provided real-time weather, flooding and landslide information using a website and mobile application.
Leveraging on existing technologies in weather forecasting, flood monitoring and hazard detection, Project NOAH enabled the national government and local governments to receive information on severe weather events and the hazards they pose on local communities. As such, it allowed local communities to respond quickly and appropriately to evacuate people in harm's way.
When Project NOAH was transferred to the University of the Philippines in 2017, it was replaced with Hazard Hunter PH, a similar application managed by the DOST's Philippine Institute of Volcanology and Seismology. It combines information on seismic and volcanic activities with weather and flooding events to enable local communities to respond immediately to potential hazards.
Likewise, efforts were also made during the past 10 years to improve PAGASA's weather forecasting capability through the acquisition of equipment such as additional Doppler radars, automated rain gauges and automated flood monitoring devices.
The Department of Education has revised its basic education curriculum to include disaster readiness and risk reduction so that future generations can develop preparedness and resilience, whatever challenges climate change might bring in the next decade.