Missing Human Touch? Dermatology Clinics To Adjust To New Normal Amid 'Skin Hunger'
Celebrity dermatologist Vicki Belo admits her businesses are also affected by the COVID-19 pandemic especially amid the season of social or physical distancing. But she believes people want beauty treatments even during these trying times.
What happens to skin and body care clinics at a time when people are discouraged from touching even their own faces to avoid being infected by the coronavirus disease 2019 (COVID-19)?
According to celebrity dermatologist Vicki Belo, there are many challenges that her businesses have to face.
Belo said her clinics were one of the first businesses to close down, even before President Duterte began putting the country under community quarantines in mid-March.
She recalled that the mall operators, specifically SM and Ayala, were confused by her decision.
" 'Are you sure you know what you are doing?' I said I don't know na nga what I am doing, that's why I have to close, so I can think quietly and pray, because it was too, you know, crazy," Belo said. Two days later, everything else was shut down.
"Buti na lang President Duterte announced, it was two days later, closed na lahat. So we're all in the same boat," she added.
The temporary closure of the clinics resulted in funds getting depleted. Belo said they donated all of the clinics' personal protective equipment as the country grappled with severe shortages at the start of the pandemic. They also provided 1,000 meals a day to health workers on the frontlines of battling the disease.
The Belo Medical Group paid its workers in full during the first month of no work. Then, they started tapping vacation and sick leaves, before releasing the 13th-month pay early. Finally, Belo said they could only give "ayuda (assistance)" as money burned fast in just three months of no business.
What happens to the clients?
Since suspending their operations, Belo notes that simpler skin and body care treatments have become do-it-yourself. Those who used to go to the clinics have follow-up checks online.
Skin and body care has been among the medical fields least prioritized as the government placed the country under different degrees of quarantine measures. Based on government guidelines, personal care services like massage, sauna, facial care and waxing were not allowed even under the more relaxed general community quarantine. For areas under modified GCQ, such establishments can operate at 50 percent capacity.
Belo notes that measures to protect people from the coronavirus come at the cost of the health of their skin: face masks cause acne breakouts due to irritation, while constant washing dries out the hands.
She stresses the need for people to have healthy skin for self-confidence and comfort. "It's true that they want to be beautiful for other people. But of course we want to be pampered, we want to feel good," she said.
Belo recently appeared on the online show CG Live!, aired on The Philippine Star's CareerGuide, to discuss how her chain of clinics is adjusting to the new normal as branches open one by one and operate at a reduced capacity.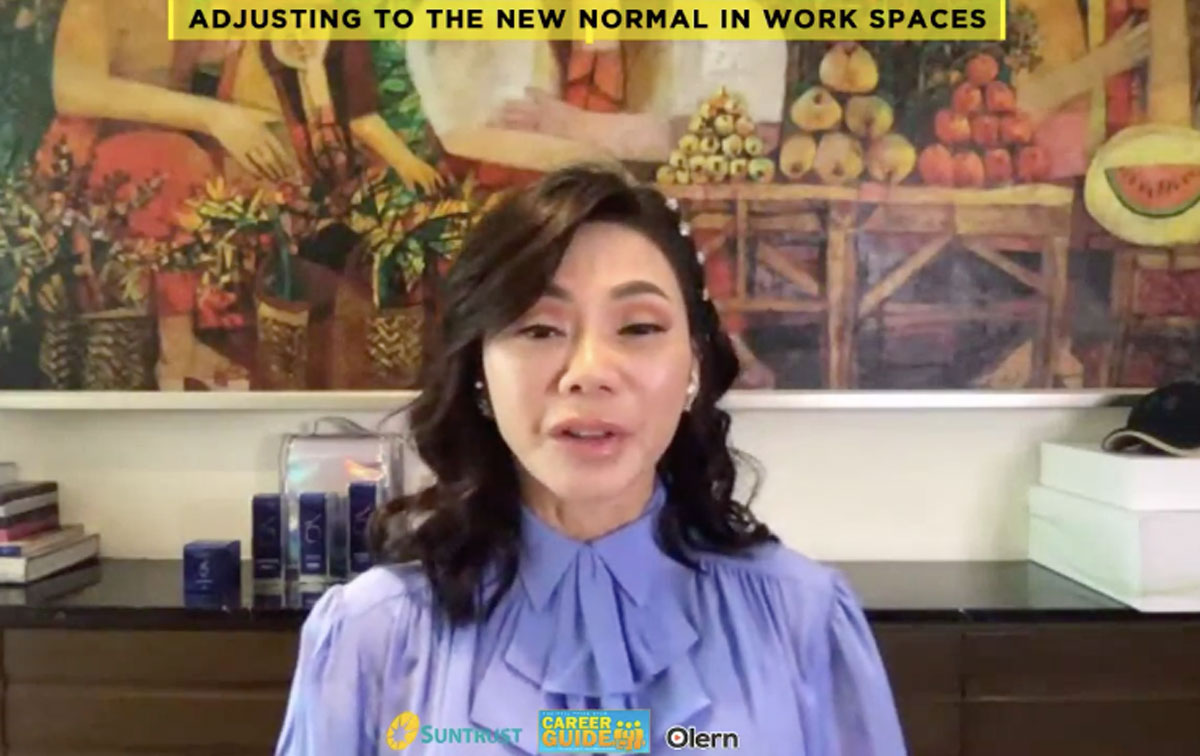 The first to reopen was the clinic in Greenhills. Some of the easier skin treatments were turned into a line of products called "BIY" – for Belo It Yourself – sold through Belo Shop and Belo Med. This means letting go of some best-kept secrets and putting them out in the market.
"For example, you used to go to the clinic for salt scrubs, because you know women, we like to feel soft and sexy," Belo said. "These are secret things we keep close to our chest, but now we are giving, we are selling it in the Belo shop so they can do it at home, so they don't have to be magaspang (rough) and makalyo (callusy)."
Apart from creams and oils, Belo says "we're teaching them to do light peels at home, so they don't have to come to the clinic anymore." She says they are looking for a lubricant to soften hands dried out by constant washing.
"It's such a different world. We're learning every day," she said.
Telemedicine is playing a bigger role in health care, but she says the touchy nature of skin and body care makes things complicated.
"If it is a simple consult, on telemedicine na lang. But there's no such thing as that taking over," Belo said. "Iba kasi (It's different) when you're derma – you have to touch, you have to see."
Those who have to go in person to the clinic are no longer given magazines to read, to discourage patients from staying in the longue – or even water to drink, to reduce contact. "Nagrereklamo na nga (There were complaints)," Belo said of clients used to being given cookies.
Belo's 550 employees would have to contend with reduced work as the economy reopens slowly. She candidly spoke about her bleeding bank accounts while expressing a desire to keep the jobs.
For now, she said employees could work in two-week shifts so that if there is a need at any given time, half the workforce could quarantine themselves.
"Our problem is asymptomatic patients whom we don't know, or asymptomatic employees who think they're OK, right? And if you're exposed to them, the whole clinic will close down. Better, two weeks on, let's say something happens to Team A, Team B can take over," Belo said.
'Skin hunger'
Belo believes there can be a strategy for providing the "human touch" that people are longing for amid the season of social or physical distancing.
She assures patients and employees that they can still be safe while being pampered. Their usual services will be made possible through the advanced equipment to be prepared for all the clinics of Belo Medical Group.
"We have your back. We really spent all our energy to make Belo safe for everybody. COVID has brought us to our knees and created a society devoid of human touch. Now there's a phenomenon called 'skin hunger,' " Belo said.
She stressed that her clinics would observe all precautions and safety measures to protect clients and employees from COVID-19 while giving the "warmest touch."
"As I always say, 'a millimeter scar in the face can sometimes be a kilometer scar in the heart.' So I think there will be demand for beauty treatments because people want to be touched and be beautiful for themselves when they look in the mirror," Belo noted.
Still, she is in favor of the cautious approach to reopening businesses.
"It's better to do it slowly than open everything and then, 'ay, mali, mali (everything is wrong)!" she said.
Belo confided that she had told her husband, Hayden Kho: "I'm scared now. Ang baba na ng bank account (The bank account is getting exhausted)."
But she emphasized that people must come before profit during this time.
"It's really, what would Jesus do in a situation like this? And of course, Jesus always said, 'feed,' " Belo said. "Of course we will still try to help as much as we can."