LTFRB Set To Conclude Pilot Study On Motorcycle Taxis this year
Initial findings submitted to Congress saw encouraging results, particularly on safety.
Motorcycle taxis have been a common sight on Metro Manila roads and other urban areas in the Philippines for quite some time now, affording daily commuters a faster, more convenient mode of transportation. However, there is still no law to assure the riding public that these are safe and viable modes of transportation.
Upon the directive of the Department of Transportation (DOTr), the Land Transportation and Franchising Regulatory Board (LTFRB) formed a Technical Working Group (TWG) in 2019, which oversees the pilot implementation of motorcycle taxi services Angkas, Joyride, and MOVE IT.
Although the pilot study was initially suspended in 2020 due to the COVID-19 pandemic, it was reconstituted in November 2022, providing recommendations on safety, security, franchising, regulatory procedures, and law enforcement issues on motorcycle taxi operations.
In an exclusive interview with The Philippine STAR, LTFRB chairman Teofilo E. Guadiz III gives an update on the status of the motorcycle industry in the Philippines and provides insights into the pilot study conducted by DOTr-TWG. He also emphasized the significance of enacting a law for motorcycle taxis in the country.
NUMBER ONE IS SAFETY
As of August this year, the government, through the DOTr-TWG, is still handling the pilot study for motorcycle taxis in the country.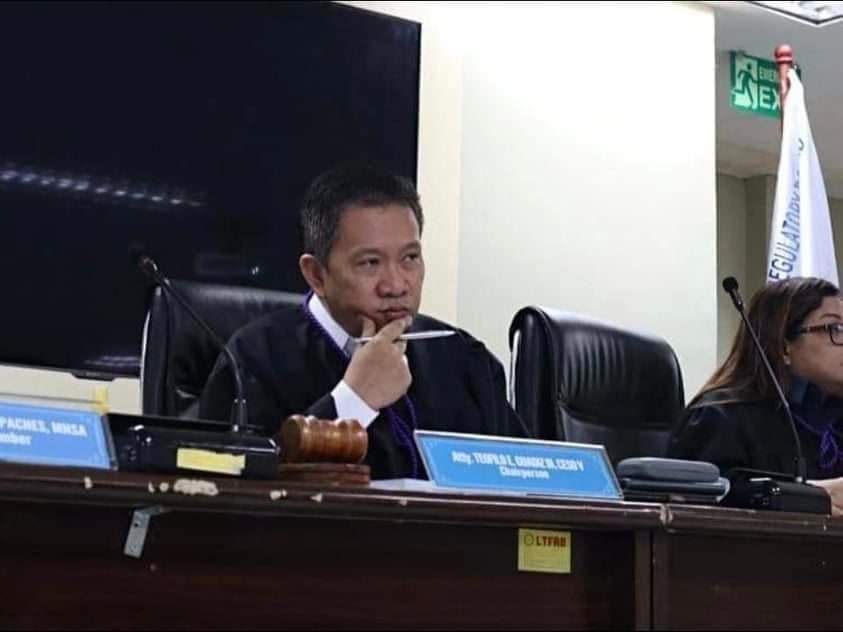 According to Guadiz, three out of seven Transport Network Companies (TNC) expressed their interest in joining the study upon its completion in 2019, namely Angkas, Joyride, and MOVE IT. They were allocated 21,000 riders each to spread out in pilot areas such as Metro Manila, Metro Cebu, and Metro Cagayan de Oro.
"The MC Taxi -TWG has been relentless in its efforts to come up with a study that is complete, comprehensive, replete with data and totally informative, particularly for Congress and of course, the riding public," he said. "The three TNCs are performing well and, as a result, they continue to enjoy substantial patronage among Filipinos looking for alternative and affordable for-hire vehicles that will take them to their destination safe and sound."
The study, which began in 2019, was conducted to provide substantial information and help address the viability of motorcycles as a means of public conveyance, and its potential use as a safe and reliable mode of public transportation.
Yet, with the study done during the COVID-19 pandemic, the results were not comprehensive and sufficient enough to merit a sound recommendation in crafting motorcycle taxi law. Thus, it was expanded in terms of coverage and number of participants/respondents to make it more relevant and inclusive.
"The pilot study is a continuing process, and the MC Taxi-TWG continues to monitor diligently the performance of the three TNCs. Each month, they are required to submit specific documents such as Master List of Riders, Ridership Report, Customer's Feedback Report, and Accident Report. In fact, very recently, the MC Taxi-TWG has expressed willingness and is also open to the idea of extending the pilot study for a much longer term," Guadiz explained.
The initial findings submitted to Congress saw encouraging results, particularly on safety, where the three TNCs received a safety rating of 99.98%.
For Guadiz, he saw the results as inspiring, especially since motorcycles are often involved in vehicular accidents. "We believe this is because the three TNCs continue to put high regard to safety, both for riders and their passengers," he said.
A COST-EFFECTIVE ALTERNATIVE
Guadiz added that he saw socio-economic benefits for motorcycle taxi riders in the ongoing pilot study, saying a full-time rider can earn more than P40,000 per month, as well as accident insurance, medical reimbursement insurance, and other incentives.
"This is such inspiring data that perhaps may encourage more riders to become drivers of motorcycles-for-hire once it is approved by law because it offers tremendous opportunities for livelihood and better quality of life," he said.
The LTFRB is looking to conclude and present the final findings of the pilot study within this year, in accordance with the DOTr-issued Department Order. Guadiz explained that this will be triggered by two events: the exceeding of the target volume of participants in the pilot study and the expansion of the service to other areas, including the provinces.
For Guadiz, there is a need to legalize the motorcycle taxi as a viable and safe means of transportation for average daily commuters who have yet to afford their own vehicle.
"The volume of vehicles occupying streets in major cities such as Metro Manila and other highly urbanized areas continues to grow at an exponential rate, mainly because more Filipinos have better jobs and income and as such, can afford to buy their own vehicles. However, for those who still cannot afford to buy a vehicle of their own, we believe they will continue to look for modes of transportation that they can afford and at the same time assure their safety when going to their destination," he said.
ROOM FOR IMPROVEMENT
The LTFRB has seen a significant and consistent improvement among the three main TNCs in the country. However, he mentioned that there is still more room for improvement, especially when it comes to maintaining and exceeding their previous safety rating.
"Safety of the passenger is absolutely important, there is no argument to that. People or passengers who patronize MC taxis need to be assured constantly that the motorcycle they are riding and its driver are dependable and unfailing in putting their passenger's safety first above everything else so that they can continue to patronize MC taxis," Guadiz said.
Moreover, the LTFRB plans to address issues brought about by the proliferation of the habal-habal.
"Our objective is to encourage habal-habal operators to join the pilot study and inculcate in their minds the aspect of consistent observance and compliance to safety riding/driving standards to keep their passengers safe, and for them to also enjoy the benefits being experienced by the pilot study participants and eventually, become part of the system and be branded as a 'legal' form of motorcycle for hire," Guadiz said.
When asked when the public can see a law on motorcycle taxis ratified, Guadiz leaves it up to the wisdom of Congress once the completed study has been submitted to the House.
"Once the law on motorcycle taxis for hire is ratified, it will hopefully give commuters another public transportation option, which is in line with the vision of the DOTr, through the wisdom of Secretary Jaime J. Bautista, so that Filipino commuters can enjoy convenient, accessible, safe and secure, and affordable public transportation systems any time, all the time," he said.
As of July 2023, over 63,000 motorcycle taxis have been plying around the DOTr-TWG'S pilot study areas. Moreover, the LTFRB has seen a huge increase in support for motorcycle taxis since the study began in 2019.
"We also noticed an overwhelming support from passengers and riders alike, where they believe motorcycles are a viable mode of public transportation and, based on data, it is a viable source of income," Guadiz said. "Probably, this explains why many are now interested in operating motorcycle taxis in different local government units."