Isko Moreno: The Right Time Will Come To Talk About Politics
Manila Mayor Isko Moreno, who is emerging as one of the top contenders for president and vice president in next year's polls, believes Filipinos are not interested to discuss politics while the country is dealing with the pandemic.
Will the COVID-19 pandemic be a game changer in the 2022 elections? Will the voters judge incumbent officials based on their response to the many problems brought about by the pandemic should they run again next year?
Manila Mayor Isko Moreno is focusing on the city government's fight against COVID-19 and would rather not dwell on politics at this point in time.
While his name is emerging as one of the top contenders for vice president and even president in the 2022 polls, Moreno said the problems brought about by the pandemic are already more than enough to think about. In fact, these are choking them up.
"I swear, I'd rather focus on what I can give today for COVID. With all honesty, we're very busy. We're busy enough to address politics," Moreno told "The Chiefs" on One News / TV5 on Monday, April 26.
"I think politics nowadays, no people, no person in this country will entertain politics. What they want, what you want and what you need and what you should be hearing is what you can do with the infection and hospital care," the Manila mayor added.
Pulse Asia's February 2021 Ulat sa Bayan survey showed Moreno, who was an actor before he became politician, as the most preferred vice presidential bet with 16 percent out of 2,400 respondents. He was closely followed by Sen. Manny Pacquiao and presidential daughter Davao City Mayor Sara Duterte-Carpio with 15 percent.
Senate President Vicente "Tito" Sotto III and former senator Ferdinand "Bongbong" Marcos Jr. received 11 percent, Sen. Christopher "Bong" Go, nine percent; former House speaker and Taguig-Pateros Rep. Alan Peter Cayetano, seven percent; and Sorsogon governor Francis "Chiz" Escudero, seven percent.
Meanwhile, 12 percent of the respondents said they would support the presidential bid of Moreno if the elections were held during the survey period last Feb. 22 to March 3.
Carpio led the field of 13 potential candidates for president with 27 percent, followed by former senator Ferdinand Marcos Jr. (13 percent), Sen. Grace Poe (also 12 percent like Moreno), and Pacquiao (11 percent).
Earlier this month, Malacañang said President Duterte may pick among Moreno, Marcos and Pacquiao as his preferred successor should Carpio and Go choose not to run in the 2022 polls.
Carpio, who is being urged by her supporters to succeed her father, previously said she might seek the presidency only in 2034.
Meanwhile, Go said he would only seek the country's top post if the President agrees to run for vice president.
Read more: Rody To Pick Among Isko, Bongbong, Pacman If...
'How can you lead if everybody's dead?'
Told that it is possible to think about solutions to the COVID-19 pandemic and political aspirations at the same time, Moreno stressed it is still best to give his full attention to the ongoing health crisis.
"Ang future na nakikita ko (The future that I see) is how can you lead something if everybody's dead? I mean it doesn't make sense." Moreno said, adding he doesn't want to "romanticize" the current situation.
"Ang daming walang trabaho, hirap kumain, ang daming (There are a lot of people who are unemployed, who are hungry; there are a lot of) uncertainties, things that are [out of control]. Ang daming bagay [There are a lot of things to think about]. It will be unfair to you as taxpayers 'pag career road muna ang iniisip naming (if we think about our career road first)," he said.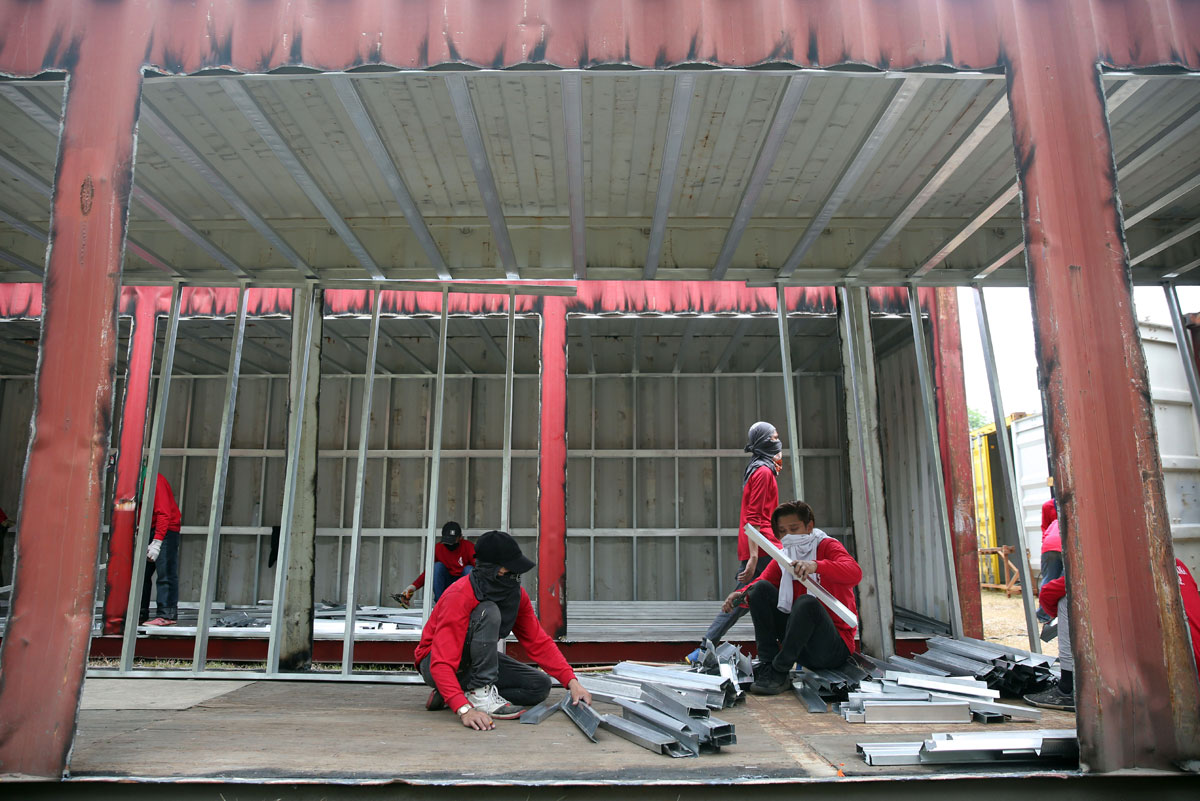 "Kaya't ako, hangga't maaari, it's not that iniiwasan ko 'yung tanong, (That's why, as much as possible, it's not that I'm avoiding your question), it's just that you don't deserve [that kind of] answer from me. I think what you need is what we can do together for now," he added.
Still, he expressed his gratitude to the respondents who chose him to be a possible candidate for the two top posts in 2022.
"I'm grateful to those who answer in favor thinking of me na pwede. Thank you very much sa inyo. But there will be time for that," Moreno said.
On Monday, Carpio also stated that "2022 is still far away, but I don't know if I can even be here in October because COVID-19 might get me already."
"There isn't anything definite in this time of a pandemic," she said in Cebuano and English in her weekly radio program when asked to comment on survey results showing her leading other possible contenders to the presidency.
She stressed everyone should be thankful to wake up every day as that alone is a blessing.
The filing of certificates of candidacy for those running for president, vice president and other national positions will start in October.
Carpio brushed aside survey results showing her consistently leading other supposed presidential candidates for the May 2022 elections.
Pulse Asia president Ronald Holmes said in an interview on ABS-CBN News Channel on Monday that name recall has boosted the rankings of Carpio and other personalities in the recent pre-election surveys.
"I think what's driving most of the voting pre-election preference at this point has really been name recall. It's not so much their record because they have not in any way disseminated this record," Holmes, a political analyst, said.
"Some people know what they have done, but for many it is really the name that is the basis of their decision," Holmes added.
Moreno bats for MECQ extension, but...
Moreno said he is in favor of extending the modified enhanced community quarantine (MECQ) over Metro Manila, Cavite, Laguna, Bulacan and Rizal or NCR Plus but it should be tweaked.
What does modified MECQ mean? Moreno explained this will entail the opening of more industries.
"MECQ pero modified MECQ. Ibig sabihin pwede naman din MECQ pero pwede tayo magbukas ng ibang industriya kasi it will protect existing jobs because life and economy is at stake," the mayor said. "And it's a balancing act daily on [the part of] all local chief executives."
Asked what industries he thinks may be opened under the setup, Moreno said these are restaurants, hotels, salons, barbershops, and other small businesses.
He noted that restaurants could easily generate jobs while some hotels could start accommodating for families who are looking for a different ambiance.
Barbershops, salons and other small businesses can also help employees go back to work after stopping for so many weeks.
"Halimbawa restaurants, 'yan ang pinakamadaling mag-produce ng trabaho. Maybe some hotels hopefully that can accommodate 'yung mga tinatawag nating mga naiiba lang ang ambiance sa mga pamilya. Barbershops, salons and other small businesses na nakakatulong in a way na mapaghari muna 'yung mga empleyadong 'yun na natigil for so many weeks," Moreno explained.
Similarly, Department of Health Secretary Francisco Duque III and the OCTA Research group also sought for an extension of MECQ over NCR Plus, despite signs that the COVID-19 transmission rate has slowed down.
NCR Plus is under MECQ from April 12 to April 30 amid a surge in COVID-19 cases.
Read more: DOH Chief Supports MECQ Extension As COVID Cases Top 1 Million
Experts: COVID Situation In NCR Improving, But…
Duterte is set to decide on the new quarantine status for NCR Plus on Wednesday, April 28, presidential spokesman Harry Roque Jr. said.