Where's Your Focus? Netizens, Some Media Entities Assail, Rebut Duterte Over Claims Versus Robredo, UP
President Duterte's pronouncements made on wrong premises during his address on Tuesday night were quickly fact-checked. Many asked why he focused on Vice President Leni Robredo when thousands of Filipinos are hungry, jobless and homeless.
In the United States, news organizations rebuked President Donald Trump when he declared victory ahead of the counting of votes following the elections on Nov. 3.
Three leading news networks also cut away as Trump began floating baseless claims of election fraud. The media also immediately fact-checked Trump's claims, saying his speech was misinformation-heavy.
On Tuesday night, Nov. 17, President Duterte also received backlash when he talked to the nation to give updates on the government's relief and rehabilitation efforts following a series of typhoons that caused massive flooding and destruction in many parts of the country.
All these calamities are happening in the middle of the coronavirus disease 2019 (COVID-19) pandemic. Thus people wondered why Duterte dedicated much of his national address to talking about Vice President Leni Robredo and critics like university students.
The problem was that his tirades were based on wrong information or premises, and social media users, along with news organizations, were quick to point these out.
Hashtags like #NasiraanAngPangulo, #DuterteMeltdown, #DuterteMentalBreakdown and #NaasarAngPangulo became trending topics on Twitter.
The hashtag #NasaanAngPangulo that Duterte thought was a question from Robredo also originated from netizens back in 2015.
Robredo pushed back and tweeted that Duterte was a misogynist and "pikon" or touchy.
And so amid the public health crisis and natural disasters, the responses were overshadowed by political bickering.
Duterte's rants and why they are misleading
A visibly angry Duterte spent more than 20 minutes of his "message to the nation" accusing Robredo of questioning his whereabouts during the onslaught of Typhoon Ulysses and calling her "dishonest."
But the hashtag #NasaanAngPangulo ("Where is the President?") had been asked last Nov. 1 when Super Typhoon Rolly struck Luzon – and the question had been raised as early as 2015, during the time of his predecessor Benigno Aquino III. The hashtag is used every time netizens find the president missing in action or MIA during major disasters.
In a series of Twitter posts that night, Robredo alleged that officials such as Chief Presidential Legal Counsel Salvador Panelo were spreading false information about her.
"I just called out (Secretary) Panelo for peddling fake news. I am also calling out whoever peddled the fake news to the President, kaya ganito siya kapikon (which is why he is this touchy)," Robredo said.
She stressed that she was only sharing updates from the ground to the public to assure the distressed that "we heard you, help is coming, we are doing all we can to save you."
Robredo reminded Duterte: "Sa panahon ng matinding sakuna, dapat lahat ng tulong, welcome. Hindi ito contest. Hindi tayo nag-uunahan. Lahat tayo dapat nagtutulong-tulong para sa ating mga kababayan (In times of serious disasters, all help should be welcome. This is not a contest. We are not racing against each other. We should all help each other for the sake of our countrymen)."
Robredo denies questioning Duterte's absence
Duterte accused Robredo of stoking public criticism about his perceived absence and inaction. He cited his online attendance at the virtual Association of Southeast Asian Nations Summit from Nov. 12 to 15 as a reason for his perceived absence.
"Alam mo 'yung pakana niya na wala ako sa bagyo – I was here, dito. I was attending a summit, ASEAN Summit 'yon. So virtual lang, palit-palit kami, we were talking sa electronic (You know her gimmick that I was out during the typhoon – I was here, right here. I was attending a summit, the ASEAN Summit. It was just virtual exchanges, we were talking through electronic means)," Duterte said.
"I was busy with my intervention," he added, referring to the four speeches he gave at the plenary session of the ASEAN Summit (in which he made a passing reference to how he "may not be around to attend further in this regard for I have to go around and see what I can do for my people"), the regional bloc's summits with Australia and with the "Plus Three" countries of China, Japan and South Korea, and the East Asia Summit.
Duterte also dragged one of Robredo's children into his tirade, although he did not identify which one. "Iyong marbles mo sa kamay mo, 'wag mo masyadong ilaro kaagad na hindi ka sigurado. You – ikaw, your daughter, sumali ka na sa politika, ayon (Do not play with the marbles in your hand right away without being sure. You – you, your daughter, joining politics, there)," he said.
In reply, Robredo pointed out: "I never said 'Where is the President'?  You can review all my tweets."  Netizens and various media entities supported this. On Wednesday, Nov. 18, the Vice President said Duterte was fed with wrong information. She was in Ragay, Camarines Sur to lead the distribution of relief goods to those who were affected by the recent typhoons.
While some news organizations rebutted Duterte's statements, the media coverage of his remarks also prompted calls for journalists to fact-check and contextualize the President's pronouncements instead of just "transcribing" what he said.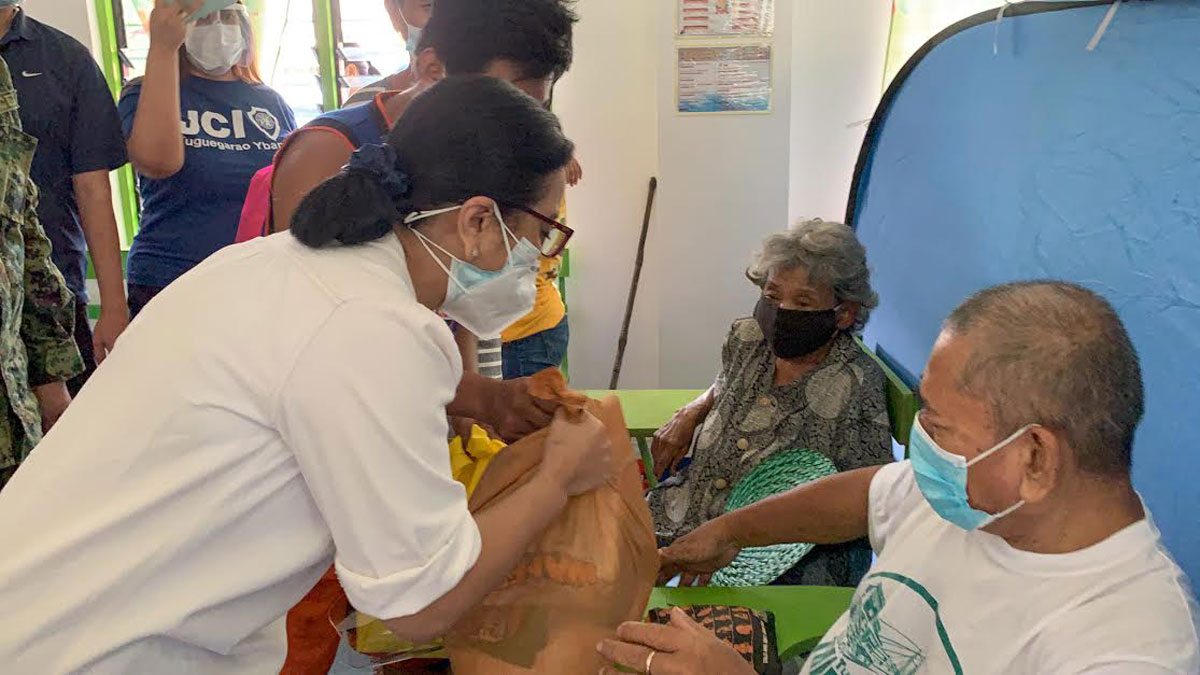 Why people looked for Duterte
 Social media users used the hashtag #NasaanAngPangulo ("Where is the President?") not just during the onset of Typhoon Ulysses but also during  Super Typhoon Rolly on Nov. 1.
 The critics noted that Duterte did not deliver any message informing the people about the government's preparations and early warnings for either Rolly and Ulysses. His last public addresses prior to these storms were on Oct. 27 and Nov. 10, and both were delivered in response to already existing calamities such as the coronavirus disease 2019 pandemic and the impact of Rolly in southern Luzon.
 When Rolly struck, critics noted that Duterte was absent during the national government's first high-level meeting that was held several hours after the typhoon made landfall in Catanduanes province. The critics said that like in the ASEAN Summit, Duterte could have participated even just through videoconferencing. Albay Gov. Al Francis Bichara told presidential spokesman Harry Roque that they had already recorded deaths when the latter asked what help they would need.
 Roque, on Nov. 2, explained that the typhoon struck on a Sunday, so subordinates were present in Duterte's stead. "Inaasahan po nga natin iyong landfall kahapon, 'no, at saka sa totoo lang po araw ng Linggo naman iyon (We were expecting landfall yesterday, and in truth, it was a Sunday)," he said.
 Duterte left his home city of Davao on Nov. 2 and went with his former special assistant, now Sen. Christopher "Bong" Go to conduct an aerial inspection, appearing without a face mask before a crowd in lahar-stricken Guinobatan, Albay.
 On Nov. 5, he explained that he was at home, away from the disaster zone, because it was All Saints' Day – a holiday during which all cemeteries nationwide were ordered closed to prevent COVID transmission.
 Ulysses struck on the night of Nov. 11, causing widespread flooding, power outages and internet service interruption in Cagayan Valley and parts of Metro Manila, Calabarzon and Central Luzon. Duterte addressed the public the following morning.
 He talked about the mobilization of law enforcement agencies to assist in rescue and relief operations as he lamented: "May magsabi na walang ginawa, natutulog – wala kaming tulog dito (If anyone says we're doing nothing and just sleeping, we have not had a wink of sleep here)."
 As reports started emerging that Cagayan and Isabela provinces had been swamped by massive rainfall that spawned floods from the mountains compounded by the release of water from Magat Dam, Duterte cut short his attendance at the ASEAN Summit.
 He addressed the public again on Saturday, Nov. 14, to ask people trapped by the floodwaters without food on the roof of their submerged homes to be patient.
 "Maghintay lang kayo nang kaunting panahon, minuto-minuto lang naman 'yan eh. Iyong hindi pa nakuha sa bahay nila, maybe this is still early, 1 o'clock, makakarating 'yung mga air assets natin (Just wait for a while, it's only a matter of minutes. Those who were not yet picked up at their homes, maybe this is still early, 1 o'clock, our air assets will arrive)," he said.
 Duterte flew over Cagayan on Sunday, Nov. 15, on a helicopter for another aerial inspection with Go.
 #NasaanAngPangulo not new
 Duterte is not the first President hounded by the question #NasaanAngPangulo. The hashtag became a trending topic when Aquino did not attend the ceremony for the arrival of the remains of 42 of the 44 Special Action Force commandos killed in Mamasapano, Maguindanao on Jan. 29, 2015.
 Aquino instead went to the inauguration of a Mitsubishi plant in Sta. Rosa, Laguna instead of joining the loved ones of the slain police commandos at Villamor Air Base in Pasay City. He said he wanted to give the immediate families time to grieve as emotions were running high at the time.
 Appearing in a Senate hearing on Oct. 4, 2017, Rey Joseph Nieto, a blogger who calls himself a "Thinking Pinoy," accused then interior secretary Manuel Roxas II of paying publicist Joyce Ramirez to get #NasaanAngPangulo to trend to deflect blame from himself.
 Public information and mass media committee chair Sen. Grace Poe dismissed this as hearsay. Roxas denied knowing Ramirez and called the allegation "fake news."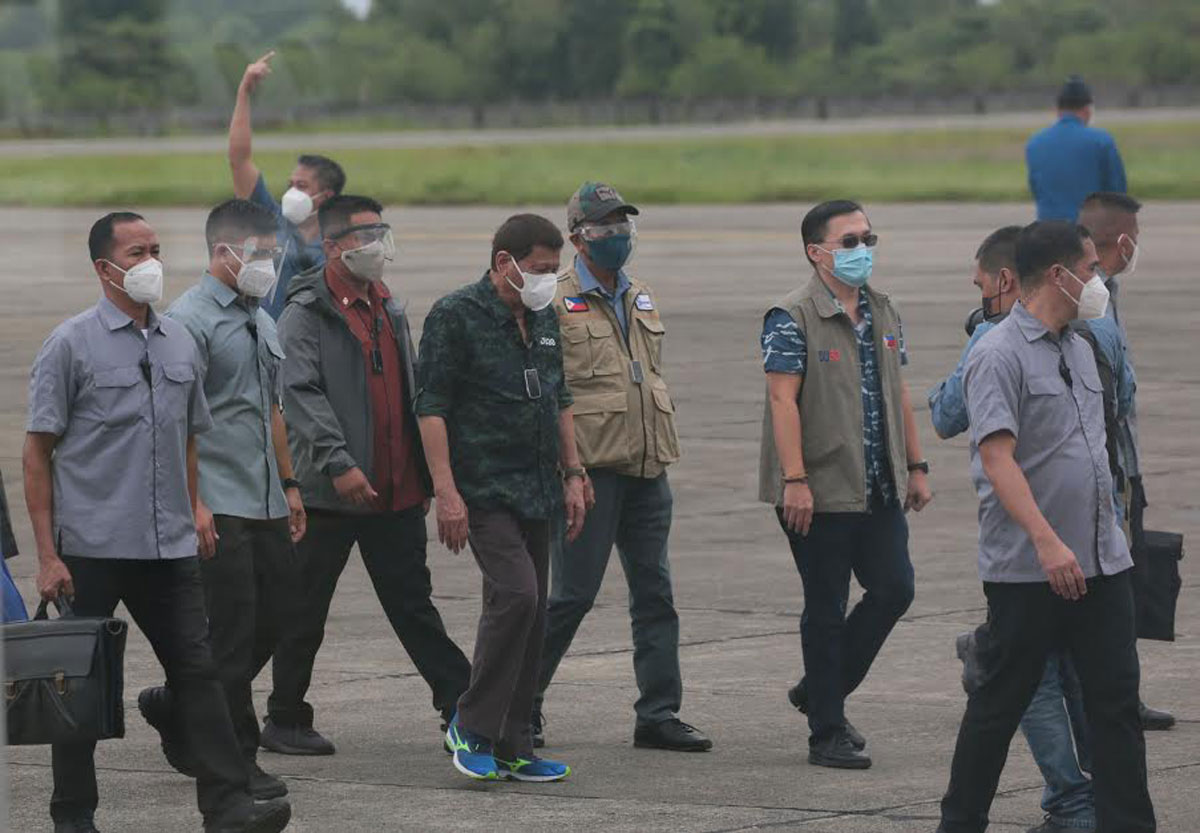 'Just making calls?'
 In his public address on Tuesday night, Duterte also tried to discredit Robredo's response to the Ulysses calamity. He accused her of doing nothing but make calls to the pertinent officials and freeload on the government's response.
 "Do not compete with me and do not start a quarrel with me kasi ikaw wala ka talagang nagawa, except 'yang mga tawag-tawag. Tatawag ka kunwari, 'o, nasaan na 'yung mga helicopter, nalipad na ba?' (You really did nothing but make calls. You'll just call, like, 'oh, where is the helicopter, is it about to fly?)' Of course they would say yes. Your – your – your question would suggest the answer," Duterte said.
 Duterte said Robredo tried to "make it appear na gumalaw ang Armed Forces (that the Armed Forces was moving)," and told her: "You are not part of the command."
 Robredo, however, said she communicated more than shallow questions to the military and law enforcement agencies. She said she passed "distress calls sa lahat na puwede naming ma-contact on the ground (to everyone we could contact on the ground)" – not only the AFP, but also the Philippine National Police.
 "There is no space for our ego when lives are at stake," she stressed, recalling the time between Nov. 13 and Nov. 14 that there were many cries for help.
 Misogyny
 Duterte also cast aspersions on Robredo's personal life. "Ikaw noong gabi, anong oras ka umuwi? Isang bahay ka lang ba? Dalawang bahay ka? Tatanong lang ako, kay congressman ka. At kaninong bahay ka natagalan? (You, what time do you go home at night? Do you have only one house or two? I am just asking, you were at the congressman's. And whose house did you stay in?)"
 Although he did not name the "congressman," his supporters have spread rumors about former Quezon City 3rd District Rep. Jorge John Banal carrying on an affair with Robredo. Banal is a married man, while Robredo's husband, former interior secretary Jesse Robredo, died in a plane crash on Aug. 18, 2012.
 She categorically denied such insinuations on May 25, 2018, saying "the stories about me and Congressman Bolet are not true" and "since my husband died, I've never had any boyfriend, I don't have any boyfriend, and I don't have any plans to have one."
 In response to Duterte on Tuesday night, Robredo said: "When a President is a misogynist, the conversation goes down to this level."
 She posted a video of the reason she is always out at night: packing relief goods. "Eto po ('yung) ginagawa namin gabi-gabi, nagpupuyat ilang linggo na, para araw-araw, may madala lang na tulong sa mga nangangailangan (This is what we do every night, staying up late for the past weeks so every day, we can bring assistance to those in need)," she said.
 Duterte also warned Robredo that he had more to say should she try to run for president: "When you start your campaign, kung magtakbo ka nang presidente, waswasan kita nang husto (if you run for president, I am going to really expose you). Well, this is your bad – this is your nightmare."
 Roque doubles down as Lorenzana, Panelo apologize
 Presidential spokesman Harry Roque, in a television interview on Wednesday, Nov. 18, said Duterte's outburst was because "the Vice President welcomes opportunity to take a snipe at the President, at the time of a pandemic and even at the time of a typhoon."
 Roque accused Robredo of using her Twitter account for the purpose of "making it appear that she was the one calling the shots at the time of typhoon."
 "It was completely out of order that she misinformed the people, the nation, as if she was the one in charge of relief efforts – she was not!  And the President said, under the constitutional scheme, the Vice President is a spare tire, and when Ulysses struck, he was in charge," Roque stressed.
 On the other hand, Defense Secretary Delfin Lorenzana walked back an earlier statement that Robredo used military aircraft as part of relief efforts in Catanduanes.
 "I requested the Philippine Air Force to confirm through their flight manifest and they reported that there was no instance that Vice President Robredo boarded any military aircraft in going to Catanduanes," Lorenzana said.
 He added that a PAF "Huey" helicopter brought relief goods from Robredo's office from Legazpi City to the island province on Nov. 3.
 This came after Panelo, in his program on the government-run People's Television 4 on Tuesday, Nov. 17, claimed that Robredo boarded a C-130 plane carrying relief goods from the Department of Social Welfare and Development and the National Disaster Risk Reduction and Management Council. Panelo said he has also apologized and clarified the matter in a text message to Robredo.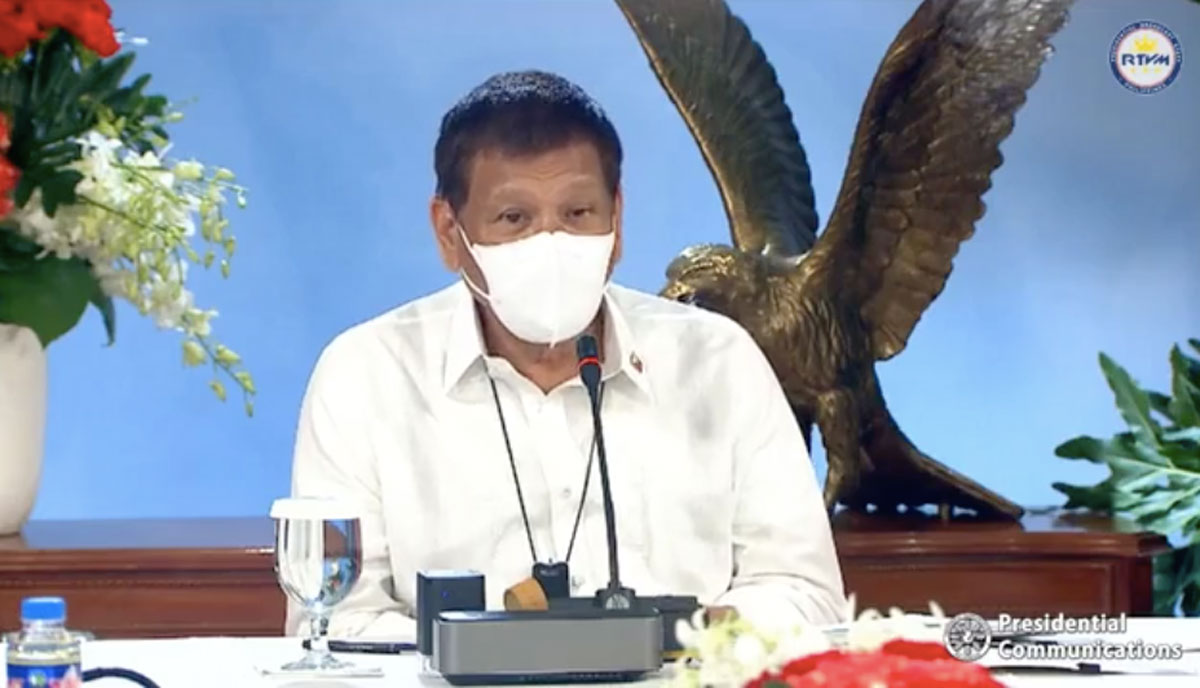 Duterte-related hashtags
 Following Duterte's tirades, the hashtags #DuterteMeltdown, #DuterteMentalBreakdown, #NasiraanAngPangulo ("The President became insane") and #NaasarAngPangulo ("The President got annoyed") became trending topics on Twitter. The latter two were wordplay related to #NasaanAngPangulo.
 The Presidential Communications Operations Office (PCOO) opted to focus on one that seemed favorable, #NasaPusoKoAngPangulo ("The President is in my heart").
 The hashtag supposedly showed how Filipinos "turn to social media to express their support" for Duterte and "to debunk misconstrued narratives of his absence from public eye." PCOO Secretary Martin Andanar claimed this showed the public's "continued support" for the President.
 The top Twitter posts featuring that hashtag were actually by critics who hijacked it, such as former People's Television host Jules Guiang, a netizen who used the hashtag to praise fictional president Ina Montecillo of Ang Tanging Ina N'yong Lahat, another user who posted a picture of a heart-shaped garbage can, and someone who posted the message "Sana bayad ka dito, kasi ang saklap kung tanga ka lang for free (I hope you're paid for this, because it's sad if you're just stupid for free)."
 It's Ateneo not UP
 The President was also called out for threatening to cut funding for the University of the Philippines due to a proposed academic strike that was initiated by students of the Ateneo de Manila University (ADMU).
 "Iyong mga eskwelahan, UP? Fine. Maghinto kayo ng aral (Schools, UP? Stop schooling). I will stop the funding," he said.
 "Nandiyan 'yan, wala na ginawa itong ano kundi mag-recruit ng mga komunista diyan. Tapos nag-aaral kayo, ang gusto ninyong binibira ang gobyerno. Masyado namang nakasuwerte kayo. Huwag talaga kayong matakot – manakot rather, kasi I will oblige you (That's already there, they have done nothing except to recruit communists. You go to school then criticize the government. You're too lucky. Don't threaten me because I will oblige)," he said.
 Duterte also criticized ADMU students for threatening to go on a mass strike until the government assists communities affected by recent typhoons, saying: "Stop schooling. That will save money for your parents. Better make use of your time anywhere."
 "You are taking the cudgels of the poor ahead of your time. That is not your worry. That is the worry of government. Kami, sabi ko, nagta-trabaho kami. Government workers kami (I said, we're working. We're government workers)," Duterte said.
 "I'd suggest you stop schooling. Until mabakunahan lahat ng Pilipino (Until every Filipino is inoculated with a vaccine), you resume your duty. And you wait for another typhoon and see if the help that we extend is enough to your satisfaction," he added.
 ADMU students earlier planned to "withhold the submission of any school requirements" to condemn the government's supposed "criminally neglectful response" to recent typhoons that hit the country and the pandemic.
 On Sunday, Nov. 15, Roque warned these students that they might not graduate if they refused to submit their academic requirements.
 Senators warned that cutting funding for UP could be legally infirm and should not be done. They said Duterte should not be overly piqued by the protest actions by students but instead try to dialogue with them.
 The senators also asked for an end to politicking and misogynistic comments as unity is needed for the country to be able to survive the pandemic and recover from the successive natural calamities.
 Sen. Nancy Binay lamented that the giving of assistance by the country's political leaders and their private supporters had become politicized and marred by bickering related to the 2022 elections.
 Senate Minority Leader Franklin Drilon said the situation confronting the country calls for solidarity and unity.
 "We are facing a grave situation with the ongoing COVID-19 pandemic, and the three devastating typhoons that hit us in just a span of two months. We can and we should rise above politics during these trying times," Drilon noted.
 He said some five million Filipino families are hungry, seven million have lost their jobs, and the economy has been going downhill in the last nine months.
 "We should focus on these critical issues. We must all unite to help our kababayan. Every hand counts, every action counts, and that includes the Vice President. We should be able to get out of this situation as a whole and as a nation. The 2022 elections should not get in the way of disaster response," Drilon emphasized.
 Sen. Francis Pangilinan also came to Robredo's defense, saying since Rolly was being tracked, the Vice President was already discussing with him how to help those affected by the calamities.
 "I think what our people need, and are crying out for, is help. So I think media, all offices should set aside these other issues, politics, and focus on helping. I'm sorry, (what the) VP (only wanted) – and I've been in regular communication with her since Quinta and then Rolly – is to help," he told ABS CBN News Channel.
 Pangilinan said the government and the private sector should set aside politics and focus on the relief and rehabilitation.
 "Now is not the time to discuss what the President said and the insults, or et cetera. Now is the time to set aside all of that and focus on relief and (rehabilitation) because so many people are suffering. And they deserve better than politics as usual," he added.
 Pangilinan believes misogyny should be called out, but the urgent need is to focus on more pressing matters, like extending assistance to the thousands of families affected by the recent typhoon.
 "I'm not saying that misogyny is something that we should just gloss over, no. Sometimes these are issues being used to divert attention," Pangilinan said.
 During the briefing with Duterte, Interior Secretary Eduardo Año reported that as of Monday, Nov. 16, there were 200,954 families or 692,169 people in evacuation centers, based on reports from local government units.
 He said they were monitoring if there would be a surge in COVID-19 cases in evacuation centers. Año noted that minimum health and safety standard protocols were being observed to avoid COVID-19 transmission, but they could see the needs in evacuation centers that were not addressed yet. – With Janvic Mateo, Paolo Romero, Michael Punongbayan