'Wala Na Po Kaming Choice,' Say Kin Of Missing Filipino Crew As They Settle With HK Ship Operator
Relatives of the 14 missing Filipinos who manned F/B Liberty 5 said they were surprised that a settlement deal was reached without consulting them, but they eventually agreed due to financial constraints.
Left with no choice due to financial constraints caused by the coronavirus disease 2019 pandemic, the families of the 14 missing Filipino crew of the fishing vessel Liberty 5, which capsized after colliding with the cargo ship Vienna Wood, have agreed to settle with the management of the Hong Kong-flagged vessel.
In a virtual press briefing on Thursday, Aug. 20, Philippine Coast Guard (PCG) commandant Admiral George Ursabia Jr. announced that the Malabon-based Irma Fishing and Trading Inc. (IFTI) asked for P40 million in damages for the missing boat and its crew that figured in the accident off the waters of Cape Calavite in Occidental Mindoro on the night of June 27.
The distress call was made by email by the Vienna Wood's crew before dawn of June 28, resulting in hours of delay for a rescue, the relatives of the missing fishing vessel crew lamented.
Each of the surviving heirs will receive at least P1 million, according to the PCG.
A settlement will clear Vienna Wood of the reckless imprudence case filed by IFTI against the Chinese officers and crew of Nomikos Transworld Maritime and seven of its officials before the Occidental Mindoro provincial prosecutor's office.
The families had wanted to hold the management of the Chinese ship accountable, and had criticized the Philippine government's cozy ties with China as a stumbling block to their quest for justice.
They condemned Malacanang's response to the ship collision, with presidential spokesman Harry Roque describing it as a mere maritime accident that could be resolved by existing laws.
"Wala po, banggaan iyan sa ating karagatan so iriresolba po iyan sang-ayon po sa batas ng Admiralty na tinatawag natin," Roque said in a June 29 press briefing.
Roque explained that the rules on maritime accidents could be likened to those governing road mishaps, thus there would be no major impact on relations between the Philippines and China.
"Alam ninyo po, ang rules ng banggaan sa karagatan, parehong pareho rin po iyan ng rules na ina-apply kapag may banggaan sa kalye. So wala naman pong malaking implikasyon iyan. Banggaan lang po iyan," he added.
At the time, the families of the missing fishermen were hoping for a word of support from President Duterte for their plight.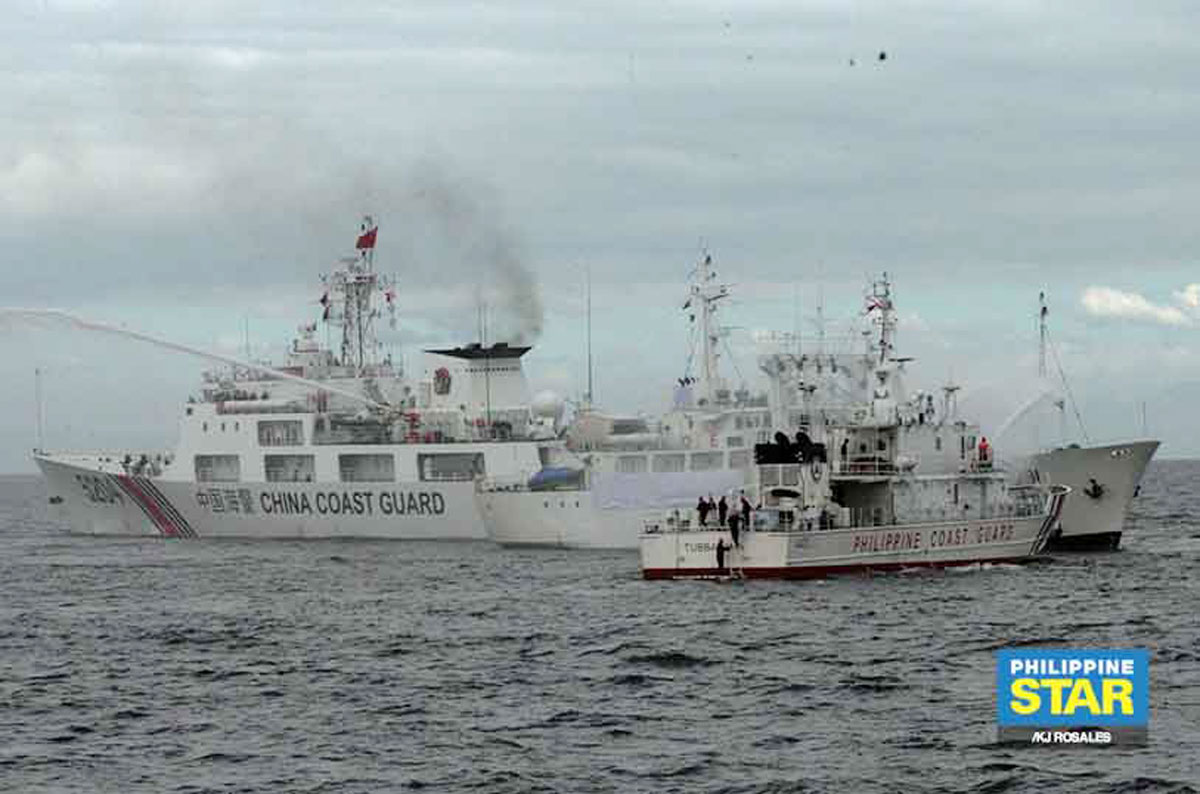 Eventually, their financial constraints during the pandemic got in the way of their fight to hold the cargo ship's management accountable. With the fishing company opting to settle, the families are now left on their own if they want to continue pursuing litigation.
The families met with IFTI's lawyer Arnold Naval on Thursday to discuss the settlement amount for each family. The younger the missing fisherman in the naval accident, the higher the amount.
The fishermen's families said they were surprised by that a settlement deal had been reached through the PCG without consultations with the victims' relatives. Earlier, the PCG said it was looking at the civil and criminal liabilities of Vienna Wood's crewmembers for not helping the 14 Filipinos even as Liberty 5 was sinking.
"According to them, they just stopped and remained in the area without deploying any small boat to conduct search and rescue or extend assistance to the fishing vessel," Ursabia said in a virtual press briefing on June 30.
Evelyn Magura, the aunt of missing ship engineer Reynil Magura, revealed on Friday, Aug. 21, that they learned about the settlement only from the news. She said they were merely told to fill out forms and specify the amount they wanted to receive following the accident.
"Wala naman kaming pinag-usapan na ganoon, bakit nagkaareglo na, wala pa silang sinasabi. Ang sabi lang sa amin, mag-fill up lang at magbigay daw kami ng demand, magkano ang gusto namin. Nagulat kami…mayroon na palang (halaga)? Ang sabi ko po, ano'ng nangyari?" Magura said in a phone interview.
Magura disclosed that most of the grieving families have opted for the settlement because of the long and difficult path ahead if they file a criminal case against the cargo ship's company to seek justice. Her family will receive P2.2 million as settlement.
"Number one reason ng mga matatanda, ayaw na nilang maghintay nang matagal. May pandemya. Baka sabihin nila magtagal pa ng ilang taon," Magura said, referring to the older members of their family.
She explained her family decided to join the others who opted for compensation as they might be left behind should they push through with the case while the company already came up with a settlement agreement with Vienna Wood's operators.
"Iniisip nila, if Irma makikipag-areglo na, sila maiiwan. Hindi nila alam ang gagawin nila, kasi nga po, 'yung mga matatanda, wala na silang alam sa mga kaso-kaso na 'yan, kaya nag-aalangan na sila," Magura disclosed.
Judith Azucena, partner of missing ship oiler Joeffrey Bantug, said she opted for the P1.8-million settlement for her family because litigation would take time as the case could reach all the way to the Supreme Court.
The fishermen's relatives were also told that should they win the court battle, those responsible might serve only six years in prison and could even be out on bail, which might not be worth the long wait for justice.
"Wala na po kaming choice. Ang sabi, 'pag ituloy ang kaso, aabot nang ilang taon. Kung aabot sa Supreme Court, baka ibasura din. Kung makulong man, six years lang, pwede pa ipiyansa. Nasaan po ang hustisya doon? Mag-aantay kami ng ilang taon sa kaso, tapos ganoon lang itatagal sa kulungan," Azucena said.
The families also lack the financial means to pay for another lawyer if they pursue a case on their own, they said. Without money, Magura pointed out that their options are limited.
"Wala eh. Mahirap 'pag walang pera. Mahirap kumilos," Magura stressed.
Despite the developments, the families stressed that no amount of money could make up for the loss of their loved ones.
Magura said her nephew was the only one supporting his family.
"Sa akin, hindi 'yun sapat. Bata pa 'yung pamangkin ko. Kaya lang po ang iniisip ng mga magulang niya, kung 'yung iba papayag, sila na lang ang maiiwan. Paano na ang mangyayari?" Magura said. "Sa amin talaga, hindi sapat (ang milyon) kasi bata pa 'yung sa amin. Siya lang po ang bumubuhay sa kanila."
Today, Monday, IFTI will receive the P40 million in compensation, the PCG said.
IFTI earlier pegged the damage to the fishing boat and compensation to affected families at P60 million to P70 million.
Ursabia said the PCG would "host" the formal settlement today, Aug. 24.
PCG spokesman Commodore Armand Balilo did not give details about the settlement and how it would affect the cases filed by the PCG against the officials of Vienna Wood.