Virus 'Super Spreader' Cited As Debates Over Reduced Commuter Distancing Continue Among Cabinet Members, Health Experts
Experts from the University of the Philippines OCTA Research team are strongly opposed to the reduction of the required physical distancing in public transportation, saying this may trigger a "super spreading event" for COVID-19.
Cabinet officials differed on the easing of physical distancing in public transportation, with some of them worried that relaxing the requirement could lead to higher coronavirus disease 2019 (COVID-19) cases.
During a meeting of the Inter-Agency Task Force (IATF) for the Management of Emerging Infectious Diseases on Monday, Sept. 14 with President Duterte, Health Secretary Francisco Duque III said the Philippine College of Physicians has written a letter expressing concern about the relaxed transport protocol.
 Duque said the group expects new cases to rise by 686 per day if the distancing requirement is reduced to 0.75 meter from one meter.
 "If you multiply that by 30 days, you will have about 20,580 cases. That's the new cases. If you multiply that by 1.6, which is our case fatality rate, meaning the number of deaths over the number of total infections, there would be 3,951 deaths per year," the health chief said.
 Duque said he would discuss the findings of the health professionals' group during the next meeting of the IATF.
 "So whatever decision is made, at least it's clear that there is such study or modeling. I think others will also cite studies showing that the projection won't be that serious," he added.
 Presidential spokesman Harry Roque said while doctors are claiming that the easing of the distancing requirement would be risky, there are also studies by the transport sector that wearing face shields and face masks would mitigate the risks.
 Duterte cited the need to take into account "physics" when discussing the matter. He said a face shield may keep out droplets only in a "direct hit" and not totally protect its user from the virus in every setting.
 "That face (shield), I think it's a fallacy to say it will protect you in every environment," the President said as he discussed the environment in public transportation. "It could be the aircon coming from the second seat because of the wind... that cannot be stopped by a shield. Maybe a mask will."
 Who are in favor?
 National Task Force (NTF) Against COVID-19 chief implementer Carlito Galvez Jr. and Defense Secretary Delfin Lorenzana supported the proposal to reduce physical distancing in public transportation.
 Galvez said risks can be mitigated even if the distancing requirement is reduced.
 "I believe it is a matter of risk management... One of those is proper ventilation. The air should circulate... We talked about this and before we allow a transportation mode, they conduct a mitigation process," he explained.  "The most important is to observe three C's: avoid crowding, close contact, and confined spaces."
 Galvez said the relaxed protocol could be implemented, but the wearing of face masks and face shields should be enforced. Commuters should also be barred from talking and using their mobile phones.
 "Other countries are evolving. We may soon become the only country that is very stringent on one meter," Galvez said, citing the case of Japan, which he noted has eased the distancing requirement.
 "The most vulnerable really is the hospital, not transport. The most vulnerable is the home and community because we remove our masks there. When we are eating, when we are talking with our friends, when we are talking with our co-workers. The most vulnerable really is the workplace, canteen, smoking places," he pointed out.
 Galvez also argued that the accessibility of transportation is necessary for economic recovery.
 "Without transportation, we cannot recover, Mr. President," he said. "Too much risk aversion is not good."
 Galvez stressed that issues about distancing in transportation would become "immaterial" if people infected with the coronavirus are isolated. "If we isolate the positive, our (public) transport would be safe."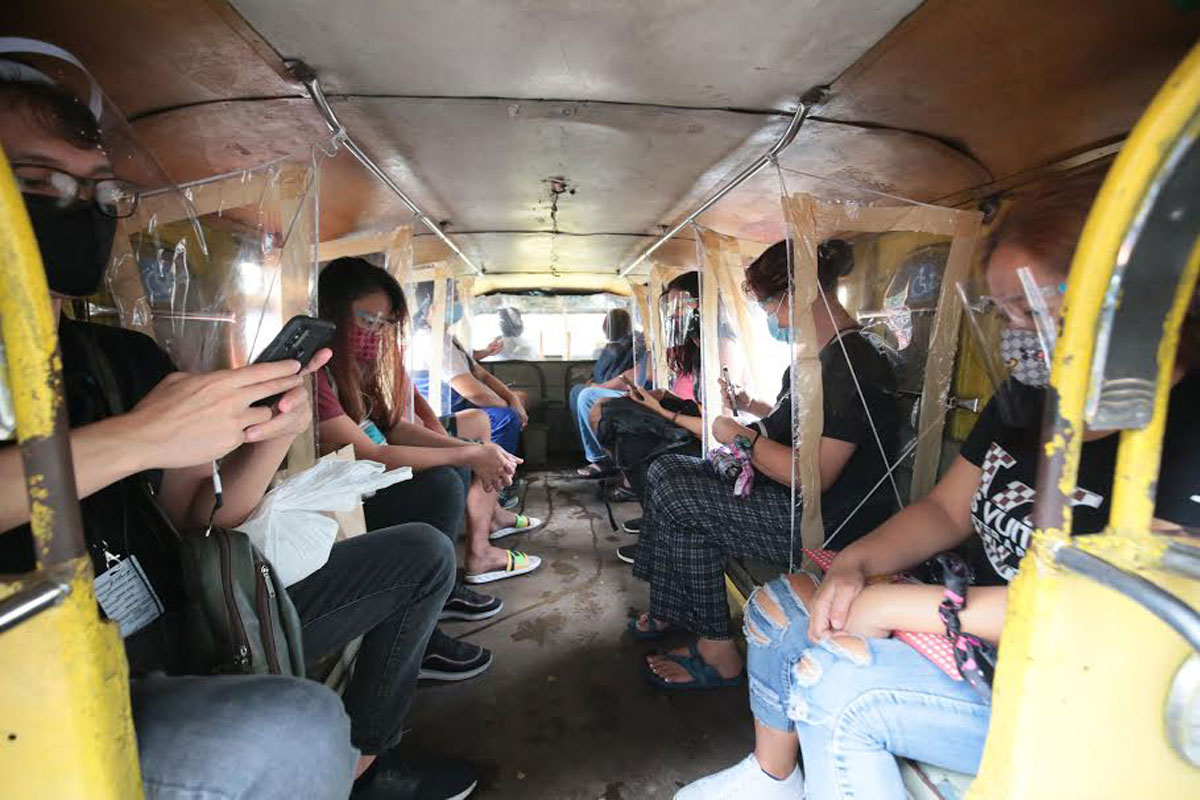 Seven medical professionals, including former health secretaries Manuel Dayrit and Esperanza Cabral, also support the "gradual reduction" of physical distancing during transit, provided that there is strict public adherence to comprehensive health protocols or the "Seven Commandments."
 In a letter submitted to the IATF, the doctors said that since the government has "successfully increased and improved current hospital capacity, there is now an urgent need to revitalize the country."
 "We need to emerge from the current recession that has severely impacted livelihoods. This will enable our countrymen to work again, so that they can feed their families and support their communities," the doctors stated.
 They argued that the country cannot rebuild the economy without increasing public transport capacity, which has been operating at only 20 to 30 percent of pre-pandemic levels "due to understandable fears of outbreaks arising from congested public transport spaces."
 Lorenzana is in favor of reducing the physical distance between commuters in public transportation, as long as the so-called "Seven Commandments" are followed, as suggested by the doctors.
 These are wearing of proper face masks and shields, no talking or eating while commuting, adequate ventilation as well as frequent and proper disinfection of the vehicle, barring symptomatic passengers, and observing appropriate physical distancing.
 "By imposing these strict measures, we believe we can gradually relax social distancing rules, in order to double or even triple our current public transport capacity, without compromising public health," the doctors said.
 The group added while the World Health Organization recommends keeping a distance of one meter from other passengers to the extent possible, it allows for adjustments based on context.
 They also cited a recent study published in Lancet, a leading international medical journal, that face masks and face shields can independently reduce the chance of viral transmission by fivefold and threefold, respectively.
 "Based on our review of the scientific literature and the policies and experiences of neighboring countries, we believe the evidence shows physical distancing can be maintained below one meter, so long as other health measures are also implemented," the experts said.
 The two-page letter was signed by Dayrit and Cabral and doctors Vicente Belizario Jr., dean of the University of the Philippines-Manila's College of Public Health; Teodoro Herbosa, special adviser to the NTF; Michael Hernandez, department chair of the UP-Manila Environment and Occuptional Health; Manuel Francisco Roxas, director of the Philippine College of Surgeons Cancer Commission; Ma. Dominga Padilla, founder and chief executive officer of the Eye Bank Foundation of the Philippines, and Rontgene Solante, former president of the Philippine Society of Microbiology and Infectious Diseases.
 DOTr firm
 The Department of Transportation (DOTr) is standing firm in its decision to ease physical distancing protocols in public transportation despite mounting objections.
 During a House hearing on the agency's proposed budget for 2021 on Tuesday, Sept. 15, DOTr officials explained that the move would address the insufficiency of public transport in Metro Manila and other areas where most businesses have reopened under eased quarantine measures.
 DOTr Secretary Arthur Tugade cited the need to address the shortage in public transport as he said the agency is also pursuing other measures to answer the increasing demand from the commuting public.
 "The shortage of transport especially in this time of pandemic is a real thing.
 Statistics have been presented. To address the shortage, there are several things we are doing," he told lawmakers.
 Tugade emphasized that the decision was not a mere "knee-jerk reaction" but was reached after actual research and consultations with medical experts, including those from the Philippine Medical Association.
 "Health and safety is not prejudiced, provided that you use face masks, wash hands, no eating, no use of cell phones, no entry of asymptomatics and senior citizens," he pointed out.
 Tugade also maintained that relaxing distance rules does not necessarily mean cramming passengers inside vehicles.
 "This does not mean that we can cram people inside. For jeepneys or buses, one to four passengers can be added. For trains, 40 to 60 depending on configuration," he explained in Filipino.
 Apart from eased physical distancing, Tugade said the DOTr has increased routes of public utility vehicles (PUVs) and consolidated franchises.
 He briefed the lawmakers on the plan to implement a service contract program for buses and jeepneys, under which drivers and operators will be paid by the government on a per kilometer basis instead of the usual boundary system.
 DOTr Assistant Secretary for legal affairs Steven Pastor said the reduction in the physical distancing requirement in public transport will result in 1,647,930 additional passengers being accommodated. He explained that it would add up to eight passengers per public bus, two passengers per modern jeepney and another passenger for UV Express and traditional jeepneys.
 Apart from increasing mass transport availability, the measure is also meant to help the public transport sector recover from the slump caused by lockdown measures, Pastor said.
 Under the DOTr's plan, physical distancing in public transport vehicles will be reduced further from 0.75 meters starting Sept. 14 to 0.5 meters on Sept. 28 and to 0.3 meters on Oct. 12.
 The Department of Health (DOH) urged the public to opt for public transportation that still implements the one-meter social distancing protocol.
 During the House hearing, lawmakers expressed contrasting views on the DOTr's move.
 Economic affairs committee chair and AAMBIS-OWA party-list Rep. Sharon Garin supported the easing of physical distancing in public transport while Assistant Minority Leader and Marikina City Rep. Stella Quimbo did not.
 Garin believes the move is a "step toward the right direction, provided proper health protocols and risk management are practiced."
 "Transportation is integrated and interconnected with all businesses. This is the primary and most important component in reviving our economy," she argued.
 Who are against?
 Quimbo disagreed with Garin, saying there are other options that the DOTr could pursue to address the shortage in public transport.
 "When it comes to the correct physical distance between passengers, we should leave it to science. If science requires one meter to avoid transmission, then we should follow. What we need to do then is simply increase the number of public utility vehicles so that supply of public transportation is sufficient," Quimbo said.
 Interior Secretary Eduardo Año, who had tested positive for COVID-19 twice, expressed reservation over the eased distancing protocol in transport, saying the government would have more problems if the number of cases increase.
 "The use of a face shield and face mask can only mitigate risks, but the most important really is distance. The proposal to reduce it to 0.75 meters and then reduce it further to 0.50 and to 0.3 is risky," Año said.
 "I agree with health workers, health sector that it could result in a spike and it would end up like a roller coaster and we might go back to where we started. We might have to impose ECQ again so we hope this can be studied thoroughly," he added, referring to the strictest enhanced community quarantine.
 Año cited the need to be consistent in implementing measures, noting that one-meter distancing is required in offices and malls.
 "I side with Secretary Duque because we are cautious. We might regret our decision if many people get infected for violating the one-meter distancing," Año said.
 Roque said Duterte would have the final say on the relaxed distancing.
 "There will be a resolution on that. If there is none, the President will decide," Roque said in a press briefing on Tuesday.
 'Super spreader'
 Experts from the University of the Philippines OCTA Research team are strongly opposed to the reduction of the required physical distancing in public transportation, saying this may trigger a "super spreading event" for COVID-19.
 Fr. Nicanor Austriatico of the University of Sto. Tomas, who is part of OCTA Research, said reducing the distancing requirement in public transportation can result in the spread of COVID-19 cases.
 Citing an incident in China that was published in a paper there two weeks ago, he noted that 35 percent of the passengers in a bus got infected with COVID-19 from just one "super spreader."
 Austriatico cautioned that this could happen in the Philippines with the easing of the distancing requirement in public transport.
 "The concern that we'll have if we try to minimize the social distancing is that you'll have a super spreading event in mass transportation," he warned in an interview with "The Chiefs" on One News/TV 5 on Monday night. "A super spreader is one person affecting two, three, four.  Twenty-four of the 68 passengers on the bus (got the virus) from one infected person."
 He stressed that it is also worrisome that buses and other mass transport vehicles are mostly air-conditioned, raising the potential for the virus to spread.
 Austriatico added that even if passengers wear face masks or face shields, there is still a risk of passing the virus to others if they are in a vehicle for a prolonged period and if the air is not being circulated.
 No evidence
 For Edsel Maurice Salvana, director of the Institute of Molecular Biology and Biotechnology at the UP-National Institutes of Health, the DOTr should stop the implementation of the program since there is no "good evidence" that less than one-meter distancing in public vehicles "will not be dangerous."
 "It's the absence of evidence. It's not an issue of whether it's right or wrong. It's that we don't know," he said.
 Salvana pointed out that there are three main interventions against COVID-19.
 One is wearing face mask, which decreases the risk of infection by 85 percent; wearing face shield, which decreases the risk by 78 percent, and distancing of at least one meter to decrease the risk by about 80 percent.
 "If you remove physical distancing but the mask and face shield are there, probably it won't go below 85 percent.  But theory is different from the actual. If passengers are packed in a vehicle, we might have problems," he said.
 More vehicles
 For political science professor Ranjit Singhe Rye of OCTA Research, reducing the distancing is not the only way to expand mass transportation.
 "We are really against the changes in policies. It will cause confusion, it is hard to administer and sustain.  And we feel strongly that the masks we are using, for example, are not all the same," he said.
 Rye noted that there are masks that are not as effective as N95 and surgical masks so the best protection against the virus is physical distancing.
 "There has to be more studies put into this policy change.  Because we don't have that study, I don't think we should change our rules or protocol on physical distancing," he told The Chiefs.
 Año said in a radio interview that the DOTr bypassed the IATF and health experts when it eased physical distancing protocols in public transportation.
 "Hindi 'yan dumaan sa IATF. Technically, hindi na-approve ng IATF," he said.
 Roque, however, disputed this, saying the move was done in consultation with the IATF. Duque also said he was not present when the issue was supposedly approved by the task force.
 What was approved during the last meeting of the IATF, according to Año, was the proposal of acting Socioeconomic Planning Secretary Karl Chua to study the possibility of amending health standards in consultation with health experts.
 "Ang nangyari, nagpalabas ng operational guidelines 'yung DOTr na wala naman consultation sa health experts," Año pointed out.
 He lamented that transportation officials were overeager to help the riding public without taking into consideration the possible impact of easing physical distancing protocols on efforts to mitigate the effects of COVID-19.
 Año is hoping the DOTr will reconsider its stance. Otherwise, he said they might see ordinary people dressed in personal protective equipment (PPE) similar to those being used by medical frontliners in hospitals.
 "Naka-PPE sila para naman walang mahawa o kaya balutin mo 'yung bawat upuan," he said.
 Citing a study of the United States Centers for Disease Control and Prevention, Año said maintaining a distance of at least two meters between people when in public is effective in controlling the spread of COVID-19.
 "Ang ginawa natin is one meter plus dagdagan mo ng face mask at saka face shield," he said.
 Ano said the DOTr should be consistent in maintaining physical distancing measures being implemented in other commercial establishments. – With Emmanuel Tupas, Michael Punongbayan