To Lead With Great Heart
Speech delivered by Vice President Leni Robredo during the Women Today forum of The Philippine STAR and the Women Influence Community at Marriott Hotel in Pasay City on Tuesday, Nov. 12, 2019.
This is Monique Guillermo, a single mother from Tacloban who singlehandedly raised her two children. When her husband left her, Monique literally had nothing — no job, no family, no relatives who could help her. One morning, she and her children had nothing to eat except one piece of egg. Imagine that, one egg was all they had between them and starvation. She said: "Kapag nanay ka, kaya mong tiisin iyong gutom, ang lahat. Kapag nakikita mo iyong anak mo na nagugutom, gagawin mo ang lahat para sa kanila."
Isn't this a familiar picture of what it means to be a mother? We, mothers, would do everything to nurture and protect our children, at the cost of our comfort and even our own life. No circumstance would stop us from giving our children the best life possible.
Monique was determined to do that. She tried one job after another, and finally ventured into the egg production business and pastries. When it became successful, she began helping other single mothers, grandmothers with no source of income, and women in direr straits. For Monique, her life's purpose is not only to help her family, but also to help other women triumph, too. Monique is now one of the field coordinators of the Office of the Vice President's Workshop for Aspiring Women Entrepreneurs or WAWE, which we have launched all over the country, to inspire and help women.
Monique is one of the many mothers we know who exudes unique strength—not the rude, harsh kind that disempowers and frightens others into silence, but the kind of strength that nurtures and empowers others to become the best version of themselves.
Mothers are not only designed to be physically strong. We are also built to absorb our children's tears with our warm embrace, carry their wails with our calloused hands, and heal their frustrations with our indefatigable hope. Despite being the first ones to get up in the morning and the last ones to go to sleep at night, we continue to rise early and be prepared to fight fiercely in the face of those who would hurt us. Mothers have that extra something that can push children to do better when they feel that they are not good enough, and strengthen husbands when they are facing battles of their own.
As you might know, I have three daughters of my own. And if you ask me, no other role is as important nor as fulfilling as being a mother of these three.
When my husband decided to enter politics, we had just gotten married. At that time, I was an Economics teacher at a local university in Naga. But he persuaded me to take up law because of a promise he made to my father. He had told my father when he was asking for my hand in marriage that even if we are married already, he will still make sure that I will fulfil my father's dream for me. So I taught full-time all day, and during the night, I went to law school. When we started having children, I had to work during the day, go to law school at night, and take care of the children when I go home.
From the very start, I had been very hands-on mom to my children. I made outlines and reviewers for their exams, color-coded all their textbooks and notes so that they knew which parts to highlight and memorize. My home is catalogued and labeled, and I had an Excel sheet for everything in the bodega, in the pantry, and in our closets so I'd know where to find every single object in our house. I drove all my kids to school and to every piano, violin, and swimming lessons for many years. In fact, most of the nannies and drivers of my children's classmates became my friends, and I have become the proud ninang at many of their weddings.
I am not telling you all these to paint a perfect picture of myself and my home. I am telling you that I could do all these before because I lived in Naga where everything is five minutes away and, more importantly, I didn't have to do all the parenting by myself. My husband Jesse was just as hands-on. Even when Jesse became a politician, he always made sure we ate all meals together as a family—breakfast, lunch, and dinner. And that was possible because we lived in Naga. He equally shared in the tutoring chores and would take over when I had to be away for work. In fact, when he became DILG Secretary already, his staff would tell me that the first items on his to-do list were homework duties, and he would often be found doing Jillian's math problems on tissue paper while waiting for his next meeting.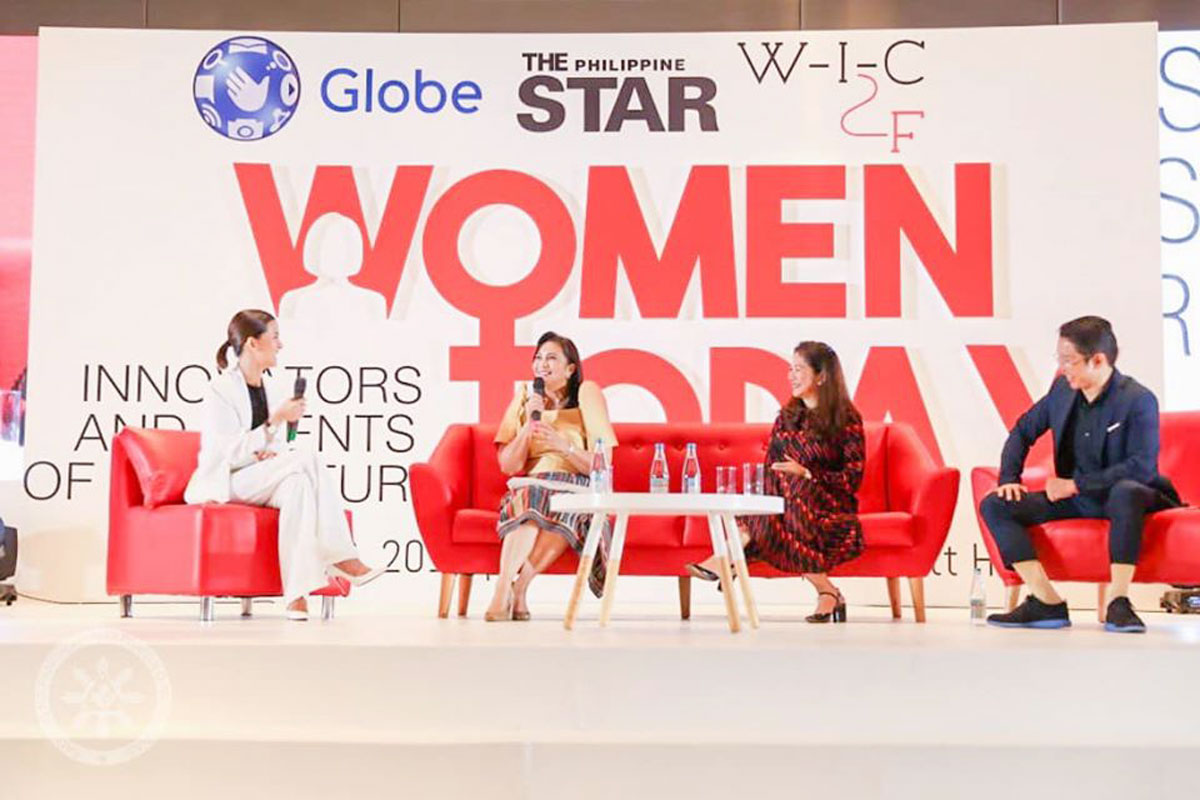 When I joined an NGO called SALIGAN, short for Sentro ng Alternatibong Lingap Panligal, where the main thrust was to render legal assistance to marginalized sectors from the poorest communities in the Bicol Region, we would trek long hours through muddy trails to reach the poorest communities to help our clients: the fisherfolk, the farmers, the indigenous peoples, the urban poor, and the abused women. We would spend the night in makeshift huts in the middle of rice paddies when my work took more than a day. Once, I slept several nights in a boat while I was five months pregnant with my youngest daughter, because there was nowhere else for me to stay.

That kind of work was demanding and time-consuming. But I was able to do that because my husband made sure that he was there with our children every time I needed to be away, and he never made me feel that I had to choose between my family or my work.
When my husband passed away so suddenly, I had to take on the role of both mother and father to my daughters, while having a full-time job. All these, while running for Congress, and eventually for the position of Vice President. Life took a 180-degree turn: my children took on many of the roles I used to play. They helped run the household, do the groceries, pay the bills, and supported each other every step of the way.
When I told my youngest daughter, Jillian, that I could not afford to send her to study abroad, she found a way to get there by applying for several scholarships. Now, she works as a lab assistant in her school 15 hours a week to help support herself. Tricia, the middle child, is a medical intern and on her last year to becoming a doctor. Among the three, she was the most affected by her Papa's death. It constantly amazes me how she deals with stress and responsibility. She does all the tasks required of her, and more if necessary, rejecting any sense of entitlement. Aika has returned from her graduate studies in Harvard and has chosen to do development work. As I speak, she is in Marawi, helping in the rehabilitation efforts and has pledged not to join the government as long as I am Vice President.
All three of them pull their own weight, seek to succeed on their own merits, and understand the value of sacrifice and living simply. We live in a very small condominium unit here in Metro Manila and the four of us still sleep in the same room to this day, except of course when Jillian is away in school.

In a way, we became even closer when I entered this harsh world of politics: a small group of women who are fiercely protective of each other. In many ways, the many difficulties we have faced have made my daughters truly become strong, independent, caring women who are very self-aware and empowered.
In my heart of hearts, I hope that the way we raised them has helped them to become better individuals. We sowed lots of quality time and life-long lessons, like hard work, integrity, compassion and selfless service. My husband and I made sure that we conducted our lives in a manner that would inspire them to live out these values. Somehow, we felt that who we are and the way we live our lives are so much more powerful than anything we could say.
When I look at them now, I am grateful that they have become the persons I dreamed they would be: hardworking, decent, kind, compassionate, grounded, bearing no trace of entitlement. Now that they are older, they make fun of how much of a tiger mom I was when they were much younger, but they admit that they are thankful that I pushed them in a way that they tried to be the best that they can be. I was just 23 when I first became a mother, and I did not know anything about raising children. I admit that I only relied on intuition, on faith, and on love.
To me, the task of nationbuilding is somewhat like motherhood. We selflessly give ourselves to helping those who need it the most and we give without counting the cost. When I assumed office in 2016, we took it upon ourselves to focus on helping the poorest families in the country. We turned the Office of the Vice President into an advocacy-heavy organization that links communities to private groups to better serve our fellow countrymen in dire need of help. Our program, Angat Buhay, became our brave response to uplift the lives of Filipino families, especially those from the smallest, farthest and poorest communities.

Just last week, I accepted the challenge to take the lead in the government's efforts to fight illegal drugs…against the advice of almost everyone, including my children. Perhaps, it was my instinct as a mother that I accepted this responsibility and that I needed to do this sacrifice for the greater good.
Within days of my acceptance of the designation by the President, statements and fake news pushed by trolls on social media already started coming out, insinuating that I lacked courage and resolve because I was only a "mother" and a "woman."
We may have been called to play many roles in our lives, but beyond doubt—and I know that you will agree with me—that the role that requires the most courage, the most resolve, the most strength, is being a mother.
So to all mothers and women in this room and across the nation: Remember that you are made for times like this and you are meant to survive even during the most difficult times. To lead with great heart is inherent within every mother and every woman. That every trial, every difficulty, can be turned into an opportunity to lead with both strength and empathy. And this is what we all need to have—the kind of strength that draws from a deep well of love, compassion, humility, courage, and integrity.
So may you continue to lead with great heart, one that beats bravely to serve at all costs, to help the last, the least, and the lost.
Thank you very much, at mabuhay po kayong lahat!