'Time To Dance With COVID-19': Traveling With Conditions, More Services From Barbershops And Salons Now Allowed
The government thinks the people must now learn to "dance" or live with COVID-19 even as the Department of Health announced that the spike in cases is "real" and no longer caused by late reporting.
Filipinos can now travel abroad for business or tourism – at their own risk and subject to government guidelines – after the Inter-Agency Task Force (IATF) for the Management of Emerging Infectious Diseases lifted the travel suspension on "non-essential" trips abroad.
"The suspension of non-essential travel by Filipinos pursuant to IATF Resolution No. 13 dated 17 March 2020 is hereby lifted. All travel restrictions relative to outbound travel of Filipinos pursuant to IATF resolutions are likewise lifted," IATF Resolution No. 52 read.
As part of conditions on the lifting of the travel ban imposed due to the coronavirus disease 2019 (COVID-19) pandemic, presidential spokesman Harry Roque said the travelers would be asked to submit confirmed round-trip tickets for those flying on tourist visas.
"Huwag muna po tayong tumalon sa tuwa, bawal pa rin ang turismo. But what will happen when traveling is that there will be requirements that must be presented to our Bureau of Immigration," he said during a press briefing on Tuesday, July 7.
Roque added that Filipinos leaving the country should have proper health insurance to cover rebooking and accommodation in case they are stranded or need to be treated in case of sickness.  The Department of Tourism should also be informed about the travel insurance coverage.
They will also be asked to execute a declaration acknowledging the risks involved in going abroad, and ensure that they will be allowed entry into their destination subject to travel, health and quarantine restrictions.
"Ibig sabihin, wala pong ban para po sa mga Pilipino iyong mga pupuntahan," Roque said.
Upon return to the country, the travelers and overseas Filipino workers (OFWs) must follow guidelines set by the National Task Force, including quarantine and testing for COVID-19.
IATF Resolution No. 13  limited the travel abroad only to OFWs, balikbayan and foreigners leaving the country during the duration of enhanced community quarantine,  which was imposed in Luzon.  Heads of missions or their designated foreign mission representatives, including staff, were exempted from the home quarantine requirement when performing diplomatic functions.
Barbershops and salons
The government has also allowed salons and barbershops to offer more services as it continues to reopen the pandemic-battered economy.
Barbershops and salons can now offer haircutting and hair treatment services in areas under general community quarantine (GCQ), according to the updated guidelines set by the Department of Trade and Industry.
Under DTI Memorandum Circular No. 20-38, more services are permitted in areas that are now under the most lenient modified GCQ (MGCQ), namely haircutting; hair treatment; nail care services; basic facial care such as make-up, eyebrow threading, eyelash extension and facial massage; and basic personal care services like waxing, threading, shaving, foot spa and hand spa.
"This will be subject to protocols on hand sanitation, face masks or face shield, gloves and sterilized equipment," Roque said in a press briefing.
Previously, only haircutting was allowed because of concerns about safe distancing. The guidelines were relaxed after barbershops and beauty parlors came up with plans to ensure that proper hygiene and safe physical distancing would be observed in their operations.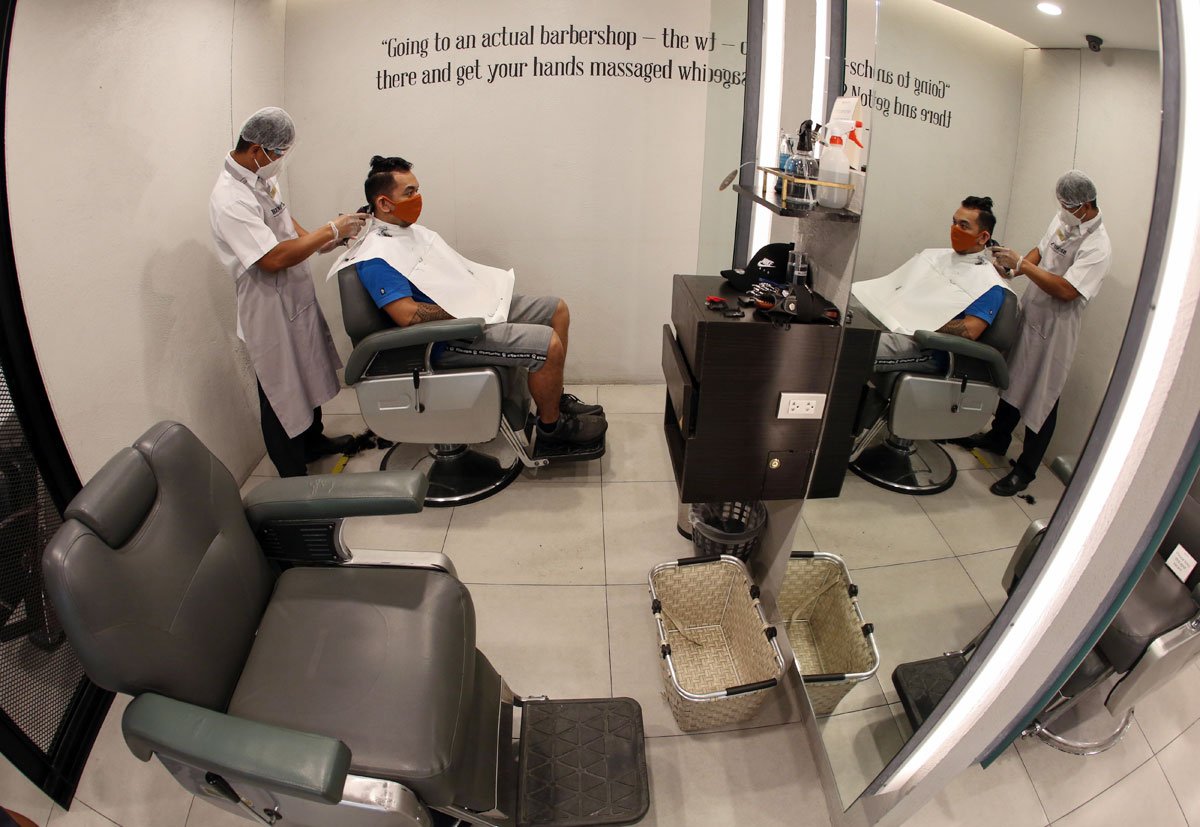 The trade department also allowed the gradual increase in the number of patrons that can be served in barbershops and salons. For GCQ areas, barbershops and salons can fill up to 30 percent of their capacity until July 15. Beginning July 16, they can fill up to half of their capacity. Barbershops and salons in MGCQ areas, meanwhile, are allowed up to half of their capacity until July 15 and up to 75 percent starting July 16.
The establishments should adopt a "no face mask, no entry policy" and should provide their customers with rubbing alcohol. Customers are also required to register with SafePass or staysafe.ph for contact tracing.
Barbershops and salons should also check the temperature of customers. Those with temperatures higher than 37.5 degrees Celsius and those with colds, coughs and breathing difficulties should be denied entry. Chairs inside salons and barbershops should be at least one meter apart on all sides. There should also be proper ventilation and exhaust system in the establishments.
'Hammer and dance'
These developments came as Malacañang announced that it is bent on imposing localized lockdowns, placing the responsibility of enforcing minimum health standards on local government units (LGUs) despite the spike in COVID-19 cases in the country in the last few days.
Roque said the mayors of Metro Manila – which is now under GCQ – have discussed and identified areas that continue to record high incidents of COVID-19.
Areas with high cases of COVID-19 would be subjected to localized and granular lockdowns, instead of the community lockdowns.
"There seems to be a big shift in the strategy, since the LGUs will have to be more active since they will be the ones to impose the  localized lockdowns, the private sector to take care of their employees and to be more active in testing, tracing, treating, isolation capacity, and in taking care of the vulnerables," Roque said.
The "Hammer and Dance" concept came from an explainer article on Medium that dubbed the period of lockdown to squelch the disease as "the hammer" and the subsequent period of living with it as "the dance."
Roque shrugged off reports citing the Johns Hopkins Coronavirus Resource Center, which showed the Philippines now second to Indonesia with the highest number of COVID-19 cases in Southeast Asia.
He said there should be no cause for alarm even if there is a surge in the number of cases because the government had increased the capacity of the healthcare system during the first months of the lockdown.
Since there is a need to also consider the economy, Roque said Filipinos would have to learn to "dance" and "live" with COVID-19 despite the health considerations.
"Some will say kinakailangan nating sayawan ang COVID-19. Kasi sa Pilipino, when you have to live with something, sayawan mo na lang pero… iyan po ang gagawin natin. Sasayawan po natin, we have to deal with COVID-19. We have to resume with our economy, and at the same time protect our people," he said.
Reports said Indonesia leads Southeast Asian countries in terms of COVID-19 cases with 64,958 as of Monday, followed by the Philippines (46,333) and Singapore (44,983). The Philippines posted a new single-day record of 2,434 cases on Sunday.
But compared to other countries, Roque maintained that the Philippines has been winning significantly in the fight against COVID-19.
"The increase in the COVID-91 cases is not surprising until we find a vaccine and cure for the disease," he noted in Filipino.
Roque said the Philippines' positivity rate is pegged at six to seven percent for every 100,000 people tested for the virus.  "At napakalaki pa po ng ating capacity to provide hospital services doon sa mga magkakasakit. So I will always say, we are winning against COVID-19," he added.
'Mild, asymptomatic cases only'
He described as good news reports that those who are getting infected have only "mild" symptoms or are asymptomatic.  Roque said the concerned agencies are more wary of cases classified as "severe or critical," but he also assured the public that the government has now reached sufficient capacity for "critical care."
"For me, there is no cause to worry since we are armed against COVID-19 – which is wearing of mask, social distancing and washing your hands, and being healthy," Roque said. "So itong mga vulnerable populations, kung ayaw po nating masama sa datos ng mga namatay, manatili po tayo sa ating mga tahanan."
No second wave; spike in cases real
The Department of Health (DOH) indicated on Tuesday that the soaring cases of COVID-19 in the country is no longer artificial but real.
According to DOH Undersecretary Maria Rosario Vergeire, the rise in cases is not just because of scaled up testing but "a result of community transmission."
Vergeire explained that the country is not yet experiencing a second wave of infections.
The DOH has been monitoring the clustering of cases in different areas of the country.
She said the DOH met with hospital administrators last Monday and with local government officials, especially in Metro Manila, the other night to provide them guidance and discuss appropriate measures to address the rising trend of COVID-19.
Vergeire said the increasing cases "should make the people more cautious." She reiterated the need to strictly comply with preventive measures against the virus.
Early on in the pandemic, the DOH announced that an "artificial" increase in cases should be expected as the testing capacity of the country was being built up.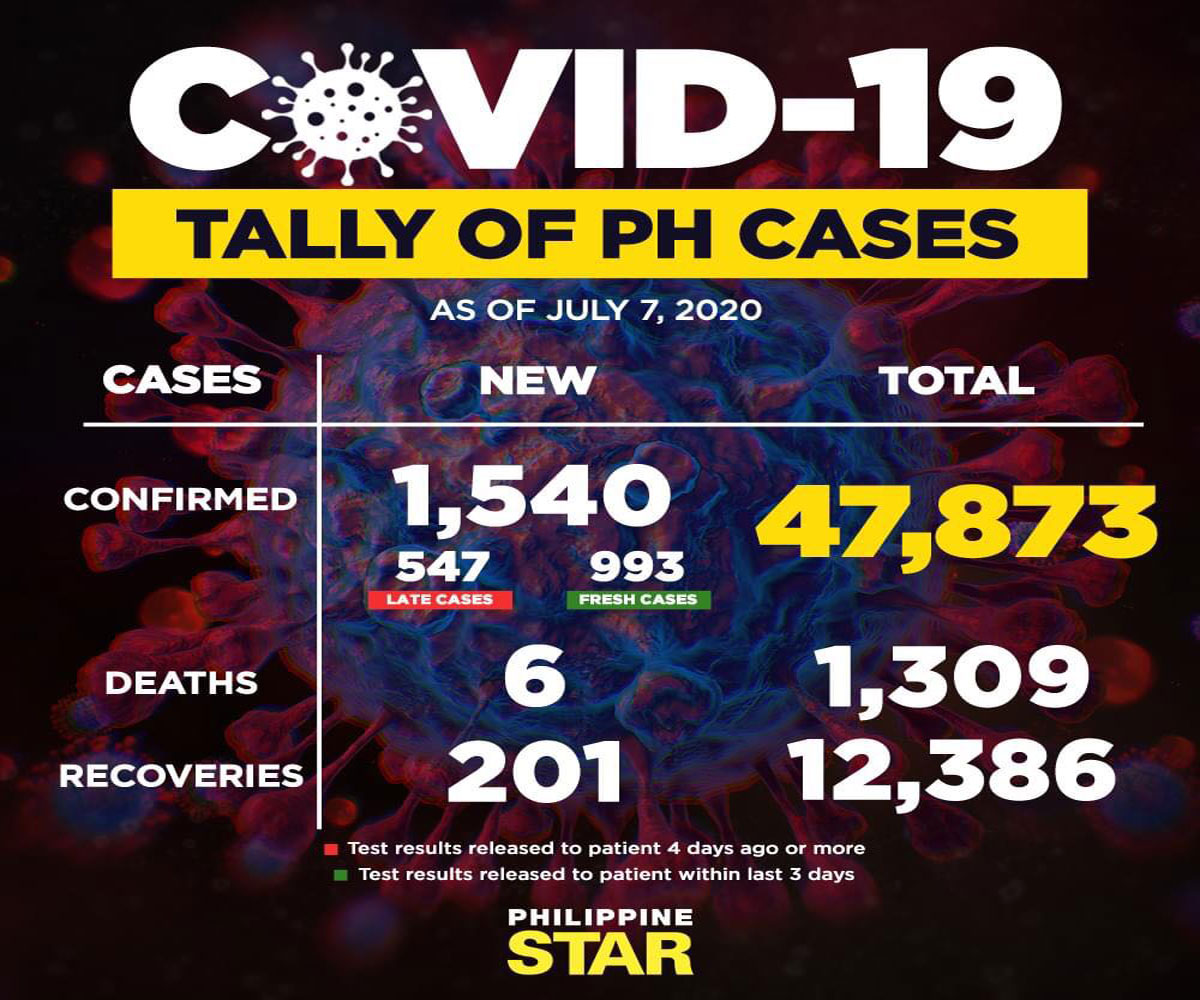 Fatality rate
But while the number of infections is on the rise, the deaths from COVID-19 in the country are "slowly going down," Vergeire said.
"It is really decreasing. We have only a 2.9 percent case fatality rate compared to when we started, when it was more than 10 percent," she pointed out.
Vergeire said this could be attributed to the "great improvement" in the way the country manages cases.
"We are seeing lesser deaths because we can see that clinicians now already have that much evidence and different information for them to be able to manage and support patients who are severe and critical and are being admitted in our hospitals," she explained.
Aside from this, she said a majority of the cases are mild, as Roque also pointed out.
As of July 5, a total of 27,429 or 94.3 percent of the 41,830 cases recorded were mild while 1,486 or 5.1 percent were asymptomatic, according to DOH data.
A total of 144 cases or 0.5 percent were severe while 28 or 0.1 percent were critical.