The Hazards Of Volcanic Ash, Being Rock And Natural Glass Particles
Volcanic ash is not your typical dust from soil or ash from burned materials, according to the US Geological Survey, as it consists of tiny jagged particles of rock and natural glass blasted into the air.
A warning about volcanic ash and its hazards is making the rounds on social media following the eruption of Taal Volcano in Talisay, Batangas on Sunday, which also caused ashfall in Metro Manila and nearby provinces.
"To my dearest family and friends: Please do not take this 'ashfall' lightly. For one, the term 'ashfall' is misleading. There is no ash," the message read.
The message quoted the US Geological Survey, which defined volcanic ashfall as a "hard rain" of abrasive particles.
"Volcanic ash consists of tiny jagged particles of rock and natural glass blasted into the air by a volcano. Ash can threaten the health of people and livestock, pose a hazard to flying jet aircraft, damage electronics and machinery, and interrupt power generation and telecommunications," the USGS said.
"Wind can carry ash thousands of miles, affecting far greater areas and many more people than other volcano hazards. Even after a series of ash-producing eruptions has ended, wind and human activity can stir up fallen ash for months or years, presenting a long-term health and economic hazard," it added.
As of 3:50 a.m. yesterday, the National Disaster Risk Reduction and Management Council (NDRRMC) said ashfall had been reported in Tanauan, Batangas; Sta. Rosa, Laguna; Escala Tagaytay, Dasmariñas, Bacoor and Silang in Cavite; Malolos, San Jose Del Monte and Meycauayan in Bulacan; Antipolo, Rizal; and in Metro Manila, the cities of Muntinlupa, Las Piñas, Marikina, Parañaque, Pasig, Mandaluyong, San Juan, Manila, Makati, Taguig and Quezon City.
"Large rock fragments (lapilli) with diameters (two) to 64 (millimeters) have fallen in Tanauan, Talisay, Batangas; Tagaytay City; Nuvali and Sta. Rosa, Laguna. All are advised to guard against the effects of heavy and prolonged ashfall," the NDRRMC said in an advisory sent through telecommunications firms.
Senior weather foreacaster Chris Perez of the Philippine Atmospheric, Geophysical and Astronomical Services Administration told the Metro Manila Disaster Risk Reduction and Management Council that the ashfall could last for three days. 
The USGS said volcanic ash – small jagged pieces of rocks, minerals and volcanic glass the size of sand and silt (less than 1.5 inches or two millimeters in diameter) – can be less than 1/25,000th of an inch (0.001 millimeter) across.
Though called "ash," volcanic ash is not the product of combustion, like the soft fluffy material created by burning wood, leaves or paper. Volcanic ash is hard, does not dissolve in water, is extremely abrasive and mildly corrosive, and conducts electricity when wet, the USGS noted.
DOH warning
With the ashfall, the Department of Health (DOH) is bracing for a possible surge in respiratory and eye illnesses.
In an interview, DOH Undersecretary Eric Domingo said they have placed all DOH hospitals in Calabarzon (Cavite, Laguna, Batangas, Rizal and Quezon)  under Code Blue Alert, while those in the National Capital Region are on Code White Alert.
This means these hospitals should ensure that they have enough logistics  and manpower available when needed.
"We are closely monitoring the situation.  People have been deployed to do rapid health assessment in the affected areas, including the evacuation centers," Domingo noted.
The cities and municipalities involved in the evacuation are Batangas, Agoncillo, Laurel, San Nicoclas, Talisay, Tanaua, Cuenca, Lemery, Balete, Mataas na Kahoy, Lipa and Sitio Tibang.
So far, the DOH has not received any report of hospitalization due to the ashfall and eruption. 
Domingo said some P1.5 million worth of supplies, including N95 masks, collapsible water containers, water purifiers and respiratory medicines for those with asthma have been released for distribution to people affected by Taal's activity.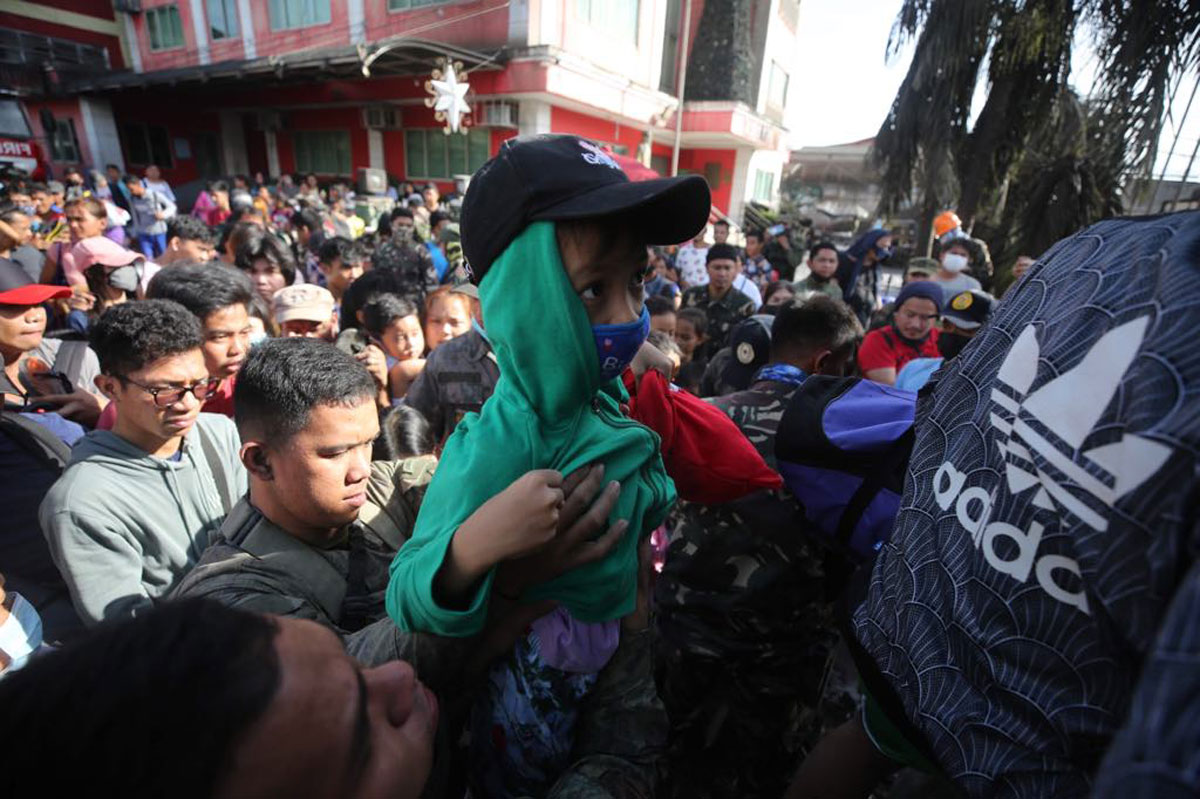 Health impact
He urged those with pre-existing respiratory conditions like asthma, emphysema and chronic obstructive pulmonary disease to observe precautionary measures to prevent an attack of their illnesses.
Such people must wear N95 masks if they are in high-risk areas like Calabarzon, Domingo said. For those in other areas like Metro Manila, ordinary surgical masks or layers of cloth used as mask will do.
Domingo warned that ashfall may contain particles like silicon, which can be harmful especially to those who already have respiratory conditions.   When inhaled, the silicon can accumulate in the lungs, causing inflammation and scarring. 
He said wearing contact lens is also not advisable because the ashfall or dust can stick to them.
"The smoke, the small particles with sulfur can irritate the mucosal membrane of the body, like the eyes. It can get your eyes irritated quite badly," he pointed out.
First aid
In case dust gets into the eyes, they should be washed with clean and cold water repeatedly as first aid.  The eyes should not be rubbed because the ash can  damage the cornea, Domingo stressed.
He urged the public not to look up because the ash may fall directly into their eyes. 
Domingo called on residents in heavily affected areas to wear protective clothing with long sleeves and pants because volcanic ash can irritate the skin.
"Skin disease is another condition we have to watch out for... It is best to wrap (a) shirt around your head, leaving your eyes exposed.  And then wear protective glasses," he said.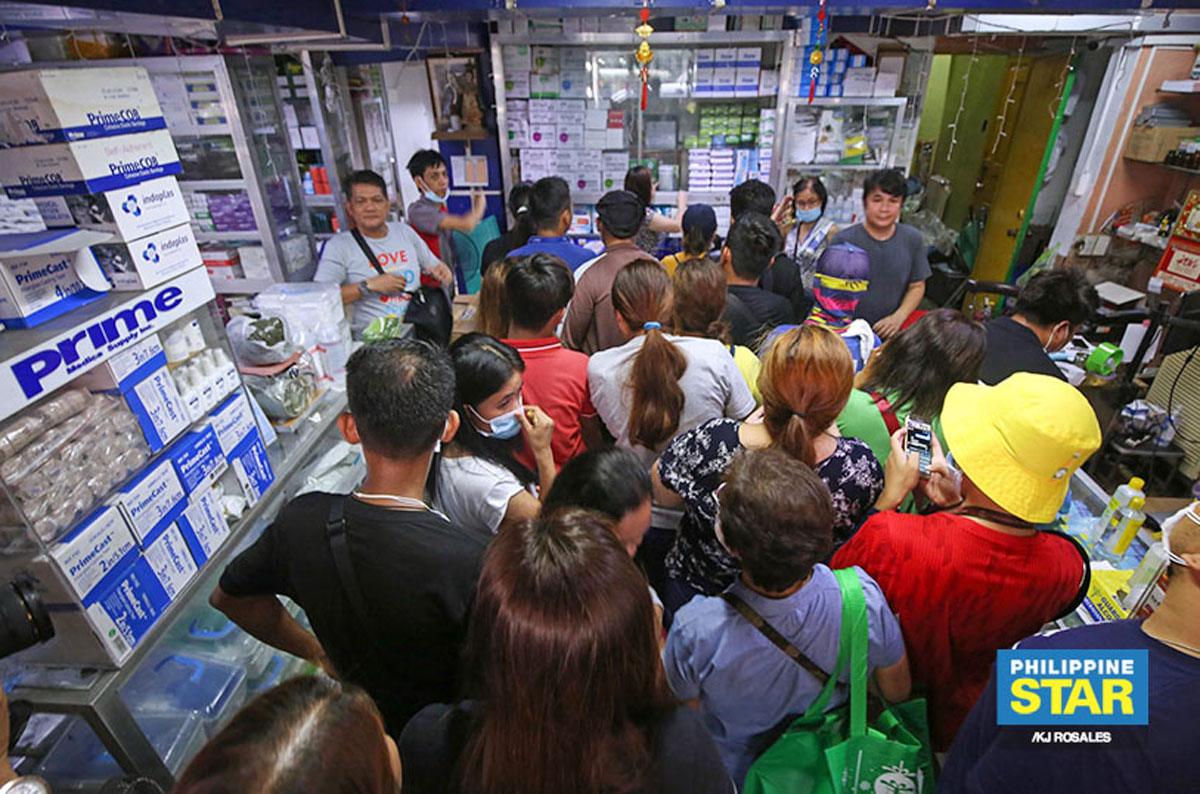 Wind shift
The shift in the prevailing wind in higher altitudes can spare Metro Manila and Central Luzon from more ashfall, Perez said.
Perez explained that the prevailing wind direction in the "mid- and higher altitudes" on Sunday carried the ash particles to areas north of Taal, including Metro Manila, to as far as Central Luzon.
"Last Sunday, the prevailing wind (five kilometers above the ground) was from south to north, that's why the ashfall reached Metro Manila. But starting this (Monday) morning, the wind was coming from southwest to west or toward Rizal, Quezon and Laguna," he said.
Perez said the low-pressure area off Hinatuan, Surigao del Sur was not expected to affect winds and weather around Taal in the next two days.
The weather system was also not expected to develop into a tropical cyclone in the next few days.
Some effects of volcanic ash
As per the USGS, volcanic ash is formed during explosive volcanic eruptions. Explosive eruptions occur when gases dissolved in molten rock (magma) expand and escape violently into the air, and also when water is heated by magma and abruptly flashes into steam. The force of the escaping gas violently shatters solid rocks. Expanding gas also shreds magma and blasts it into the air, where it solidifies into fragments of volcanic rock and glass.
"Once in the air, hot ash and gas rise quickly to form a towering eruption column, often more than 30,000 feet high. Larger rock fragments more than (two) inches across ejected by the explosion typically fall within a few miles of the eruption site. However, wind can quickly blow fine ash away from the volcano to form an eruption cloud. As the cloud drifts downwind from the erupting volcano, the ash that falls from the cloud typically becomes smaller in size and forms a thinner layer. Ash clouds can travel thousands of miles, and some even circle the Earth," the USGS added.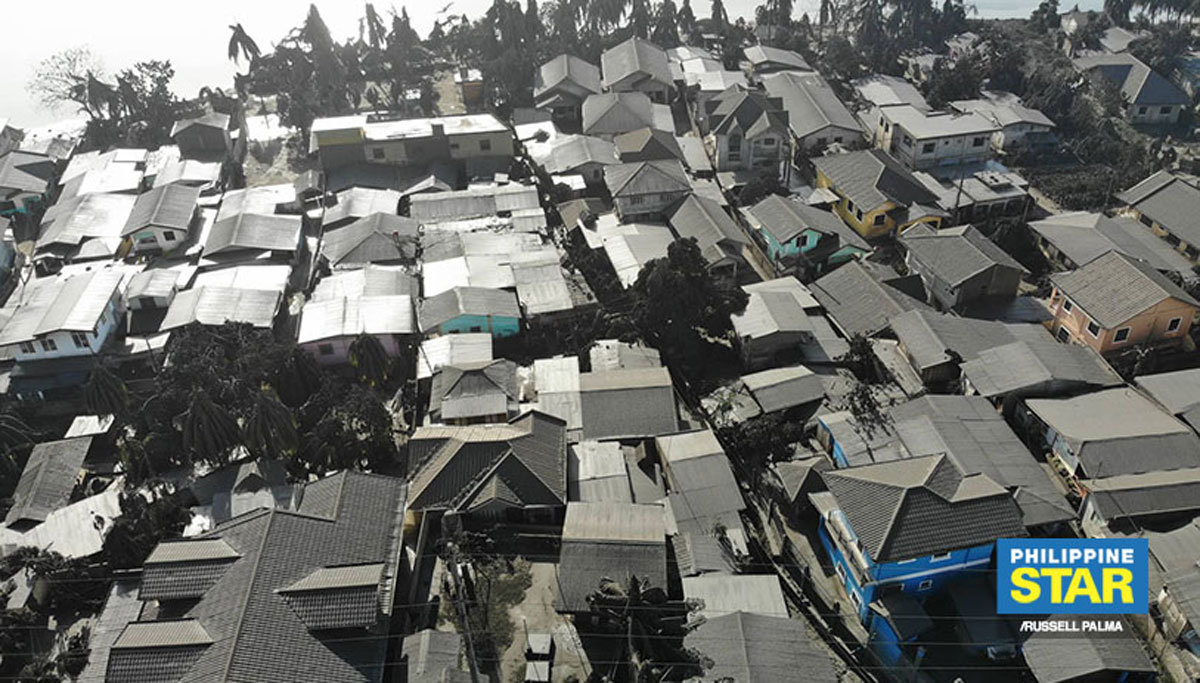 When volcanic ash accumulates on buildings, its weight can cause roofs to collapse, killing and injuring people.
The USGS explained that a dry layer of ash four inches thick weighs 120 to 200 pounds per square yard, and wet ash can weigh twice as much. "The load of ash that different roofs can withstand before collapsing varies greatly – flat roofs are more likely to collapse than steeply pitched ones."
Because wet ash conducts electricity, the USGS said volcanic ash can cause short circuits and failure of electronic components, especially high-voltage circuits and transformers.
Power outages are common in ashfall areas, making backup power systems important for critical facilities such as hospitals, the USGS stressed.
The USGS also cited the following:
Eruption clouds and ashfall commonly interrupt or prevent telephone and radio communications in several ways, including physical damage to equipment, frequent lightning (electrical discharges), and either scattering or absorption of radio signals by the heated and electrically charged ash particles.
Volcanic ash can cause internal-combustion engines to stall by clogging air filters and also damage the moving parts of vehicles and machinery, including bearings and gears.
Engines of jet aircraft have suddenly failed after flying through clouds of even thinly dispersed ash. Roads, highways and airport runways can be made treacherous or impassable because ash is slippery and may reduce visibility to near zero. Cars driving faster than five miles per hour on ash-covered roads stir up thick clouds of ash, reducing visibility and causing accidents.
Ash clogs filters used in air-ventilation systems to the point that airflow often stops completely, causing equipment to overheat.
Such filters may even collapse from the added weight of ash, allowing ash to invade buildings and damage computers and other equipment cooled by circulating outside air.
Agriculture can also be affected by volcanic ashfall.
Crop damage can range from negligible to severe, depending on the thickness of ash, type and maturity of plants, and timing of subsequent rainfall. For farm animals, especially grazing livestock, ashfall can lead to health effects, including dehydration, starvation and poisoning. 
 Like airborne particles from dust storms, forest fires and air pollution, volcanic ash poses a health risk, especially to children, the elderly, and people with cardiac or respiratory conditions such as asthma, chronic bronchitis and emphysema.
According to the USGS, the best time for communities, businesses and homeowners to make preparations for a rain of volcanic ash is before an eruption occurs. When an explosive eruption does occur, warning of advancing ash clouds may precede actual ashfall by only minutes or hours. By developing community emergency-response plans that can be activated when a volcano is threatening to erupt, the harmful and disruptive effects of ash can be greatly reduced.
Panic buying, overpricing
The DOH has appealed to the public not to resort to panic buying and overpricing of N95 masks "because there are people who need (them) most."
"We want them to be used by people who are at high risk or those who have pulmonary illnesses, which can be triggered easily.  Their airways are very sensitive," Domingo said.
In Bambang, Manila which is popular for stores selling medical supplies and equipment, many stores are filled with people buying N95 masks. 
One of them is Maclina Sarol, 42, of Pandacan, Manila who lined up in a store to buy four pieces of N95 masks for fear that the ashfall will worsen.
"I have a five-year-old child so I want to have a stock of N95 in case we need them," she said in an interview.
A woman, who refused to be identified, admitted that she was buying "boxes" of N95 and surgical masks that her cousin would sell in Batangas.
"We will send them to Batangas because many people are looking for the masks there," she said.