Test Kits, 3D-Printed Face Shields, Sugar Alcohol: Phl Universities Help Fight COVID-19
Various universities are coming up with different programs and projects to complement measures to prevent the spread of coronavirus disease 2019 in the country.
From 3D-printed face shields to alcohol made out of fermented sugar and nipa oil, academic institutions in the country are joining efforts to respond to and prevent the further spread of the coronavirus disease 2019 (COVID-19).
Among those in the frontlines are scientists from the University of the Philippines-National Health Institutes who have developed a testing kit for SARS CoV-2, the virus that causes COVID-19.
The locally developed test kits are under validation, with the commercial rollout expected in a few weeks.
Read more: Ready For 6,000 Tests: UP-developed Testing Kits For COVID-19 Cheaper
Across the country, academics and experts from different higher education institutions have come up with their own initiatives to contribute to the COVID-19 response.
3D-printed face shields
 In UP Cebu, a team of faculty members and staff from its fabrication laboratory (FabLab) has begun producing face shield frames using 3D printers and laser cutters.
The frames can be attached to a sheet of plastic or acetate to create face shields for health workers.
In an article published on its website, the university said prototyping of the frame was initially created using a 3D printer, with succeeding tests showing that using a laser cutter yielded more results.
The UP Cebu FabLab will operate at regular hours and produce as much face shields for the Cebu community. 
The university said the Department of Trade and Industry has committed to provide additional materials for the frames, which were initially produced using resources of the laboratory.
UP Cebu said the FabLab would accept support from private donors when the final model is ready for mass production.
The team is composed of  UP College of Mass Communication, Art and Design dean Palmy Marinel Tudtud, faculty members Mona Alcudia and Jay Nathan Jore, and FabLab staff Fidel Laurence Ricafranca and Mark Argel Simacon.
They are also planning to create full-body protective suits using umbrella cloth.
Also in Cebu, the Digital FabLab of the Cebu Technological University (CTU) has developed a prototype for face shields.
Various CTU campuses have begun producing face shields donated to various hospitals in the province.
In Western Visayas, the Capiz State University produced 800 units of face shields for health workers and other frontliners, according to the Commission on Higher Education (CHED).
Aside from the academic institutions, Filipinos with 3D printers also created a group to mobilize their capabilities to produce face shields.
Latest update on the 3D Printing for a Cause Facebook group showed that over 2,100 face shields have already been produced.
 Sanitation tents
 A team of industrial designers, engineers and chemists from UP Diliman also designed a sanitation tent that may be used in response to the pandemic.
August Patacsil, a graduate of the UP College of Fine Arts, said they have started designing an affordable and easy to build sanitation tent that may be used at hospital entrances, train stations, bus stops, offices, grocery stores and public markets.
"The design will be open source. It will use readily available materials from local hardware stores," Patacsil said in a post on Facebook.
"Once the design is final, we will send it to all contacts that we have. All LGUs (local government units) and institutions can use it, free of charge. By adding contacts to our database, you are helping us spread solutions as fast as possible," he added.
The team has come up with a Facebook page called SaniTents PH for updates regarding the initiative.
Meanwhile, in consultation with engineers from Mapua University, the Quezon City local government has partnered with USHER Technologies to install a mobile disinfection chamber at the city hall.
Called the GOCLEAN Chamber, every unit has a thermal scanner, cough sound detection and disinfection system using mist and fog.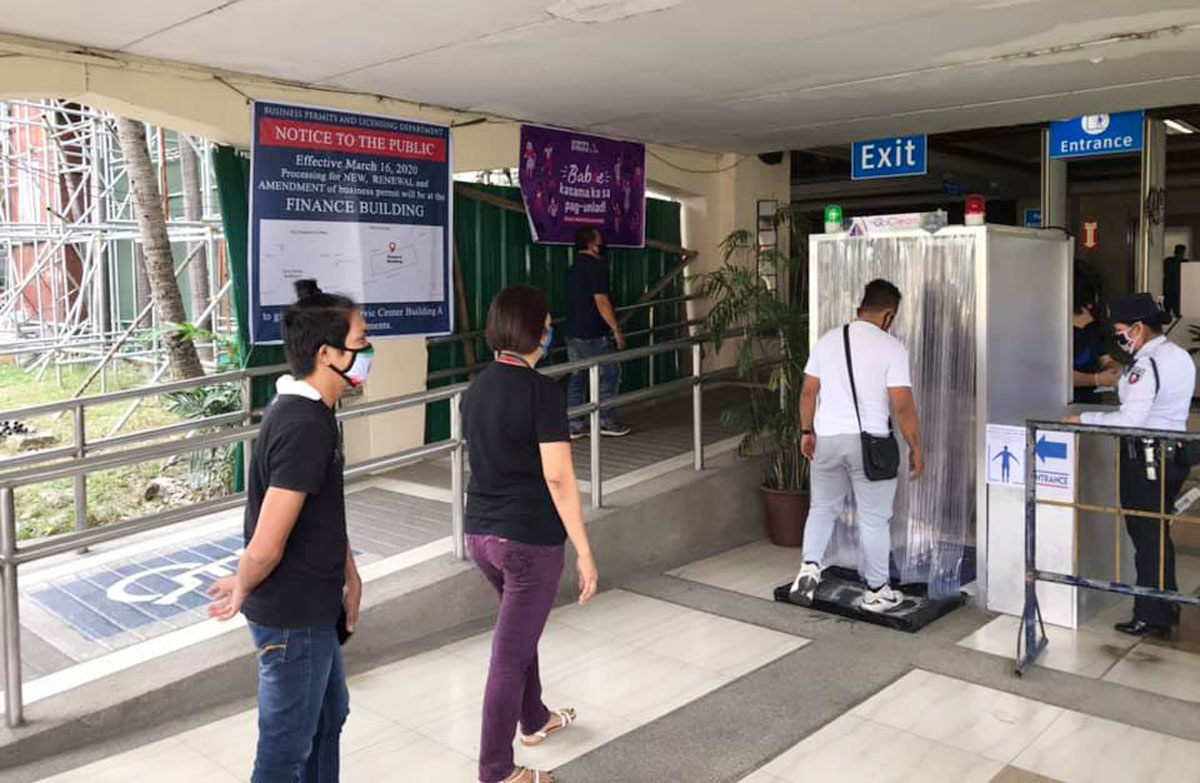 Developers said they plan to include breathing pattern and facial recognition systems for security purposes. 
"It is the goal of the project to fabricate the mobile chamber in a few weeks' time and it will be tested in various government buildings in the city," USHER Technologies said in a post on Facebook.
"If successful, it is the intention of the partnership to share the design and details with other local government units and the national government for a wider deployment scale," it added.
Nipa sap, sugar-based alcohol
In Ilocos Norte, the National Research and Innovation Center of the Mariano Marcos State University (MMSU) has been producing alcohol using various raw materials, including fermented sugar and nipa palm sap.
The university said it was able to produce several hundred liters of ethyl alcohol using molasses, which is produced using sugarcane.
Representatives from different local government units were also taught how to prepare and ferment the molasses, which in turn can be processed into ethyl alcohol by the university.
The MMSU was also able to donate over 1,200 liters of 70-percent ethyl alcohol from nipa sap, which is also part of its ongoing research on producing bio-ethanol from different sugar sources.
The university's Department of Garments Technology has also started producing improvised face masks using table napkins and garter. 
In Eastern Visayas, faculty researchers at the Samar State University produced moisturized chlorine-based hand sanitizers and distributed these to frontliners and residents in several barangays in Catbalogan City.
The Mindoro State College of Agriculture and Technology, meanwhile, donated 1,650 bars of university-produced soap to the Oriental Mindoro Provincial Hospital in support of the COVID-response.
Home for the homeless
In Manila, De La Salle University (DLSU) has opened its campus as a sanctuary for the homeless during the implementation of the enhanced community quarantine.
Seventy-nine individuals are staying at the DLSU campus on Taft Avenue, while another 69 are housed at the nearby DLS-College of Saint Benilde.
The university said it is accepting donations of food, medicine and health kits.
Various universities and school-based organizations have also initiated fund drives to purchase personal protective equipment and other supplies for health workers and other frontliners.