Take 2: 89-Year-Old Retired Soldier Tries To Hurdle Bar Anew
Ibarra Mariano refuses to give up on his dream to be a lawyer after finishing law 50 years ago.
It is a different battle he is fighting now but like a good soldier that he was, there is no retreat, no surrender for Ibarra Mariano.
On Sunday, the 89-year-old Mariano emerged from the University of Santo Tomas in Manila, looking tired like the younger ones taking the Bar examinations.
But his spirits were lifted the moment he stepped out of the gate where supporters and the Bar takers themselves were awed by his determination to be a lawyer.
They knew he is taking the exams for the second time as he failed to make it in 2018. This year, the exams are scheduled for four Sundays of this month.
"Walang susuko! Congrats Tatay!" the people outside chanted, applauding Mariano, who responded by raising his left fist in solidarity.
Mariano, who finished law at the Philippine Law School in 1967, showed his photo when he was younger and still serving as a soldier in the Philippine Constabulary.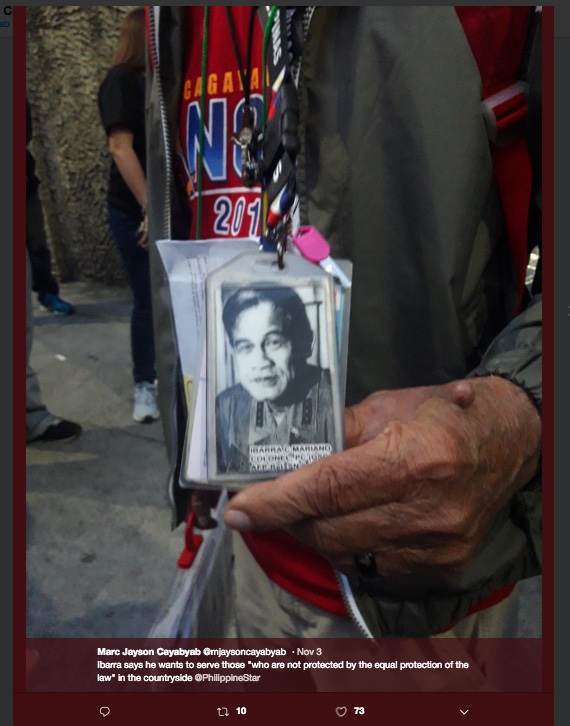 "Everybody doesn't like my taking the Bar. All of them — my immediate family, my wife, my children. They told me, 'what are you taking the Bar (for)? You're not that young at 89,'" Mariano, whose family is from Tacloban, Leyte and among those who survived Super Typhoon Yolanda in Tacloban in 2013, quipped.
He admitted he had not practiced law since getting his degree and his shaky handwriting had also cost him his chance of becoming a lawyer last year.
Mariano showed a sample of his penmanship on a sheet of paper, then held out his hands to show he could not control their shaking.
"(They're) numb and prickling… I even drop my spoon when I eat. When I drink, I hold it by two hands in order not to break the glass," Mariano said.
Although he had his hands operated to try to fix the shaking, there was no improvement in his handwriting, he lamented.
Support for Tatay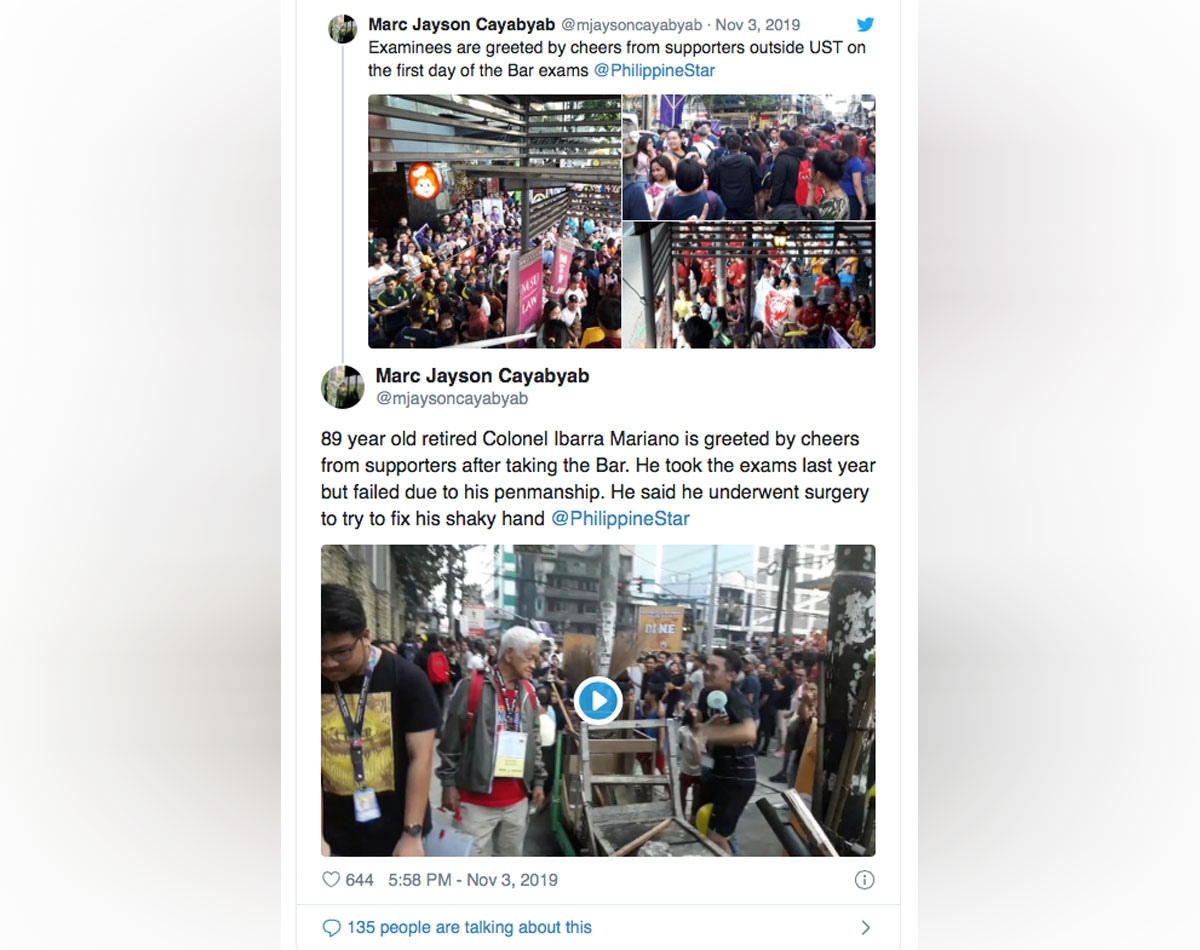 Twitter users who saw The Philippine STAR's video of people cheering for Mariano expressed hopes that Tatay will pass this year.
"I remember Colonel. We cheered for him last year," said Twitter user Joyce (@pompadoosh). "When the 2018 results were published, I looked for his name and was disappointed to see that he didn't make it. Will be cheering for him again next Sunday."
"To serve the underprivileged and those who are in the countryside. 'Yan naman talaga ang pangarap. Same, Tatay. Same. Let him pass, please," added Gian Verona (@gianverona).
If he passes this year, Mariano said he wants to serve in the countryside by representing the indigents who are not given due process and equal protection of the law.
It would probably make him among the country's eldest legal minds. He will be 90 next year.
But he does not have any regrets for taking the Bar at his age. For him, there is no such thing as being too late to achieve a goal in life.
For the whole month of the Bar exams, Mariano will stay in a dormitory along Dapitan street near UST, where his two children visit him.
Asked about this year's Bar compared to last year, Mariano said, "Hindi naman mahirap (It's not that hard). Reasonable," with a shrug and a confident smile.
He advised students to continue their determination to pass the Bar — no matter how long it takes — or how old they get.
"Never give up. If you fail, bumangon ka (get up) and try again. There's no harm in trying, anyway," Mariano said.