Taiwan's 3Ts In Fighting COVID-19: Transparency, Trust, Technology; Vaccines Also Upcoming
Stressing the need for "international collaboration," Taipei's representative shares his government's best practices – including the use of national health insurance data to trace contacts of infected persons – to beat COVID-19.
A Taiwanese manufacturer hopes to conduct the third-stage clinical trial for a coronavirus disease 2019 (COVID-19) vaccine in the Philippines "early next year," the island's de facto ambassador said as he stressed the need for "international collaboration" despite the lack of formal diplomatic relations.
Taipei Economic and Cultural Office in the Philippines Representative Michael Peiyung Hsu, in a webinar held by the University of the Philippines Asian Center on Sept. 16, narrated how his government kept the total number of COVID-19 cases at around 500 and returned the island back to "normal."
He also offered to share with the Philippine Health Insurance Corp. the "best practices" of Taiwan's National Health Insurance program – which not only helps pay for medical services but also provides a database that helped in tracing the contacts of infected persons.
"Taiwan has a lot to share with the international community. Pandemics recognize no borders and make no distinctions between nationalities," he said, as he lamented Taiwan's "unfair" treatment in previous health emergencies by the World Health Organization (WHO).
Only 14 United Nations member states and the Holy See have formal relations with Taipei. The One China policy forbids Beijing's diplomatic partners – including Manila – from giving recognition to what it treats as its breakaway province. China considers Taiwan a renegade province.
A Taiwanese-Philippine project
Hsu described Adimmune Corp.'s development of the AdimrSC-2f candidate vaccine as a "project between Taiwan and the Philippines" and said the company was now working together with the Department of Science and Technology (DOST).
"Adimmune is trying to work together with your government to have the third-stage clinical trials to be conducted in the Philippines. I hope to see they can do this third stage clinical trial as they targeted in early next year," he said.
Vaccine development commonly undergoes a three-phase process worldwide. In Phase 3, the vaccine is given to thousands of people and tested for efficacy and safety.
This comes after the vaccine is received by a small group during Phase 1 and then by an expanded group whose characteristics (like age and physical health) match the intended people during Phase 2.
Hsu said Adimmune's vaccine is already undergoing the first stage following the approval of its application by Taiwan's Food and Drug Administration last August. The trial would proceed to the second stage this November before the vaccine is tested in the Philippines.
The Inter-Agency Task Force for the Management of Emerging Infectious Diseases approved the Philippines' participation in the clinical trials for various vaccines through Resolution No. 39 on May 22.
Besides Adimmune, the other collaborating organizations are Taiwan's Academia Sinica, the Chinese Academy of Science-Guangzhou Institute of Biomedicine and Health, and SinoPharm-Wuhan Institute of Biological Products and Beijing Institute. China's Sinovac Biotech Ltd. is also being tapped through Resolution No. 44 on June 8.
Sinopharm already launched Phase 3 trials in other countries, with 1,500 Filipinos in the United Arab Emirates volunteering, according to Chinese Ambassador Huang Xilian.
The Philippines will also hold the "solidarity trial" for some of the 34 candidate vaccines evaluated by the WHO by the third week of October. Health Undersecretary Maria Rosario Vergeire announced on Sept. 16 that operational expenses would be funded by an P89.1-million allocation from the DOST.
The list of the WHO's candidate vaccines includes Sinopharm's Wuhan and Beijing inactivated vaccines and Sinovac's inactivated vaccine – but not Adimmune's AdimrSC-2f vaccine.
Taipei leaders have accused the WHO of ignoring its warnings about the human-to-human transmission of a newly uncovered virus as early as December, raising questions about whether it could have been controlled with swift action.
Sharing the knowledge
"One area that is very important for Taiwan is information exchange. Without access to critical information about the coronavirus, Taiwan risks becoming a gap in the global health system – undermining the very purpose of the World Health Organization's existence," Hsu stressed.
Experience-sharing, like Hsu's attendance in the UP Asian Center webinar, is one of the three pillars of Taiwan's international cooperation efforts for the pandemic. Besides vaccine research and development as mentioned above, Taiwan also focused on the donation of medical supplies, such as more than 51 million masks to 80 countries, including one million to the Philippines alone.
Hsu said the pandemic had a "minor" impact on the daily lives of the Taiwanese because of their "early and active campaign to diagnose, track, isolate and mitigate cases."
The government reactivated its Central Epidemic Command Center  (CECC) as early as Jan. 20 – the day before Taiwan confirmed its first COVID-19 case.
Hsu said the government abided by the 3T's: transparency, trust and technology. CECC holds briefings daily, or sometimes twice a day, so the people "can get the update in time, and the correct message about the preparations for COVID-19 in Taiwan and around the world." This promotes trust and encourages people to be "willing to cooperate and share the burden to win this battle together," he notes.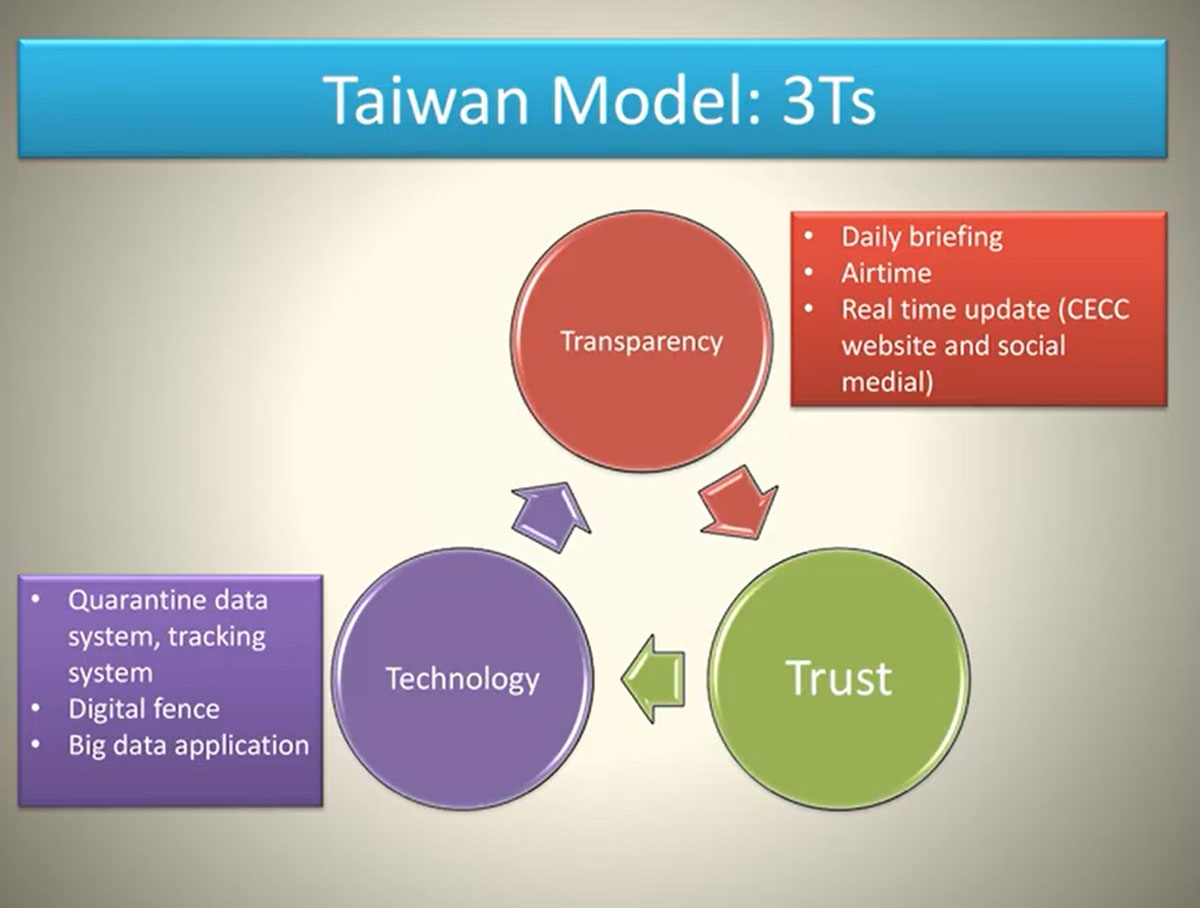 An important part of Taiwan's COVID-19 response is its "advanced ICT (information communications technology) and research development and manufacturing capabilities."
Hsu said a system was designed for travelers to enter quarantine data via mobile phone. A "digital fence" monitors the movement of people ordered to quarantine themselves at home.
Mobile phone apps also help track those in close contact with confirmed COVID-19 cases. Importantly, Taiwan's single-payer National Health Insurance program also provides data for this purpose.
"We have established big data and we use this big data together with the big data of the immigration agency to combine, we can successfully trace wherever an inbound passenger is and also our nationals' whereabouts – where they have been and who they have met with. This information is very, very helpful," Hsu said.
Taiwan's program "has accumulated a lot of experience" since its establishment in 1995, Hsu said. (Meanwhile, Philhealth, created also in 1995, has been embroiled in yet another multibillion-peso corruption scandal in the middle of a pandemic.)
"Taiwan could share our best practices with the Philippines, especially the use of IT technology to do a good job for national health insurance implementation," Hsu added.
Besides these, Taiwan also has a "high-risk patient warning system and mask rationing system." There was apparently a tight supply of face masks; the island was forced to ramp up daily production to 20 million pieces in June, from 1.8 million in January.
Taiwan also employs measures that are not high-tech and are also done in the Philippines. Incoming passengers need to have their body temperature measured, and people who go to establishments outside are required to write their names, contact details and the date of their visit on a piece of paper.
At the height of the pandemic, people were advised to observe physical distancing and avoid large-scale gatherings. The government bought airtime to constantly remind the public to wash their hands and wear face masks.
For their home quarantine protocols for mild cases, infected persons were not allowed to stay at home if they did not have their own room and toilet, or if they lived with family members older than 60 years or younger than 12 years.
The Taiwanese government built "quarantine hotels" for such persons as well as incoming visitors. But infected workers do not have to lose their daily income as the government pays them 1,000 New Taiwanese dollars (P1,600) daily to isolate.
To revive the economy, Hsu said the government "plans to push bigger and bolder and faster infrastructure projects" as well as provide "measures to encourage spending and domestic travel while bringing consumers back to shopping areas."
Of Taiwan's total 499 cases, 476 have already recovered as of Sept. 14 while seven died. This relatively small number was detected even as 89,827 of the 23-million population was tested for the virus.
In the Philippines, the Department of Health reported that the number of cases rose by 3,375 on Sept. 17 to a total of 276,289. Of this number, 4,785 died while 208,096 were considered to have recovered.
University of the Philippines mathematics professor Guido David – a fellow of OCTA Research, whose forecasts Malacañang wanted to beat in June – said the country's high reproduction rate (or the number of persons infected by each COVID-19 case) spelled the difference.
Each COVID-19 case in the Philippines spreads the disease to an average of 1.72 persons throughout the pandemic, compared to Taiwan's rate of 1.3. Guido said the difference may be small, but the fact that more Filipinos are spreading the disease faster to more people actually "causes an exponential increase... and causes the number to go up much, much higher."
Why was Phl not as successful?
Even though the archipelago already imposed at least the policies and guidelines that would not require technology and financial support, the situation got worse partly because Metro Manila became the epicenter of the pandemic.
Manila is one of the most densely populated mega cities in the world. On top of this, the National Capital Region is home to 13 percent of the population but contributes a whopping 38 percent of the gross domestic product – which explains why it accounts for 55 percent of the total cases in the country.
David noted that this was different from the case of China. Hubei's provincial capital of Wuhan, where the outbreak began, was not a major economic center on par with Beijing, Shanghai or Hong Kong, he said.
"It's like isolating the small part and preventing it from infecting one of the major economic sources," David said.
"Unfortunately, that is not possible in the Philippines because the pandemic is already centered in Metro Manila."
The Philippine government's much-criticized response to the COVID-19 pandemic is also to blame. David said it "did not close its international borders as early as Taiwan," which helped reduce the number of foreign travelers who could bring in the disease.
On Jan. 29, Health Secretary Francisco Duque III had told the House of Representatives that China would find it unfair if its nationals were prohibited from flying into the Philippines.
A 38-year-old female Chinese traveler from Wuhan became the first confirmed COVID case in the Philippines on Jan. 30. Her companion, a 44-year-old Chinese man, became the first to die of the disease in the Philippines and outside China on Feb. 1.
The Philippines suspended flights from Wuhan only on Jan. 23, and then from Hubei province on Jan. 31, before finally expanding the travel ban to the whole of China on Feb. 2.
When community transmission finally took place in March and prompted President Duterte to place the entire Luzon under enhanced community quarantine, David recalled that "it took some time to scale up testing."
The government had targeted to conduct 30,000 tests daily by the end of May, but this was only achieved on July 22, according to the DOH's COVID-19 Tracker. At the same time, the overall positivity rate is 10.5 percent, more than double the five-percent rate that the WHO considers ideal (a higher figure implies that not enough testing has been conducted).
David also pointed out the Philippines' lack of a contact tracing app and reliance on "primarily manual" efforts.
"If you're dealing with 10 cases, five cases a day, then it's very, you know, it's possible to do contact tracing (manually)," he said. "Once you get 3,000 cases per day, it is very difficult to do contact tracing, especially if you're not capturing asymptomatic cases."
But there is another major difference – experience in dealing with major outbreaks of infectious diseases. David noted that the Philippines, unlike Taiwan, recorded few cases during the outbreak of the Severe Acute Respiratory Syndrome in 2003 and the less widespread but deadlier Middle East Respiratory Syndrome in 2012.
David said this "may have caused us as a whole – and we're not just talking about the government but the people – to essentially underestimate the virus."
"We were not prepared for it, but we also underestimated it. We should learn from our mistakes and from the way Taiwan handled its pandemic," he noted. "We should be more prepared in managing a future pandemic and we should be taking preparatory steps once we see the first signs of an upcoming pandemic."