Should Phl Shift To MGCQ Despite New COVID-19 Variants, Lack Of Vaccines? Duterte To Decide
The pros and cons of shifting to the most lenient modified general community have been discussed by those for and against the move, but President Duterte will be the one to make the final decision.
Lines have been drawn as the National Economic and Development Authority (NEDA) proposed to relax the quarantine measures nationwide despite the detection of more contagious variants of the coronavirus disease 2019 (COVID-19) and the continued absence of vaccines – while politicians and economists support the move, this was opposed by medical groups representing frontliners who fight the life-threatening disease.
On Feb. 15, NEDA proposed that the entire country be placed under modified general community quarantine (MGCQ), which was supported by nine out of 17 Metro Manila mayors.
President Duterte and his Cabinet are expected to discuss today, Feb. 22, the recommendation to place the capital region under MGCQ from GCQ starting next month to further reopen the economy and address income losses caused by lockdowns.
Presidential spokesman Harry Roque confirmed in a text message on Sunday, Feb. 21, that the proposal to relax Metro Manila's quarantine status is one of the items in the agenda of today's cabinet meeting. However, it remains unsure if Duterte will announce his decision on the proposal today.
"Maybe no," Roque said when asked if the President would announce his decision on the issue today.
Metro Manila, the economic center of the Philippines and home to more than 12 million people, remains the epicenter of the COVID-19 pandemic in the country with more than 225,000 cases. The region accounts for more than a third of about 559,000 infections in the Philippines.
NEDA cited the need to restore jobs and address the hunger caused by the disruption of business activities. Quarantine restrictions have resulted in a total income loss of P1.04 trillion or P2.8 billion per day, NEDA added.
Roque has thanked Metro Manila mayors for recommending the downgrading of Metro Manila's status to MGCQ, saying many are dying or are going hungry because of prolonged lockdowns. Economic managers have also given assurances that health measures would continue to be implemented even if quarantine restrictions are relaxed.
Also to be discussed during today's Cabinet meeting is NEDA's proposal to hold pilot face-to-face classes in low-risk areas and places where there are no COVID-19 transmissions. The implementation of pilot in-person classes was supposed to start last month but Duterte cancelled it because of the risks posed by a more infectious COVID-19 variant.
Majority of the provinces and cities in the Philippines are now under the most relaxed MGCQ, where about 75 percent of industries are allowed to operate. Only Metro Manila, Batangas, Abra, Apayao, Benguet, Baguio City, Ifugao, Kalinga, Mountain Province, Tacloban City, Davao City, Davao del Norte, Lanao del Sur and Iligan are under GCQ, where about half of the industries can operate. 
NEDA also proposed on Feb. 15 the expansion of public transport from 50 percent to 75 percent – complemented with "active transport support" like designating bike lanes  – so more people can return to work. He cited the need to expand the inter-province bus operations, noting that many Filipinos who went to the provinces during the lockdown could not report for work.
Chua also recommended the easing of age-based movement restrictions, which was deferred because of the emergence of a new and more infectious COVID-19 variant.
"At present, people aged 15 to 65 are the only ones who are allowed to go out. Our proposal is to gradually expand it to (people) aged five to 70. We can do it gradually, in increments of five years, also with appropriate safeguard," Chua said.
"With regard to safeguards, young people can go out with their parents only, or initially, they can go out to more open areas and it does not mean they will go to the malls. The young people can go out with safeguards, it will allow also their parents to work and get a job," he added.
Acting Socioeconomic Planning Secretary Karl Kendrick Chua said in a Feb. 19 radio interview: "I think there is a big chance that the President will see that we need this. I think his decision will be favorable."
Department of the Interior and Local Government spokesperson Jonathan Malaya said "there is a need to harmonize and streamline the different travel restrictions" imposed by local government units (LGUs) to domestic travelers.
"These vary from province to province. Placing the entire country under one quarantine classification would allow the DILG to harmonize the fragmented travel regulations across the country," Malaya said in a Feb. 20 statement, noting the confusion as some LGUs require a "travel authority," a swab test and a 14-day quarantine, while others do not.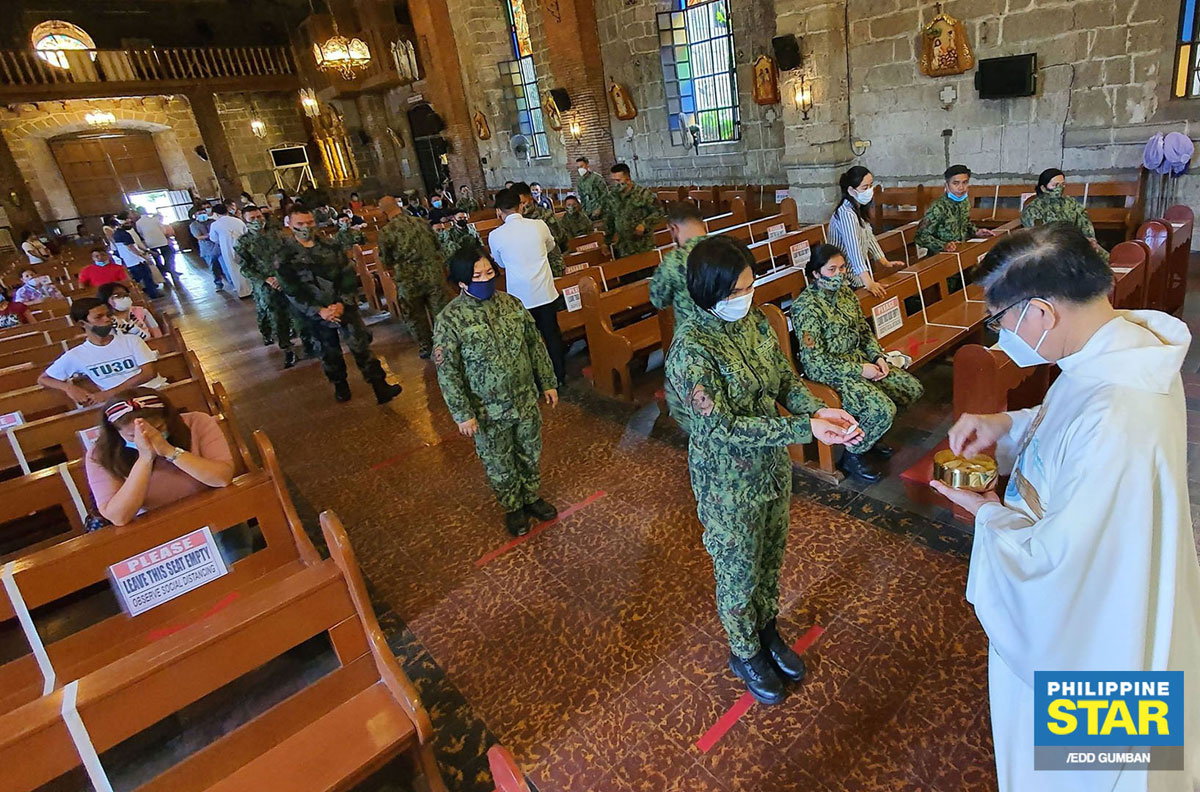 Public health concerns
On Feb. 17, the Department of Health (DOH) said LGUs should be able to determine the proper quarantine classifications using various parameters as local officials were the ones who know the situation on the ground.
With the COVID-19 vaccination yet to be rolled out in the country,  the World Health Organization on Feb. 18 cautioned against  large-scale easing of quarantine restriction.
"If we now go for large-scale relaxation of measures given the current existing situation and the circulation of variants and the fact it'll still be many months before a large proportion of Filipinos are vaccinated, we may witness a situation where there'll be an upsurge of cases and the overwhelming of the health system," WHO country representative Rabindra Abeyasinghe said.
The WHO official noted that the COVID-19 cases in the Philippines is yet to be flattened an the level of community transmission is relatively high.
OCTA Research group also projected that Metro Manila "will be under a constant threat of a surge" if the restrictions are loosened, to the point that the number of new cases may surge to 2,400 daily.
"While we recognize and support the need to jumpstart the economy and create livelihood for our citizens, at this time, the proposal to shift the NCR to MGCQ by March 2021 amidst the backdrop of a more contagious and lethal (United Kingdom) variant spreading in the regions is not just risky but also contrary to sensible epidemic management," it said.
In a Feb. 18 interview with "The Chiefs" on One News / TV 5, OCTA fellow and University of the Philippines professor Ranjit Singh Rye stressed: "We're not against the MGCQ, we're not just for it at the moment at this time."
"When the National Capital Region qualifies based on its health indicators to become MGCQ, then we will fully support it," Rye said. "We do not qualify for MGCQ. Yes, (the number of new cases has) been flat for about a month and a half, but we have not gone to the other side of the curve, we're not declining in terms of cases."
Health reform advocate Dr. Anthony Leachon, a resigned National Task Force Against COVID-19 adviser, said it was too early to ease restrictions in one fell swoop.
"I recommend slow and gradual loosening of quarantine classifications. We can't afford to have surges to overwhelm our healthcare system. Pity our healthcare workers," Leachon said in  statement.
"Economic depression is most compelling reason for this decision driven by NEDA and DTI (Department of Trade and Industry), but I feel we need to protect our people first and impose MGCQ at the proper timing or when the vaccination program has been started for three to six months," he added.
Echoing the concerns of medical groups and practitioners, Vice President Leni Robredo said: "If we look at the numbers, the transmission of the disease is still too high…and we still do not have vaccines."
Giving greater weight to public health, Robredo said in her weekly radio program on Sunday: "For me, our energies should be on the control of the transmission and the provision of vaccines. Not for just about whatever."
Meanwhile, Senate President Vicente Sotto III, and Senators Christopher Lawrence Go and Grace Poe argued that the relaxation of restrictions should come after the rollout of the vaccination program.
Sotto said he was personally not too confident about fully reopening the economy without a vaccination program in place. "Maybe if we can have at least five percent vaccinated, that may be the time," according to an official transcript of his Feb. 20 radio interview with dwIZ.
Sotto noted that even though face-to-face classes would be on the table, his Senate colleagues actually would not like to resume in-person attendance in their hearings and sessions. "Pagkatapos payag silang MGCQ ang taumbayan? Huwag ganoon (Then they are in favor of MGCQ for the people? Let us not do that)."
Go stressed: "Bakuna (Vaccine) first." Poe contended that "a strong vaccination program should accompany the reopening of businesses," and proposed that free "vaccine passports" should be given to vaccine recipients to boost the confidence of employers in hiring them.
Senate Majority Leader Juan Miguel Zubiri said he was siding with the Metro Manila mayors who voted against the implementation of the MGCQ given the high number of cases of COVID-19 in the capital.
 What will be the rules?
The Omnibus Guidelines of the Inter-Agency Task Force for the Management of Emerging Infectious Diseases, as of Feb. 11, refers to the MGCQ as "the transition phase" between GCQ and the new normal.
The following will be allowed to resume or operate under the MGCQ:
 Indoor and outdoor non-contact sports and exercise;
 Mass gatherings, such as movie screenings, concerts, sporting events, religious services and work conferences at 50 percent seating capacity;
 Limited face-to-face classes in higher educational institutions;
 Face-to-face training and competency assessment for technical-vocational education and training at 50 percent capacity;
 In-person work in all public and private offices, as well as diplomatic missions and international organizations at full capacity;
 All public and private construction projects;
 Hotels and accommodation establishments accredited by the Department of Tourism;
 Barber shops, salons and personal care services at 50 percent capacity;
 Dine-in restaurants, fastfood and food retail establishments, at 50 percent capacity;
 Public and private transportation, subject to the Department of Transportation's protocols; and
 Establishments not prohibited by the DTI.
 Why relax the measures?
 DTI Secretary Ramon Lopez, in a Feb. 19 briefing, argued that addressing the hunger crisis could not wait for the much-delayed arrival of vaccines – which had been blamed on DOH Secretary Francisco Duque III's "dropping the ball" on negotiations and the lack of protection from the threat of legal action similarly to that posed by the Public Attorney's Office controversial response to the Dengvaxia vaccine.
"(We can imagine each day that goes by that our countrymen have nothing to eat, each day they are hungry and becoming malnourished, what are we going to do about them?)" Lopez asked.
Sen. Ramon Revilla, Jr. on Feb. 19 said it was now time to relax the restrictions and shift  to individuals the burden of protecting them from the pandemic.
"Mukhang napapanahon na talaga ito, lalo na't kung tutuusin, lahat ng mga dapat na pag-iingat ay naituro na sa bawat isa (This looks very timely, especially considering that every way of taking care should have taught to everyone)," Revilla added. "Nasa kamay na ng bawat Pilipino ngayon na maging responsable at gawin ang kani-kaniyang ambag upang maiwasan ang pagkalat ng COVID-19 habang binubuksan natin ang ekonomiya, industriya, transportasyon, at mga hanapbuhay (It is now in the hands of every Filipino to be responsible and to do what they can to avoid the spread of COVID-19 while we open up the economy, industry, transportation, and livelihoods).
Sen. Sherwin Gatchalian batted for another form of implementing the so-called new normal: the reopening of schools to allow children to receive meals through feeding programs.
Sen. Sonny Angara said the country has no choice but to ease restrictions lest the economy plunges further and leave tens of millions of Filipinos hungry and without jobs.
"Let's just really take precautions, do all the preparations necessary, and cooperate because the nature of COVID is one weak link causes the infection of many," Angara also told dwIZ.
'Will the sales outweigh the risks?'
Even the one-by-one reopening of specific sectors have been met with controversy, despite government officials' assurances that business can resume under the assumption that numerous minimum health and safety protocols can be enforced and people will comply.
For one, the reopening of cinemas has been touchy as the Metro Manila mayors cited extremely high risk of gathering people in the same indoor area for the typical film length of two hours, increasing their chance of catching airborne virus droplets if one moviegoer turns out to be infected.
The reopening of cinemas was supposed to be last Feb. 15, but this was deferred to March 1 in Metro Manila.
Dr. Eric Tayag, director of the Department of Health's Knowledge Management and Information Technology Service, said in a Feb. 18 briefing that moviegoers will just have to sit away from each other, and refrain from eating, answering phone calls and taking restroom breaks.
Mary Jean Loreche, spokesperson of DOH-Central Visayas, said: "We cannot always be scared and hide behind our fears."
"We in the Visayas, we have long been in MGCQ and we know that COVID-19 is here so we learn to live with the virus," she said in an interview with The Chiefs on Feb. 20.
"It is expected that cases will increase when MGCQ is in place.  It is important to make sure that health care needs of those who will get sick and will need hospitalization will be met," Loreche added.
On the other hand, Leachon lamented "how easy it is for a health official's mind to be manipulated" and said "they will always be remembered as implementers of someone else's game." – With Ghio Ong, Sheila Crisostomo, Louella Desiderio, Janvic Mateo, Louise Maureen Simeon, Mayen Jaymalin