Rapper Loonie Entertains Co-Inmates To Survive Detention
The rapper bares that many detainees are interested in rap and he tries to teach and performs for them when asked.
FlipTop rapper Loonie bewails his detention at the Makati City Jail on drug-related charges, but this is not stopping him from uplifting the spirits of his co-inmates.
Last week, two videos surfaced on social media wherein rap performances were heard inside what looked like a jail facility, with most of the audience clad in yellow. One of the videos was uploaded by user Zhenre Zei on the video sharing website YouTube on Oct. 27 while another was posted on Facebook by Jeffrey Parido Pallan.
It turned out to be Loonie performing his two hits "Balewala" and "Tao Lang" as part of the celebration of National Corrections Consciousness Week. He also performed a so-called spoken word, wherein he delivered a speech in the form of rap.
"Mali ba na magkamali ang isang tulad ko / Ako ay tao lang din naman na tulad mo / Ano ba ang dapat gawin / Dapat bang kamuhian o dapat ba na tularan ang isang tulad ko na tao lang / Pasensiya na, tao lang," goes the chorus of his song, "Tao Lang."
City jail officials became wary of the release of the videos on social media, but could not deny that it was indeed Loonie performing.  
The videos could have compromised the security of the jail, the facility's deputy chief for operations Inspector Ramon Carolino told The Philippine STAR, and inmates could have filed complaints against those who took the videos. 
But according to Carolino, it was also an opportunity for Loonie and other inmates with talent to "shine" and make other people happy.
City jail officials asked Loonie to perform during the celebration and the rapper said, "I did not hesitate."
"Everyone knows people have been looking for me for inspiration, so I did what I have been doing all my life," he told The STAR in an interview on Thursday morning inside the city jail.
"My performance here was meant for a higher purpose, to give the people inside (the city jail) hope and strength to face their current condition," he said. "Being in jail is not easy, so I thought of offering them songs that would give them the strength para haparin ang bukas (to face the future)."
While in detention, Loonie tries his best to give tips to inmates interested in rap. "If they have questions, I answer them to the best of my abilities."
"Maraming aspiring rappers dito sa loob," he disclosed, but noted that the city jail "is not conducive" for mentoring.
Loonie, whose real name is Marlon Peroramas, was arrested along with his sister-manager and three other men during a drug sting conducted by the city police drug enforcement unit at the basement parking area of Herald Suites Polaris in Barangay Poblacion on the night of Sept. 18.
 Police seized from them "kush" or high-grade marijuana worth P105,000.
Loonie denied the accusation, claiming that he was about to visit a fan battling cancer.
For the past 17 years before his arrest, Loonie had developed a following among rap fans, becoming more popular for joining rap battles called "FlipTop."
He said since Grade 3, he had been writing poetry and later on listened to hits of American rap artists Naughty by Nature, Julio, Bone Thugs-N-Harmony, Eminem and Tupac Shakur.
At 16, he got to know the late Francis Magalona, the country's "Master Rapper," after joining a rap contest in a noontime show where the latter served as host. Magalona soon recruited Loonie into his team of rappers.
Loonie, 33, later got out of Magalona's shadow to achieve fame, writing his own songs and collaborating with other artists.
He also served as mentor for other rap artists, helping them produce their own albums.
Known as the "Hari ng Tugma" or "King of Rhyme," Loonie recalled writing his hit song "Tao Lang," which won awards for best rap song at the Awit Awards and best original song at the Urban Music Awards both in 2013, "when I was under a lot of pressure."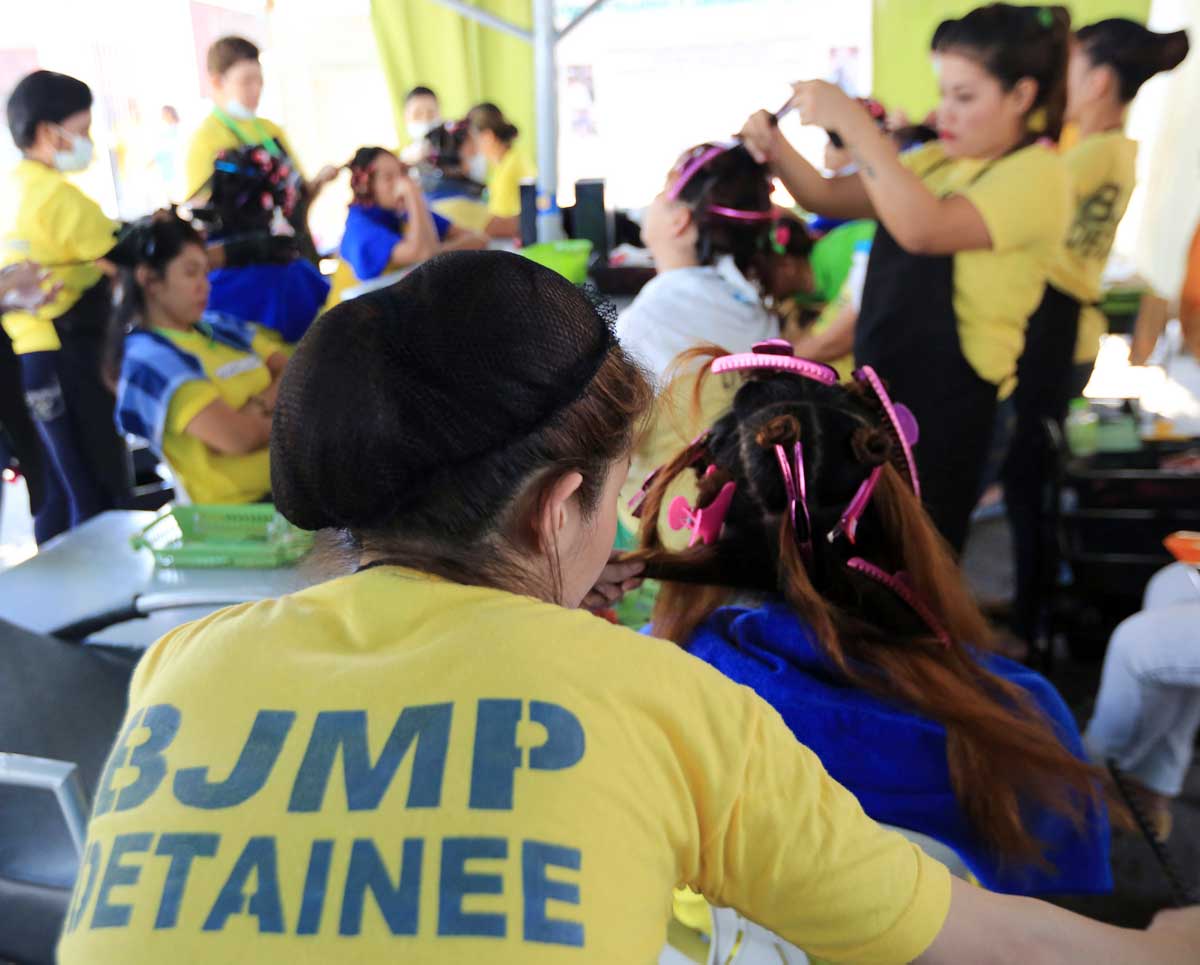 "They wanted me to do a love song... It was not really my forte. So I did my thing and wrote that," he said, referring to his previous music producers whom he did not name.
"The message was that, I am not a machine… Minsan may sakit, minsan may problema," he noted.  "No matter how people put you on the pedestal, you still cannot meet their expectations."
He also explained that rap "is an aggressive type of music... which can be mixed with other genres like rock, acoustic." He knew early on that his rhymes could be transformed into rap.
Asked about the perception that many artists are into drugs, Loonie replied,
"You can't change stereotypes, you can't control people's minds."
"No matter who you are, what kind of work you are in, they still have a stereotype. Society judges people in terms of appearance or color or profession," Loonie said. He who wore a yellow shirt for detainees, a plain pair of shorts and a towelette wrapped around his head during the interview.
"The only thing you can do is break away from that stereotype, na you can't change just because society tells you so," he maintained.
Before his arrest, three other rappers — Arlny Dimabuyu or Xander Bay, John Kenneth Satahirappan and Alexis Baniqued — had been arrested by agents of the Philippine Drug Enforcement Agency (PDEA) for possession of marijuana, Ecstasy and shabu.
PDEA also succeeded in blocking the rap song "Amatz" by Shanti Dope from being played on radio and TV for containing lyrics thought to be implying drug use. The artist later claimed that some lyrics were "taken out of context," adding that such move could set a "dangerous precedent for creative and artistic freedom in the country."
Loonie declined to talk about his case, as advised by his lawyer. "Words might be put into my mouth... I have nothing to gain here, but I have everything to lose."
Asked what he hoped for in the future, he replied, "Who wants to stay caged for long? As a saying goes, 'give me liberty or give me death...' I am still hoping and praying... I still believe in our justice system, and I maintain my innocence."