PhilHealth: Only P200 Million Yet To Be Liquidated Out Of P15 Billion Allegedly Stolen; Warns Hospitals Not To Turn Away Patients
While millions of members ceased from paying contributions following the COVID-19 pandemic, the Philippine Health Insurance Corporation assured the public that PhilHealth is financially strong until this time.
The Philippine Health Insurance Corporation said on Tuesday, April 6, that it is almost complete with the liquidation of the P15 billion Interim Reimbursement Mechanism (IRM) funds that were allegedly stolen by its officials.
PhilHealth spokesman Rey Baleña claimed that the P14.97 billion funds were not stolen, lost or missing but "properly accounted for" and provided to hospitals and facilities that applied under the IRM.
"At the moment (the money is) 98 percent liquidated and we are down to the last P200 million," Baleña said in an interview with 'The Chiefs" on One News / TV5. "
Baleña also reported that some hospitals returned the IRM funds because they were not able to use them.
While millions of members ceased from paying contributions following the COVID-19 pandemic, Baleña assured the public that PhilHealth is financially strong until this time.
In August 2020, resigned PhilHealth anti-fraud legal officer Thorrsson Montes Keith alleged during a Senate investigation that a "mafia" involving the whole of PhilHealth's executive committee has stolen some P15 billion from the agency using different fraudulent schemes on Tuesday, Aug. 4.
One of its officials also bared that the agency would be in the red by 2021 and would run of out of funds by 2022.
In January of this year, the National Bureau of Investigation filed graft charges against former PhilHealth president Ricardo Morales and 13 others over the anomalous use of the IRM funds, among other developments.
PhilHealth has been issuing statements and infographics since January showing that the P14.97 billion in IRM funds were already being liquidated.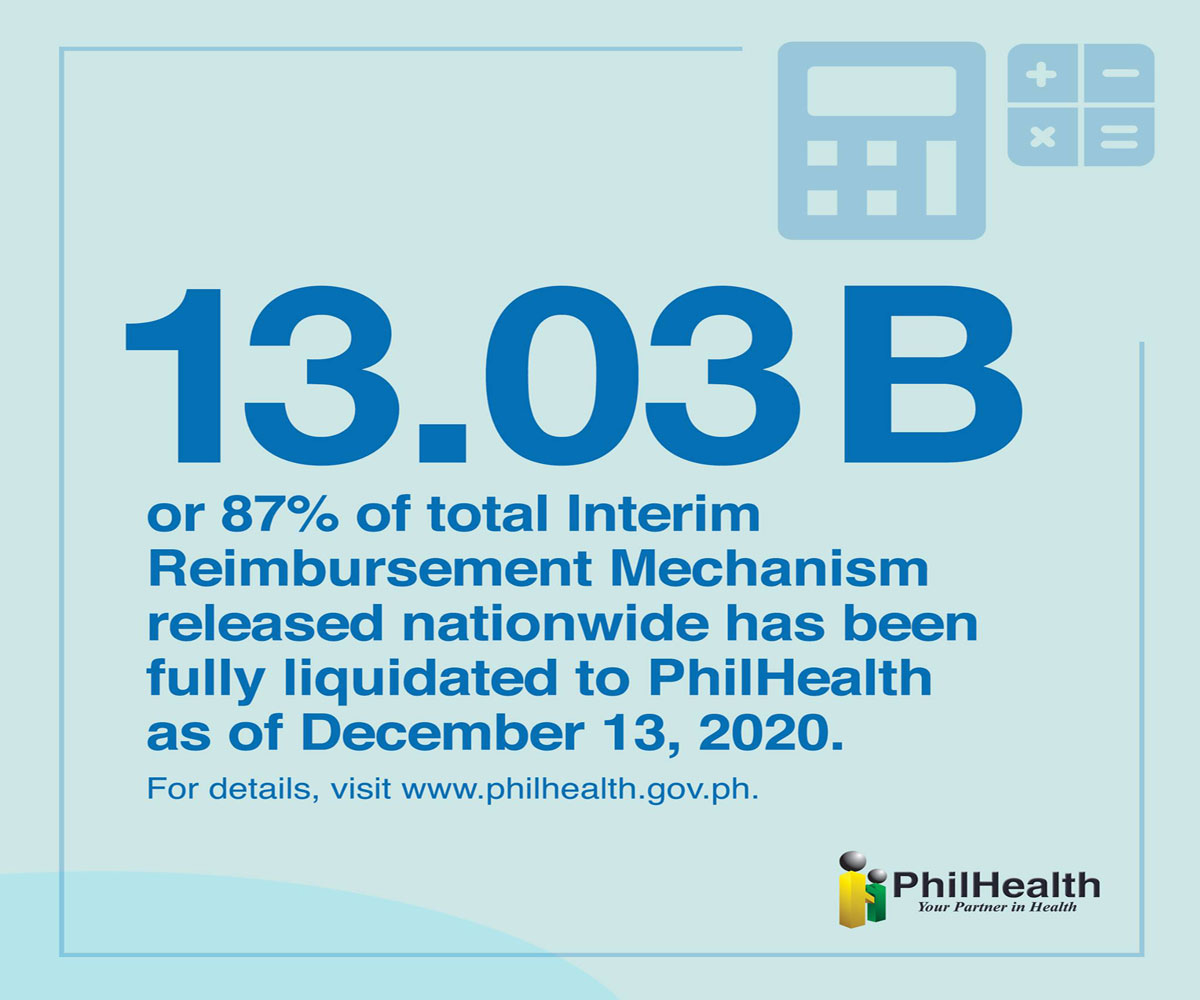 "We distributed the money to them, published what these hospitals are, and the amount that they received," Baleña said.
 "And over course of these months, they were able to liquidate (the funds), it's the hospitals that are liquidating (them) in the form of claims," Balena added.
Don't turn away patients
As this developed, PhilHealth warned that hospitals turning away patients infected with COVID-19 face possible liability.
Baleña said there is no reason for hospitals to reject COVID19 patients since the agency is providing sufficient package for their medical care.
Baleña made the comment in reaction to the Philippine Hospital Association's  report that some hospitals are forced to shoo away COVID-19 patients.
According to Baleña, the agency is just using the existing standard costing framework as a basis in determining payment and co-payment rates of its benefit packages.
"Meron po tayong existing na COVID-19 packages so ito po ay (kapag) kailangan na ng pasyente na sila ay ma-hospitalize for full treatment," Baleña said.
Baleña mentioned the benefit packages for those who would suffer from pneumonia upon getting infected with COVID-19. The packages would depend on the severity of the pneumonia of the patient.
He said patients who have mild pneumonia, especially among the elderly or those with comorbidities, can get P43,997 benefit package from PhilHealth while P143,267 if the case is moderate; P333,519 if severe; and up to P786,384 if the condition turns critical.
PHA president Dr. Jaime Almora told "The Chiefs" on Monday, April 5 that some private hospitals have refused to admit more COVID-19 patients because of a circular issued last December by PhilHealth, which prohibited "co-payment."
The PhilHealth circular aims to provide the governing agencies with cost-sharing schemes together with the implementation of its various packages.
Cost-sharing refers to the direct payment of a portion of healthcare costs by an insured person when receiving health services while co-payment means "flat fee" or predetermined rate paid at point-of-service, according to PhilHealth Circular 2020-0024.
Citing the provision in the Universal Health Care (UHC) Law, Baleña pointed out that "no co-payment or other fees" would be applicable to those patients admitted in any basic or ward accommodation even if the patient is in a private facility.
"Iyan naman ay po mandato, provision po ng UHC Law and tayo naman sa PhilHealth ay pinapatupad lang po natin 'yan (That's a mandate, a provision of UHC Law, and we, in PhilHealth, are just implementing this)," Balena said.
"Now, kung issue ng co-payment in so far as COVID-19 packages are concerned, 'yan ay nanggaling pa 'yan early part ng 2020 noong in-introduce po natin 'yung ating policy over these packages," he said.
On Almora's claim that the benefit packages are low, Baleña explained that the basis of the costing is "from the actual costing data gathered from hospitals that are treating COVID-19 patients."
"We can very well say [that these] packages [are] reflective, or [enough], [proper] [for the] complete management of pneumonia of the COVID patient, so masasabi natin na tumutugon talaga sa pangangailangan (we can say that this really responds to the need)," Baleña said.
"Ibang usapan if a patient availed of amenities like he or she elected to stay in hospital suite with aircon. A patient has to understand na meron talaga silang babayaran," he clarified.
But Baleña disclosed PhilHealth president Dante Gierran has assured the PHA that he would look into the concerns of small hospitals. The review of the COVID-19 packages is continuing and has not stopped since last year.
Baleña said PhilHealth is fully aware that as COVID-19 treatment improves, it will also  have an impact on the cost.
PhilHealth, he added, is also investigating reports that there are hospitals charging COVID-19 patients staying in tents.
He said PhilHealth is also developing a package for Filipinos needing hospitalization for mental condition as a result of the pandemic.