More Filipino Kids Developing Visual Impairment
Based on a study, 10 percent of kindergarten-aged pupils are now suffering from visual impairments, and the excessive use of mobile phones and other gadgets is seen as one of the causes.
Wearing eyeglasses was not an issue for 11-year-old Joren Lim Abelilla — until he learned to play and got hooked on volleyball a year ago. 
"When I perspire, my eyeglasses fog up so I have a hard time playing. Sometimes it also gets displaced when I am running," he told The Philippine STAR in Filipino.
According to his mother Jocelyn, of Panghulo in Obando, Bulacan, Joren needed eyeglasses as early as three years old. This was after she observed that when watching television, her son always sat too close to the screen.
Joren also began squinting.
"I knew then that there was a problem with his vision. Poor vision actually runs on my mother's side of the family, so I was not surprised when the doctor told us that he had to wear eyeglasses," she said.
Knowing that Joren is predisposed to blurred vision, Jocelyn had to limit the boy's use of cell phones and other gadgets.
"It's a good thing that Joren is more fond of playing outdoors.  He has no complaints if we limit his game time on gadgets and television time," Jocelyn said.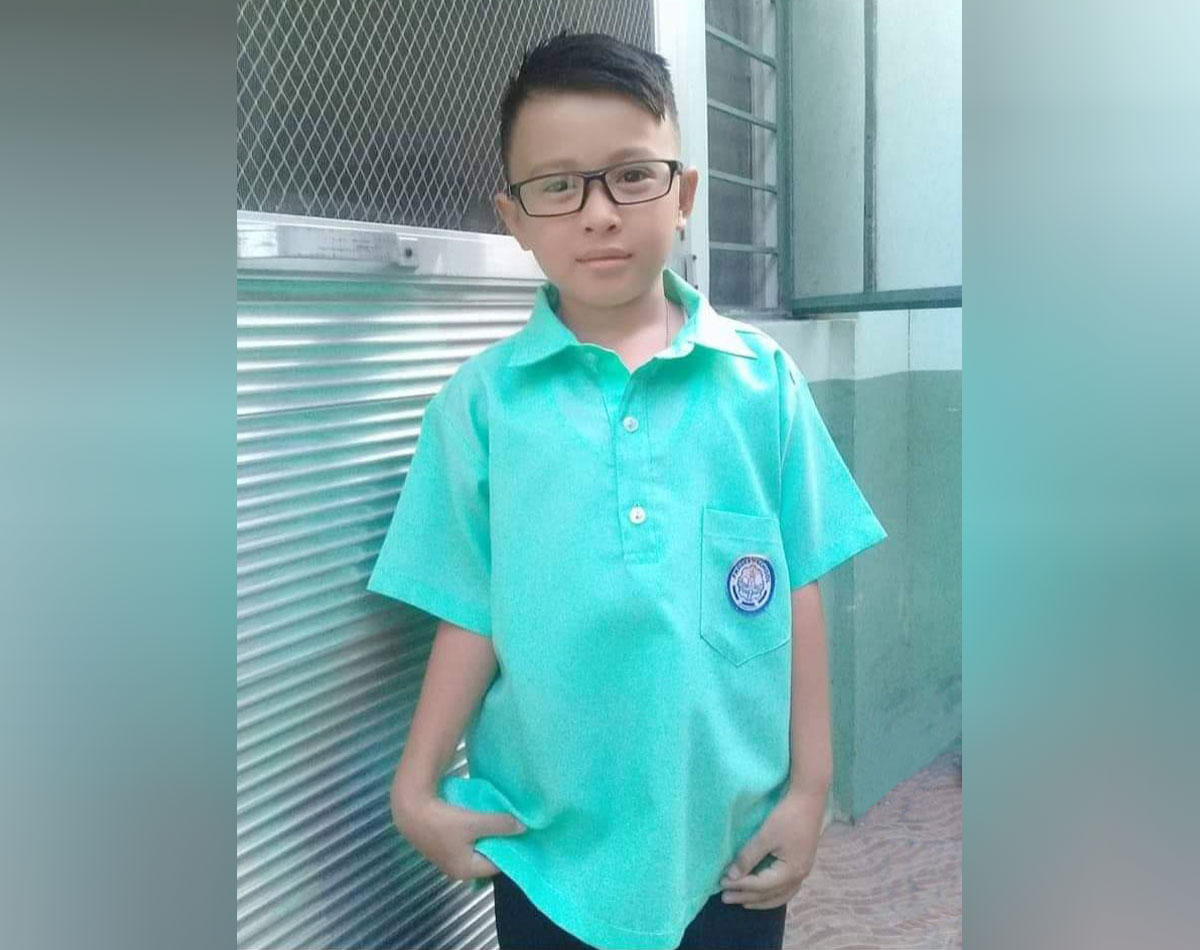 During school days, Joren is allowed to use a mobile phone, but only for one hour or until its battery — which is given to him when it is already low — runs out. 
"We just impose a time limit because as much as we want to totally ban the use of gadgets, we don't want to deprive him. We know it's part of his generation," Jocelyn said.
Visual impairment
According to Dr. Leo Cubillan, director of the Philippine Eye Research Institute (PERI) of the National Institutes of Health at the University of the Philippines-Manila, 10 percent of kindergarten-aged Filipino pupils are suffering from visual impairments.
Citing the 2018 Philippine National Blindness Survey and Eye Disease Study conducted by PERI, Cubillan said four pupils in every class of 40 have vision problems. Three of them are due to error of refraction or myopia (nearsightedness) while one may have amblyopia or lazy eye.
Amblyopia has a prevalence rate of two to five percent among children, making it one of the causes of visual impairment and preventable blindness, Cubillan said.
"Right now, if you look at our children in kindergarten, around eight to 10 percent of them would need eyeglasses. They have error of refraction... As they grow older, around 14 percent require eyeglasses," Cubillan told a recent forum on the World Vision Report 2019 of the World Health Organization (WHO).
Cubillan lamented that this is a growing phenomenon not only in the Philippines but also worldwide as children now have limited exposure to outdoor activities.
At the same time, he warned that the excessive use of gadgets by children at an early age is also contributing significantly to the problem.
The study further shows that vision impairment and blindness rank among the major concerns in the country. Of some 1.98 million Filipinos affected, 1.1 million have cataracts while some 400,000 have uncorrected error refraction or myopia. About 300,000 are afflicted with glaucoma — a disease that damages the eye's optic nerve, which can lead to blindness, while 200,000 have maculopathy or damaged macula, an area in the center of the retina.
Virtual nanny
Ophthalmologist and Health Undersecretary Rolando Enrique Domingo had once described the growing prevalence of myopia among children as an "epidemic."
He said many parents are using gadgets as "babysitters" to keep their children busy or preoccupied, not realizing that constant and excessive use of gadgets can damage or hamper the development of their kids' eyesight.
"If before, genetics was the primary reason for a child to have myopia, now it is the internet, or the gadgets.  The muscles of their eyes get so used to looking at objects at close range," Domingo noted.
Because of this, the eyes' muscles cannot adjust properly to looking at objects a significant distance away, thus requiring eyeglasses.
Some 20 years ago, Domingo said only 10 percent of schoolchildren worldwide were wearing eyeglasses.  But based on a study presented recently by an international agency, the figure has gone up to an "alarming" 30 percent.
WHO regional adviser for blindness prevention Andreas Mueller pointed out that "lifestyle and behavioral choices are definitely related to vision loss and to some eye diseases that can cause blindness." He cited as an example retinopathy or damage to the retina of the eyes, which is caused by diabetes.
"It is mainly related to lifestyle choices and nutrition, lack of exercise.  Other conditions like myopia are an increasing problem around the world, not only in Asia… there is new research coming out that shows that myopia is… not only a genetic problem but (also due to) lifestyle choices and behavior — not going outside without being exposed to sunlight," Mueller said.
Blue light, less screen time
Cubillan is also warning people about the "blue light" emitted by mobile phones, which could be damaging to the eyes.
To prevent this, he said those using android devices can activate the "blue light filter" while those on IOS gadgets can use the "night shield."
In April this year, the WHO came up with guidelines that highlight the need to limit the "screen time" of children.
Based on the guidelines, children aged two to four years old should not be allowed more than an hour each day of watching electronic screens while those below one year should not be exposed to gadgets at all.
Children under five "must spend less time sitting and watching screens or restrained in prams and seats, get better quality sleep and have more time for active play if they are to grow up healthy," the guidelines declare.
Improving physical activity, reducing sedentary time and ensuring quality sleep in young children will improve their physical and mental health and wellbeing, the WHO stressed.
The guidelines state that infants or those less than one year old should be physically active several times a day in a variety of ways, particularly through interactive floor-based play.
For children who are not yet mobile, physical activity should include at least 30 minutes in a prone position or "tummy time" spread throughout the day while awake.
Infants should also not be restrained for more than one hour at a time in prams, strollers and high chairs or strapped to a caregiver's back.
"Screen time is not recommended. When sedentary, engaging in reading and storytelling with a caregiver is encouraged," the guidelines state.
Babies less than three months old are recommended to have 14 to 17 hours of good quality sleep, including naps, while those aged four to 11 months should have 12 to 16 hours.
Those aged one to two years should spend at least 180 minutes in different types of physical activities of any intensity, from moderate to vigorous although "more is better," spread throughout the day.
For one-year-olds, sedentary screen time like watching TV or video or playing computer games is strongly discouraged while for those aged two, sedentary screen time should not be more than one hour a day but less is better.
When the child is sedentary, engaging in reading and storytelling with a caregiver is also encouraged.
The sedentary screen time of children aged three to four years should not be more than one hour but "less is better."
More time outdoors
To ensure that children will have more time outdoors, the Department of Education (DepEd), WHO and Department of Health are developing guidelines on the extension of kindergarten students' activities outside their classrooms.
According to DepEd director for Bureau of Learner Support Services Ella Cecilia Naliponguit, they are looking at extending outdoor activities from the current one to two hours, including recess.
"Maybe they can sit and enjoy lunch or snacks outdoors or in between classes," Naliponguit said. "We are also looking at alternative teaching methods in which children can have more time outside the classroom and go around."
Naliponguit noted that the biggest challenge in introducing this scheme is that many schools lack space for outdoor activities.