Michael Jordan: 'No One Knows How Much Time We Have'
Towering basketball legends bowed to the greatness of NBA superstar Kobe Bryant who for them should be an example of how to live life amid fame and fortune. Bryant's wife Vanessa also remembered him more as a husband and father.
It was a life well lived.
But the passing of basketball legend Kobe Bryant was still untimely for his loved ones who remembered his stellar performance as a man in and out of court. And this apparently humbled even those with the biggest names in basketball such as his close friends Michael Jordan and Shaquille O'Neal.
Bryant, Jordan and O'Neal have become so famous in their sport that even non-basketball fans know them.
Jordan, towering at six feet and five inches, wept unabashedly as he reflected on the life of Bryant and why he should serve as an inspiration to all.
"Kobe never left anything on the court, and I think that's what he would want for us to do," Jordan pointed out. An example could be Bryant's decision, based on previous reports, to use helicopters to be able to spend more time with his family.  "No one knows how much time we have. That's why we must live in the moment, we must enjoy the moment," Jordan said at the memorial held at Staples Center in Los Angeles on Feb. 24. 
"We must reach and see and spend as much time as we can with our families and friends and the people that we absolutely love. To live in the moment means to enjoy each and everyone that we come in contact with," he added in his tribute, the full transcript of which was published by the Los Angeles Times. Videos and photos of the memorial were also all over social media yesterday.
Aside from being a basketball superstar, Jordan described Bryant as an accomplished husband, father, businessman and storyteller who made projects for children.
"In the game of basketball, in life, as a parent, Kobe left nothing in the tank. He left it all on the floor," Jordan said, noting that it might be surprising for people to know that the two of them were close friends and Bryant was "like a little brother."
"Everyone always wanted to talk about the comparisons between he and I. I just wanted to talk about Kobe," Jordan, who won six championships with the Chicago Bulls, declared.
Bryant, 41, a five-time NBA champion with the Los Angeles Lakers, among others, and his 13-year-old daughter Gianna or Gigi were killed along with several others in a helicopter crash on Jan. 26 in Calabasas, California. They were on their way to a basketball tournament where Gianna was supposed to play.
Bryant's other daughters are Natalia, 17, Bianka, three, and Capri, who is less than a year old.
 Read more: Gianna Bryant, 13, was going to carry on a basketball legacy
Jordan recalled Bryant sending text messages even in the wee hours of the morning and how the "nuisance" of a having a little brother admiring a big brother turned into love over a period of time.
"At first, it was an aggravation. But then it turned into a certain passion. This kid had passion that you would never know," Jordan said.
"It's amazing thing about passion. If you love something, if you have a strong passion for something, you would go to the extreme to try to understand or try to get it, either ice cream, Cokes, hamburgers, whatever you have a love for. If you have to walk, you will go get it. If you have to beg someone, you will go get it. What Kobe Bryant was to me was the inspiration that someone truly cared about the way that I played the game or the way that he wanted to play the game," Jordan added.
 Jordan stressed Bryant wanted to be the best basketball player that he could be. As he got to know Bryant, Jordan said he wanted to be the best big brother that he could be to the younger player. "To do that you have to put up with the aggravation, the late night calls or the dumb questions."
"I took great pride as I got to know Kobe Bryant that he was just trying to be a better person, a better basketball player. We talked about business. We talked about family. We talked about everything, and he was just trying to be a better person. Now he's got me. I'll have to look at another crying meme for the next … I told my wife I wasn't going to do this because I didn't want to see that for the next three or four years," Jordan quipped, to the laughter of the audience.
"That is what Kobe Bryant does to me. I'm pretty sure Vanessa and his friends all can say the same thing. He knows how to get to you in a way that affects you personally, even though he's being a pain in the ass. But you have a sense of love for him in the way that he can bring out the best in you. And he did that for me," Jordan said.
Jordan emphasized he admired Bryant because "you rarely see someone who's looking at trying to improve each and every day, not just in sports but as a parent, as a husband."
"I am inspired by what he's done and what he shared with Vanessa and what he shared with his kids."
Jordan said Bryant showed his creative side after retirement in 2016 and seemed so happy he found new passions.
"When Kobe Bryant died, a piece of me died. And as I look in this arena and across the globe, a piece of you died or else you wouldn't be here. Those are the memories that we have to live with and we learn from. I promise you from this day forward, I will live with the memories that knowing that I had a little brother, that I tried to help in every way I could. Please rest in peace, little brother," a tearful Jordan ended.
 Black Mamba legacy
Also choked up with emotion was O'Neal who confessed he never imagined that he would be speaking at a memorial for Bryant. "And it pains me to my core."
"All of us were forever changed on Jan. 26th. As we know, the Black Mamba's legacy will be more than just being one of the greatest basketball players of all time," O'Neal said.
"I'd like to tell you… what filled Kobe's heart with the most pride was his role as a loving husband to Vanessa, daddy to Gigi, Natalia, Bianka and baby Capri, and a loving son and brother. Kobe was a loyal friend and a true renaissance man. As many of you know, Kobe I have a very complex relationship throughout the years," O'Neal, whose full speech was also published by the Los Angeles Times added.
For O'Neal, their creative rivalry as Los Angeles Lakers teammates pushed them to play some of the greatest basketball of all time even if sometimes, like "immature kids, we argued, we fought, we bantered, we assaulted each other with offhand remarks on the field."
"We never took it seriously. In truth, Kobe and I always maintained a deep respect and a love for one another. The day Kobe gained my respect was (when) the guys were complaining, (and I) said, 'Shaq, Kobe's not passing the ball.' I said, 'I'll talk to him.' I said, 'Kobe, there's no 'I' in 'team'.' He said, 'I know, but there's an 'M-E' in that mother******.' "
"Mamba, you were taken away from us way too soon. Your next chapter of life was just beginning. But now it's time for us to continue your legacy. You said yourself that everything negative, pressure, challenges is all opportunity for me to rise. So now take the sage advice and now rise from anguish and begin with the healing," O'Neal said, noting that he took comfort in knowing that "Kobe and Gigi are holding hands, walking to the nearest basketball court."
"Kobe will show his new Mamba moves today and Gigi will soon master them. Kobe you're heaven's MVP. I love you, my man."
"Just know that we got your back, little brother, I'll look after things down here, I'll be sure to teach Natalia, Bianka and baby Capri all your moves. And I promise I will not teach them my free throw techniques," O'Neal joked.
 'They loved life'
Bryant's wife Vanessa also had a tearful message during the "Celebration of Life for Kobe and Gianna Bryant" service, which was published in full by CNN.
Vanessa remembered the "amazingly sweet and gentle soul" that was Gianna – a "daddy's girl" who "loved her mama."
From kissing her in the morning at night to her love for baking, Vanessa said she would miss everything about her daughter, who was laid to rest along with her father in a private funeral on Feb. 7.
According to Vanessa, "Gigi was very competitive like her daddy, but she had a sweet grace about her. Her smile was like sunshine. Her smile took up her entire face, like mine."
While Vanessa highlighted Gianna's similarities with her father, including their ability to have all the lyrics memorized after listening to a song a couple of times, she revealed, "Kobe always said she was me" and "kept our family together."
"God knew they couldn't be on this earth without each other," she said. "He had to bring them home to have them together."
Gianna, who knew the Mandarin and Spanish languages, was also competitive, never tried to conform and would have made a huge difference in women's basketball, Vanessa said. "Gigi was motivated to change the way everyone viewed women in sports. She wrote papers in school defending women and wrote about how the unequal pay difference for the NBA and WNBA leagues wasn't fair. And I truly feel she made positive change for the WNBA players now, because they knew Gigi's goal was to eventually play in the WNBA."
Vanessa said her daughter's classmates shared many stories that "reminded me that Gianna loved and showed everyone that no act of kindness is ever too small to make a difference in someone's life."
As for her "soulmate" Kobe, who was known as a fierce competitor on the basketball court," he was neither a celebrity nor an incredible basketball player, Vanessa said. "He was my sweet husband and the beautiful father of my children. He was mine. He was my everything."
Having been together since she was 17-and-a-half years old, Vanessa said she was Kobe's first girlfriend, first love, wife, best friend, confidant and protector.
"Kobe loved me more than I could ever express or put into words. He was the early bird and I was the night owl, I was fire and he was ice, and vice versa at times. We balanced each other out. He would do anything for me. I have no idea how I deserved a man that loved and wanted me more than Kobe," Vanessa confessed in the jampacked stadium.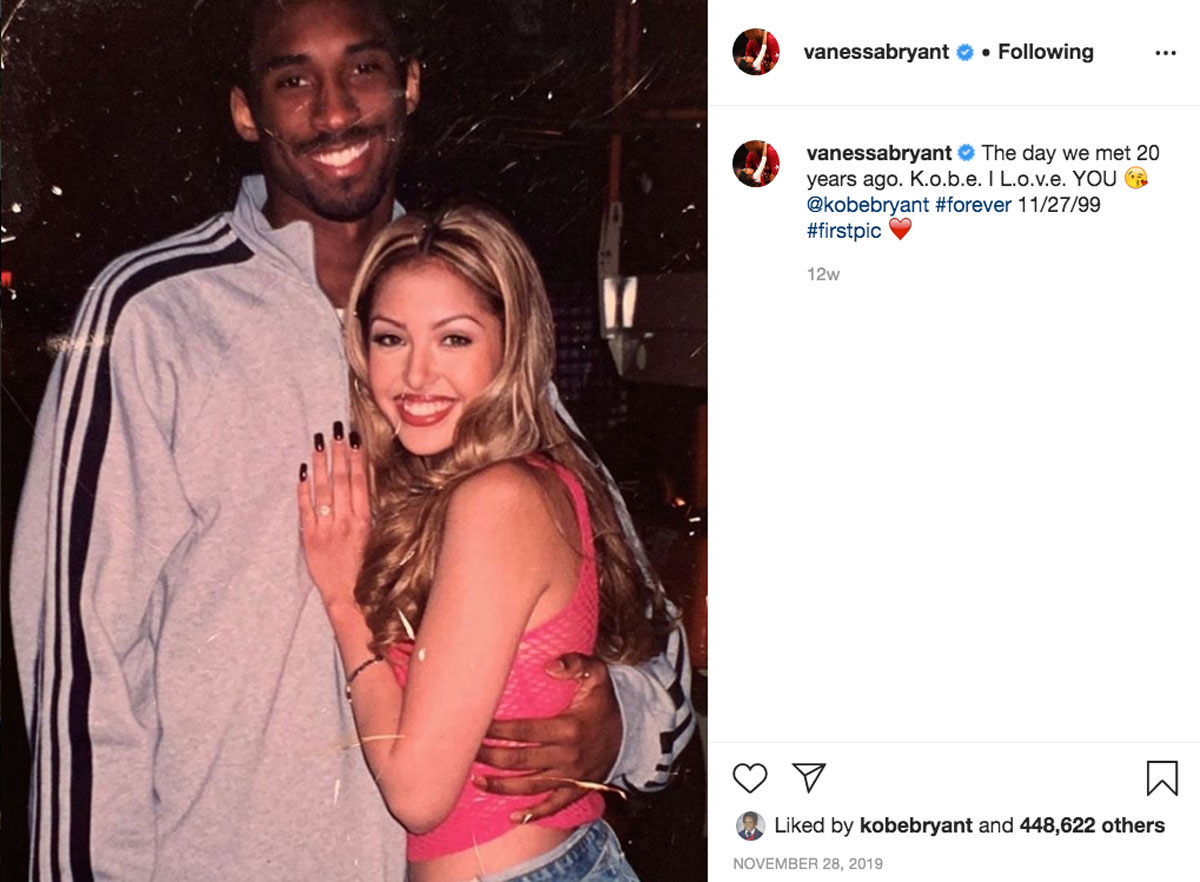 Vanessa admitted she looked forward to Valentine's Day and anniversaries with her charismatic and romantic better half, who wanted to travel the world with her.
"We talked about how we would be the fun grandparents to our daughters' children. He would have been the coolest grandpa. Kobe was the MVP of girl dads, or MVD. He never left the toilet seat up. He always told the girls how beautiful and smart they are. He taught them how to be brave and how to keep pushing forward when things get tough," Vanessa recounted.
"When Kobe retired from the NBA, he took over dropping off and picking up our girls from school since I was at home pregnant with Bianka and just recently home nursing Capri," Vanessa told the crowd. She said Kobe was late one time, and "we most definitely let him know that I was never late" so "he showed up one hour and 20 minutes early after that."
Vanessa also detailed how doting Kobe was as a father. "He always knew there was room for improvement and wanted to do better. He happily did carpool and enjoyed spending time in the car with our girls. He was… hands-on and present. He helped me bathe Bianka and Capri almost every night. He would sing them silly songs in the shower and continue making them laugh and smile as he lathered them in lotion and got them ready for bed."
She said Kobe would take their daughters to the park, to the movies and other activities to bond.
"He loved being Gianna's basketball coach. He told me he wished he would have convinced Natalia to play basketball so they could have spent more time together, and he also wanted her to pursue her own passion," the 37-year-old Vanessa also said. "They were so easy to love. They were funny, happy, silly, and they loved life." 
"I am so thankful Kobe heard Koko say, 'Dada.' He is not here to drop Bianka and Capri off at pre-K or kindergarten, and he will not be here to tell me to get a grip when we have to leave the kindergarten classroom, and he is not going to be able to walk our girls down the aisle or spin me around on the dance floor, singing PYT to me. But I want my daughters to know and remember the amazing person, husband and father he was. The kind of man that wanted to teach future generations to be better and keep them from making his own mistakes."